Overview
Monzur Patwary of the Task Force for Global Health presents an array of tailored cultural responses to COVID-19 developed in his native Bangladesh. Underfunded centralized health services collaborate with NGOs in the creation of lively public service announcements in local dialects, video endorsements by faith leaders, and works of popular theater, art, and visual culture.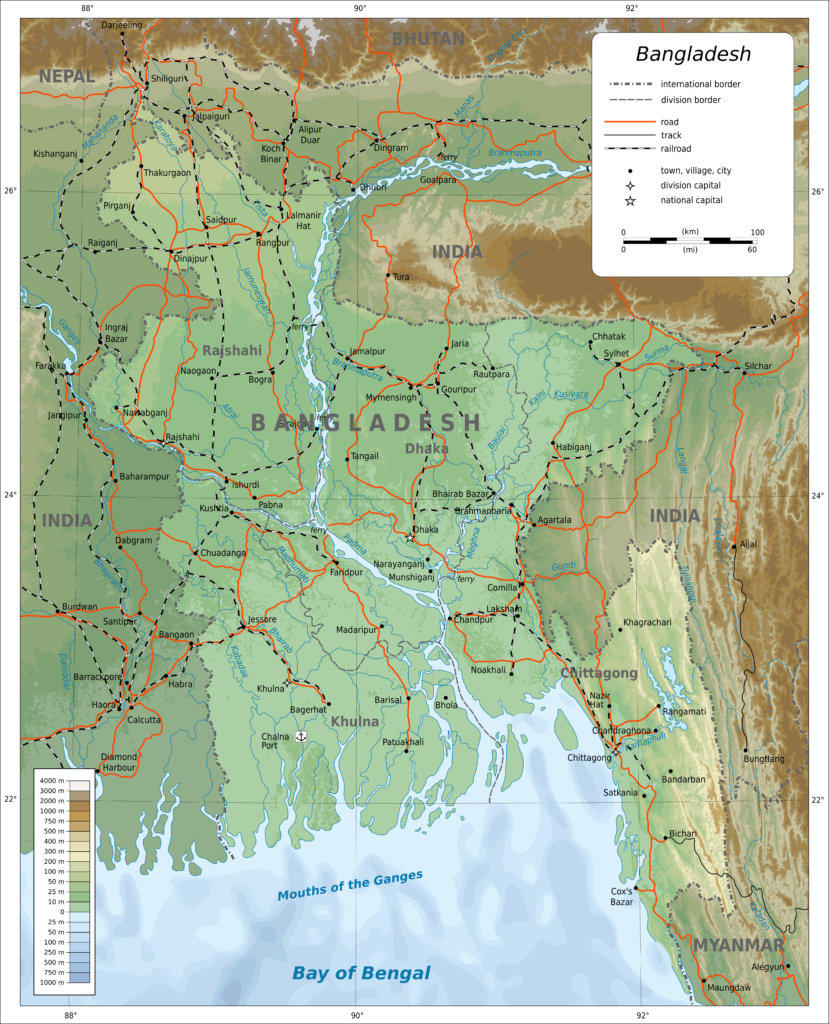 As the world moves into its fourth year since the advent of COVID-19, the pandemic remains a broad public health concern. It is necessary to teach Covid-appropriate behaviors and build public confidence in vaccines and boosters to address new strains of the virus. Across the globe, localized Covid pandemic response projects should complement conventional approaches to preparedness. Community Support Team Dhaka (CST Dhaka) and Community Support Team Cox's Bazar (CST Cox's Bazar) are two projects implemented by the health program of BRAC, a Bangladesh-based NGO.
Bangladesh, the eighth-most populous country in the world (169.4 million people), is a developing country located in South Asia with a 2021 gross domestic product per capita of $2,458. The country has achieved significant progress in reducing maternal, infant, and child mortality rates, decreasing malnutrition, improving immunization coverage, and eliminating infectious diseases like polio. However, it faces emerging health challenges, including the growing burden of noncommunicable diseases, heightened vulnerability to disasters and environmental hazards, and the threat of health emergencies during disease outbreaks such as COVID-19. Bangladesh's health services are centralized and urban-centric.1There are only 1.1 doctors per 10,000 people in rural populations in Bangladesh, while there are 18.2 doctors per 10,000 people in urban areas. Taufique Joarder, Lai B. Rawal, et al, "Retaining Doctors in Rural Bangladesh: A Policy Analysis," International journal of Health Policy and Management 7, no. 9 (2018): 847–858. https://www.ncbi.nlm.nih.gov/pmc/articles/PMC6186485/. The country also faces shortages of well-equipped healthcare facilities and healthcare workers. The health financing system in Bangladesh suffers from a lack of adequate funding, absence of appropriate health insurance, and a large dependence (74%) on out-of-pocket payments.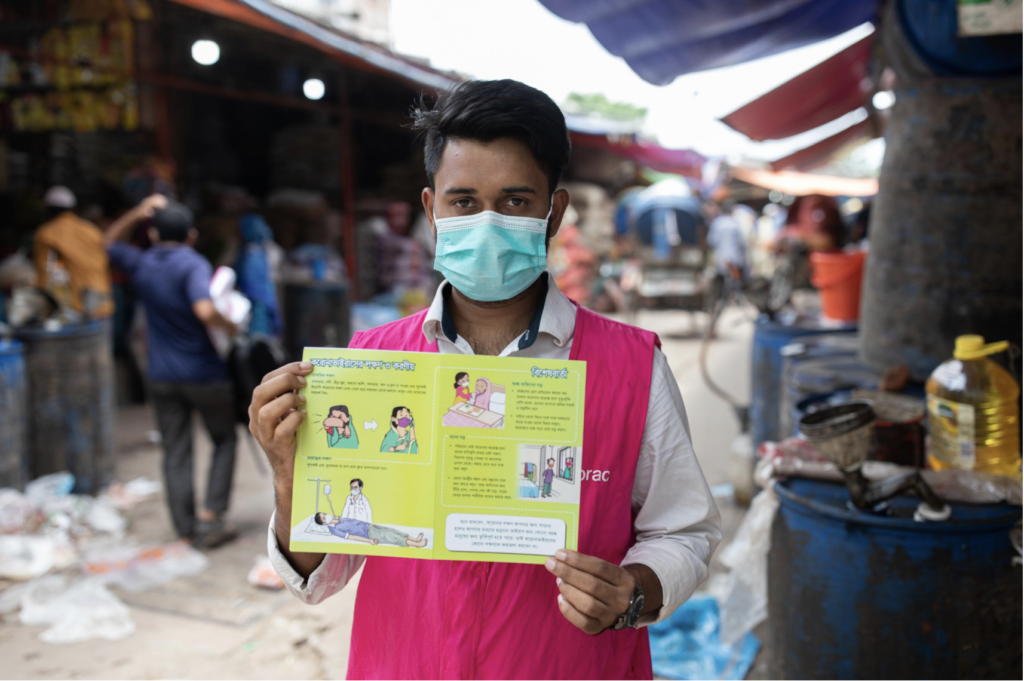 BRAC, founded in 1972, is the largest non-governmental organization in Bangladesh involved in a variety of sectors including public health, education, microfinance, and livelihood support. It currently employs over 100,000 people across Bangladesh and ten countries. Its Health, Nutrition, and Population Programme (HNPP) has been a global leader in developing and scaling up locally-based health worker programs for the rural population. With support from the Foreign, Commonwealth & Development Office (FCDO), the World Bank, and the United Nations Population Fund (UNFPA), the organization implemented two COVID-19 response projects in Dhaka and Cox's Bazar (two of the high-risk districts identified by the World Health Organization after analyzing infection rates in different districts of Bangladesh). BRAC initiated several creative approaches in these locations to tackle the spread of COVID-19 at the height of the pandemic.
"Miking" in Local Dialects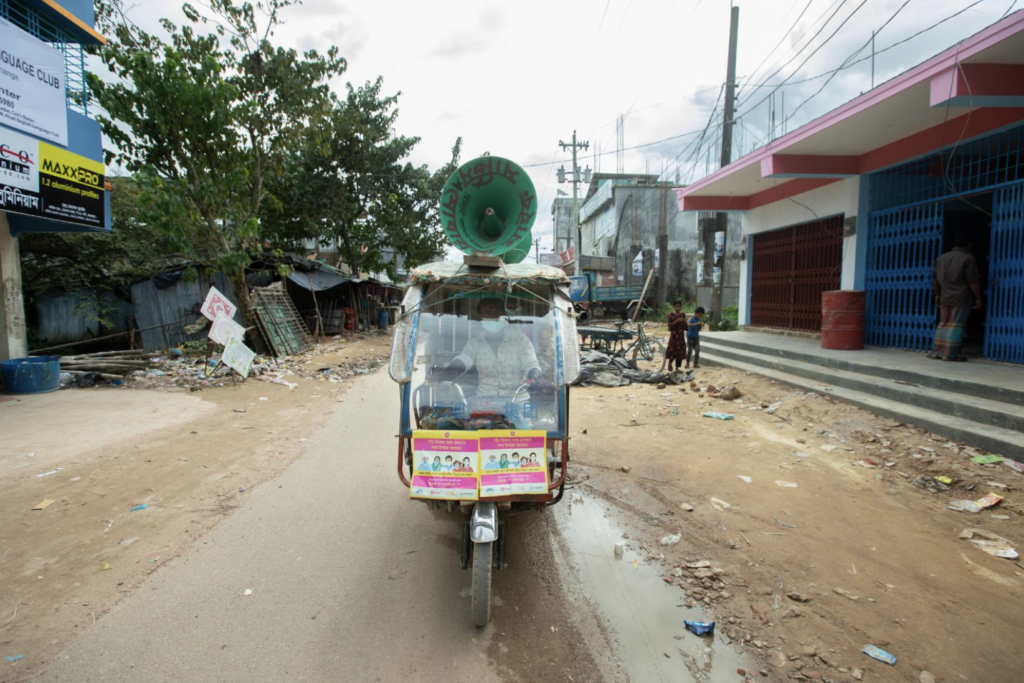 Playing health messages through mobile loudspeakers (locally known as miking) has been around for decades. After the initial round of miking in Cox's Bazar, however, the volunteers and area managers heard from local representatives that the messages in mainstream Bengali were not effectively reaching the people. Here, the Chatgaya/Chittaingya dialect is the primary oral language. Subsequently, the Cox's Bazar project engaged a local voiceover specialist to develop messages in Chittagonian dialect which enhanced the effectiveness of the 849 miking sessions conducted in the region, substantially improving the local population's understanding about vaccination.
Info Cards
A common request received by the field staff (community health workers, volunteers, and area managers) was for comprehensive materials to complement the messages disseminated verbally. In addition to the usual posters, stickers, and leaflets, BRAC designed tri-fold cards with detailed information on vaccination, handwashing, mask wearing and disposal, and instructions about taking care of people with comorbidities. Info cards were distributed to local change-agents such as market committee members or transport hub leaders to help sustain best practices. The cards garnered a positive response from the public.
Collaboration with Sisimpur
As schools in Bangladesh reopened after an eighteen-month shutdown, BRAC collaborated with Sisimpur—a local adaptation of children's television series Sesame Street—in creating an educational video about COVID-19 featuring the Sisimpur characters. Originally developed for the Dhaka project, this video ran on social media platforms and was shown at some three hundred schools. This intervention was entirely novel for many students and schools, and Sisimpur was also warmly received by parents and teachers. Unfortunately, this project began halfway through BRAC's wider Covid education initiatives, and needed more time and closer supervision.
Comics and Murals
Long perceived as reliable messengers in Bangladesh, local artists often translate crucial information into personable and understandable forms. Working with these artists, BRAC delivered COVID-19 information to schools in an engaging way. Renowned cartoonist Morshed Mishu developed wall murals in Dhaka and Cox's Bazar and 200,000 copies of a comic strip were distributed among schools and madrasas.
Faith Leaders' Endorsement
Faith leaders have addressed misinformation and influenced health behavior changes with a high degree of success. During the biggest Ebola outbreak in history, interfaith leaders were instrumental in delivering health messages in parts of West Africa that governments and NGOs could not reach. As credible sources of information, they worked actively on quashing rumors regarding Ebola and encouraged people to listen to government directives and the health workers.2A 2020 study by Afrobarometer revealed that across 34 countries in Africa, faith leaders are more widely trusted than any other public leaders. Brian Howard, "Religion in Africa: Tolerance and Trust in Leaders are High, but Many Would Allow Regulation of Religious Speech," Afrobarometer Dispatch no. 339 (2020), https://afrobarometer.org/sites/default/files/publications/Policy%20papers/ab_r7_dispatchno339_pap12_religion_in_africa.pdf. Early in the COVID-19 epidemic, BRAC teamed up with Islamic Foundation Bangladesh (IFB) and Bangladesh Baptist Church Fellowship (BBCF) to train their directors on best practices. Local representatives of UNICEF, who had previously engaged Muslim leaders in another health project, facilitated the IFB partnership. BRAC provided online training to IFB field supervisors and BBCF pastors via Zoom, addressing questions and rumors. This collaboration provided 3,400 faith leaders with awareness messaging, 860,000 reusable masks, and 350,000 leaflets.
Faith leaders and scholars such as Leor P. Sarkar (General Secretary of the BBCF), Gazi Sanaullah (Islamic scholar), and Pragyananda Bhikkhu (Assistant Director, Ramu Central Sima Bihar) endorsed preventive measures and appeared in short social media videos in support of wearing masks, maintaining social distance, washing hands, and taking vaccines.
While the Dhaka Community Support Team emphasized partnerships with selected faith-based organizations, Cox's Bazar sought to unite all the faith leaders from the intervention areas—Muslim, Buddhist, and Hindu—under one roof for knowledge sharing and collaboration. These meetings included a moderated session that provided equal opportunity to representatives of each religion to share the lessons they had learned. In Ramu, faith-based organizations overcame the silos between their work, meeting to formulate policies for combating the spread of vaccine misinformation. Volunteers working with faith-based groups increased both the reach and acceptance of the interventions.
Faith leader Reverend Leor P. Sarkar speaks on Covid,
Bangladesh. Translated from original Bengali.
Faith leader Gaji Sanaulla Rahmani speaks on Covid,
Bangladesh. Translated from original Bengali.
Interactive Popular Theater
BRAC's popular theater groups under its Social Empowerment and Legal Protection program (SELP), have performed about a wide range of topics such as gender equality, child marriage, violence against women, health, migration, and road safety across sixty-one districts since 1998. To raise COVID-19 awareness, the Cox's Bazar project organized 160 performances, despite dealing with some local challenges. For instance, the acceptance level of popular theatre was lower among the conservative Muslim population and the shows were more difficult to organize in hard-to-reach locations. Social distancing was more challenging when children made up the majority of the audience.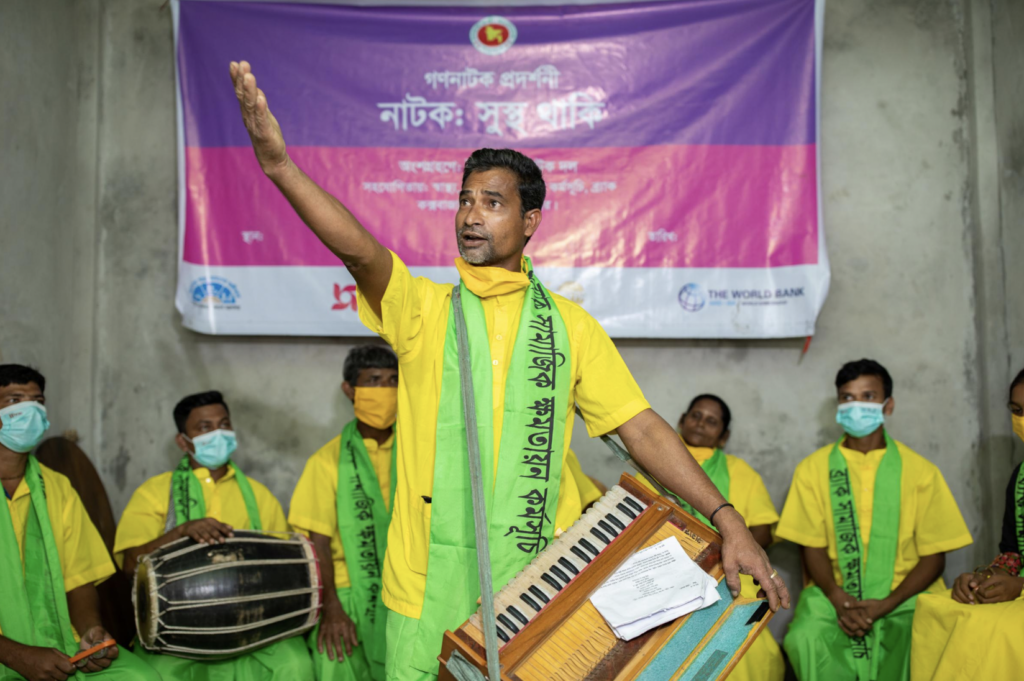 Findings from surveys and focus group discussions indicated increased awareness about COVID-19 symptoms, modes of transmission, and prevention measures (handwashing, mask wearing, social distancing) and vaccination across all intervention areas. Local knowledge about the existence of the virus and its spreadability increased.3Compared to the baseline, 26% more people knew that both hands need to be washed, 11% more people knew not to use a damp or damaged mask, whereas 7% more people knew not to wear the mask loosely. 8% more people reported knowing that the Covid-19 vaccine improves the body's immunity against the virus. School surveys revealed that 10% more students reported that face-to-face communication with the infected was the mode of transmission and almost 4% more knew it could be transmitted through coughing and sneezing. Encouraging accessible, engaging, and equitable approaches to public health communications has led to an increase in the uptake of COVID-19 preventive practices, as well as a reduction in barriers to vaccine confidence.
COVID-19 continues to pose a significant public health concern for many countries, like in India. While Bangladesh faces various health challenges and lacks adequate healthcare facilities and workforce, local NGOs like BRAC have played a significant role in addressing the pandemic's impact through introduction of localized initiatives like miking, info cards, Sisimpur PSAs, comics and murals, and faith leaders' endorsement to strengthen COVID-19 response. Such programs are essential in complementing conventional approaches to pandemic preparedness and mitigating the virus's spread. While these initiatives may be unique to Bangladesh, their successes can provide important lessons for other countries in terms of pandemic response and preparedness.

About the Author
Monzur Morshed Patwary is a public health practitioner with over eleven years of professional experience. As a senior program manager at BRAC, he has led several large-scale projects involving COVID-19 response, maternal and child health, and digitalization of training for community health workers. He has also collaborated with UN organizations and international donors such as USAID, FCDO, DANIDA, and GAC and helped mobilize high-value grants through project design and proposal development. Monzur represents Bangladesh on global platforms such as ParisWHO, Global Leadership Forum and HPAIR Harvard Conference. He completed the Hubert H. Humphrey Fellowship at Emory University-Rollins School of Public Health and is currently pursuing his professional affiliation at The Task Force for Global Health.
Public Health in the US and Global South is a collection of interdisciplinary, multimedia publications examining the relationship between public health and specific geographies—both real and imagined—in and across the US and Global South. These essays raise questions about the origin, replication, and entrenchment of health disparities; the ways that race and gender shape and are shaped by health policy; and the inseparable connection between health justice and health advocacy.

Beginning in 2022, the series expands to include 1000-word blog posts, as well as longer commentaries, essays, articles and media productions that address the public health and political implications of the COVID-19 pandemic from multiple perspectives. The series editor for Public Health in the US and Global South is Mary E. Frederickson.
Recommended Resources
Text
Hewamanne, Sandya, and Smytta Yadav, eds. The Political Economy of Post-COVID Life and Work in the Global South: Pandemic and Precarity. Switzerland: Palgrave Macmillan, 2022.
McCann, Gerard, Nita Mishra, and Pádraig Carmody, eds. COVID-19, the Global South and the Pandemic's Development Impact. Bristol, UK: Bristol University Press, 2022.
Rafi, Mohammad, and Hasanur Rahman. Popular Theatre and BRAC. Dhaka, Bangladesh: BRAC, 2009.
Web
Akter, Fahmida, et al. "Implementation Barriers and Facilitators to a COVID-19 Intervention in Bangladesh: The Benefits of Engaging the Community for the Delivery of the Programme." BMC Health Services Reserach 22, article no. 1590: 2022. https://bmchealthservres.biomedcentral.com/articles/10.1186/s12913-022-08939-7.
BRAC. "COVID-19 Response: Getting Services to Those in the Most Need." Accessed May 15, 2023. https://www.brac.net/covid19/#:~:text=BRAC%2C%20along%20with%2041%20local,%2C%20HBCC%2C%20Unilever%20and%20UKaid.
Opu, Mahmud Hossain. "In Pictures: The Effects of Coronavirus Lockdown in Bangladesh." Al Jazeera. April 13, 2020. https://www.aljazeera.com/gallery/2020/4/13/in-pictures-the-effects-of-coronavirus-lockdown-in-bangladesh.
References

| | |
| --- | --- |
| 1. | There are only 1.1 doctors per 10,000 people in rural populations in Bangladesh, while there are 18.2 doctors per 10,000 people in urban areas. Taufique Joarder, Lai B. Rawal, et al, "Retaining Doctors in Rural Bangladesh: A Policy Analysis," International journal of Health Policy and Management 7, no. 9 (2018): 847–858. https://www.ncbi.nlm.nih.gov/pmc/articles/PMC6186485/. |
| 2. | A 2020 study by Afrobarometer revealed that across 34 countries in Africa, faith leaders are more widely trusted than any other public leaders. Brian Howard, "Religion in Africa: Tolerance and Trust in Leaders are High, but Many Would Allow Regulation of Religious Speech," Afrobarometer Dispatch no. 339 (2020), https://afrobarometer.org/sites/default/files/publications/Policy%20papers/ab_r7_dispatchno339_pap12_religion_in_africa.pdf. |
| 3. | Compared to the baseline, 26% more people knew that both hands need to be washed, 11% more people knew not to use a damp or damaged mask, whereas 7% more people knew not to wear the mask loosely. 8% more people reported knowing that the Covid-19 vaccine improves the body's immunity against the virus. School surveys revealed that 10% more students reported that face-to-face communication with the infected was the mode of transmission and almost 4% more knew it could be transmitted through coughing and sneezing. |