Overview
In this narrated video and companion essay, Anthony Martin and Steve Bransford survey the ecosystems of Ossabaw Island (a barrier island on the Georgia coast) and the interconnections of natural and human histories on the island. Martin's audio commentary describes a variety of environmental features.
This video essay complements two other Georgia barrier island flyovers: St. Catherines and Sapelo.
Video and Essay
Ossabaw Island is a barrier island on the Georgia coast. The island, which trends northeast–southwest, is about 14.5 kilometers (9 miles) long and 10.5 kilometers (6.6 miles) wide. It is located between latitudes 31° 49.5' and 31° 43.2' N. Of the Georgia barrier islands, Ossabaw is the most geologically unusual. Like the major Georgia islands south of it—Cumberland, Jekyll, St. Simons, Sapelo, and St. Catherines—Ossabaw is a composite island, in which sediments from Pleistocene and Holocene shorelines are directly adjacent or superimposed. However, sediments of the Pleistocene (Silver Bluff) and Holocene shorelines on Ossabaw split near its southern portion, with the Pleistocene trending north–south and the Holocene trending northeast–southwest. The modern shoreline, which formed only in the past few thousand years, wraps around the southern and northeastern corners of the island.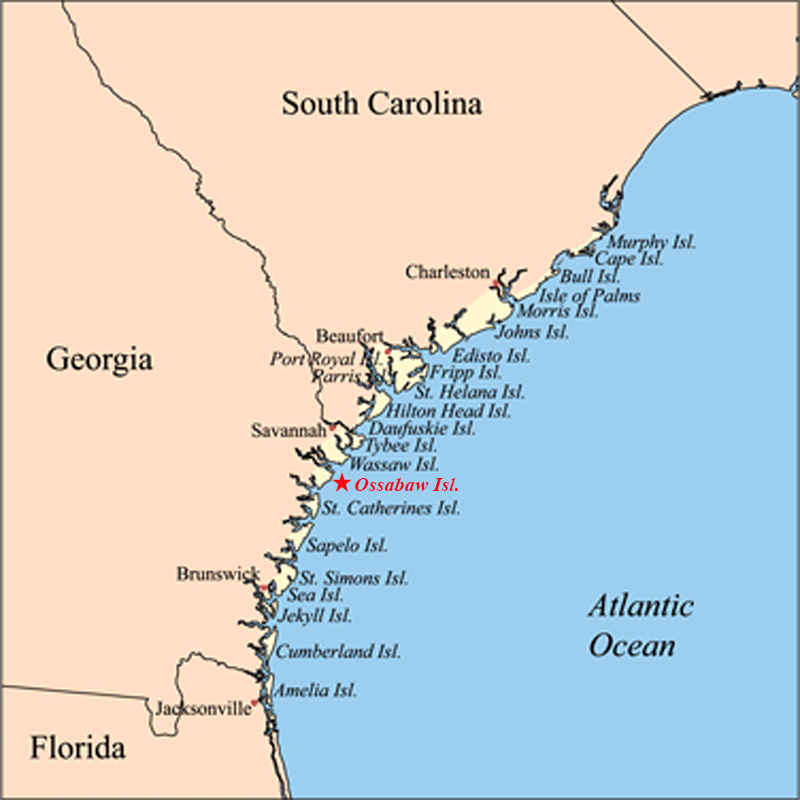 Ecosystems on Ossabaw include salt marshes, maritime forests, beaches, and a few freshwater ponds. Salt marshes are widespread west of Ossabaw, but also occupy much of the middle and eastern parts of the island between sediments of the Pleistocene and Holocene shorelines, dividing its maritime forests. The climate of Ossabaw is temperate to subtropical, with temperatures ranging from an average high of 32° C (90° F) in the summer to 10° C (50° F) in the winter. Average rainfall is about 50 centimeters (20 inches) per year, with most precipitation during the hurricane season (May–September). Hurricanes have rarely affected the Georgia barrier islands until recently, when Ossabaw was hit by Hurricane Matthew (2016), then later Hurricane Irma (2017). Hurricane Matthew, in particular, uprooted many of the older live oaks on the island and otherwise dramatically altered its landscape.
Although Ossabaw is often labeled as "pristine," humans have transformed its landscapes for at least 4,000 years. Its human history is similar to that of its island neighbor, St. Catherines, beginning with Native Americans (the Guale). The Guale had occupied Ossabaw since about 2000 BCE, but European colonization began when the Spanish arrived in the late sixteenth century. A lasting remnant of Spanish colonization on Ossabaw is the presence of feral hogs, some of which are linked to Spanish stock. This relatively large population of hogs has disrupted or otherwise altered ecosystems throughout the island.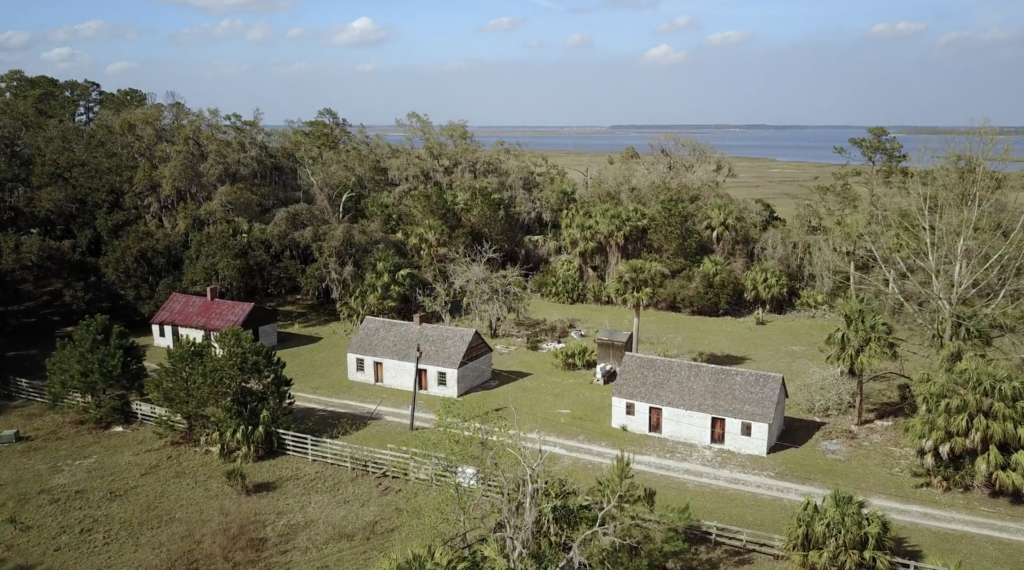 The British took control of Ossabaw in the 1730s, by which time the Guale had mostly moved inland or suffered near extinction under the pressure of colonization. Early treaties reserved Ossabaw as hunting and fishing ground for the Creek people until 1758. The British also began enslaving African people for their plantation economy, and in the late eighteenth century American settlers continued using enslaved people as laborers for growing cotton and indigo. Most inland ecosystems of Ossabaw, especially the maritime forests and salt marshes, were altered considerably by this agriculture. Following the American Civil War, a significant population of African Americans stayed on the island, but most moved to the mainland after the Sea Island Hurricane of 1893. Many of their descendants today comprise the Gullah-Geechee community in Pin Point, Georgia.
Through the early to late twentieth century, Ossabaw's ownership changed several times, but the island remained largely undeveloped and sparsely inhabited. The last private owners were members of the Torrey family, starting with Dr. Henry Norton Torrey and Nell Ford Torrey, and ending with their daughter, Eleanor Torrey ("Sandy") West. The Torreys oversaw the building of a large home for themselves, as well as hunting lodges, a beach house, and unpaved roads. In 1961, after Sandy West inherited the island, she and her husband Clifford West began the Ossabaw Island Project. This project brought luminaries of the arts and sciences to the island as a retreat center for study and discussion; notable participants included composer Aaron Copeland, writers Ralph Ellison, Margaret Atwood, and Annie Dillard, as well as ecologist Eugene Odum. This creative initiative also resulted in the Genesis Project, which focused more on the natural sciences and hosted scientists for on-site studies of and education about the archaeology, ecology, and geology of the island.
In 1978, Sandy West sold Ossabaw to the state of Georgia to establish it as the state's first heritage preserve, and it has been managed since by the Georgia Department of Natural Resources (DNR). The Ossabaw Island Foundation was established afterwards as a non-profit organization working with DNR to encourage educational, cultural, and scientific programs on the island. Sandy West continued living on the island until just recently; at the time of this writing (January 2020), she was living in nearby Savannah, Georgia, and had just celebrated her 107th birthday.
This Ossabaw flyover video provides a visual sample of the many interconnections between natural and human histories on Ossabaw. Featuring sweeping aerial views and audio annotations explaining the island's varied environmental features, this video is organized around four sequential but overlapping themes: fauna, flora, landscapes, and human structures.

Acknowledgment
Thanks to the Ossabaw Island Foundation for their support on this piece.
About the Authors
Anthony "Tony" Martin is a professor of practice in the Department of Environmental Sciences at Emory University. His publications include Life Traces of the Georgia Coast (Bloomington: Indiana University Press, 2013).
Steve Bransford is the senior video producer at the Emory Center for Digital Scholarship. His documentary feature film The Well-Placed Weed is available on the PBS website and app.
Michael Page is lecturer in Geospatial Sciences and Technology at Emory University.
Leotie Hakkila is an MPH student at the Rollins School of Public Health, Emory University.
Anandi S. Knuppel is a visiting assistant professor in the Department of Religious Studies at Lawrence University.
Recommended Resources
Text
Bolster, Paul. Saving the Georgia Coast: A Political History of the Coastal Marshlands Protection Act. Athens: University of Georgia Press, 2020.
Fraser, Walter J., Jr. Low Country Hurricanes: Three Centuries of Storms at Sea and Ashore.
Athens: University of Georgia Press, 2006.
Kutzler, Evan. Ossabaw Island: A Sense of Place. Macon, GA: Mercer University Press, 2016.
Leigh, Jack, James Kilgo, and Alan Campbell. Ossabaw: Evocations of an Island. Athens: University of Georgia Press, 2004.
Lulewicz, Isabelle H., Victor D. Thompson, Justin Cramb, and Bryan Tucker. "Oyster Paleoecology and Native American Subsistence Practices on Ossabaw Island, Georgia, USA." Journal of Archaeological Science: Reports 15 (2017): 282–289.
Martin, Anthony J. Life Traces of the Georgia Coast: Revealing the Unseen Lives of Plants and Animals. Bloomington: Indiana University Press, 2013.
———. Tracking the Golden Isles: Natural and Human Histories of the Georgia Coast. Athens: University of Georgia Press, 2020.
Sutter, Paul A. and Paul M. Pressly, eds. Coastal Nature, Coastal Culture: Environmental Histories of the Georgia Coast. Athens: University of Georgia Press, 2018.
Web
Chapman, Dan. "Keeper of the Island." Atlanta Journal Constitution, March 6, 2016. http://specials.myajc.com/keeper-island/.
Crook, Ray. A Place Known as Chocolate. Carrollton, GA: Antonio J. Waring, Jr. Archaeological Laboratory, 2007. https://api.semanticscholar.org/CorpusID:127245342.
Cyriaque, Jeanne. "Interpreting African American Life on Ossabaw Island and Community Formation on the Mainland." Reflections X, no. 2. (Dec. 2011): 1–4. https://georgiashpo.org/sites/default/files/hpd/pdf/AfricanAmericanHistoricPlaces/December%202011.pdf.
Honerkamp, Nicholas, Meredith Gilligan, and Taylor Maxie. Gullah-Geechee Landscapes on Ossabaw Island, Georgia. Chattanooga: University of Tennessee at Chattanooga, 2013. https://scholar.utc.edu/archaeology-reports/3.
Johnson, Sydney A., Hilburn O. Hillestad, Sheryl Fanning Shanholtzer, and G. Frederick Shanholtzer. "The Islands." In An Ecological Survey of the Coastal Region of Georgia. National Parks Service Scientific Monograph Series, no. 3. 1974. Washington, D.C.: Government Printing Office, 1974. https://www.nps.gov/parkhistory/online_books/science/3/contents.htm.
"Ossabaw Island: OIP & Genesis Projects." Ossabaw Island Foundation. Accessed April 1, 2020. http://ossabawisland.org/island/projects.