Overview
In this peer-reviewed short video and essay, Steve Bransford, Anthony Martin, and Michael Page explore the history and terrain of St. Catherines Island, a privately owned barrier island along the Georgia Atlantic coast.
This piece joins two other Georgia barrier island flyover videos: Sapelo Island Flyover and Ossabaw Island Flyover.
Video and Essay
One of the barrier islands along the Georgia coast of the Atlantic Ocean, St. Catherines has an extraordinary ecological and settlement history. First inhabited more than four thousand years ago, the undeveloped island is privately owned but protected for the public good. A small network of unpaved roads connect the interior of the ten-mile long, three-mile wide island. In addition to ongoing environmental study, extensive archaeological research has occurred at St. Catherines with regard to Native American settlements, the Spanish mission of Santa Catalina de Guale, and pre-Civil War plantation sites.
| | |
| --- | --- |
| Map detailing the geography of St. Catherines Island and St. Catherines Sound. Map courtesy of Steve Bransford, Anthony Martin, and Michael Page. Screenshot courtesy of Southern Spaces. | Screenshot of Santa Catalina de Guale, a Spanish Franciscan mission once located on St. Catherines. Screenshot courtesy of Southern Spaces. |
During a week-long visit to St. Catherines in March 2015, Emory University geographer Michael Page, environmental scientist Anthony (Tony) Martin, and graduate student Alison Hight flew a camera-bearing drone over nearly every type of ecosystem on the island: maritime forests, extensive beaches, back-beach meadows, salt marshes, mud flats, fresh-water ponds, and more. Along with colleagues from Georgia Southern University, Page and Martin have worked together at St. Catherines since 2011, locating, describing, mapping, and writing about alligator dens and gopher-tortoise burrows. The use of a drone enables a new way of studying the island's dynamic ecosystems and scouting locations difficult to reach on foot. During their spring 2015 trip, Page and Martin found places where alligators walk from their dens through nearby salt marshes, then return. Rather than trying to track the alligators in the marshes—a challenging, time-consuming, and risky endeavor—they sent the drone to take overhead photos at higher resolutions than currently available imagery from the US Department of Agriculture and other agencies. Page and Martin georeferenced and mosaicked the captured images for their research geodatabase. In addition to demonstrating the potential of a drone in difficult-to-access areas, Page and Martin plan to use the St. Catherines video footage to teach students how to identify and interpret the environments of a Georgia barrier island, and to conduct local-scale mapping.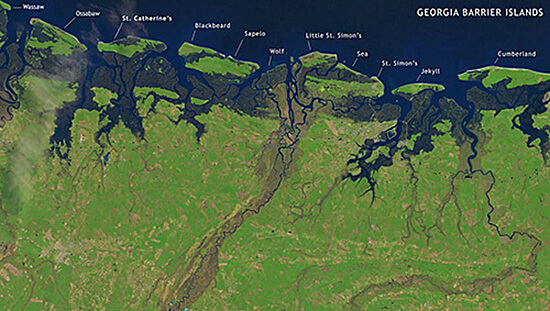 From the many hours of March 2015 drone footage, documentary videographer Steve Bransford edited the short video presented here. It begins by orienting viewers to the location of St. Catherines, and then travels smoothly across the various ecosystems. The former site of the Spanish mission is visible (its footprint outlined by cabbage palms) as are alligator tracks, and alligators swimming near the video's end.

About the Authors
Steve Bransford is an educational analyst for video with University Technology Services at Emory University. He launched his own production company, Terminus Films, in 2001. Anthony (Tony) Martin is a professor of practice in the department of Environmental Sciences at Emory University. His publications include Life Traces of the Georgia Coast (Bloomington: Indiana University Press, 2013). Michael Page is lecturer in geospatial sciences and technology in the department of Environmental Sciences at Emory University.
Recommended Resources
Text
Clayton, Tonya D., Lewis A. Taylor, William J. Cleary, Paul Hosier, Peter H. F. Graber, and Orrin H. Pilkey Sr. Living with the Georgia Shore. Durham, NC: Duke University Press, 1992.
Harlan, Will. Untamed: The Wildest Woman in America and the Fight for Cumberland Island. New York: Grove Press, 2014.
Martin, Anthony J. "Ground-Penetrating Radar Investigation of Gopher-Tortoise Burrows," Geological Society of America Annual Meeting, Minneapolis, October 11, 2011. https://gsa.confex.com/gsa/2011AM/finalprogram/abstract_192978.htm.
Martin, A. J., Page, M., Vance, R. K., and Skaggs, S. "Dens of the American Alligator (Alligator Mississippiensis) as Traces and Their Predictive Value for Finding Large Archosaur Burrows in the Geologic Record." Society of Vertebrate Paleontology Annual Meeting, Raleigh, NC, October 18, 2012.
Thomas, David Hurst. St. Catherines: An Island in Time. Atlanta: Georgia Endowment for the Humanities, 1988.
Vanstory, Burnette. Georgia's Land of the Golden Isles. Athens: University of Georgia Press, 1981.
Worth, John E. The Struggle for the Georgia Coast: An Eighteenth-Century Spanish Retrospective on Guale and Mocama. New York: American Museum of Natural History, 1995; distributed by University of Georgia Press.
Web
Martin, Anthony J. "Deconstructing an Ichnology Abstract, with Alligators," Life Traces of the Georgia Coast, October 19, 2012. http://www.georgialifetraces.com/2012/10/19/deconstructing-an-ichnology-abstract-with-alligators.
National Park Service. "American Latino Heritage: St. Catherines Island Georgia." http://www.nps.gov/nr/travel/american_latino_heritage/St_Catherines_Island.html.
St. Catherines Island Sea Turtle Conservation Program. http://www.scistp.org.