Overview
In an excerpt from Studying Appalachian Studies: Making the Path by Walking (Chicago: University of Illinois Press, 2015), editors Chad Berry, Phillip J. Obermiller, and Shaunna L. Scott challenge the field's status quo and reflect on the scholarly, artistic, activist, educational, and practical endeavor known as Appalachian Studies. In these "Final Thoughts," the editors advocate for a more accurate and contemporary understanding of Appalachia and its scholarly study.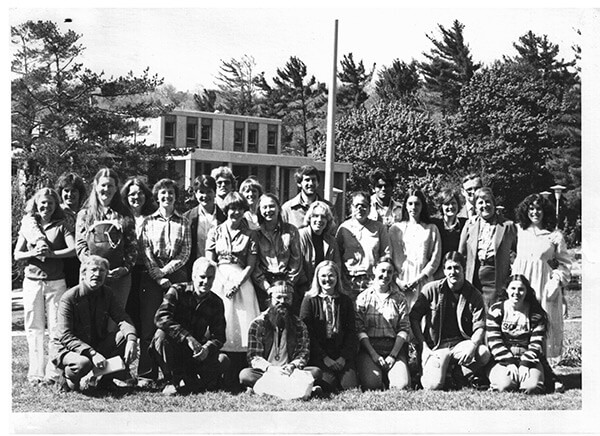 Faculty and students of the Appalachian Culture Semester, Appalachian State University, Boone, North Carolina, 1980. Dr. Patricia Beaver, professor emeritus and former director of the Center for Appalachian Studies, standing third from left. Academic activist Helen Lewis, standing second from right. Photograph courtesy of Deborah Thompson.

Appalachian Studies is the academic wing of a larger social movement. It is where public intellectuals gather to provide the Appalachian movement with access to information and ideas, to get the facts right about the region and its people, and to maintain spaces for thoughtful deliberation and intellectual honesty.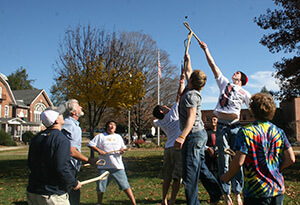 Cherokee stickball game, Liston B. Ramsey Center for Regional Studies, Mars Hill University, November 8, 2011. Photograph by Hannah Furgiuele. Courtesy of the Liston B. Ramsey Center for Regional Studies at Mars Hill University.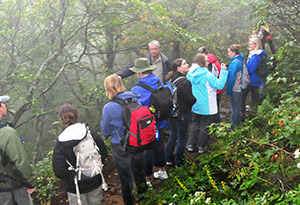 "Where There Are Mountains" program with Dr. Alan Smith, Mountains to Sea Trail, Craggy Gardens, North Carolina, September, 2011. Photograph by Dr. Marc Mullinax. Courtesy of the Liston B. Ramsey Center for Regional Studies at Mars Hill University.
By doing their jobs, Appalachian Studies teachers and researchers have furthered the movement by educating generation after generation of students and have been doing so for nearly forty years. We have attained about ten graduating cohorts of undergrads so far. This is not only expanding the pool of practicing Appalachianists but also sending more culturally aware and politically alert graduates into all sectors of society: government, education, business, non-profits, and churches. Whether they end up inside or outside of Appalachia, the region and its movement for social justice will surely benefit.
Our students are the vectors of a legacy of teaching, mentoring, research, writing, and creativity established by Appalachian Studies. Those in the field need not worry that their hard-won insights will be lost or not attended to, because the next generation has absorbed them, is using them, and will build upon them.
In some places, social change comes in the volcanic eruption of revolution, while in academia change generally comes from the gradual shifting of intellectual tectonic plates. Clearly a necessary but difficult virtue in Appalachian Studies is patience. But the tempo of patient, careful scholarship can be frustrating for others in the Appalachian movement. The field began in the tension and turmoil of activism vs. scholarship, but currently, if not a complete fusion, there seems to be mutual respect between the two points of view. And why shouldn't there be? Both are necessary components of the movement they share, both have a mutual goal of social justice, both believe in transformation, and both manifest the qualities of dedication and determination in moving toward that goal.
There are other challenges for Appalachian Studies. It is difficult to stay current with the many intellectual strands of such a braided field. Communication across various disciplinary approaches is also hindered by differing vocabularies, theoretical assumptions, and methodological techniques. Ironically, the very richness of interdisciplinary work in Appalachian Studies sometimes makes it hard to communicate within the field itself. Another challenge of interdisciplinarity is establishing standards for quality work. As hard as it may be for a field with widely varying scholarly norms and expectations, the field has to strive for the best understanding and interpretation of the region and people. Appalachia deserves no less.
Despite these problems, could it be that Appalachian studies isn't interdisciplinary enough? For instance, urban planners, demographers, and ethnographers (among others) are needed to understand urban Appalachia, immigration, housing, and employment. To be fully interdisciplinary, Appalachian Studies needs to add disciplines both to broaden the field's perspective and to add depth to its understanding of regional realities. To be sure, that will be a challenging task that will add new tensions and pose even more communication problems, but it can also make the field more dynamic and relevant to the region.
Although most of the region's population lives in urban and suburban areas, Appalachian Studies maintains a strong rural bias. There is relatively little research on the sizable metropolitan populations within the region. Does urbanization launder out culture? Does Appalachian culture flourish only when used as a tourism and commercial stimulus for the economic development of rural places? Why does the field seem uninterested in these questions?
Appalachian Studies has pretty much ignored both the impact of and the need for migration into the region. Most current commentaries are on Hispanics, an important part of the Appalachian social and economic landscape to be sure, but Hispanics now run a distant second to Asians in the migration streams entering the region. This is an overlooked factor in the economic development of Appalachia: on average each foreign worker with an advanced degree creates 2.6 jobs for American workers. Asian immigrants frequently come with or earn advanced degrees. What are the policy implications of this phenomenon for the region? What does this blind spot tell us about Appalachian Studies?
Appalachian Studies overlooks the region's middle class by ignoring it or dismissing it as nonexistent or unimportant or "shrinking." On what evidence is the claim based that the class structure of the region consists only of poor/working-class people and elites? The field has produced no studies describing the size, nature, distribution, and impact of an Appalachian middle class. Is this because it doesn't exist, or does the myopia of the field obscure the entirety of the Appalachian class structure? How does Appalachia define its middle class, and what is its role in the region's institutions and economy? Or its future?
Why is Appalachian Studies largely silent on other areas important to people in the region—housing and employment, for instance? What, if any, role should mobile homes play in the region's housing infrastructure? How can we support the construction of affordable, energy-efficient, healthy, sustainable housing in the region? How can policies be changed and incentives offered so that more land is available for housing and alternative economic development?
What are the actual employment/income outcomes of regional economic development schemes (whether they come from the top down or from grass-roots efforts)? How can Appalachian Studies take an active role in reimagining (and evaluating) new types of economic development, in creating alternative locally owned economic enterprises, and in exploring alternative organizational forms, such as cooperatives and employee-owned businesses? There are some examples out there—in the mountains and beyond—and these experiences must be shared more widely. Can the field reverse the trend in higher education of creating placeless, self-centered, career-minded professionals and, instead, educate and nurture civic-minded, responsible citizens of places?
The answer is yes, but we must get out of offices and classrooms and go to the community. One step in the right direction would be to live up to the field's tradition: engaging students in experiential and high-quality service learning throughout the region, conducting participatory-action and community-based research, and ensuring the labor and resources of our higher education institutions serve the people and the region. Another would be to provide more paid internships to place our students in the region to learn while doing meaningful work, teaching them to network with local community members, leaders, and organizations (see, for example, University of Kentucky Appalachian Center's Tomorrow Corps). The STAY Project is notable; it aims to make the region a more welcoming and diverse place and provide more reasons for young people to stay in, return to, or move to the region to make a life.
How can Appalachian Studies take advantage of new technologies to teach and collaborate from a distance and to share its research, videos, and archives globally? How can more people access information and seek an education, even if they need (or just want) to live in a place that doesn't have a bricks-and-mortar college? Colleges and universities, Appalshop, Highlander, and other institutions throughout the region have a massive amount of information (documents, recordings of performances and interviews, photographs, films) in their archives that could be digitized and used for teaching and research. If it hopes to thrive in a digital age, Appalachian Studies needs to figure out how to do this.
Appalachian Studies should be exceedingly mindful of the "digital divide" and how technology often works to reproduce old forms of inequality and create new ones. Broadband access is spotty in the mountains and other rural places throughout the region, and it can be expensive. How can we work with our institutions to avoid creating a two- or three-tiered higher-education system where some people cannot access any kind of education, others can only afford to enroll in online education, and only the most privileged get a high-quality residential education?
Appalachian Studies should collaborate and converse more with related interdisciplinary fields, such as Women's, African American, New West, and Pacific Islands studies. Perhaps Appalachian Studies could arrange joint conferences with other area studies or invite special panels to our conference. Appalachian Studies journals could commission special issues with comparative scholarship and conversations with other area studies and disciplines. More Appalachian Studies teachers could use technology to create partnered, collaborative classrooms, which would enable students to share their ideas, work, and experiences cross-regionally and interculturally.
Cross-field collaboration is especially needed in a globalized world, as Appalachia is neither isolated nor exceptional. It is connected to the rest of the world and is affected by many of the same forces and trends penetrating other regions. Appalachian Studies, for example, faces funding cuts under an education regime that has seen declining public support for higher education, a greater reliance on tuition dollars to fund higher education, a view of higher education as career training, and corporatized "profit-center" budget models being implemented at many colleges and universities.1Burton R. Clark, Creating Entrepreneurial Universities: Organizational Pathways of Transformation (Oxford: Pergamon Press,1998); Rebecca Pelan, "Practising Disobedience: Feminist Politics in the Academy," Hecate 38 no. 1/2 (2012): 210–222, 234; Gary Rhoades and Sheila Slaughter "Academic Capitalism, Managed Profes­sionals, and Supply-Side Higher Education," Social Text 41 (1997): 9–38.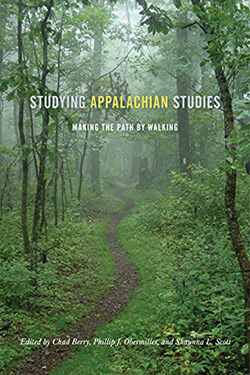 When universities and colleges conceive of interdisciplinary studies as primarily a way to generate external grant funding, fields such as Appalachian Studies that have critical, transformative potential will paradoxically suffer because they are not likely to be governmental- or corporate-funding priorities. A frantic chase for grant funding in a context of decreased funding for higher education creates a competitive, cutthroat environment in education and further reinforces the status quo in capitalism: money drives research priorities and knowledge construction, just as it controls the electoral and legislative processes. In recent years, some Appalachian Studies programs have been closed, reorganized, and combined with other programs. Some have faced extreme cuts to their budgets. If the 1970s saw the birth and growth of Appalachian Studies in higher education, the 2010s have seen a reduction and withdrawal of support for them. The time has come to engage in more systematic cross-interdisciplinary collaboration if we hope to survive to build knowledge and transform society.
This is not a full list of questions, possible directions, biases, and blind spots, but it is, we hope, suggestive of some of the things that "need doing." Appalachian Studies is up to the task, because the field, similar to other area studies, starts with a focus on the subject—whether it be an historically oppressed or marginalized group or a geographic area. When it's at its best, Appalachian Studies keeps its connection with its community-based, activist side and follows up on questions and issues that are raised in the struggle to create a more just, meaningful, and sustainable world. Our interdisciplinary approach works because our topical areas are more complex and varied than a single discipline can encompass and our questions and issues are so clearly connected to people's everyday lives, dreams, and struggles.

About the Authors
Dr. Chad Berry is Berea College's Academic Vice President and Dean of the Faculty. Berry is the author of Southern Migrants, Northern Exiles (University of Illinois Press, 2000), which examines the migration of millions of white southerners to the Midwest during the twentieth century. The book was inspired by his paternal grandparents, who reluctantly left Tennessee in the 1940s, going first to Akron, Ohio, and ultimately settling in Mishawaka, Indiana, where they found jobs and the economic opportunity that had eluded them in the South. He is the editor of and a contributor to The Hayloft Gang: The Story of the National Barn Dance (University of Illinois Press, 2008), an important radio program from Chicago that was instrumental in the development of country music. Berry is published widely in the area of Appalachian studies and international education and served as the 2006–2007 president of the Appalachian Studies Association. Berry is currently working on a project that explores the development of Appalachian Studies after World War II, as well as a project analyzing maps that Berea students drew of their home communities between 1948 and the late 1960s for a general studies class.
Dr. Phillip Obermiller holds graduate degrees in philosophy from the Athenaeum of Ohio and in sociology from the Union Institute. His cross-national studies have been funded by the Canadian Social Sciences and Humanities Research Council. He has also held a Postdoctoral Fellowship for Advanced Research in the Humanities and Social Sciences from the Andrew A. Mellon Foundation. He currently holds joint appointments as a research associate at the Appalachian Center of the University of Kentucky and as a visiting scholar in the U.C. School of Planning. Dr. Obermiller has provided consulting, training, and evaluation services for the Cincinnati Health Department, the Cincinnati Public Schools, the Indianapolis Public Schools, Northern Kentucky Family Health Services, the Community Council and Chest of Greater Cincinnati, the Ohio Department of Rehabilitation and Correction, the Ohio Historical Society, the Cincinnati Historical Society, and the Ohio Humanities Council. In addition to chapters in ten books, Obermiller's research has been published in the International Journal of Comparative Sociology, Social Science Quarterly, Ethnic Groups, Social Insight, Urban Education, Appalachian Heritage, Now and Then, Pittsburgh History, Appalachian Journal, and the Journal of Appalachian Studies. Most recently, he and Robert Ludke edited Appalachian Health and Well-Being (University Press of Kentucky, 2012).
Dr. Shaunna Scott is an associate professor of sociology at the University of Kentucky. She is past president of the Appalachian Studies Association. Her interests center upon social inequality, gender, the politics of identity and commemoration, theory, qualitative methods, participatory action research and social movements in Appalachia and Northern Ireland. Dr. Scott's work appears in Rural Sociology, Qualitative Sociology, Journal of Appalachian Studies, Appalachian Journal, and Action Research. Dr. Scott is an affiliate of the University of Kentucky's Appalachian Center, Center for Poverty Research, Social Theory Committee, and the department of Gender and Women's Studies.
Acknowledgments
From Studying Appalachian Studies: Making the Path by Walking (Chicago: University of Illinois Press). Copyright 2015 by the Board of Trustees of the University of Illinois. Used with permission of the University of Illinois Press. This material may not be reprinted, copied, posted online, or distributed in any way without written permission from the copyright holder.
Recommended Resources
Text
Billings, Dwight, Mary Beth Pudup, and Altina L. Waller. "Taking Exception with Exceptionalism: The Emergence and Transformation of Historical Studies of Appalachia." In Appalachia in the Making: The Mountain South in the Nineteenth Century, edited by Dwight Billings, Mary Beth Pudup, and Altina L. Waller, 1–24. Chapel Hill: University of North Carolina Press, 1995.
Blackburn, Jessie. "[E]ppalachia: Rural Ethos, Online Discourse, and Cyber-Frontiers." Appalachian Journal 41, no. 3–4 (2014): 214–231.
Booker, Emily. "Appalachian Studies as an Academic and Activist Field, 1970-1982." Master's thesis, East Tennessee State University, 2015. Electronic Theses and Dissertations. Paper 2488.
http://dc.etsu.edu/etd/2488.
Brown, Logan, Theresa Burchett-Anderson, Donavan Cain, and Jinny Turman Deal, with Howard Dorgan. "Where Have We Been? Where Are We Going? A History of the Appalachian Studies Association." Appalachian Journal 31, no. 1 (2003): 35.
Creadick, Anna. "The 'AppalJ' of My Eye: From Appalachian Studies to American Studies, and Back." Appalachian Journal 40, no. 3–4 (2013): 166–171.
Drake, Richard B. "The Struggle in Appalachian Studies, 1950–1981." Appalachian Journal 9, no. 2–3 (1982): 193.
Lewis, Helen M. Living Social Justice in Appalachia. Edited by Patricia Beaver and Judith Jennings. Lexington: University Press of Kentucky, 2012.
———. "Appalachian Studies—The Next Step." Appalachian Journal 9, no. 2–3 (1982): 162.
Powell, Douglas Reichert. Critical Regionalism: Connecting Politics and Culture in the American Landscape. Chapel Hill: University of North Carolina Press, 2007.
Reid, Herbert and Betsy Taylor. "Appalachia as a Global Region: Toward Critical Regionalism and Civic Professionalism." Journal of Appalachian Studies 8, no. 1 (Spring 2002): 10.
Williamson, J.W., ed. An Appalachian Symposium: Essays Written in Honor of Cratis. D. Williams. Boone, North Carolina: Appalachian Consortium Press,1977.
Web
Appalachian Regional Commission. www.arc.gov.
Appalachian Studies Association. www.appalachianstudies.org.
Appalachian Voices. www.appvoices.org.
Highlander Research and Education Center, New Market, Tennessee. www.highlandercenter.org.
Hindman Settlement School, Hindman, Kentucky. www.hindmansettlement.org.
Holler Home: Community and Culture in the Hollows [HOL-LERS] of McDowell County, W. VA. www.hollerhome.hollowdocumentary.com.
Kentuckians for the Commonwealth. Appalachia's Bright Future, 2.0. www.kftc.org/abf.
May, Roger. Looking at Appalachia. Duke University Libraries. www.lookingatappalachia.org.
McMillian, Elaine. Hollow. Interactive Documentary, 2013.
Ramsey, Krista. Photos by Liz Dufour. "The Girls of Lower Price Hill," November 15, 2014.
http://www.cincinnati.com/story/news/2014/11/15/girls-of-lower-price-hill-cincinnati/18090143/.
Renew Appalachia. www.appalachiantransition.org.
Urban Appalachian Community Coalition. www.uacvoice.org.
All rights reserved.
References

| | |
| --- | --- |
| 1. | Burton R. Clark, Creating Entrepreneurial Universities: Organizational Pathways of Transformation (Oxford: Pergamon Press,1998); Rebecca Pelan, "Practising Disobedience: Feminist Politics in the Academy," Hecate 38 no. 1/2 (2012): 210–222, 234; Gary Rhoades and Sheila Slaughter "Academic Capitalism, Managed Profes­sionals, and Supply-Side Higher Education," Social Text 41 (1997): 9–38. |