Overview
In this brief documentary video by Joseph Quintana and Mary Campbell Kitchens, Jeff Drew situates his family home within the geography of the civil rights movement. Drew's home was among several residences bombed by white supremacists from 1947–1965 in a neighborhood of Birmingham, Alabama, that came to be known as Dynamite Hill.
Video
Essay
Jeff Drew, born in 1951, is a lifelong resident of Birmingham, Alabama's North Smithfield neighborhood. In 2013, following the fiftieth anniversary commemoration of the Birmingham campaign of the civil rights movement, Drew was inspired to be his neighborhood's oral historian: "The people who can tell the story are dying off."
Long before Birmingham was a center of 1960s movement protest, the hilly residential street where Drew grew up and still resides was a battleground in the fight against segregation. In the 1940s, Center Street was the dividing line between white and Black property: white residents on the west side and Black residents on the east side. Ignoring Jim Crow, Drew's family and other Black families crossed the color line and built homes on the west side of Center Street. Between 1947 and 1965, Black residences in Birmingham were bombed at least fifty times.
A graduate of Morehouse College in Atlanta, Jeff Drew's father, John (1908–1991), co-founded the Alexander Insurance Agency with the mission of providing affordable insurance to Black customers. While a Morehouse student, John Drew met Alfred Daniel King, Dr. Martin Luther King, Jr.'s brother. Participants in the Montgomery bus boycott in 1955–56 faced a dilemma: retaliating against Black protestors' refusal to ride the busses, the city imposed higher car insurance fees. When Dr. King asked his brother if he knew anyone who could help, Alfred connected him with John Drew, beginning a relationship that would last until Dr. King's assassination.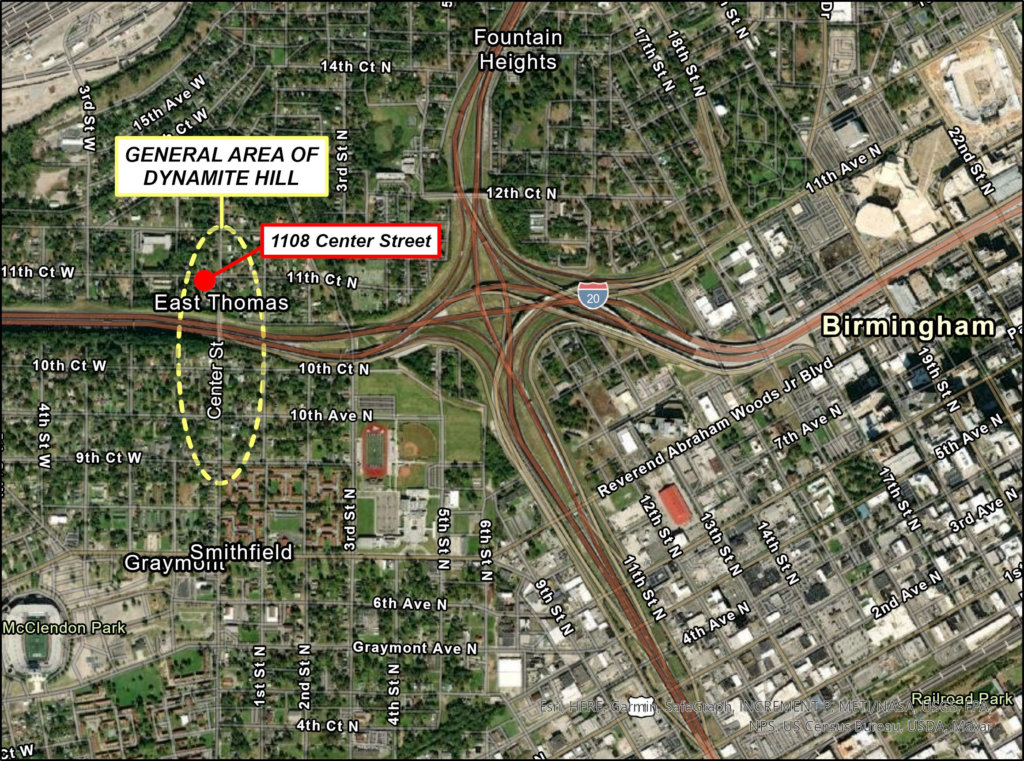 John Drew and Dr. King, along with local Birmingham civil rights leaders such as Fred Shuttlesworth and Arthur Shores, worked closely together to tear down Birmingham's segregated zoning ordinances, paving the way for Black families to live on the west side of Center Street—but not without brutal backlash. The area was bombed so frequently it became known as "Dynamite Hill," in a city already dubbed "Bombingham." Led by the Ku Klux Klan, assailants took to the cover of night to throw bombs, burn doors, and shoot into homes.
Atop Dynamite Hill, the Drew household was a high priority target for domestic terrorism because it was also a safehouse for civil rights organizing. Addine Drew (1916–2003), Jeff's mother, was known as the "Den Mother" of the movement. The trust between the Drews and Dr. King was so strong that he would stay with the family when in Birmingham. Local Black leaders would meet at 1108 Dynamite Hill to plan the next moves for equality. Jeff Drew tells of his childhood in this space, how he spent nights listening in on strategic conversations and woke up to find Dr. King sleeping on the couch. Given the profiles of those in attendance, these meetings were difficult to keep secret, so they were constantly under assault.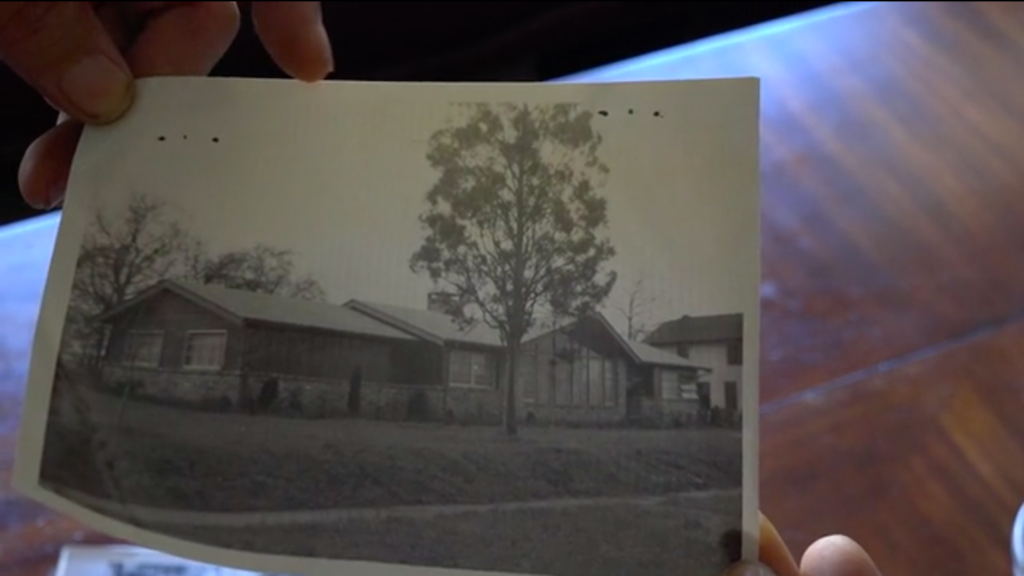 The original street-facing window of 1108 was a grand, cathedral-style frame—a colossal opening into a living room where the organizers met. Shot at and shattered countless times, the scenic window now only exists in photographs. After sustaining several bombings and much gunfire, the Drews had the home rebuilt with a new structure designed to endure bomb blasts. They constructed eight-foot tall brick walls that encased the perimeter of 1108 and reconfigured the interior so that the bedrooms were the furthest away from the street. The walls held and have endured, with the scars of attempted murders visible on the bricks.
The opportunity to hear Jeff Drew's story is a recent development. After Birmingham's 2013 commemoration, Drew told reporters that his parents asked him to never give interviews about "Uncle Mike" for fear that the white press would seek to tarnish his legacy and that of other local Black activists. With time, and the passing of many 1960s movement participants, Drew decided that he would talk more about this history. Seeing Drew outside 1108 talking to whoever will listen is as ordinary as seeing the mail being delivered. The only time he might turn down a conversation would be under similar circumstances to when he had us reschedule: he had a lunch date with childhood neighbor Angela Davis.

Acknowledgements
Special thanks to Jeff Drew for treating strangers like neighbors and taking the time to share his essential story.
About the Authors
Joseph Quintana earned his MA in Communication Studies from the University of Alabama in 2019. He recently received a screenwriting certificate from NYU Tisch School of the Arts and is currently pitching prospective screenplays and researching documentary subjects.
Mary Campbell Kitchens is a graduate from the University of Alabama and works as a secondary math special education instructor in New Orleans, Louisiana.
Recommended Resources
Text
Connerly, Charles E. "The Most Segregated City in America": City Planning and Civil Rights in Birmingham, 1920–1980. Charlottesville: University of Virginia Press, 2013.
Davis, Townsend. Weary Feet, Rested Souls: A Guided History of the Civil Rights Movement. New York: W.W. Norton, 1998.
Jimerson, Randall C. Shattered Glass in Birmingham: My Family's Fight for Civil Rights, 1961–1964. Baton Rouge: Louisiana State University Press, 2014.
McWhorter, Diane. Carry Me Home, Birmingham, Alabama: The Climactic Battle of the Civil Rights Revolution. New York: Simon & Schuster, 2013.
Shores Lee, Helen and Barbara Sylvia Shores. The Gentle Giant of Dynamite Hill: The Untold Story of Arthur Shores and His Family's Fight for Civil Rights. Grand Rapids, MI: Zondervan, 2013.
Web
Elliott, Debbie. "Remembering Birmingham's 'Dynamite Hill" Neighborhood." NPR. July 6, 2013. https://www.npr.org/sections/codeswitch/2013/07/06/197342590/remembering-birminghams-dynamite-hill-neighborhood.
Manis, Andrew Michael. "John J. Drew Interview." Andrew M. Manis Oral History Interviews. Birmingham Public Library Digital Collections. December 29, 1988. https://cdm16044.contentdm.oclc.org/digital/collection/p15099coll2/id/76.
Worthy, Ariel. "Inside the Birmingham Community Where Dr. Martin Luther King Jr. Found Solace." The Birmingham Times. January 11, 2018. https://www.birminghamtimes.com/2018/01/inside-the-birmingham-community-where-dr-martin-luther-king-jr-found-solace/.