Overview
Writer and queer scholar Eric Solomon interviews historian Julio Capó Jr., author of Welcome to Fairyland: Queer Miami Before 1940 (Chapel Hill: The University of North Carolina Press, 2017) and curator of Queer Miami: A History of LGBTQ Communities.
Queer Intersections / Southern Spaces is a collection of interdisciplinary, multimedia publications that explore, trouble, and traverse intersections of queer experiences, past, present, and future. From a variety of perspectives, and with an emphasis upon the US South, this series, edited by Eric Solomon, offers critical analysis of LGBTQ+ people, practices, spaces, and places.
Introduction
Julio Capó Jr. is a proud Miamian, and much of his work reflects detailed attention to the history of LGBTQ Miami. After seven years at the University of Massachusetts Amherst, Capó returned to his native Miami in the fall of 2019 as an associate professor in the Department of History and the Wolfsonian Public Humanities Laboratory at Florida International University. His first book, Welcome to Fairyland: Queer Miami Before 1940, explores John Sewell's 1933 notion of Florida as "a playground for the Nation" specifically through his deployment of "queer as an analytical tool" with "which to understand contested meanings of nation, race, belonging, and citizenship" in Greater Miami from the 1890s until 1940.1See Julio Capó Jr., Welcome to Fairyland: Queer Miami Before 1940 (Chapel Hill: UNC Press, 2017), 24, 5, 8. Capó explores how influential powerbrokers and everyday people contributed to the process of transforming "Miami into an 'exotic' tropical fairyland linked to the Caribbean and available for purchase."2Capó, 1. "Miami," he writes, "is geographically situated in the U.S. South and tucked in the northern section of the Caribbean Basin."3Capó, 7. Capó's Welcome to Fairyland interprets Miami as "linked to the Caribbean" and as part of a larger US landscape in a historiographical tradition of employing "a transnational lens in the recovery of queer voices, lives, and experiences."4Capó, 7. Queerness is the central analytical tool through which Capó explores Greater Miami. In his history, Capó traces Miami from its early days as a "queer frontier" to how it sustained a reputation as "a site where one could transgress gender and sexual norms."5Capó, 4. The 1950s saw Miami's queer landscape radically change once more, with the 1959 Cuban Revolution and other Cold War era political and cultural shifts. Many bemoaned the fear of losing "Miami after Dark."6Capó, 287.
In this and other ways, Welcome to Fairyland expands the terrain of queer history and southern studies. While it focuses on a seriously understudied period before cogent sexual identities had fully crystallized, the study has important implications for later queer histories with which readers may be more familiar. This includes mid to late twentieth-century narratives of state attacks in the form of the 1956–1966 Florida Johns Committee and Anita Bryant's 1977 Save Our Children campaign. Capó reveals the importance of casting further back to trace organizing strategies Miamians have utilized and how they may serve a more inclusive and socially just present and future.
Capó's curation of the exhibition Queer Miami: A History of LGBTQ Communities with the HistoryMiami Museum (March 15, 2019–September 1, 2019) examines how queer people "carved out spaces for themselves in southern Florida" across the twentieth century. For this interview, I asked Capó about Welcome to Fairyland, the HistoryMiami Museum exhibition, his plans for the future, and his thoughts on the state of queer history.
Welcome to Fairyland: Queer Miami Before 1940
SOLOMON: How did you come to write Welcome to Fairyland? What personal pathways led you to this project? Are there other histories or historians that motivated and inspired you?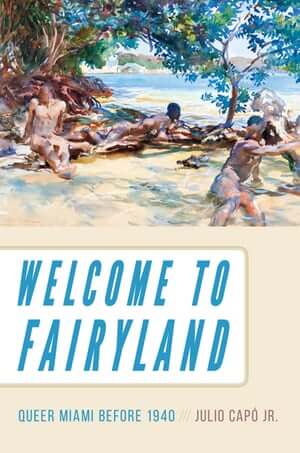 CAPÓ: First, let me thank you for the opportunity to share my work and thoughts with you and your readers. I am most grateful. Welcome to Fairyland developed organically and with quite a bit of urgency as I continued to think historically about questions at the intersection of sexual, racial, class, and gender injustice that take many different forms today. I began revising my dissertation, which was a history of LGBTQ Miami in the post-World War II era that paid particular attention to immigrant populations and experiences. I grew frustrated by assumptions I had to make about what pre-1940 Miami looked like. For starters, there were relatively few queer community studies of the early twentieth century, especially for locations in the US South. Miami's history differed greatly from cities we know much more about, such as New York, San Francisco, and Chicago. Never taken too seriously by most scholars, Miami remains a deeply understudied city. As election polls and media reports often suggest, it remains misunderstood by political strategists and advisers. While many people are quick to point the finger at Florida (and cities like Miami) when the votes are counted (or not counted), they are often given few opportunities to better understand its complicated past.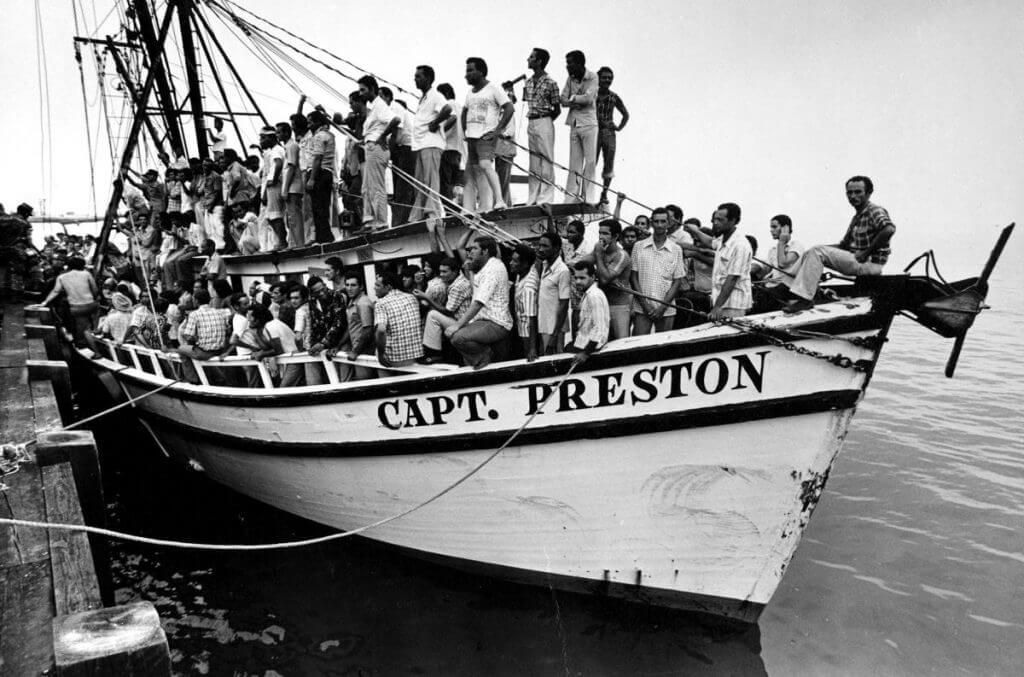 As a historian, I've always believed the past offers us the possibility of instruction and inspiration. It is generative in that we understand the social, political, economic, and cultural architecture on which today's city stands. So, in a nutshell, I went back to the archives hoping to write one concise chapter on queer Miami before the 1940s. My first major find appeared in the criminal records that, once I paired that data with immigration records and colonial records from the Bahamas, taught me that Bahamian male migrant workers were disproportionately arrested for crimes such as sodomy in the city's early days. I realized that this was not a mere chapter in my book. This was very much its own story that deserved all my attention. This was the book I needed to write. And it challenged me to think differently about the research I had already conducted on the mid and late twentieth century.
SOLOMON: What personal pathways led you to this project?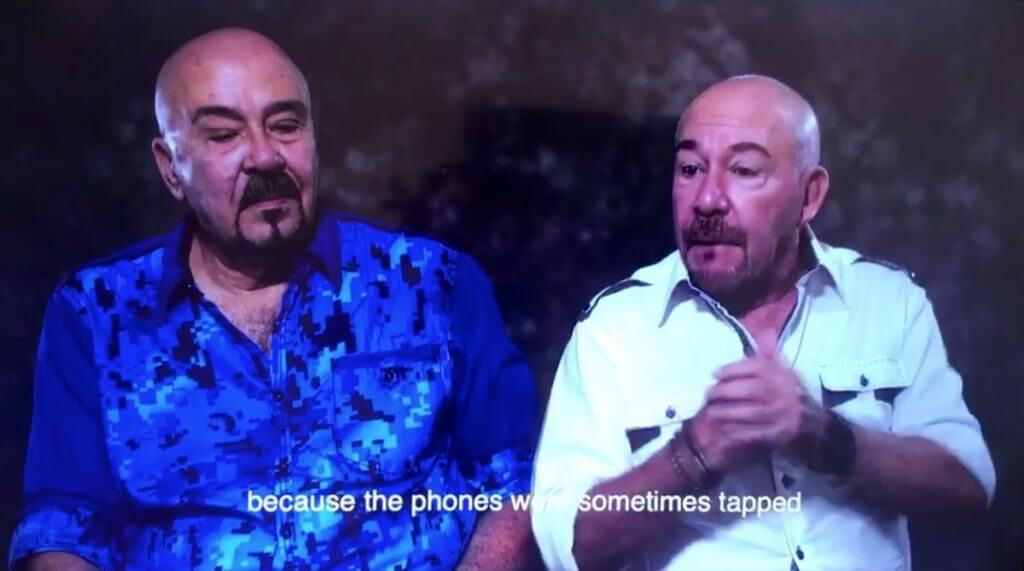 CAPÓ: My goodness! It's an embarrassment of riches in terms of inspirations for writing Welcome to Fairyland. I have already suggested how social and political injustice inspired me to ask questions that proved most productive in my research. But I also believed that to understand Miami's transnational history, the city's queer past needed to be in direct conversation with arguments and debates that have also taken shape in the fields of gender, Black, southern, Caribbean, immigration, Latinx, and labor and class history. I thought a lot about how scholars such as Cathy Cohen, José Esteban Muñoz, Siobhan Somerville, and Martin Manalansan, among many others, have treated queer as an analytic. I drew inspiration from how Eithne Luibhéid, Marc Stein, Margot Canaday, Amy Sueyoshi, and Nayan Shah have discussed the state's surveillance of immigrant bodies both at the US borders and within them. I found thoughtful transnational approaches in the works of Lara Putnam, Ana Raquel Minian, Andrew Sandoval-Strausz, and so many others. I wanted to contribute to the growing scholarship of Miami's ethnoracial demographics, Caribbean influences, and long history of class warfare that scholars such as N. D. B. Connolly, María Cristina García, and Melanie Shell-Weiss have laid out. And I wanted to expand the parameters and scope of the LGBTQ community study, with its emphasis on space and place, that George Chauncey, Nan Alamilla Boyd, John Howard, among so many others, have set forth. This barely scratches the surface, but I hope it gives a sense of what I was thinking, more broadly, as I approached the archives, the evidence, and the literature as I wrote Welcome to Fairyland.
SOLOMON: In his 1997 oral history, James T. Sears mentions Florida as the "Mississippi of the homosexual" in the immediate decades following when Welcome to Fairyland ends.7James T. Sears, "The Mississippi of the Homosexual and the Politics of Dialectics," in Lonely Hunters: An Oral History of Lesbian and Gay Southern Life, 1948–1968 (Boulder, CO: Westview Press, 1997). Sears's rhetorical move has always resonated with me, and I mention and challenge it in my first project. I'm from Mississippi, but I've written about Florida extensively. You're from Florida, and Welcome to Fairyland is set in your native Greater Miami. Yet, your study stops before the years (1948–1968) Sears is referencing. How important was it for you to illustrate in detail the development of queer spaces in Miami in terms of your temporal framing?
CAPÓ: Wow, there's a lot to unpack here. Thanks for this important provocation. You know, even though Welcome to Fairyland ends in 1940, as the book's epilogue may suggest, I know quite well what happens in Miami after the 1940s. I wrote a dissertation and have curated an exhibition about that very history. I wanted to understand its origins. At least at the surface, people may be more familiar with the recent history. They have recollections of anti-gay violence spurred on by the Johns Committee, Anita Bryant, the Mariel Boatlift, and more. As I unpack in Welcome to Fairyland, this past is often really violent. It is also, however, a story of queer resistance and resilience.
More directly, what does such a loaded statement mean: Florida was the "Mississippi of the homosexual." Because its framing seeks to make a clear parallel to ground zero for Black civil rights at midcentury, the statement also inherently asks us to separate race and sexuality and imagine anti-Black violence—as well as anti-gay violence—as somehow separate and as possibly contained to a particular geography. One of the events I examine thoroughly in my book, for example, involves the 1937 raid of a Miami gay bar named La Paloma that was conducted by nearly two hundred members of the Ku Klux Klan.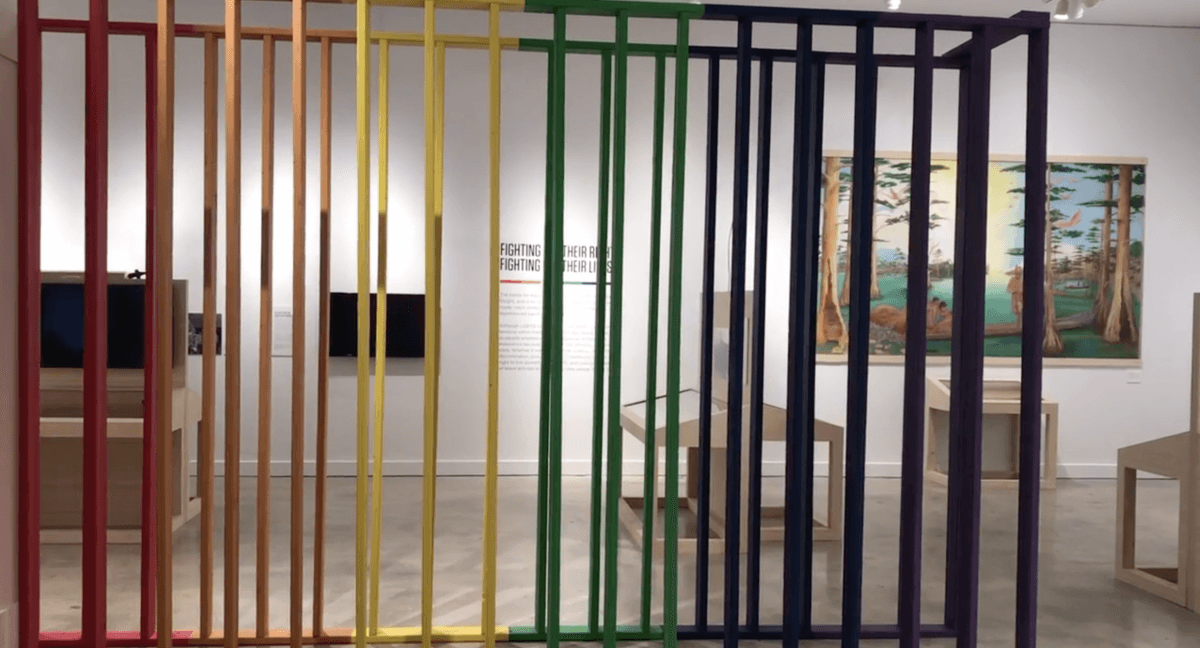 Queer histories have historically been rooted and entangled with—in nuanced and checkered ways—anti-Black violence.
I'm more inclined to think of it this way: Florida was the "Florida" of Blacks and people of color; much of the same anti-Blackness and colonialism created the very conditions for Florida to become the "Florida" of the homosexual. I wonder how scholars such as John Howard would respond to this, as his book Men Like That encouraged us to question our assumptions about the US South, its relationship to gender and sexual liberation and racial politics, and even our perception that liberation was somehow more attainable in urban, rather than rural, spaces, or perhaps even the "North" rather than the "South."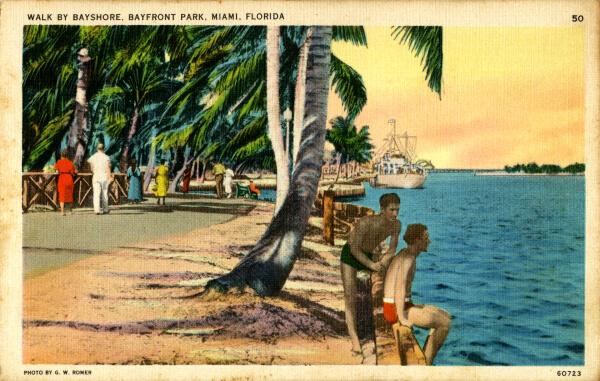 I'm thinking here about the uses and misuses of teleological arguments, but Sears' provocation is a great jumping point for our exploration of temporality and liminal spaces within "the past." Like your reference to growing up in Mississippi, I was born and raised in Miami and, in writing Welcome to Fairyland, I was struck by how much of the history I uncovered in my research had been lost to us. In other instances, I found that this history wasn't exactly lost, but rather made incoherent and illegible. Viewing the watercolors John Singer Sargent produced in early Miami takes on radically new meaning when we pair it with the city's criminal records, or immigration logs, for example. Watching Marilyn Monroe in the 1959 film Some Like it Hot, once you have studied the history of Prohibition at the Miami-Caribbean borderlands, suggests that contemporaries seeing it for the first time might have understood the critical relationship that politics had in sustaining and creating queer communities and culture. Although many of our pasts have indeed been institutionally erased, others have simply lost their meaning over time and are hidden in plain sight but very much alive in meaningful and impactful ways. No one may call Miami "fairyland" anymore; but that moniker's association with doubt can still be found in the area's ongoing efforts to draw in outsiders.
SOLOMON: Welcome to Fairyland deploys "queer as an analytical tool" and "interprets queer history by maintaining a transnational perspective and by providing an intersectional analysis that factors in how gender and sexuality influenced constructions of class, race, ethnicity, age, and (dis)ability."8Capó, 5. Queer. Transnational. Intersectional. How do you understand the connections between these three terms for your work?
CAPÓ: I think the analytics of queer, transnational, and intersectional are doing a lot of the same work in the book, but in distinct ways. In general they all exist, and I'll shamelessly look to Gloria Anzaldúa for inspiration in Borderlands/La Frontera: The New Mestiza, defying static, singular, fixed positions or statuses. The queer has us move beyond the binary and think expansively about subversion and transgression as it is measured against the normative. A transnational perspective rejects the nation-state and the neat categories it seeks to produce as the dominant form of power and structure. An intersectional approach dictates how different modes of power can simultaneously coexist and that forms of oppression are indeed interlocking and impossible to separate. They are all in flux, fluid, and subject to change. For me, these are the ingredients to doing this history and important and necessary approach for measuring change over time and place.
SOLOMON: For those seeking to develop research projects or thinking of doing queer history, can you describe the journey of Welcome to Fairyland? How long did the book take you to write? Is the finished project what you thought it would be when you started?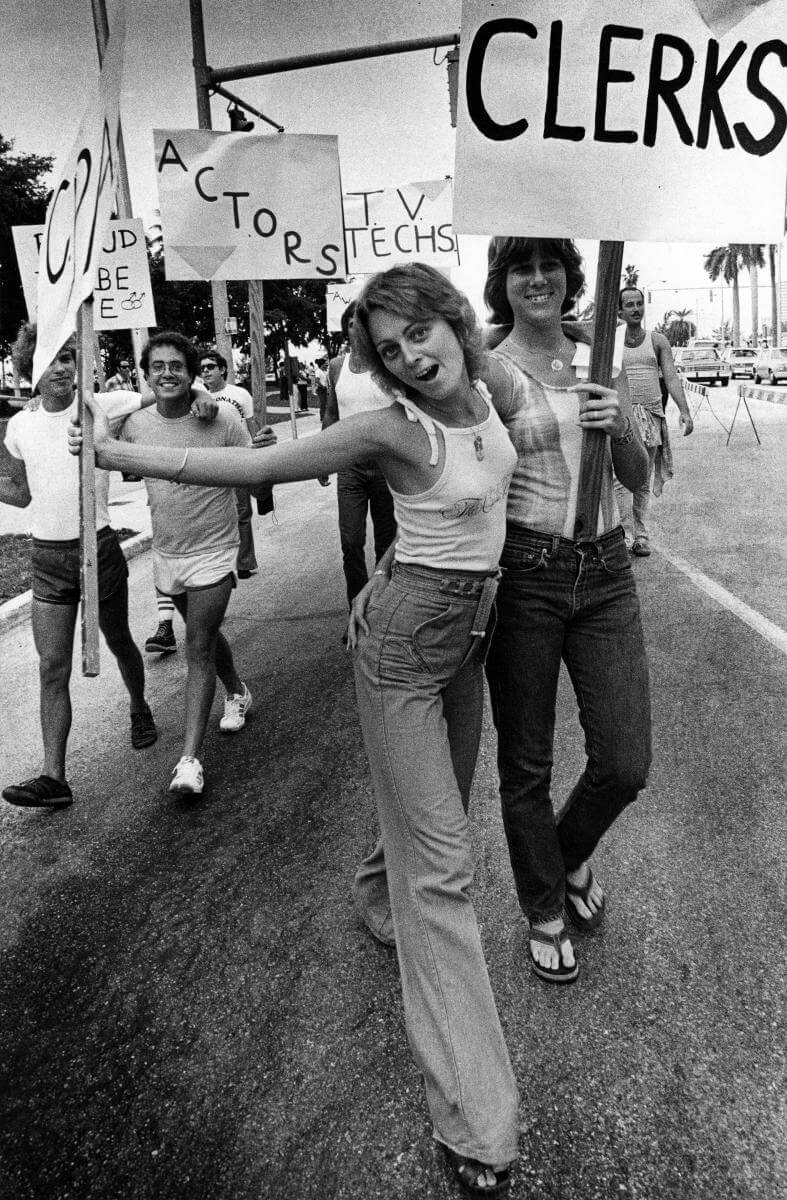 CAPÓ: I've addressed aspects of this already, so I'll just add a few more thoughts. I think I'm a pretty disciplined writer. I'm a former journalist (still contributing to journalism, but now as a trained historian) who understands the importance of deadlines, the mythologies surrounding things such as writer's block, and the necessity of carving out time for writing every day. From concept to page proofs the book took about five years, as I began it during my postdoc. I am really proud of the final product. Once I had processed all the evidence, I realized I had a lot of things I wanted and needed to say. I've always been hyperaware that this history is meaningful, and in very different ways, to many different people—past and present. I'm sure some may not fully appreciate my treatment of the evidence and material, but a work now exists that acknowledges this history as significant and as critical to multiple histories.
I can't really say Welcome to Fairyland was the book I initially sought to write because this book came to fruition as I worked to revise a separate project from discoveries in the archives and from my efforts to respond to gaps in our knowledge. It speaks to the issues I thought—and still think—need much more attention.
Queer Miami: A History of LGBTQ Communities: Miami Across the Twentieth Century
SOLOMON: You write about the silences within and erasures of the queer archives, drawing from Martin F. Manalansan's understanding of "disarrangements." You also mention your own collecting of historic ephemera as a practice that directly informs your work. What are the roles of historians and nonacademic collectors in preserving queer history?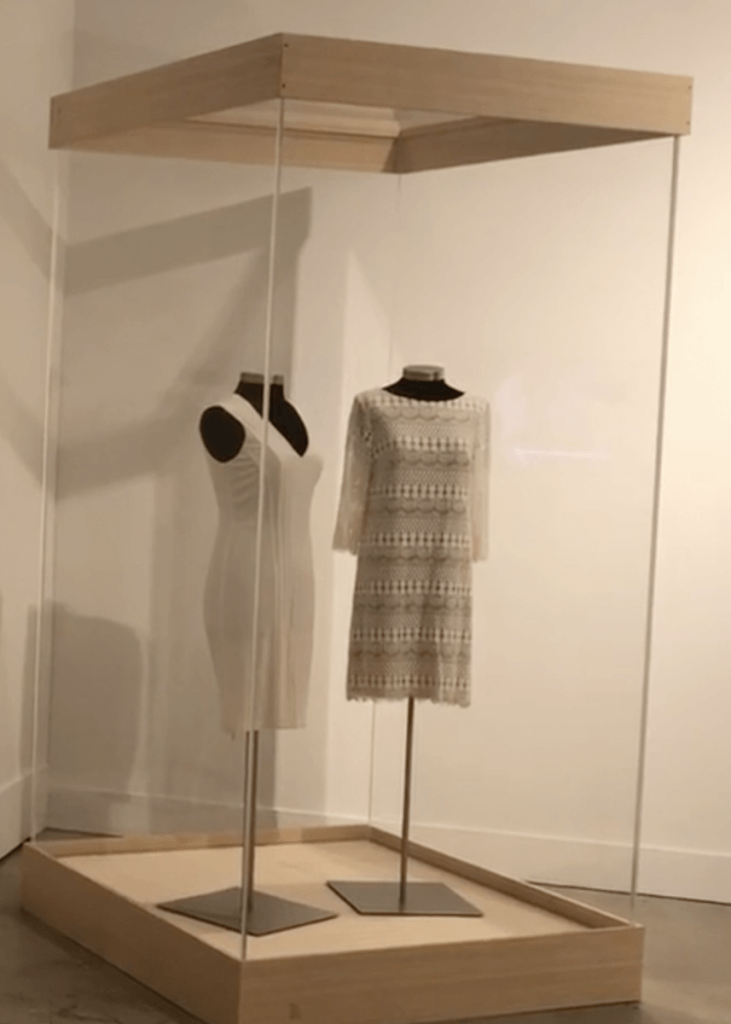 CAPÓ: There's so much one can say about this, but I'll try to keep it somewhat brief. I think preservation is a key part of activist work. Much of the field of queer history stems from tireless community-based efforts to collect and preserve our past and make it known. Certainly, for the years I address in Welcome to Fairyland, our histories were never meant to be preserved. Those in power sought to erase us. They still do. We have to fight back, but we also have to think harder about how to respectfully recover the voices of those most marginalized within these marginalized groups. And we have to think harder about what constitutes an archive, a legitimate source or evidence, and the places where we can find them.
Many of the sources in Welcome to Fairyland, and perhaps a third of the material objects featured in the exhibition I curated in Miami, are from my personal collection. I have collected t-shirts, piggybanks, postcards, dolls, photographs, letters, rare books, and so many more items—over nearly fifteen years. I've been able to find and acquire some objects through search engines and simple keywords, such as "gay Miami." I think I've been able to piece together something else entirely, though, through my reading and rereading of Miami's past. Things that may not have appeared inherently "queer" at first can be given new meaning in context. I also think I've earned the trust and support of many members of Miami's LGBTQ community, who feel equally invested in recovering this past and having it told and preserved. I am from Miami and I'm openly gay. Over a decade ago now, I worked as an intern at the Stonewall National Museum and Archives in Fort Lauderdale, where I helped catalog some of its unprocessed materials it housed there, especially its Anita Bryant collection. What I want to stress is that this work takes time and dedication. It is, indeed, a community effort.
SOLOMON: In terms of the Queer Miami exhibition: can you describe your process of curating? How much of your research from Welcome to Fairyland informed or served as foundation for the exhibition? How did your collaboration with the HistoryMiami Museum come about?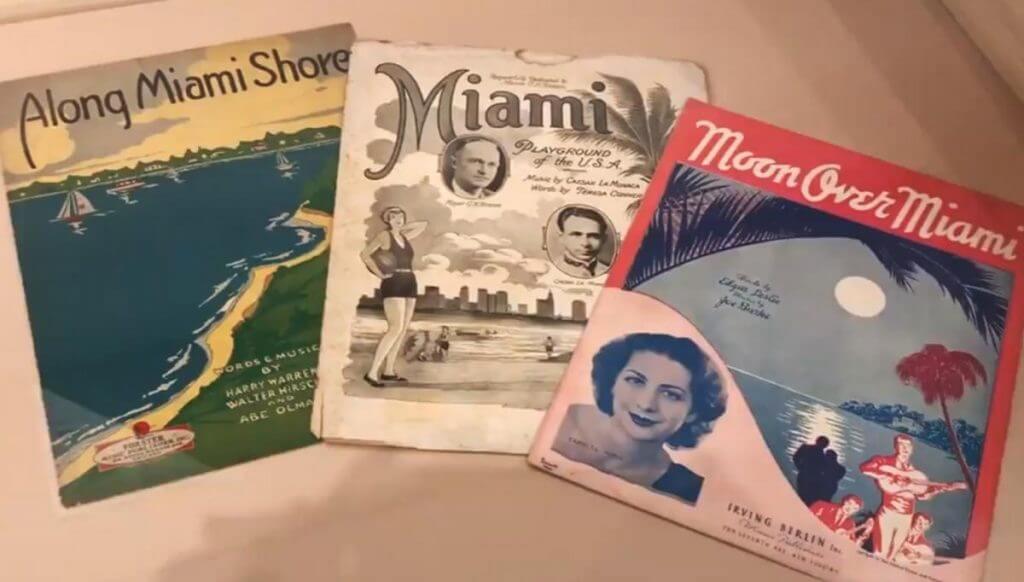 CAPÓ: The exhibition covers a bit before the 1890s to the present. That's over a century of material. I had never curated anything before, so I did my homework! I read a lot about the curatorial process, consulted with colleagues and friends, and visited as many exhibitions as I could with a very different eye: as a curator-to-be. This was such a productive and challenging experience for me. I absolutely loved it. I learned so much and have connected with so many members of the community.
Much of the narrative of Queer Miami took shape from threads of Welcome to Fairyland and my dissertation on the post-1945 era, but there are many differences. Unlike a book or an academic article, I had to tell an engaging narrative through objects or other visuals. That's often difficult, especially for the earlier period. We reproduced some ordinances, portraits, paintings, and the like for the early 1910s, but it's very difficult to explain what constituted queerness in Miami when these terms, meanings, and identities were very much in flux and often inchoate; the state also never intended to preserve this history, of course. I did not want this to exclusively be a narrative of criminalization or of surveillance of queer folks, immigrants, the poor, or people of color. I wanted to recover people's voices—as well as their moments of leisure and community-building—whenever possible.
While telling Miami's queer past through objects often proved challenging, an exhibition of this size (five thousand square feet), breadth, and scope permitted me to do a lot of different things. For example, we recovered police footage of gay bar raids (and one at someone's home) from the late 1950s. We recreated a bar counter from that era where people could sit down and watch looped footage of those raids. Altogether, it presents some really powerful testimony. Audiences can see the violence of the state. You see the whiteness of these spaces. Many queer people of color held or attended private parties instead, knowing far too well the risks for them were much greater. You see people fighting back, too. One man throws his drink at the cameraperson, for example. When we think of resistance, we often think of Stonewall-like narratives. That queer people in Miami continued to congregate in and create gay spaces at all—in spite of violence and surveillance—is a testament to their resilience and their efforts to dismantle unjust practices and abuses.
It's productive to challenge ourselves by expanding and redefining our audiences, venues, and methods. I had a similar experience a few years ago when thinking about some of this very same material, but in terms of space and place as part of a study the National Park Service commissioned on LGBTQ historic sites. I contributed a chapter on Miami that narrated existing (surviving) physical sites. This work challenged me to think very differently about material I had been analyzing for years.
SOLOMON: Can you tell us a little bit about how the Queer Miami exhibit was organized?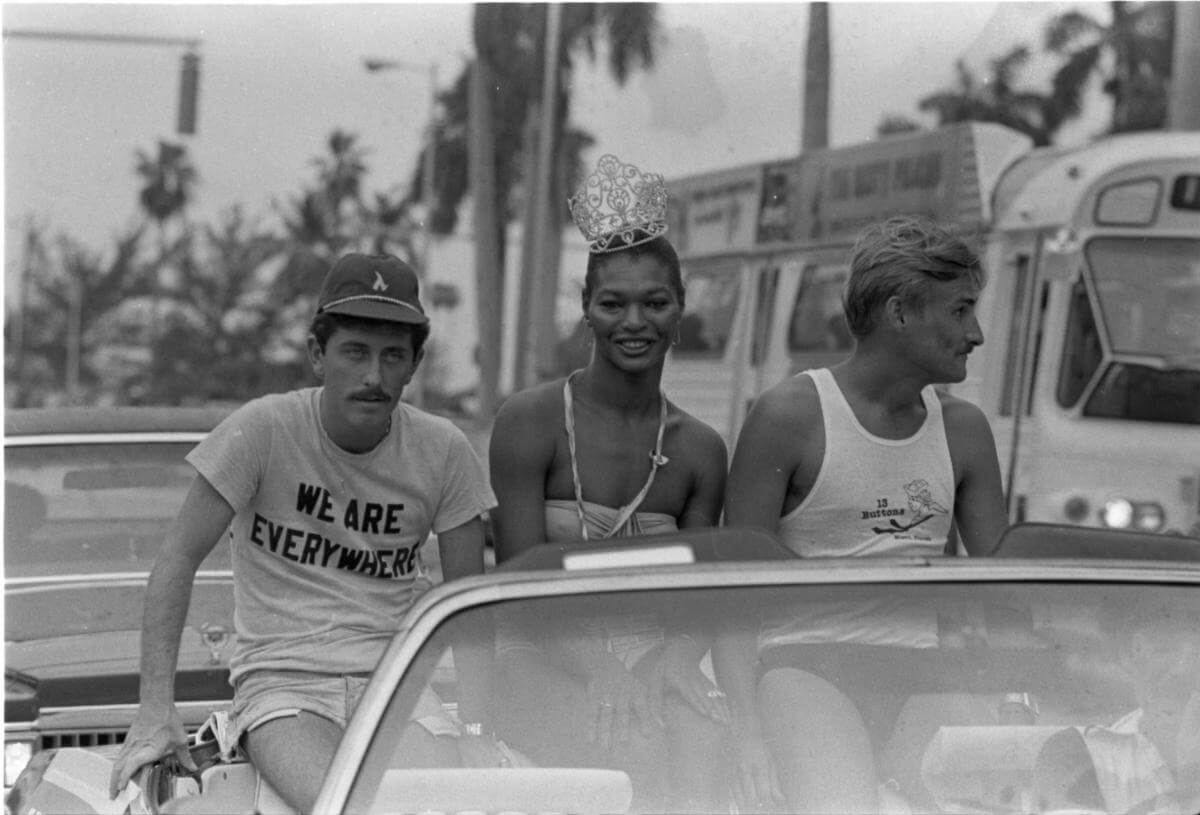 CAPÓ: The exhibition represents the diversity of Greater Miami's LGBTQ communities across racial, ethnic, class, and national lines. It offers snapshots of this history, exploring how queer people have been policed and criminalized, how they developed cultures of resistance, how their stories link to experiences beyond our borders, and how the movement can move forward mindful of its past.
Beginning with an introduction to Miami and queer history more generally, the exhibition suggests some of the difficulties of uncovering this past, including the use of terms like "queer," the problem of archives for history never meant to be told, and how Miami's queer history is, despite the many instances of violence and oppression, also one of resilience and resistance.
The exhibition is then organized into five sections: 1) Policing, Surveillance, and Criminalization; 2) Community Development, Representation, and Advocacy; 3) Fighting for Their Rights, Fighting for Their Lives; 4) Gateway to the Americas; and 5) Looking Ahead. For the first two, it was important to convey the many ways the state criminalized and surveilled queer people. These sections explore the significance of racist, xenophobic, and anti-Black sentiments in shaping queer culture and spaces and for the formation of strong and creative bonds of resistance. The third section shifts attention to the local and national significance of the 1977 Anita Bryant campaign to overturn a Miami ordinance that shielded gays, lesbians, and bisexuals from discrimination, and to the HIV/AIDS crisis. I wanted to offer a different narrative and chronology, one that highlights Miami's past, rather than ones that are dictated by the telling of Stonewall and other events that have come to dominate our understanding of queer protest, resistance, and change-making. The fourth section observes how Miami's LGBTQ past extended far beyond the city's borders. It's a story with deep roots in parts of the Caribbean and Latin America and must be understood in the context of the Americas. Lastly, the exhibition explores some of the challenges for Miami's LGBTQ people today and highlights many of the organizations and institutions working to improve their lives. We also provide space for people to reflect and leave testimonies of their own histories with the city and offer their recollections and insights. It's a powerful exercise and testament to what liberation can mean when it is committed to social justice in all its forms. I have enjoyed reading these many contributions to the exhibition from visitors more than I can possibly explain.

About the Interviewer and Interviewee
Eric Solomon earned his doctorate in English from Emory University and is a visiting assistant professor of English and American Studies at Oxford College, Emory University. His work is featured in Southern Spaces, south, Pop Matters, and Mississippi Quarterly.
Julio Capó Jr. is an associate professor in the Department of History and the Wolfsonian Public Humanities Laboratory at Florida International University. He is the author of Welcome to Fairyland: Queer Miami before 1940 (Chapel Hill: The University of North Carolina Press, 2017) and curator of Queer Miami: A History of LGBTQ Communities. His work has also appeared in the Journal of American History, Radical History Review, Diplomatic History, Journal of Urban History, Journal of American Ethnic History, Modern American History, GLQ, H-Net, American Studies, and several volumes.
Recommended Resources
Text
Capó Jr., Julio. "Sexual Connections: Queers and Competing Tourist Markets in Miami and the Caribbean, 1920–1940." Radical History Review 129 (2017): 9–33. https://read.dukeupress.edu/radical-history-review/article/2017/129/9/131885/Sexual-ConnectionsQueers-and-Competing-Tourist.
Lulbhéid, Eithne. "Queer/Migration: An Unruly Body of Scholarship." A Journal of Lesbian and Gay Studies 14, no. 2–3 (2008): 169–190. http://www.sfu.ca/~baw2/GSWS826/Luibh%E9id.pdf.
Lulbhéid, Eithne and Lionel Cantú Jr., eds. Queer Migrations: Sexuality, U.S. Citizenship, and Border Crossings. Minneapolis: University of Minnesota Press, 2005. https://www.upress.umn.edu/book-division/books/queer-migrations.
Terl, Allan H. "An Essay on the History of Lesbian and Gay Rights in Florida." Nova Law Review 24, no. 3 (2000): 793–853. https://nsuworks.nova.edu/cgi/viewcontent.cgi?article=1383&context=nlr.
Watkins, Jerry T., III. Queering the Redneck Riviera: Sexuality and the Rise of Florida Tourism. Gainesville: University Press of Florida, 2018. https://upf.com/book.asp?id=9780813056913.
Web
"Gay, Lesbian, Bisexual, Transgender, Queer Resources." University of Central Florida. Accessed September 16, 2019. http://guides.ucf.edu/glbtq/home.
"LGBT Collections." University of South Florida Libraries. Accessed September 16, 2019. https://lib.usf.edu/special-collections/LGBT-collections.
Morris, Bonnie J. "History of Lesbian, Gay, Bisexual and Transgender Social Movements." American Psychological Association. Accessed September 16, 2019. https://www.apa.org/pi/lgbt/resources/history?scrlybrkr=35ab7f13.
References

| | |
| --- | --- |
| 1. | See Julio Capó Jr., Welcome to Fairyland: Queer Miami Before 1940 (Chapel Hill: UNC Press, 2017), 24, 5, 8. |
| 2. | Capó, 1. |
| 3. | Capó, 7. |
| 4. | Capó, 7. |
| 5. | Capó, 4. |
| 6. | Capó, 287. |
| 7. | James T. Sears, "The Mississippi of the Homosexual and the Politics of Dialectics," in Lonely Hunters: An Oral History of Lesbian and Gay Southern Life, 1948–1968 (Boulder, CO: Westview Press, 1997). |
| 8. | Capó, 5. |