Overview
Daniel Pecchenino reviews Richard Linklater's 2014 film Boyhood.
Review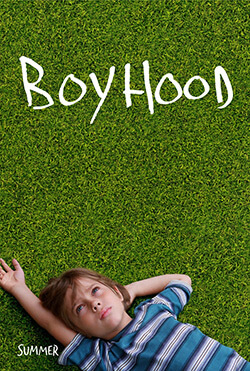 I recently went to an opening-night screening in West Los Angeles of Richard Linklater's latest film, Boyhood. This was no red-carpet affair. There were no designer gowns, photographers, or gawking tourists, all staples of premiers up at Grauman's Chinese Theater on Hollywood Boulevard.1We should all refuse to call Grauman's Chinese Theater, with its famed footprints of the stars out front, by its latest corporate name, TCL Chinese Theater. Even its nearly forty-year run as Mann's Chinese Theater was scoffed at by locals. It was, is, and forever will be Grauman's to those who love both Hollywood the place and Hollywood the slightly seedy state of mind. From what I could see, there was only one star present. Patricia Arquette, who plays Olivia, the mother of the titular boy, was on hand and answered audience questions with charm and generosity, something TMZ and the other toxic Hollywood gossip rags rarely highlight. For a movie that seems to have "the business" buzzing, this was a decidedly understated debut, which makes sense given the subtlety with which Linklater has emerged as one of America's most experimental filmmakers.
Most people who've heard of Boyhood know that it's doing something unique, though not entirely unprecedented in the history of cinema. Shot for a few days at a time over the course of twelve summers and using the same actors throughout, we watch the maturation of not just a young man, but also his family as its various members move around the state of Texas while always staying within each other's orbits. One antecedent for this project is François Truffaut's series of films following the character of Antoine Doinel, played by Jean-Pierre Léaud.2The films in the Antoine Doinel series are: The 400 Blows (1959 feature), Antoine and Colette (1962 short), Stolen Kisses (1968 feature), Bed and Board (1970 feature), and Love on the Run (1979 feature). But even this comparison is imprecise, as Linklater condenses into one film what Truffaut spreads over five.
Linklater's fascination with the passing of time and its relationship with physical movement emerges in his first full-length movie, Slacker (1991), which consists of loosely interconnected vignettes depicting a day in the life of Austin, Texas, where Linklater still lives. Morning turns to night and then to a new day, and for all we've seen, we know that so much more went on just in this one place, and will continue to, day after day. The camera appears to drift through the air, handing us off from one incomplete story to the next, taking us down Austin's streets, into its apartments and bars, and eventually to the bluffs outside of town. The final frenetic scene is a handheld Super 8 shot of young people drinking and carousing on a cliff above the river while the popular African big-band standard "Skokiaan" plays. The camera doesn't settle on any image for more than a few seconds, save for two: the cover of Paul Goodman's Growing Up Absurd (1960), and one of the revelers preparing to heave his own camera into the river below. When he commits his absurd act, our perspective flips end-over-end as well, ejecting us from the film. Slacker's fragmentation and abrupt conclusion reminds us that the best we can do in most cases is piece together bits of information about the lives of others. Given this incomplete knowledge, we're better off not passing wholesale judgments. You might even call it cutting everyone some slack.
Linklater's other major experimental project, which he was working on while filming Boyhood (and several other movies—both mainstream Hollywood fare and indie flicks) is known informally as the Before Trilogy (Before Sunrise, Before Sunset, Before Midnight). Beginning in 1995 and released nine years apart, these films focus on Céline and Jesse, a French woman and American man (played by Julie Delpy and Ethan Hawke), who meet on a train and spend one night wandering around Vienna flirting and talking about the kinds of things young people who are more well-read than wise tend to talk about. Walking while talking structures all three Before films, linking the passage of time, the exchange of ideas, and the creation of memories with moving through particular spaces. If we float over Austin in Slacker, we are grounded in the European streets of Before, connecting us to the characters and their lives more concretely. However, for as much as we might feel privy to the intimate details of Jesse and Céline's relationship, each subsequent installment of the trilogy finds them pretty different individuals than they were in the last one. As with Truffaut's Antoine Doinel series, a lot can and does happen in nine years, once again leaving us in the position of trying to piece together the unseen from what is said and implied visually. The unfilled gaps force us to think about both what we don't know and what Céline and Jesse don't know about each other, ideally resulting in our extending generosity to the characters, and hopefully to the people in our own lives whom we love but can never understand completely, even if we live in and out of one another's pockets.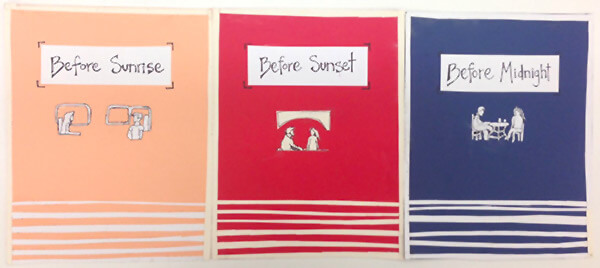 Director Richard Linklater's previous experimental film project involving the passage of time—known informally as the Before Trilogy and comprised of the films Before Sunrise (1995), Before Sunset (2004), and Before Midnight (2013)—follows the relationship of Céline (Julie Delpy) and Jesse (Ethan Hawke) over the course of many years. Him and Her, Collage and Ink by Eric Solomon. Courtesy of Eric Solomon, 2014.
Boyhood deals with space and time in a way that is simultaneously more radical and more classical than Linklater's previous experimental films. For all of its production-related innovation, Boyhood tells a simple story about the lives of a few people as circumstances take them across Texas. As with Slacker and the Before Trilogy, setting is crucial to Boyhood. From the new industrial South of Houston, to San Marcos, to Austin, to Big Bend National Park near the West Texas-Mexico border, the film has a vast canvas that contrasts with the seeming smallness of the story to amplify the core question almost all of us are always asking ourselves, whether we know it or not: How can I lead a good life? As one might expect, Boyhood never answers this question, but this experimental film emphasizes the importance of trying to answer it by mimicking a familiar literary form.
As I wrote in a blog post after seeing the trailer and reading about the production, Boyhood might be the closest a film has come to replicating the traditional literary Bildungsroman. Like Richard Wright's autobiographical novel Black Boy and J. M. Coetzee's Scenes from Provincial Life (among many others), Boyhood gives us a series of signifying events in the young life of its protagonist, Mason Jr., played by native Texan Ellar Coltrane, a previously unknown actor whom Arquette claimed could not yet read when Linklater cast him at the age of six.3Scenes from Provincial Life is a compendium of Coetzee's three fictionalized memoirs: Boyhood (1997), Youth (2002), and Summertime (2009). When we meet Mason Jr., he's doing what little boys do: playing outside, fighting with his sister, Samantha (star-in-the-making, Lorelai Linklater—yes, the director's daughter), and giggling at a decidedly tame lingerie catalogue an older boy shows him. Condensing twelve years into a single movie, even one with a running time of nearly three hours, has the potential to leave the story feeling scattered and incomplete. And indeed, as is the case with Linklater's earlier films and any Bildungsroman, there are undoubtedly important moments in the unseen gaps between when we meet Mason Jr. and when we leave him on his first day of college. But it's precisely because Boyhood emerges from what may be Western literature's most enduring narrative form that we are able to "read" it with ease, even as it does something no single movie has done up to this point: show us real aging, real maturation.4Obviously, many films have sequels (and prequels), but most aren't purposefully playing with the (dis)continuity of time the way Linklater's Before Trilogy and Boyhood (and Truffaut's series) are. The order of events may matter to the plot or even the emotional resonance of series like The Godfather, The Terminator, or The Lord of the Rings, but the passage of real time isn't integral to what most traditional Hollywood movies and series are trying to say. What requires special effects and makeup artists in most movies is provided by time itself, a commodity that seemingly stretches out endlessly before and behind us, but that no one has enough of, especially in Hollywood.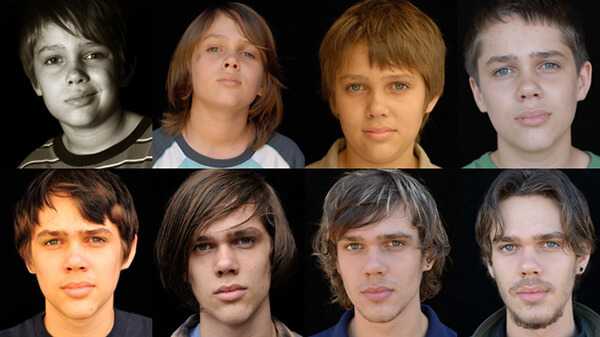 The evolution of Ellar Coltrane as Mason Evans Jr., 2014. Photographs by Matt Lankes. © IFC Films.
Some critics, including Eve Tushnet at The American Conservative, argue that Boyhood's signifying moments aren't significant enough because of Mason Jr.'s characterization. She writes:
He's a prototypical good-but-aimless kid. We see his foibles—he's a bit surly and a tad whiny, he smokes some pot if you consider that a foible, he comes home late at least once which possibly makes his mom cry, he sometimes fails to do his homework—but no real sins. He's bullied but never bullies back. His sister at least gets to be snotty about her grades, which makes her seem like a real person. Where's the casual cruelty of childhood, the hurtful rather than just boring narcissism of adolescence, the misdeeds which will only be acknowledged and regretted years later? I mean, I get that Boyhood isn't Carrie, but must it be Annie?5Eve Tushnet, "The Boy is the Father of Whatever: Richard Linklater's Boyhood," The American Conservative, July 18, 2014, http://www.theamericanconservative.com/the-boy-is-the-father-of-whatever-richard-linklaters-boyhood.
Mason Jr. certainly isn't Hamlet, but the hyperbolic comparison with Annie fails to imagine that Linklater and Coltrane play it the way they do for a reason. There have been plenty of bad movies about allegedly interesting, tortured teens and their sins. The always-brooding, ready-to-explode child of divorced parents is a stock character in after-school specials and Lifetime movies. By rejecting the clichéd "angry kid figures it all out after a catastrophe of his own making" storyline, Boyhood subverts our narrative expectations to make a subtle yet significant critique of the use of family life as a political football.
In times of economic crisis, many pundits and politicians choose to blame our problems on a degraded "culture" in order to avoid discussing the fiscal and political systems that reward some fantastically, while simultaneously forcing many people—those without developed professional networks, high-end degrees, and access to capital—to run themselves ragged just to avoid eviction and hunger. A popular talking point for conservative critics in particular is the divorce rate that's been on the rise since the mid-twentieth-century marriage boom. The New York Times's David Brooks and the controversial sociologist Charles Murray (among many others) have written at length about the importance of marriage in establishing, maintaining, and potentially transcending a middle class life, and the National Organization for Marriage has fought against anything that even looks like gay marriage on the grounds that it might weaken an already flailing American "marriage culture."
Both social science research and anecdotal evidence back up the idea that divorce can have profound effects on all members of a family. However, this doesn't mean that the hardships often caused by divorce are in and of themselves enough to completely derail a person's life, much less crater a whole society, as some would have us believe. And similarly, stable marriages aren't enough to counteract what outsourcing, out of control militarism, racism, and the War on Drugs (just to name a few) have wrought. What's radical about Boyhood is that it doesn't treat the divorce of Olivia and Mason Sr. (played brilliantly by Ethan Hawke) as a catastrophe, or even as indicative of a broader cultural trend. It is simply something that happened because two people who weren't ready got pregnant and tried to give marriage a go. The divorce complicates the lives of all of the characters and is central to the plot and structure of the movie, but this isn't a "dysfunctional" family. Both Olivia and Mason Sr. are caring, if sometimes self-involved, parents who grow throughout Boyhood. While Olivia bears the brunt of the day-to-day childrearing, Mason Sr. isn't an absent father (though it's implied that he was when the children were very young), and when he's with his children, he's invested in making them better people. And far from being portrayed as an overwhelmed victim, Olivia becomes a psychology teacher and leaves two alcoholic partners when they threaten the things that matter to her.6The man Olivia marries in the first half of the film is her one-time professor, an embittered alcoholic who forces Mason Jr. to shave his head and generally bullies Olivia's children and his own with criticism that turns abusive as his drinking problem worsens. Olivia's second significant partner in the movie is, fittingly, one of her own former students, a vet of the War on Terror who is ill-equipped to deal with Olivia's defiant children, in spite of the fact that he seems to mean well. The members of this family aren't without their problems, but that makes them human, not evidence of cultural collapse.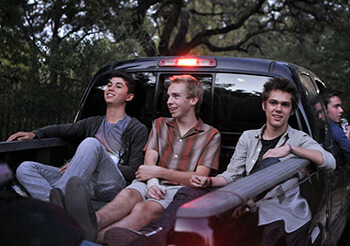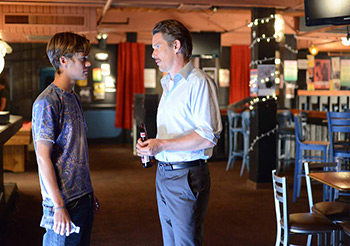 In the top photograph, Mason Jr. (Ellar Coltrane) hangs out with friends in a truck bed. In the bottom photograph, Mason Sr. (Ethan Hawke) and Mason Jr. share a moment inside an empty rock club near the end of the film, 2014. © IFC Films.
Even in moments that seemingly have little to do with Mason Sr. and Olivia's separation, Linklater is playing with our expectations of narratives about the children of divorce. So often we are told that kids get into trouble because there isn't always a father figure around to discipline them and "keep them on the straight and narrow." This isn't an idea lacking all merit, but Boyhood's refusal to give us overwrought tragedy shows that folding all non-traditional families into this narrative is a mistake that elides the lived experiences of countless people. There are moments throughout the film when we anticipate that something awful is about to happen. But then the tension quickly dissipates. In one scene, Mason Jr. and some boys are sleeping over in a house undergoing renovation, a spatial symbol for Mason's own evolving family. The boys are drinking and decide to throw some stray saw blades at a board. This is all standard (and dumb) adolescent male behavior, so we wait for one of them to lose a finger or worse. We expect this in part because most filmmakers would feel the need to add drama to the story, or to give the audience something familiar. Linklater is more confident in his craft than this, so instead he gives us the banal truth: not all bad behavior or potentially dangerous situations result in tragedy. Sometimes we get lucky, and other times, as when Olivia's drunken husband throws his glass at Mason Jr.'s plate at dinner, bad moments simply don't, for whatever reason, get worse. In admitting this, Boyhood isn't a failure of realism, as Tushnet contends, but rather an admission that reality and cinematic clichés are seldom compatible.
Still, Boyhood isn't minimizing the pain divorce can cause. In a remarkable scene near the end of the film, Masons Jr. and Sr. are in an empty rock club waiting to see one of Mason Sr.'s former bandmates, Tommy, play a gig. By this point, Mason Sr. is an actuary with a new wife and young child, every bit the traditional husband and father Brooks and Murray idealize. But when Mason Sr. gives his son advice about growing up and going off to college, Mason Jr. kindly but bluntly tells his father that he wishes he would have gotten his act together sooner to spare them all the "parade of drunken assholes" Olivia dates or marries. Linklater doesn't linger on this moment or play it for cheap melodrama, but the point gets across: Mason loves and respects his father, but he isn't about to pretend that the past didn't play out the way it did just because he managed to make it through adolescence relatively unscathed. The divorce hurt Mason Jr., and has fundamentally shaped him, but in ways that he doesn't often directly reveal. The personal isn't explicitly political in Boyhood, but in portraying a family bent, but not broken, by divorce, it pushes back against the toxic idea that marriages and families should support an entire society when political and economic institutions do little to support all kinds of families.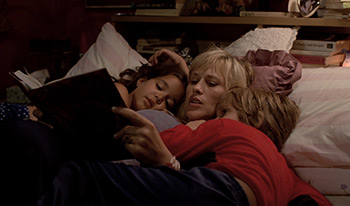 Patricia Arquette as Olivia, mom to Samantha (Lorelei Linklater) and Mason Jr. (Ellar Coltrane), in this still from the film, 2014. © IFC Films.
In the Q&A session after the premier, Patricia Arquette tried to convey both how normal and different working on Boyhood was. Like on any other shoot, they were just actors and crewmembers doing jobs, and even the children didn't inhabit their roles once the takes ended. These were all professionals. At the same time though, they were making a movie that might not get finished, much less distributed. It required faith in the story, faith in Linklater, and faith that what they were doing was important. If you think about where you might be in twelve years, odds are that you'll actually end up somewhere very different, whether it's living in another state, or with a different state of mind. The idea that people are dynamic in the world and within themselves is the essential link between all of Linklater's great experimental movies, and this dynamism is represented not just in the films' content, but also their production. While all filmmaking requires dexterity and a willingness to accept what is beyond one's control, the making of Boyhood was more vulnerable to fate than other shoots. Had a major actor died during the twelve-year production, the movie would tell a very different story, if it came into being at all. A film this dependent on the real couldn't have fallen back on Hollywood magic to execute a predetermined vision. This precariousness makes watching Boyhood an experience much like the production itself. We have to be sensitive to the surprises hidden within the ordinary and allow the film to take us unexpected places.

About the Author
Daniel Pecchenino is a lecturer in the writing program at the University of Southern California.
Recommended Resources
Text
Coetzee, J. M. Boyhood: Scenes from Provincial Life. New York: Penguin Books, 1998.
Tushnet, Eve. "The Boy is the Father of Whatever: Richard Linklater's Boyhood," The American Conservative, July 18, 2014. http://www.theamericanconservative.com/the-boy-is-the-father-of-whatever-richard-linklaters-boyhood.
Wright, Richard. Black Boy: A Record of Childhood and Youth. New York: Harper Perennial, 2007.
Film
The Adventures of Antoine Doinel. Directed by François Truffaut. 1959-1979. New York: Criterion Collection, 2003. DVD.
Before Sunrise / Before Sunset. Directed by Richard Linklater. 1995, 2004. Burbank, CA: Warner Home Video, 2013. DVD.
Before Midnight. Directed by Richard Linklater. 2013. Culver City, CA: Sony Pictures Home Entertainment, 2013. DVD.
Slacker. Directed by Richard Linklater. 1991. New York: Criterion Collection, 2004. DVD.
References

| | |
| --- | --- |
| 1. | We should all refuse to call Grauman's Chinese Theater, with its famed footprints of the stars out front, by its latest corporate name, TCL Chinese Theater. Even its nearly forty-year run as Mann's Chinese Theater was scoffed at by locals. It was, is, and forever will be Grauman's to those who love both Hollywood the place and Hollywood the slightly seedy state of mind. |
| 2. | The films in the Antoine Doinel series are: The 400 Blows (1959 feature), Antoine and Colette (1962 short), Stolen Kisses (1968 feature), Bed and Board (1970 feature), and Love on the Run (1979 feature). |
| 3. | Scenes from Provincial Life is a compendium of Coetzee's three fictionalized memoirs: Boyhood (1997), Youth (2002), and Summertime (2009). |
| 4. | Obviously, many films have sequels (and prequels), but most aren't purposefully playing with the (dis)continuity of time the way Linklater's Before Trilogy and Boyhood (and Truffaut's series) are. The order of events may matter to the plot or even the emotional resonance of series like The Godfather, The Terminator, or The Lord of the Rings, but the passage of real time isn't integral to what most traditional Hollywood movies and series are trying to say. |
| 5. | Eve Tushnet, "The Boy is the Father of Whatever: Richard Linklater's Boyhood," The American Conservative, July 18, 2014, http://www.theamericanconservative.com/the-boy-is-the-father-of-whatever-richard-linklaters-boyhood. |
| 6. | The man Olivia marries in the first half of the film is her one-time professor, an embittered alcoholic who forces Mason Jr. to shave his head and generally bullies Olivia's children and his own with criticism that turns abusive as his drinking problem worsens. Olivia's second significant partner in the movie is, fittingly, one of her own former students, a vet of the War on Terror who is ill-equipped to deal with Olivia's defiant children, in spite of the fact that he seems to mean well. |