Review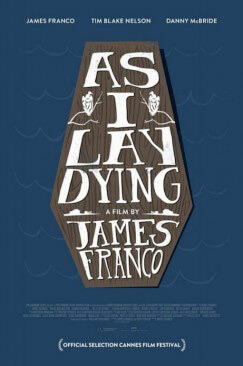 To borrow a line from Joel and Ethan Coen's seminal slacker classic, The Big Lebowski, James Franco "draws a lotta water in this town."1 If you don't believe me, consider the fact that The Los Angeles Review of Books has run not one, but two interviews with Franco, as well as a review, in the last six months about his adaptation of Faulkner's As I Lay Dying: Joseph Entin, "Filming Faulkner's Modernism: James Franco's As I Lay Dying," The Los Angeles Review of Books, November 13, 2013, http://lareviewofbooks.org/essay/filming-faulkners-modernism-on-james-francos-as-i-lay-dying; Merve Emre, "Merve Emre Interviews James Franco: James Franco and Matt Rager on 'As I Lay Dying,'" The Los Angeles Review of Books, October 27, 2013, http://lareviewofbooks.org/interview/james-franco-and-matt-rager-on-as-i-lay-dying; Michael Bibler, "Michael Bibler Interviews James Franco," The Los Angeles Review of Books, May 15, 2013, http://lareviewofbooks.org/interview/james-franco-on-his-adaptation-of-faulkners-as-i-lay-dying. And this town isn't just Tinseltown. Indeed, Franco has been cutting a swath across the country from Los Angeles to New York to New Haven. Not content with just being a talented actor, Franco has spent the last few years trying to fashion himself into an arts and humanities polymath: a mash-up of John Cassavetes, Jean-Michel Basquiat, Will Oldham, Bret Easton Ellis, and Harold Bloom. As I write this, Franco is likely entering another field, and not tentatively.
It's this ambition that warrants respect when watching Franco's first foray into adapting the work of America's most notoriously unadaptable writer, William Faulkner. Unfortunately, this same ambition is what makes Franco's As I Lay Dying another installment in a series of unsatisfying films based on Faulkner's experimental fiction.2Faulkner himself worked in Hollywood on and off for over two decades, and his ambivalence about film and the place that churned out reel after reel of the stuff is well documented. For more on this, see Tom Dardis' Some Time in the Sun (New York: Scribner's,1976), Ian Hamilton's Writers in Hollywood: 1915–1951 (New York: Carroll & Graf, 1990), Joseph Blotner's Faulkner: A Biography (Jackson: University Press of Mississippi, 1974), and Meta Carpenter Wilde and Oren Borsten's A Loving Gentleman: The Love Story of William Faulkner and Meta Carpenter (New York: Simon and Schuster, 1976). From 1933's The Story of Temple Drake, based on the seedy potboiler Sanctuary, to 1959's The Sound and the Fury (starring Yul Brynner, of all people, as the sadistic Jason Compson), big screen adaptations of Faulkner's modernist novels have failed to approximate what makes these books great: the language that layers detail upon idiom upon idea upon history, building up a story like paint on a canvas or a mansion torn violently from the earth. Faulkner's best works are three-dimensional objects, while the films adapted from these novels are, without exception, flat.3The 1969 film version of The Reivers, starring Steve McQueen, is enjoyable, but the novel is far more conventional than most of Faulkner's other fiction, making the act of adaptation much simpler.
Faulkner's As I Lay Dying is the story of the poor, rural Bundren family's disastrous journey to bury the body of their matriarch in Jefferson, the closest thing to an urban center in the author's fictional Yoknapatawpha County. Readers inhabit the thoughts of fifteen different narrators spread over fifty-nine chapters, experiencing how each family member (including the dead mother herself) views and is viewed by kin and community. Addie Bundren's body is both nearly lost in a river and consumed in a fire deliberately set by her own son, Darl; two of her other boys, Cash and Jewel, are almost killed trying to complete the voyage; her daughter, Dewey Dell, uses the trek as a chance to get into town to try to have an abortion; and Addie's husband, Anse, pushes his broken family onward while doing as little of the heavy lifting as possible. With a structure as simultaneously fragmented and unified as the Bundren family itself, As I Lay Dying is Faulkner's most experimental page-turner.
Actors Logan Marshall-Green, Tim Blake Nelson, Danny McBride, and James Franco in an excerpt from Franco's adaptation of As I Lay Dying. In this clip the Bundren men try to balance their need for income with their obligation to honor Addie's burial wishes.
One of the biggest problems with Franco's take on the Bundren family's quest to bury their mother's body is Franco's presence in it. Darl Bundren is Faulkner's most barely embodied character. This is what makes the novel's scene in which Darl burns down a good Samaritan's barn sheltering Addie's body for the night so surreal. Up to this point in the novel, Darl is a voice, a mouth that drinks, and a set of "parts" that cool wind blows across in the night (11).4William Faulkner, As I Lay Dying (New York: Vintage International Edition, 1990). He is a cubist painting of a man, a collection of pieces, echoing his description of his mother's coffin up on sawhorses as being "like a cubistic bug" (219). While we know that earlier he goes with Jewel to get a load of wood that "means three dollars" (17, 19), we never see Faulkner's Darl working, a fact that links him with his shiftless and shady father, Anse, and that separates him from his mother who whips her schoolchildren, and his siblings who we actually witness toiling. Franco's Darl is Franco's body, a man's body, big, fit, and good looking. It's a body many men would like to walk around in, but it keeps Darl grounded in a story that he should be floating over, through, and finally inside "the womb of time . . . the hard girdle in which lie the outraged entrails of events" (121).
Franco isn't Darl's only problem, though since the actor also directed and co-wrote (with Matt Rager) the project, I suppose that's not entirely true. Some key details and scenes from the novel that establish Darl as an even madder philosopher than The Sound and the Fury's Quentin Compson are curiously omitted from the film. The most glaring absence is any hint that Darl's ability to narrate scenes for which he's not present might have something to do with his time "in France at the war" (244). In fact, his breakdown on the train to Jackson, which is "further away than crazy" (252), is not depicted, and it would be very easy to come away from the film thinking that Darl is simply arrested, not committed. The implication of Darl's shellshock that comes late in the novel is crucial in forcing us to take a backward glance at the entire miserable story of the family's journey. Faulkner's Darl is akin to J.D. Salinger's Seymour Glass, a man who has seen too much to simply let things go on as they are. Without this background, the madness Franco tries to inject into Darl's arrest at Addie's gravesite feels tacked on, and the film misses a chance to reflect our current concerns about PTSD and the burden born by America's poor in our most recent wars.
This is not the only omission that impedes our thicker understanding of the characters in the film. The novel's built-up mystery surrounding how Jewel got his beloved horse, which Darl frequently refers to as Jewel's "mother," is reduced to a single line in the film simply explaining that he worked for it. While we understand that this means something given the Bundrens' poverty, without really seeing all that the horse cost him (sleepless nights, Addie's grief, his siblings' extra labor to pick up Jewel's slack), the moment when he leaves the family and gives the horse to Flem Snopes to complete the deal Anse made behind Jewel's back for a new team of mules to haul the wagon is simply one of a boy begrudgingly fulfilling an obligation, not an almost erotically-charged profession of his love for his mother. This lack of context diminishes the tension between Anse and Jewel, who is not actually his son, but rather the product of an affair Addie had with the local minister. Jewel is a rather minor character in Franco's As I Lay Dying, but this is true of all of the characters, in spite of the fact that some of the actors (particularly Jim Parrack as Cash, and Ahna O'Reilly as Dewey Dell) give outstanding performances.
Because the film focuses more on the journey to bury Addie's rotting corpse than the inner lives of the characters, it fails to emphasize what's most important in the novel: the violence the Bundrens do to each other for reasons both innocent and evil. An absent scene that helps cement the latter motivation is when Anse basically steals the money Dewey Dell has brought with her to try and get an abortion in Jefferson. In the novel, this is the moment of Dewey Dell's final abjection, and it sets up the shocking ending where we realize that Anse has used his family's labor and capital as a way of securing himself a second life, complete with a new "Mrs. Bundren" and a set of teeth purchased with the money taken from his used up (and soon to be shamed) daughter. The film's scene of Anse smiling his new smile would have been a gut shot had we previously seen him extorting Dewey Dell just after her rape at the hands of the druggist who promised that violation would cure what ailed her. Without knowing how Anse paid to be able to eat "God's own victuals" (37), we're left thinking him wily and maybe a little goofy, not a hillcountry Machiavelli.
Even the story of the disastrous journey is incomplete in Franco's film. Following the barn burning scene in the novel, the Bundrens approach Jefferson worse for wear: Cash's leg is decaying in its concrete cast, Addie's coffin has holes drilled through the lid and into her face because of her youngest son's curiosity, and Jewel's back is burned after rescuing Addie's box from the fire. On the road into town, the wagon passes "three negroes" and "a white man" (229). The "negroes" balk at the stench coming from the wagon, and upon hearing their comment, Jewel utters his grammatically incorrect invective, "Son of a bitches" (229). However, he says this as the wagon passes "the white man," who pulls a knife on Jewel and demands an apology, which he gets, but only after Darl makes it clear that Jewel doesn't fear the man (229). As Candace Waid points out in her study, The Signifying Eye: Seeing Faulkner's Art, this is the only direct reference to race in the entire novel, and its coupling with Jewel's burned and blackened back, as well as his assertion that "the white man" looks down on them "because he's a goddamn town fellow" (230), is a powerful instance of the "coloring of class" (71), a theme Faulkner explores more explicitly in Light in August, Absalom, Absalom!, and his Snopes Trilogy.5The intersection of race, class, and the visual arts in Faulkner's fiction is examined in Waid's The Signifying Eye: Seeing Faulkner's Art (Athens: University of Georgia Press, 2013). In the interest of full disclosure, I worked with Dr. Waid on this book as an editorial consultant.
The fact that the coloring of class is a preoccupation of Faulkner's later novels is not enough of a reason to fault Franco for not including this road scene in this adaptation. However, within As I Lay Dying this scene reminds us that the Bundrens' place outside the bounds of respectability (another of Faulkner's oft-explored themes) is intimately tied up with their barely landed agrarianism in the face of a South becoming more and more a social geography of "town folk." The film depicts this divide by showing the disgust the people in town experience as the smell coming from the wagon wafts through the square. The novel does this as well, but by combining it with the scene on the road, Faulkner's As I Lay Dying makes it clear that the antagonism is more fundamental. It's about who the Bundrens are and what they will never be, not what they've got in the wagon.
In this scene from Martin Ritt's The Sound and the Fury, Yul Brynner's Jason Compson berates Joanne Woodward's Quentin after her night out. The scene exemplifies how the film plays Faulkner's text as a straight melodrama, stripping the main characters of the internal monologues that give them complexity, and denying us Faulkner's unique ability to critique his own characters (and the ideas and estates they represent) simply by letting them talk to us. Brynner's Jason is particularly altered, as his characterization lacks any of the hyperbolic and comedic sense of victimization that makes his sadistic personality in the novel almost understandable.
Franco's next take on Faulkner is an already half-filmed adaptation of The Sound and the Fury, an even more difficult text to render into the language of film without losing all the texture that Faulkner's prose provides. Just ask Yul Brynner. Still, the fact that Franco is looking to take on these projects is encouraging, as it provides an opportunity for someone to do with Faulkner on celluloid what has only been attempted on stage thus far. The theater troupe the Elevator Repair Service has staged a dramatic reading of the first section, "April Seventh, 1928," of The Sound and the Fury that mirrors the experimentalism of the novel by engaging in multivocal ventriloquism, with actors moving between parts that aren't really parts at all because they all come from within the mind of the mentally handicapped Benjy. While Franco likely won't (and probably shouldn't) try to simply mimic this on screen, here's to hoping that he embraces the fullness of Faulkner's modernism, creating the kind of layered film Faulkner never would have been able to write during his days haunting the Warner Brothers back lot.

About the Author
Daniel Pecchenino is a lecturer in the writing program at the University of Southern California.
Recommended Resources
Text
Karr, Christopher. "Why Faulkner, Fitzgerald, and Other Literary Luminaries Hated Hollywood," Highbrow Magazine, August 13, 2012, http://highbrowmagazine.com/1469-why-faulkner-fitzgerald-and-other-literary-luminaries-hated-hollywood.
Lurie, Peter. Vision's Immanence: Faulkner, Film, and the Popular Imagination. Baltimore: Johns Hopkins Press, 2004.
Mandal, Somdatta. Reflections, Refractions and Rejections: Three American Writers and the Celluloid World. Naperville, IL: Wisdom House, 2004.
Phillips, Gene D. Fiction, Film, and Faulkner: The Art of Adaptation. Knoxville: The University of Tennessee Press, 1988.
Weinstein, Philip. Becoming Faulkner: The Art and Life of William Faulkner. Oxford: Oxford University Press, 2010.
Web
Beam, Kathryn L. "William Faulkner: Adaptations and Hollywood Films." The University of Michigan, last modified August 1998. http://www.lib.umich.edu/william-faulkner/hollywood/hollywood.html.
Padgett, John B. "William Faulkner and Motion Pictures." William Faulkner on the Web, The University of Mississippi, last modified October 9, 2000. http://www.mcsr.olemiss.edu/~egjbp/faulkner/mph.html.
References

| | |
| --- | --- |
| 1. | If you don't believe me, consider the fact that The Los Angeles Review of Books has run not one, but two interviews with Franco, as well as a review, in the last six months about his adaptation of Faulkner's As I Lay Dying: Joseph Entin, "Filming Faulkner's Modernism: James Franco's As I Lay Dying," The Los Angeles Review of Books, November 13, 2013, http://lareviewofbooks.org/essay/filming-faulkners-modernism-on-james-francos-as-i-lay-dying; Merve Emre, "Merve Emre Interviews James Franco: James Franco and Matt Rager on 'As I Lay Dying,'" The Los Angeles Review of Books, October 27, 2013, http://lareviewofbooks.org/interview/james-franco-and-matt-rager-on-as-i-lay-dying; Michael Bibler, "Michael Bibler Interviews James Franco," The Los Angeles Review of Books, May 15, 2013, http://lareviewofbooks.org/interview/james-franco-on-his-adaptation-of-faulkners-as-i-lay-dying. |
| 2. | Faulkner himself worked in Hollywood on and off for over two decades, and his ambivalence about film and the place that churned out reel after reel of the stuff is well documented. For more on this, see Tom Dardis' Some Time in the Sun (New York: Scribner's,1976), Ian Hamilton's Writers in Hollywood: 1915–1951 (New York: Carroll & Graf, 1990), Joseph Blotner's Faulkner: A Biography (Jackson: University Press of Mississippi, 1974), and Meta Carpenter Wilde and Oren Borsten's A Loving Gentleman: The Love Story of William Faulkner and Meta Carpenter (New York: Simon and Schuster, 1976). |
| 3. | The 1969 film version of The Reivers, starring Steve McQueen, is enjoyable, but the novel is far more conventional than most of Faulkner's other fiction, making the act of adaptation much simpler. |
| 4. | William Faulkner, As I Lay Dying (New York: Vintage International Edition, 1990). |
| 5. | The intersection of race, class, and the visual arts in Faulkner's fiction is examined in Waid's The Signifying Eye: Seeing Faulkner's Art (Athens: University of Georgia Press, 2013). In the interest of full disclosure, I worked with Dr. Waid on this book as an editorial consultant. |