Overview
Jake Adam York examines artist Radcliffe Bailey's representations of African American memory and the Black Atlantic in the exhibition Medicine as Memory at Atlanta's High Museum of Art. Medicine as Memory opens at Wellesley College's Davis Museum and Cultural Center, February 15, 2012.
Review
Over the last two decades, Radcliffe Bailey has produced some of the most distinctive art in America. History is the subject—personal, racial, national. The idiom is complex, drawing from Rauschenburg and Basquiat, Bearden and Lawrence, articulated in painting, assemblage, drawing, and sculpture. Like Kerry James Marshall, Bailey has inserted into the American mind, through the channels of the gallery and the museum, indelible images of African American memory. The signature is immediately recognizable.
Memory as Medicine—curated by Carol Thompson and introduced at Atlanta's High Museum of Art this past summer—displays this signature and demonstrates the breadth of his work more clearly than ever.1An exhibition catalogue entitled Radcliffe Bailey: Memory as Medicine, prepared by curator Carol Thompson and published by the High Museum of Art in partnership with DelMonico Books and Prestel, presents the show's thirty-seven works, an exhibition checklist, five essays, and a comprehensive bibliography of Bailey's work, exhibitions, commentary, and reviews.
Bailey's works inhabit spaces both real and mythical—the church, the baseball diamond, the piano, the railroad, the sharecropper's field. Taken together, however, the thirty-seven works in Memory as Medicine indicate another space, vast and organizing, beneath all others: the Black Atlantic. Whether evoked as an agent of the diaspora, as a ground for the slave trade, or as a temporal gulf that separates Bailey from his genetic past, each work recognizes the ocean's size and history, in image or in form.
Take the title work, Memory as Medicine (2006). At the center of this shadow box more than four-and-a-half feet square floats an antique photograph of a soldier, likely drawn from the cache of images Bailey inherited from his grandmother.2 As Thompson notes in her catalogue essay "During his last year of art school, Bailey's grandmother gave him a treasure trove of more than 400 tintypes from a family album dating back to the late 1800s…" in Carol Thompson, ed. Memory as Medicine (New York: Prestel Publishing, 2011): 49. The image is printed on translucent paper through which we see another piece of paper covered with a Garveyite emblem—a black star circled with the slogan "Long Live UNIA"—and a handwritten DNA sequence. Bailey had learned, in 2006, that markers in his DNA indicated a bloodline rooted in Sierra Leone and in Guinea. The shadowbox becomes a medicine cabinet whose magic is the reparative line from photograph to artifact to blood code that describes a history, something that can now be remembered; the depth of the box represents both time and the Atlantic expanse, through which and across which Bailey reaches.

Radcliffe Bailey, Uprooted, 2002. Mixed media on wood panel, 60-1/4 x 238-1/4 x 3-5/8 inches. The Museum of Fine Arts, Houston. Gift of Gerald B. Smith with additional funds given at "One Great Night in November, 2002" in honor of Harvey Padewer.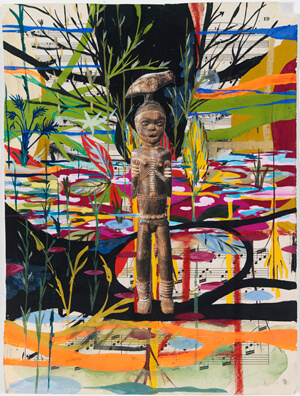 Radcliffe Bailey, Notes from Elmina III, 2011. Gouache, collage and ink on paper, 12 x 9 inches. High Museum of Art, Atlanta, Gift of Bert and Cathy Clark, 2011.9.
The Atlantic expanse is evoked repeatedly. In the paper works Notes from Elmina (2011), waves swallow the coastal castle and traditional African figures. In the large-scale painting Uprooted (2002), oars proliferate, beneath, across, and atop one another in a densely layered panorama, each blade suggesting another stroke, another motion in the oceanic remove. In Procession (2005), Bailey builds a shadowbox around a painting, amplifying the superimposition of paint with a string of nautical flags and a layer of shadowy oars painted inside the plexiglass that forms both a lid and a window for this enormous cabinet.
The medicine cabinet, the wonder cabinet, the shadow box—the three-dimensional form dominates the show, uniting the painter's space with the sculptor's. Nowhere is this clearer or more dramatic than in the installation piece, Windward Coast (2009). The floor swells with piano keys and hammers, swelling like an ocean, from which rises a single human head, a bust covered in black glitter. On a wall nearby, a conch shell hangs, repeating a recording of waves. The bust's mouth is open, as if about to breathe or shout, an ambivalence central to the work collected here. While the volume of piano keys dwarfs the head, suggesting the overwhelming scope and pain of the diasporic removal, the keys themselves, ever gesturing toward musics of resistance and liberation, the blues and jazz that grow out of the Black Atlantic, situate a kind of black power at the point of trial.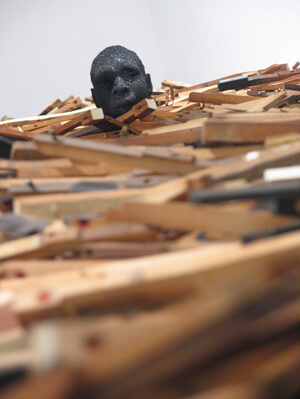 Radcliffe Bailey, Windward Coast, 2009-2011. Piano keys, plaster bust, and glitter, dimensions vary. Courtesy of Jack Shainman Gallery, New York.
The installation at the High Museum places nearby a work entitled Minor Keys (2005), a piano-shaped form, filled with a jumble of piano hammers, covered in black wax, and several models of planets from our solar system, most notably Saturn. The piece pays homage to Sun Ra, the jazz musician who claimed Saturn as his planet of origin and Birmingham as the site of his "arrival," and so images the piano as the site of a resistant appropriation of the diaspora's removal and as a site of repair.
The piano keys appear in numerous other works, including Procession, but sheet music seems just as prevalent, providing the paper for the Notes from Elmina series and, perhaps most striking, a miniature drawing of a Mende mask made with coffee and ink on staff paper and framed in a tintype case. The drawing spans almost three sets of staff lines and suggests that music provides not only a tool for resisting displacement but also one for reclaiming lost heritage, which in turn offers the tools for exceeding the bounds of Eurocentric culture.
The Atlanta showing opened at the High on June 26, 2011, and closed on September 11, 2011. The eleven-week run was Bailey's first solo exhibition at the High—a milestone for an artist who grew up, studied, and continues to work in Atlanta. It was also a milestone show for the High Museum, at it was the first solo show the institution has dedicated to an Atlanta-based artist.3See http://abcnews.go.com/Entertainment/wireStory?id=13925208.
Memory as Medicine continues at Wellesley College's Davis Museum and Cultural Center, on February 15, 2012; the Wellesley showing will run through May 6 before it moves to the McNay Art Museum in San Antonio, June 6 through September 2, 2012.

Jake Adam York (1972-2012) served on the Southern Spaces editorial board.
Acknowledgments
All images courtesy of the High Museum of Art.
Recommended Resources
Print
Bailey, Radcliffe, and David Moos, et al. Radcliffe Bailey: The Magic City. Birmingham, AL: Birmingham Museum of Art, 2000.
Barson, Tanya and Peter Gorschulter, eds. Afro-Modern: Journeys through the Black Atlantic. London: Tate Publishing, 2010.
Thompson, Carol, ed. Radcliffe Bailey: Memory as Medicine. New York: Prestel Publishing, 2011.
Links
Exhibition page at the High Museum
http://www.high.org/Art/Exhibitions/Radcliffe-Bailey.aspx.
New York Times review of the show
http://www.nytimes.com/2011/07/03/arts/design/high-museum-in-atlanta-shows-radcliffe-baileys-art.html.
Radcliffe Bailey at Jack Shainman Gallery
http://www.jackshainman.com/artist-biography5.html.
Radcliffe Bailey at Solomon Projects Gallery
http://www.solomonprojects.com/artistpage/bailey/index.html.
References

| | |
| --- | --- |
| 1. | An exhibition catalogue entitled Radcliffe Bailey: Memory as Medicine, prepared by curator Carol Thompson and published by the High Museum of Art in partnership with DelMonico Books and Prestel, presents the show's thirty-seven works, an exhibition checklist, five essays, and a comprehensive bibliography of Bailey's work, exhibitions, commentary, and reviews. |
| 2. | As Thompson notes in her catalogue essay "During his last year of art school, Bailey's grandmother gave him a treasure trove of more than 400 tintypes from a family album dating back to the late 1800s…" in Carol Thompson, ed. Memory as Medicine (New York: Prestel Publishing, 2011): 49. |
| 3. | See http://abcnews.go.com/Entertainment/wireStory?id=13925208. |