Overview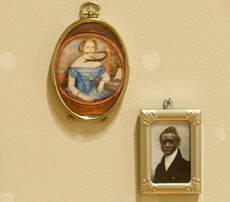 Susan Harbage Page and Juan Logan, Prop Master exhibit, Charleston, South Carolina, 2009. Photo: Rick Rhodes.
The Gibbes Museum of Art in Charleston, South Carolina presented the exhibition Prop Master: An Installation in the museum's Main Gallery from April 3 through July 19, 2009. This site-specific, large-scale installation created exclusively for the Gibbes drew materials from the museum's permanent collection of portraits, landscape paintings, and archives, begun over 150 years ago. This online presentation of Prop Master, with original wall text by Laurel Fredrickson, reveals how artists Susan Harbage Page and Juan Logan juxtaposed art objects drawn from the Gibbes's collection and decorative art objects from local public and private collections with works of their own creation. In doing so, they investigate the role of the institution of the museum as both a prop master and a prop with regard to race, class, and gender relations in historic Charleston society.
Introduction
Artists Susan Harbage Page and Juan Logan designed Prop Master: An Installation specifically for the Main Gallery of the Gibbes Museum of Art. In its totality, Prop Master constitutes what Logan and Page call "a disruption from within." As the person who acquires and manufactures props for theatrical and film productions, the prop master is responsible for all aspects of their use on a set. Prop Master compares the prop master and the museum, as well as a production and an exhibition, to explore how the elements of an art collection are social props and the art museum a prop master. This installation investigates the role of the Gibbes Museum as prop master and prop with regard to Charleston's social relations.
Established as the Carolina Art Association in 1858, the Gibbes Museum took its name from merchant James Shoolbred Gibbes who funded construction of a Beaux Arts-style building which opened to the public in April 1905. The Gibbes houses a collection of ten thousand works, principally American portraits, landscapes, still-lives, and miniature portraits with a Charleston or southern connection. As a society's self-portrait, displaying its aspirations and decorative schemes, such a collection is defined as much by what it excludes or treats as background as by what it includes. An art museum like the Gibbes is analogous to a prop master in how it collects and exhibits art. In so doing, it may support or challenge prevailing racial, gender, and class relations — Prop Master is an example of a challenge.
About the Artists
Susan Harbage Page and Juan Logan live in Chapel Hill, where they teach at the University of North Carolina. Logan is originally from Nashville, Tennessee, and Page grew up in Charlotte, North Carolina. Each has an extensive career as an artist, with solo and group exhibitions throughout the country. They share a long-term interest in using art to explore the intersections of race, class, gender, place, and power.
About the Exhibit
Along with the artists, various individuals contributed to the content/ of this online presentation of the Prop Master exhibit. Gibbes Executive Director and Chief Curator Angela Mack conceived of the idea to contact Susan and Juan to collaborate on a major site-specific installation inspired by the Gibbes' 150 year-old collection. Dr. Laurel Fredrickson, an art history Scholar in Residence at Duke University, authored the wall text for the exhibit which also appears in this online version. Rick Rhodes provided the majority of the photographed images. Marla Loftus of the Gibbes Museum contributed public relations information and Nick Smith produced the following film about the construction of Prop Master.
Prop Allocations or Accents for Gracious Living, 2009
Susan Harbage Page and Juan Logan
Wood, pasteboard, plastic
Strategically centered in the gallery, Prop Allocations or Accents for Gracious Living signifies the museum as institution and microcosm of Charleston society, and explores its status as a social self-portrait. The shape of Juan Logan and Susan Harbage Page's installation mirrors that of the gallery in order to comment on how culture — rituals, codes, manners, and customs — is supported and sustained by the museum as a prop master, with works of art as the props to stage a particular portrait of society.
Susan Harbage Page and Juan Logan, Prop Allocations or Accents for Gracious Living, wide view and close view, Charleston, South Carolina, 2009. Photos: Rick Rhodes.
The six stately, matching, white fluted columns that enclose the installation, like those gracing many of Charleston's historic homes, imply a Greek temple, symbolizing the culture celebrated by Euro-Americans for its democratic ideals. Ironically, these very columns recall how the forced labor of slaves provided South Carolina planters with the wealth to build and furnish the luxurious town homes that give Charleston its great charm and beauty.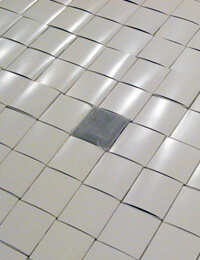 Susan Harbage Page and Juan Logan, Veiled box in Prop Allocations or Accents for Gracious Living, Charleston, South Carolina, 2009. Photo: Susan Harbage Page.
The platform holds ten thousand boxes. These boxes represent the ten thousand works that comprise the collection of the Gibbes Museum of Art, largely society portraits, landscapes, and miniatures. Interspersed among the white boxes are forty black ones. These signify the only works in the collection created by African Americans, works which were acquired recently or entered the collection accidentally. The boxes are laid out as a rough timeline based on the museum's years of operation, and when particular pieces by African-Americans were added. The end of the platform close to the pink columns is the beginning of the timeline and the other end concludes with the four pieces by African Americans which were added to the collection in 2008. The veiled box refers to the first work (in 1943) by an African American artist to become part of the Gibbes' collection: Claude Clark's Old Swede's Church, 1940. Only long after its accession did it become known that its printmaker was African American. The stacked rows of small black boxes that support the platform suggest the unacknowledged role of African Americans in upholding this culture and sustaining its economic structure.
Famous Last Names, 2009
Susan Harbage Page and Juan Logan
Photographs, tarpaper, historical frames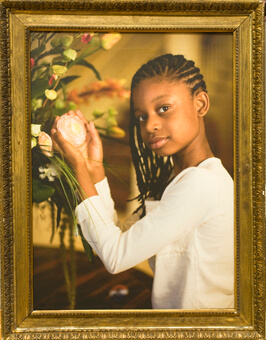 Susan Harbage Page and Juan Logan, Portrait from Famous Last Names, Charleston, South Carolina, 2009. Photo: Rick Rhodes.
This wall installation, conceptualized by Juan Logan and Susan Harbage Page, juxtaposes paintings from the collection of the Gibbes Museum with photographic portraits by Page and a portrait painting by Logan, all in antique frames from the collection. Once grand, these aging portrait frames suggest the decaying porticoes of Charleston, now in the process of renovation.
Elegantly photographed in elite settings, Page's large portraits, printed on canvas to reflect painted portraits in the installation, depict contemporary Charlestonians with the names of planter families. Recalling the complex interfamily ties that link whites and blacks in South Carolina, these images suggest how slaves were identified by the patronyms of their "owners," some of whom fathered and enslaved mixed-race children. The serious poses chosen by the subjects (without prompting by the artist) resemble those in historic portraits, suggesting the power of art and visual culture in shaping self-presentation.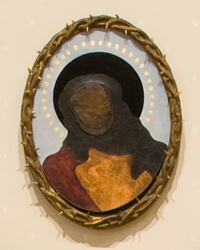 Susan Harbage Page and Juan Logan, Portrait of Denmark Vesey in Famous Last Names, Charleston, South Carolina, 2009. Photo: Rick Rhodes.
The carved thorns on the frame of Logan's Portrait of Denmark Vesey, formerly containing a painting of the head of Jesus Christ, address the suffering of this martyred leader of a foiled 1822 slave rebellion in Charleston. The blank frontal silhouette (also visible in Background Material and Welcome Home) stands in for the face of this free black, who was never respectfully depicted during his lifetime. A former slave, Vesey was a black carpenter and Methodist minister whose risking of his freedom and life in resisting the enslavement of others led to his torture and death. After Vesey's execution, and that of some thirty-five others, authorities suppressed all records of the event. Although black troops in the Civil War called Vesey's name as they entered into battle, only recently have scholars examined his biography in order to repudiate the paternalistic ideology of slavery that Sterling Stuckey ironically calls "kindhearted supervision." In its anonymity, Logan's silhouette also suggests the innumerable people who suffered under slavery, continue to suffer under economic apartheid, and have been obscured by racial stereotypes.
Sexually Ambiguous, 2009
Susan Harbage Page and Juan Logan
Paintings, frames, photographs
For Sexually Ambiguous, Page and Logan selected large portraits and miniatures from the collection of the Gibbes Museum of Art to illuminate race and gender relations. They chose the portraits based upon the appearance of the individuals rather than for the identity of those pictured. These portraits suggest a social caste as a whole. The miniatures include paintings of men, women, and landscapes that were digitally altered to reimagine their content/s and draw attention to their function as a mode of self-presentation.

Susan Harbage Page and Juan Logan,
Sexually Ambiguous
, Charleston, South Carolina, 2009.
Photo: Rick Rhodes.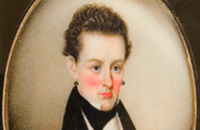 Susan Harbage Page and Juan Logan, Portrait from Sexually Ambiguous, Charleston, South Carolina, 2009. Photo: Rick Rhodes.
Alterations vary. In some cases they are used to question social codes that prevent display of non-normative sexuality. Responding to the rouge on a man's face or his carefully curled hair, for instance, Page may have added jewelry or further cosmetic touches to a portrait. Other miniatures gently poke fun at the repertory of poses typically used in portraits. One shows a brown and white rabbit peeking from a woman's bodice, while in another a man in Napoleonic-era clothing bears a rabbit on one shoulder as another rabbit leans over the frame as if to escape its limits.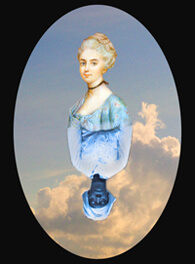 Susan Harbage Page and Juan Logan, Portrait from Sexually Ambiguous, Charleston, South Carolina, 2009. Photo: Susan Harbage Page.
In other miniatures, images of slaves are overlaid on pastoral views of plantations or on cityscapes: reminders of the unacknowledged presence of the almost 2,500,000 slaves who lived and labored in the US South. These works reinscribe the presence of these slaves, so often omitted from representation. More controversially, topsy-turvy figures join the inverted torsos of planters and slaves, to suggest the necessity of the slave to the planter. Elsewhere, men and women have been painted in blackface, to reference minstrel shows that so disparaged African American culture. Women are also implicated. Elegantly dressed and coiffed, they may hold a leather whip or an iron slave collar. Or, in the case of one of Logan's alternations, they expose a toothy, savage grin, derived from caricatures of African Americans. Page and Logan placed Caucasian and African American hair together in some of the miniatures, referencing how these objects were treasured as keepsakes of a beloved other. The adding of hair from African Americans suggests the absence of blacks from the category of the treasured or even of the acknowledged.
By arranging the overall grouping of paintings and miniatures to go beyond the limits of the picture rail, the artists transgress to criticize museum conventions. These conventions include those dictating who may or may not be pictured within such a cultural institution, so long dominated by a privileged few.
Background Material, 2009
Juan Logan and Susan Harbage Page
Wood, fabric, paint, and paper
Juan Logan's Background Material: Wallpaper, a stenciled grid of tiny heads, fills the area of the gallery wall between chair rail and picture rail typically reserved for conventional works of art. Painted in Lancaster Whitewash, a color close to that of the wall, the pattern is not immediately recognized as composed of hundreds of impassive heads. Wallpaper visualizes how African Americans were not acknowledged as subjects but treated as if invisible, even when waiting on someone at the dinner table. These heads, endlessly repeated, suggest how racist imagery reduces people to anonymous caricatures. Logan distilled the shape of these heads from pernicious stereotypes (the form also appears in Portrait of Denmark Vesey and his video Welcome Home). African Americans were considered background, as much in the museum as on the plantation, even though their labor sustained the inegalitarian society they were compelled to serve.
Susan Harbage Page's Background Material: Columns refer to the often unacknowledged but critical social function of privileged women. Framing the entrance to the exhibition, the pair of semi-circular, yet massive, fabric columns signifies how women prop up the social structure. Each column displays the digitally altered, archival photograph (from the Gibbes image archive of past museum openings) depicting a well-dressed, smiling woman serving cookies to a man. Doubled in mirrored reverse, she faces two directions as if to serve all sides at once. Stretched out of proportion, she becomes an abstraction. Her elongated form fits the pillars, which she graces as the upholder of social codes and rituals, and as decorative object and interior designer, suggesting her complicity in maintaining a rigidly divided society. One cannot identify the figure when close-up, due to the image's pixilation, but only from a distance. This suggests how difficult it can be to understand one's culture when immersed within it.

Page's Background Material: Chair Rail Frieze also appropriates and transforms an archival photograph to consider how women sustain social customs, mores, and values. Following the chair rail around the gallery, separating exhibition wall space from that below, Page's frieze shows mirrored iterations of a cropped and abstracted photograph. The photograph, selected from the Gibbes Museum archives of images from past openings, depicts a well-dressed woman's hands, delicately serving cookies, which a man's hands content/edly take. Tracing the room, the replication of the image indicates how such actions have recurred innumerable times and how they continue into the present.
Welcome Home, 2009
In his large-scale video projection Welcome Home, Juan Logan samples and alters imagery and sound from D. W. Griffin's silent film Birth of a Nation (1915), Walt Disney's live action/animation feature Song of the South (1946), Disney cartoons, footage of a 1920 Ku Klux Klan rally at the Washington Monument, and engravings of the 1861 bombardment of Fort Sumter, the latter selected from the archives of the Gibbes Museum. The two feature films are infamous for their systematic use of racial stereotypes, as well as their artistic innovation. Griffith's film sympathetically depicted the Ku Klux Klan, implicitly giving cultural support to lynching by vilifying black males as sexually predatory and dangerous towards white women, which enflamed white supremacist passions. The Disney studio based Song of the South on Joel Chandler Harris' Uncle Remus stories in which an Uncle Tom-like character recounts the adventures of Br'er Rabbit and other animal characters. While actors play Uncle Remus and the white plantation family, the animals are animated. The cartoon fish that repeatedly leaps into the air refers to 'fish tales' that romanticize the South just as the song "Everybody has a Laughing Place" contests idealized accounts of "Dixie." Denigrating stereotypes deployed in Song of the South prevented its release, in its entirety, in the United States, although the song "Zip-a-Dee-Doo-Dah" won the 1947 Academy Award for Best Song.

The blank silhouette that appears on the Wallpaper of Background Material and as the Portrait of Denmark Vesey also frames the scenes and sound track sampled in Welcome Home. The ironic title of Logan's video refers to the words of an older white woman welcoming a white family back to the plantation and its values. Images of a young white woman appear amid an army of hooded Klansmen, who celebrate their "protection" of her womanhood. These images alternate with scenes that include a smiling Uncle Remus, supposedly happy in the paternalistic embrace of slavery and Jim Crow, a black "coon" cat running scared from an unseen adversary, Civil War battles, and the face of a young black male (of the present as much as of the past) in the process of being erased. Logan digitally altered the imagery in his video to visually magnify its drama and draw attention to the frightening power of racial caricatures.
Expressions of Affection, 2009
Susan Harbage Page
Ku Klux Klan uniforms, assorted fabrics
Period table and four chairs
Eight variously shaped bundles, formed from Ku Klux Klan uniforms from 1920s South Carolina, make up Susan Harbage Page's Expressions of Affection. Attractive fabric strips and ribbons hold each bundle in shape, with the exception of one tied with an actual rope belt worn with Klan robes. The belt's resemblance to that worn by monks suggests how Klan members viewed themselves as a brotherhood with a mission or vocation. Ties made from pink silk fabric, seersucker, or pink and white ribbons implicate women in Klan activities: sewing hoods and gowns, as well as cleaning, pressing, storing, and treasuring them.
To tie such activities to the slave past and the plantocracy, Page presents the bundles on elegant period furniture: a table from the Charleston Museum and four matching chairs from the Joseph Manigault House. These luxurious objects once belonged to the family of Charles Pinckney, a wealthy Lowcountry planter and signer of the United States Constitution. Pinckney owned hundreds of slaves who worked on his numerous rice and indigo plantations, as well as at his Charleston home on Meeting Street. As a reminder that racism persists in many guises, even as it changes form, Page's installation links the slave past to the Jim Crow era and to the present. Provocatively, the attractive shapes of the bundles refer to decorative schemes extolled in magazines such as Southern Living or Martha Stewart Living. Displayed on platform risers painted in the color Lancaster Whitewash, the uniforms and furniture are propped up by whiteness in the literal and metaphorical senses.

Recommended Resources
Print
Carbonnell, Bettina, ed. Museum Studies: An Anthology of Contexts. Wiley-Blackwell, 2003.
McInnis, Maurie D. The Politics of Taste in Antebellum Charleston. Chapel Hill: University of North Carolina Press, 2005.
Parker, Adam. "Prop Master: Unexpected installation challenges views of race, class, gender, sexual identity." Charleston Post and Courier, 10 May 2009,
http://www.postandcourier.com/article/20090510/ARCHIVES/305109924.
Powers, Bernard. Black Charlestonians: A
Social History 1822-1885. Fayetteville: University of Arkansas Press, 1999.
Robertson, David. Denmark Vesey: The Buried Story of America's Largest Slave Rebellion and the Man Who Led It. New York: Vintage, 2000.
Film
Smith, Nick. Prop Master at the Gibbes Museum of Art. 2009.
Links
African American Atelier, Featured Artist Juan Logan
http://africanamericanatelier.org/the-19th-annual-founding-members-invitational-featuring-juan-logan/.
Art Knowledge News, Gibbes Museum of Art to Show Prop Master
http://artknowledgenews.com/200901166835/Gibbes_Museum_of_Art_Prop_Master_Juan_Logan_Susan_Page.html.
Dailyserving.com, "Prop Master."
http://dailyserving.com/2009/04/prop-master/.
Gibbes Museum of Art: Prop Master
http://www.gibbesmuseum.org/explore/cur_exhibit2.php?id=67.
Juan Logan Blog
http://juanlogan.blogspot.com/.
MICA, At Freedom's Door: Challenging Slavery in Maryland
https://www.mica.edu/Browse_Art/At_Freedoms_Door_Challenging_Slavery_in_Maryland.html?gallery=468.
North Carolina Public Radio, "Meet Susan Harbage Page"
http://www.wunc.org/tsot/archive/sot0217A08.mp3/view.
PBS, Art:21, Artists: Fred Wilson
http://www.pbs.org/art21/artists/wilson/index.html.
South Carolina Information Highway: Charleston History
http://www.sciway.net/city/history/charleston.html.
Susan Harbage Page Blog
http://susanharbagepage.blogspot.com/.
Similar Publications