Overview
This multimedia essay surveys digital resources documenting the heyday of Ybor City, Florida. Thanks to labor from Spain, Italy, and Cuba, Ybor City (located slightly east of central Tampa) became the "Cigar Capital of the World" in the early twentieth century. This guide organizes and explores a selection of the documentary materials available online for the study of this remarkable factory town.
Introduction
Founded by cigar manufacturers V.M. Ybor and Ignacio Haya in 1885, Ybor City, Florida, became the "Cigar Capital of the World" in the early twentieth century. Despite efforts by émigrés from Spain, Italy, and Cuba to retain distinct ethnic and national identities, primarily through ethnically-based mutual aid organizations, the immigrant population of Ybor City had by the early twentieth century forged a new cultural identity that combined elements of Italian, Spanish, and Cuban cultures. Ybor City's remarkable syncretism attracted photographers, historians, folklorists, and journalists seeking to document work, play, and culture. This essay organizes and explores online documentary works pertaining to Ybor City in its heyday.
The Burgert Brothers Photographic Collection
http://digitalcollections.hcplc.org/cdm/landingpage/collection/p15391coll1
The Burgert Brothers photography studio, originally located at 1310 1/2 7th Avenue in the heart of Ybor City's business district, operated from 1899 to 1963. Like most photographers in nineteenth-century America, the Burgerts did commercial work. Technological advances in the late nineteenth-century gave birth to this specific field of professional photography conducted with the purpose of advertising or displaying specific subjects for paying clients. With the development of the half tone process that allowed photographs to be printed on regular stock paper next to type, most national firms stopped outsourcing their photography jobs and instead established internal departments to handle the photographic duties now required on a regular basis. For local businesses, however, a permanent photography staff was expensive and unnecessary; they continued to use local firms like the Burgert Brothers. As a result, the archives of these firms are unique documents of regional history. The Burgert Brothers archive is no exception.1The photos in this section can be found at the library website, although in many ways this archive made by a Tampa resident is more useful. Most of the information in this section comes from Pioneer Commercial Photography: The Burgert Brothers, Tampa, Florida by Robert E. Snyder and Jack B. Moore. This book is the only scholarly print resource devoted exclusively to the Burgert Brothers. Unless otherwise noted, quotes in this section are taken from this source.
In the Tampa Bay area at the turn of the century commercial photography was a highly competitive field (by the beginning of World War II, the Burgerts were the only firm left that had operated in the nineteenth century). The Burgerts and their competition confined their work to portraits of their clients, as was the practice of the time. To set the family firm apart from the competition, Jean Burgert began his career as a traveling commerical photographer in 1910. Instead of just portraits, the Burgerts were now willing to photograph any subject anywhere in the Tampa Bay area. This new flexibility coupled with the acquisition of their only real competition, William A. Fishbaugh's firm, in 1917 made the Burgert Brothers the premier commercial photography firm in Tampa. Jean and his brother Alfred became the "Burgert Brothers" who would go on to produce the collection that "so magnificently reflects the Tampa region's development through four decades of the twentieth century."2Robert E. Snyder and Jack B. Moore, Pioneer Commercial Photography: The Burgert Brothers, Tampa, Florida (Gainesville: University of Florida Press, 1992), 12. During the next four decades the firm stayed prosperous by continuing to expand its services. The brothers stayed on the cutting edge of new technology, adding Cirkut cameras to make panoramic photographs, aerial photography, and even motion pictures to their repertoire. They also expanded their geographical range, claiming in one advertisement that "All Florida Is Our Territory." By mid-century they had become the leading commercial photography firm in the state.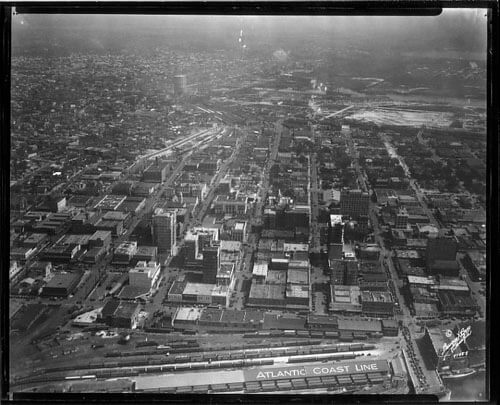 Burgert Brothers,
Downtown Tampa aerial view
, east from railroad sheds to Ybor, Estuary Zone, and gas storage tank Tampa, Florida, 1958. Catalog no.: PA 5858.
The firm flourished during the 1920s and even during the Great Depression in the 1930s, but Jean's interest in photography waned. Sometime in the early 1940s he sold his interest in the company to his brother Al. A few years later, Al sold out the entire company to his nephew Thel Burgert and longtime employee Al Severson. Severson became the sole owner in the 1950s. He continued to operate the studio under the Burgert Brothers name until his retirement in 1963.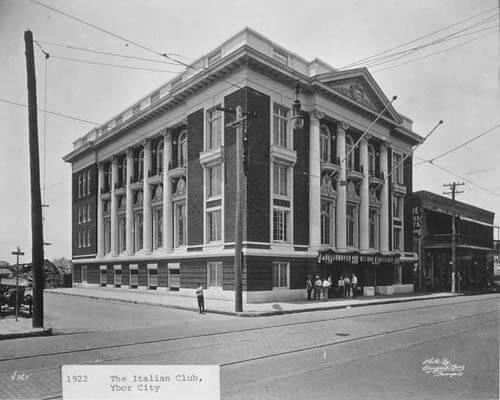 Burgert Brothers, Italian Club on 7th Avenue in Ybor City, Tampa, Florida, 1922. Catalog No.: PA 4970.
It is estimated that by the time of its closing the Burgert Brothers studio had produced as many as 80,000 negatives that documented diverse aspects of life in Florida, including race relations, urbanization, architecture, recreation, and industrialization. Many of these photographs were taken in Ybor City as it developed into a national leader in cigar production. The Burgerts' studio advertised themselves as "La Primera Fotografia de Ybor" (the first photographers of Ybor), a role that brought them clients from throughout the city. They had inadvertantly become "historians with cameras," though it would be years before their collection would be recognized for its value as a document of Florida history.
When Al Severson became the co-owner and head of the firm in the 1940s, he gained control of the firm's facilities, equipment, and vast collection of negatives. Around that time, historian and Ybor City native Tony Pizzo purchased one hundred of the negatives that documented his hometown. By 1965 the rest of the collection had made its way into the offices of Carlton Trimble, a Tampa businessman. Allen Morris, the curator of the state photographic archives, was in Tampa for a legislative caucus when he heard about the collection and sought out Trimble. Over the next year, Morris periodically examined Burgert negatives and selected those he found noteworthy to purchase for $3 each. Morris gradually purchased approximately 500 negatives for the State Archives in Tallahassee.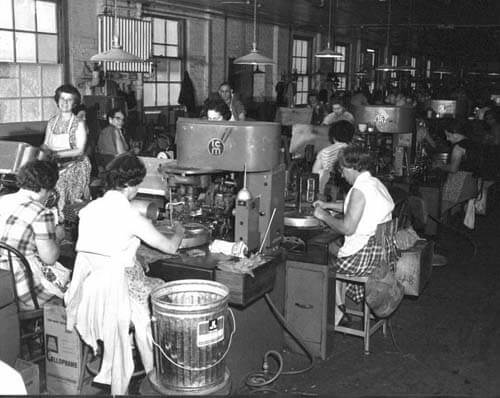 Burgert Brothers, Women making cigars at Corral & Wodiska cigar factory, Tampa, Florida. Catalog No.: PA 13243.
After a 1967 conviction for producing and distributing pornography, Trimble sold his collection to Henry Cox, president of Tampa Photo Supply. By chance, Cox met local historian Hampton Dunn, who recognized the priceless value of the archive as a record of Tampa history. Dunn paid Cox $500 for an unspecified number of the negatives, some of which were published in a book of Tampa photography entitled Yesterday's Tampa. At that time, Cox offered the remainder of the collection to Morris for $10,000. The state could not afford that price. Dunn and Raymond E. Bunch, the owner of a local photography store, used community pride and the possibility of a tax write-off to convince Cox to part with the collection for $2,000. In 1974, the Tampa-Hillsborough County Public Library, with the help of a volunteer support organization, the Friends of the Library, bought the collection and fourteen handwritten ledgers listing the 70,000 negatives with identifying numbers and simple descriptions. To date, over 15,000 of these negatives have been developed, digitized, and electronically indexed for the library's website. They are kept in the History & Genealogy Department of the John F. Germany Public Library in downtown Tampa. With Federal grants, library budget funds, and Friends projects, they have been transferred from nitrate-based film to modern safety film. The scanning project for online access, financed by the Frank E. Duckwall Foundation, continues to make hundreds of the images available online each month. This ever-growing collection is an invaluable source for students of Ybor City history and an excellent realization of the possibilities of digital image preservation and distribution.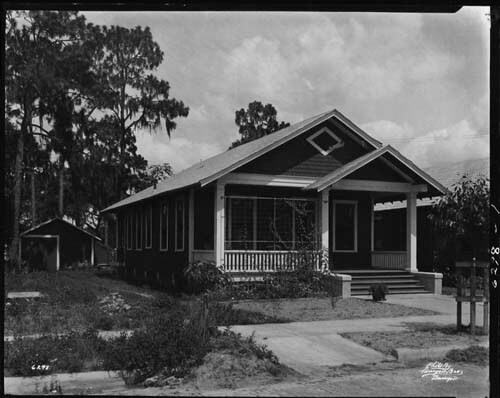 Burgert Brothers, Residence at 2719 Jefferson Street, single-story wood frame, shotgun interior full front porch with gable and trellis, Tampa, Florida. Catalog No.: PA 5780.
American Memory
http://memory.loc.gov/ammem/index.html
American Memory is "a multimedia web site of digitized historical documents, photographs, sound recordings, moving pictures, books, pamphlets, maps, and other resources from the Library of Congress's vast holdings."3See http://memory.loc.gov/ammem/help/faq.html. It began as a pilot program in 1990 that experimented with digitizing LOC materials and distributing them to public schools on CD-ROM. In 1994, private sector funding paved the way for the establishment of the National Digital Library Program, which took advantage of the new opportunities created by the Internet and founded American Memory. In the intervening years, American Memory has grown into a collaborative national endeavor with bipartisan support and continuing public and private funding. It is divided into more than 100 collections dealing with different aspects of American life, organized by time period, format, place, and topic. Although the amount of material available online is dwarfed by the amount of material owned by the LOC, the diversity and quantity of its digitized materials makes American Memory the most diverse and comprehensive digital archive of American history and culture freely available and easily accessible to the public.4See http://memory.loc.gov/ammem/about/ for more information about the mission and history of American Memory.
A simple search of the collections for the term "ybor" brings up maps, photos, texts (both original scans of contemporary documents and transcriptions of those documents), drawings, music (in three formats), and video. Below is an organization and exploration of the two collections that offer the most significant information about the people and culture of Ybor City.
Florida Folklife from the WPA Collections, 1937–1942
http://memory.loc.gov/ammem/collections/florida/
The Work Progress Administration made two recording excursions to Ybor City in 1939. The first was undertaken by Herbert Halpert of the Joint Committee on Folk Arts' Southern Recording Expedition. Halpert made three twelve-inch records in four days, June 18–21, 1939, in Jacksonville and Tampa, where he visited the Cuban Club to record samples of the music that was regularly performed there. This Florida visit was part of Halpert's collection of recordings made in nine Southern states between March 12 and June 30, 1939.
Assisting Halpert on his expedition was Stetson Kennedy, a folklorist born in Jacksonville in 1916. Kennedy led the second WPA visit to Ybor, part of a larger Florida trip that included Cross City and Jacksonville, in August 1939. This excursion resulted in the bulk of the records made in Ybor city that have been digitized by and included in American Memory. This searchable collection features the original recordings and field notes of both expeditions and can be browsed by performer, place, and format. Several essays created specifically for this online presentation are also featured on the site, including a biography of Kennedy, an essay by Kennedy looking back on his WPA experiences, and brief descriptions of the ethnic and cultural groups that the WPA documented in Florida between 1937 and 1942.
The bulk of the materials in this collection can be divided into three categories: folksongs, folklore, and youth culture. Each record includes basic bibliographic information such as date and performer. WPA translations and records accompany audio explanations of each performer's relationship with the item in question to greater illustrate many of the items, particularly those in Spanish.

A typical treatment of a single piece of folklore in the collection is that of "Merce," a song that originated in the dance halls of Cuba. There are three separate records relating to the song as Kennedy first encountered it in Ybor City: a recording of the song as it was performed in the Cuban Club on June 21, 1939, "an explanation of the performers and performance style of the song," and a translation that details the meaning of the song for non-Spanish speakers.
This multifaceted approach is a hallmark of many of the materials in the Florida Folklife collection. Kennedy includes translations and explanations for the vast majority of the materials he collected in Ybor City. In many cases, he took care to show changes in the culture along the generational boundaries, as when he recorded both a mother's version and a daughter's version of a Cuban folk story. The changes in their tellings reflect the transformation of Ybor City from a community of disparate immigrant cultures into a place with its own unique cultural identity that incorporate elements of all of them.
American Life Histories: Manuscripts from the Federal Writers' Project, 1936–1940
http://www.loc.gov/collection/federal-writers-project/about-this-collection/
This collection includes digital scans and full-text versions of records created by the Folklore Project of the Federal Writers' Project. While the Federal Writers' Project produced a wide variety of materials, this American Memory collection focuses on materials "meant to reflect the ordinary person's struggle with the vicissitudes of daily living." These stories were collected through interviews conducted by WPA employees to be used in anthologies that constructed composite portraits of various groups of Americans. Those books were never written, but the Library of Congress still recognized the value of these raw materials to folklorists and historians. They includes information about "family education, income, occupation, political views, religion and mores, medical needs, [and] diet."5 See http://www.loc.gov/collection/federal-writers-project/about-this-collection/. There are seven records that illuminate the lives of the people of Ybor City. Five of them are life histories of members of the Ybor City community that document the immigrant experience and early days of the Ybor City cigar industry. The other two are contemporary accounts written by Kennedy of his personal experiences with the people of Ybor City that illuminate his impression of the people he met there in his travels as a WPA employee.
Florida Electronic Library
The Florida Electronic Library is a project of the Florida Department of State's Division of Library and Information Services. It is an effort to gather the diverse resources of different public institutions--libraries, universities, museums, public archives - into a digital collection. This effort has been wildly successful. Aside from a statewide electronic card catalog and an "Ask a Librarian" feature, the Florida Electronic Library contains two principal divsions: Florida Memory and Florida on Florida.
Florida on Florida is "a comprehensive digital collection of Florida's history, culture, and environment made available from digital collections held by libraries, archives, museums, and historical societies throughout Florida." A search of Florida on Florida for the term "ybor" yields 604 total results from the HCPLC Burgert Brothers Archive, the Florida Photographic Collection, the Rollins College Digital Archives, and the University of Florida Digital Collections. The Rollins College Digital Archives contain 16 photographs of Ybor City landmarks and leaders.6See http://www.flelibrary.org/ for more information about the Florida Electronic Library.
The University of Florida Digital Collections contain many more relevant materials, most of which are in two collections. The Tony Pizzo Collection, named for the Florida historian and Ybor City native pictured above, contains visual records. It has more photographs from Tampa-based commercial photography firms (including the Burgert Brothers and Robertson and Fresh), some of the oldest photographs of Ybor City available online (c. 1880) taken before the first factories were built, photographs and maps documenting the fire that engulfed the city in 1908, photographs of troops training in Tampa for the Spanish-American War, and turn-of-the-century photographs from the Tampa Morning Tribune and Tampa Times.7Though they are not indexed by Florida on Florida, the University of Florida also maintains a collection of interviews conducted by Ybor City historian Gary Mormino that are part of the Samuel Proctor Oral History Program in the Department of History.
The title of the Cigar City Collection is taken from Ybor City's nickname in its heyday. It also contains exclusively visual materials including photographs that document pre-mechanization cigar factory operations, artistic representations of Ybor City people and places, cigar labels and advertisements from the earliest factories, portraits of cigar manufacturers, and photographs of Jose Marti's political activities involving Ybor City's Cuban population.
Florida Memory
https://www.floridamemory.com/
This second component of the Florida Electronic Library is an effort by the State Archives of Florida to make their vast collection of materials available to as many people as possible. As its name suggests, Florida Memory is a digital archive similar to that of American Memory but with a statewide rather than nationwide scope.
Florida Memory is subdivided into five sections, two of which contain resources relating to Ybor City. The first is the Florida Photographic Collection. It is by far the "most complete online portrait of Florida available," with over 159,000 digitized photographs from various sources ranging from family pictures to professional photographers.8See https://www.floridamemory.com/how_do_i/. Of the 255 results for the term "ybor," there are many that bespeak Ybor City's place in the consciousness of Florida residents, especially those in the Tampa Bay area.
Florida Memory includes photographs taken by the Florida Department of Commerce to boost the local economy. They show various shops and restaurants in Ybor City, as well as the annual Gasparilla festival.
Florida Memory also archives photographs of troops training in Ybor City and Tampa for the Spanish-American War at the end of the nineteenth century. These photos also show the undeveloped land that was the majority of Ybor City before factory construction took off.
The collection also has professional portraits of distinguished residents of early Ybor City including the Haya family and V.M. Ybor as well as postcards of Ybor City sites such as restaurants, cigar factories, and social clubs.
Donn Dughi was a United Press International photographer who was assigned to the Florida legislature for decades. The Florida Photographic Archive includes many of his photographs, including those of Florida state lawmakers celebrating "Ybor City Day" on April 30, 1987.
Like the Department of Commerce, the Florida Division of Recreation and Parks and the Florida Department of Tourism took promotional photographs. Their images depict the Ybor City Museum, a converted Cuban bakery on the grounds of Ybor City State Park. They speak to Ybor City's later role as a tourist attraction.
The Photographic Collection also contains collections assembled to reflect a certain important topic or event in Florida culture. One of these collections, Florida Cigars: Artistry, Labor, and Politics in Florida's Oldest Industry, provides an annotated photographic introduction to the complicated history of Florida cigars from the arrival of Cuban immigrants to the development of Key West and Ybor City to the eventual decline of the industry and the communities that depended on it.
In addition to these still photographs, the Florida Photographic Collection contains 50 video clips, including Flower of Tampa, a video financed by the Greater Tampa Chamber of Commerce and the Cigar Manufacturing Association of Tampa in the 1950s to showcase the Ybor City cigar industry. It features an uncle and his nephew watching a film about Tampa's cigar industry "produced before pictures talked." The concerns of Ybor's civic leaders in the 1950s caused them to focus on family tradition and nostalgia for the past glory days of "Cigar City" in light of the changing urban landscape they confronted.

In addition to these visual records of Ybor City, Florida Memory contains records in other media that prove useful in understanding Ybor history. Some of these records are for materials in other collections, particularly American Memory, but there are also many that cannot be found elsewhere. The Florida Folklife Collection searchable not just by categories like name, date, author, and location, but also by categories that are specifically useful to folklorists such as tradition bearer, gender, ethnicity, and field worker. These additional categories increase the flexibility of those searching the database for information. Their inclusion also facilitates projects dealing with specific ethnic populations, the role of women, and folklore collection protocol.

Unfortunately, the useufulness of the Florida Folklife Collection as a digital resource is limited. Its website includes the three step plan for the collection as outlined by the State Archives: creating of an online index for thousands of records, scanning 10,000 pictures, and creating educational units. Unfortunately, these goals stop far short of digitizing the 150 cubic feet of paper records and thousands of audio and video recordings that date from the 1930s through 2001. None of the original resources the document Ybor City life were deemed significant and representative enough to be among the first 10,000 digitized. As such, researchers of Ybor City the Florida Folklife Database still have to travel to the physical archives in Tallhassee, Florida.
University of South Florida Digital Collections
By virtue of close proximity, the University of South Florida has, since its founding in 1956, accumulated many items that are useful to those studying the history and culture of Ybor City. In recent years, USF's library system has made many of these resources available online in digital collections grouped by origin, topic, and format. A search of all of these collections reveals nine that contain valuable materials that pertain to Ybor City history.
Burgert Brothers Collection of Tampa Photographs
http://digital.lib.usf.edu/burgert
With only 732 images, USF's collection of Burgert photographs is not nearly as extensive as that of the Hillsborough County Public Library Cooperative. It does, however, contain images that are not part of the larger collection, many of which capture different facets of Ybor City life, including cigar industry public relations and community celebrations.
Centro Asturiano Membership Records Photograph Collection
http://digital.lib.usf.edu/centroasturiano
This collection of 5,076 membership record portrait snapshots from Centro Asturiano could be used to find information about specific Ybor City residents. However, it is also a resource that illustrates a large population group as a whole. Clothing condition and style, degree of dishevelment, and even facial expressions seen in these photographs give a small insight into the lives of the men of Centro Asturiano, a social club "to provide medical assistance for the collective benefit of its members" as well as "educational, social and recreational activities."9See http://www.centroasturianotampa.org/history/.
| | |
| --- | --- |
| | |
| Photographer unknown, Centro Asturiano membership record of Agiliano, J., Ybor City, Florida, date unknown. Catalog no.: C16-M01253 doi. | Photographer unknown, Centro Asturiano membership record of Barone, F. A., Ybor City, Florida, date unknown. Catalog no.: C16-M01926 doi. |
Columbia Restaurant Oral History Project
http://guides.lib.usf.edu/content.php?pid=49131&sid=364817#
This collection contains interviews conducted by Andrew Huse, assistant librarian in the Special Collections Department, with various "key people" in the Columbia Restaurant. The interviews, which are available as audio files and transcriptions, formed the basis for Huse's book about the legendary Ybor City restaurant, which has been in operation since 1905 and claims to be "Florida's oldest restaurant and the world's largest Spanish restaurant."10See http://www.columbiarestaurant.com/The-Columbia-Experience/History. It is one of the few aspects of early Ybor City that still exists much as it did a century ago. This digital collection does much to illuminate how the restaurant has stayed true to its original form while Ybor City fell apart and was rebuilt around it.
Hampton Dunn Collection of Florida Postcards:
http://digital.lib.usf.edu/dunn-photouring
The same Hampton Dunn who helped preserve the Burgert Brothers archives also gathered Florida postcards throughout his career. He donated his collection of 2,697 postcards to the USF library, which digitized them. Unfortunately, only three of these postcards capture Ybor City buildings. The portrayal of these buildings on these postcards, which would have likely been sent by Ybor City residents to their families in their home countries, reveal much about the idyllic picture Ybor City's leaders wanted to create. This tradition of idealizing hearkens back to the earliest days of the settlement when cigar manufacturers worked to lure workers to their factories. The postcards are views of mutual aid societies that emphasize the stately nature of their architecture and the gorgeous weather that characterized their location.
La Gaceta Collection
http://digital.lib.usf.edu/lagaceta
La Gaceta, founded by Cuban immigrant and lector Victoriano Mantiega, is the nation's only trilingual newspaper. It has been published in English, Spanish, and Italian since 1922. This collection of full-text searchable digital scans of 152 issues from 1933 is useful not just as a record of notable events in Ybor City during that year, but also as an indicator of the diversity of the community. While they may have sought to remain pure to their own language and heritage, the practical situation of living together in Ybor City brought together English-, Spanish-, and Italian-speakers. Everyone who read La Gaceta got the same information, no matter what language they spoke. The newspaper was an important crucible for the formation of a multicultural identity because it erased some of the lingual barriers that separated disparate ethnic groups. Mantiega's column, which often defended the Latin community, was another factor in the creation of Ybor City unity.11See http://lagacetanewspaper.com/history.htm.
Robertson and Fresh Collection of Tampa Photographs
While not as prolific or influential as the Burgert Brothers, the Robertson and Fresh commercial photography firm produced "an invaluble visual record of the Tampa area." These 2,882 images, taken by William Vernon "Red" Robertson and developed by Harry Fresh, cover Ybor City and the Tampa Bay area from 1932 to 1960 and are freely available and easily searchable online.
| | |
| --- | --- |
| | |
| Robertson and Fresh, A Bartender at Colombia Spanish Restaurant supporting dog racing, Ybor City, Florida, April 19, 1942. Catalog no.: R05-00010677. | Robertson and Fresh, A Banquet of the Eli Witt Cigar Company, Ybor City, Florida, January 10, 1942. Catalog no.: R05-00016163. |
Walking Tour of Ybor City with Dr. Gary Mormino
This collection does not contain primary documents of Ybor City history. Rather, this collection of fourteen video segments is a crash course in Ybor City history from Ybor City historian and USF faculty member Dr. Gary Mormino. In each segment he stands at a different historical site in Ybor City while discussing both its historical significance and present-day usage.

Recommended Resources
Text
Alvarez, Lizette, "After 150 Years of Rolling Them, Tampa Is Close to No Cigars," New York Times, July 21, 2014, http://www.nytimes.com/2014/07/22/us/after-150-years-of-rolling-them-tampa-is-close-to-no-cigars.html.
Deitche, Scott M. Cigar City Mafia: A Complete History of the Tampa Underworld. Fort Lee, NJ: Barricade Books, 2004.
Lastra, Frank Trebín and Richard Matthews. Ybor City: The Making of a Landmark Town. Tampa, FL: University of Tampa Press, 2006.
Mormino, Gary and George E. Pozzetta. The Immigrant World of Ybor City: Italians and Their Latin Neighbors in Tampa, 1885–1985. Urbana: University of Illinois Press, 1987.
Pacheco, Freddie. Ybor City Chronicles: A Memoir. Gainesville: University of Florida Press, 1994.
Snyder, Robert E., and Jack B. Moore. Pioneer Commercial Photography: The Burgert Brothers, Tampa, Florida. Gainesville: University of Florida Press, 1992.
Web
The American Folklife Center
http://www.loc.gov/folklife/
American Memory
http://memory.loc.gov/ammem/index.html
Burgert Brothers Photographic Collection of the Hillsborough County Public Library Cooperative
http://www.hcplc.org/hcplc/research/burgert/
http://www.lamartin.com/burgert/
Centro Asturiano de Tampa
http://www.centroasturianotampa.org/
Columbia Restaurant
http://www.columbiarestaurant.com/
Florida Electronic Library
http://www.flelibrary.org/
The Italian Club of Tampa
http://www.italian-club.org/
La Gaceta
http://lagacetanewspaper.com/
P.K. Yonge Library of Florida History
http://www.uflib.ufl.edu/spec/pkyonge/
Tampa Bay History Center
http://tampabayhistorycenter.org/
University of South Florida Digital Collections
https://digitalcommons.usf.edu/digital_collections/
Ybor City Chamber of Commerce
http://ybor.org/
Ybor City Museum
http://www.ybormuseum.org/
References

| | |
| --- | --- |
| 1. | The photos in this section can be found at the library website, although in many ways this archive made by a Tampa resident is more useful. Most of the information in this section comes from Pioneer Commercial Photography: The Burgert Brothers, Tampa, Florida by Robert E. Snyder and Jack B. Moore. This book is the only scholarly print resource devoted exclusively to the Burgert Brothers. Unless otherwise noted, quotes in this section are taken from this source. |
| 2. | Robert E. Snyder and Jack B. Moore, Pioneer Commercial Photography: The Burgert Brothers, Tampa, Florida (Gainesville: University of Florida Press, 1992), 12. |
| 3. | See http://memory.loc.gov/ammem/help/faq.html. |
| 4. | See http://memory.loc.gov/ammem/about/ for more information about the mission and history of American Memory. |
| 5. | See http://www.loc.gov/collection/federal-writers-project/about-this-collection/. |
| 6. | See http://www.flelibrary.org/ for more information about the Florida Electronic Library. |
| 7. | Though they are not indexed by Florida on Florida, the University of Florida also maintains a collection of interviews conducted by Ybor City historian Gary Mormino that are part of the Samuel Proctor Oral History Program in the Department of History. |
| 8. | See https://www.floridamemory.com/how_do_i/. |
| 9. | See http://www.centroasturianotampa.org/history/. |
| 10. | See http://www.columbiarestaurant.com/The-Columbia-Experience/History. |
| 11. | See http://lagacetanewspaper.com/history.htm. |