Overview
This collection of three photographic essays documenting the 2006 Mississippi Gulf Coast offers multiple perspectives on Hurricane Katrina's aftermath. Bruce West, Todd Bertolaet, and David Wharton traveled to Bay St. Louis, Gulfport, Long Beach, Pass Christian, Biloxi, Waveland, and points in between uncovering the new post-Hurricane Katrina environment.
Introduction
| | |
| --- | --- |
| | Bruce West's images represent daily life suddenly and massively interrupted — a family's scattered snapshots in a vacant house; a ruined organ in the wreckage of a church; a clock in the rubble showing the time Katrina came ashore. Nothing in these color photographs indicates that the devastation had occurred a year earlier; the damage appears recent. |
| | Todd Bertolaet looks at the larger-scale Gulf Coast landscape in the wake of Katrina. He photographs in black-and-white with a 4x5-inch view camera, which requires great patience but yields extremely sharp and detailed results. Bertolaet sometimes employs collage techniques, adding postcards and other ephemera, smaller color photographs made with a digital camera, and his own pen and ink drawings and commentary to make a composite image. |
| | David Wharton's photographs focus on the destructive power of Katrina and the slow pace of clean-up and reconstruction in the year after the storm. Many of his pictures emphasize the chaotic nature of the post-Katrina Gulf Coast landscape, along with the difficulties of restoring human-made order. He prefers to photograph using black-and-white film; for him, color pictures show the surfaces of the visible world, while black-and-white images reveal its structure, the way the world is put together — or, in this case, the ways it came apart. |
Photographer Bruce West's Statement
Two summers ago, my friend and colleague, David Wharton, Director of Documentary Studies at the University of Mississippi's Center for the Study of Southern Culture, asked me to participate in a photographic project documenting the Gulf Coast of Mississippi, exactly one year after Hurricane Katrina had touched down. The Katrina, One Year Later project would feature the work of David Wharton, Todd Bertolaet from Florida A&M University, and me. My immediate and enthusiastic response to David's invitation was motivated by my own curiosity (what would the coast look like one year later, how much work had been accomplished by various government agencies, was it really as bad as portrayed by the media, etc.), and my desire as an artist to somehow acknowledge and perhaps contribute in a positive manner to healing the loss and suffering that this great catastrophe entailed. Since I had been photographing in the state of Mississippi for over twelve years (mostly in the Delta and surrounding regions), I felt a special obligation to give something back in exchange for the many gifts of beauty and insight bestowed upon me over the years. Since I have largely photographed in a solitary fashion for many years, I was also intrigued by the creative and synergistic possibilities of working on a collaborative project with other photographers.
Before commencing this project, I did have one reservation: the fear of exploiting the suffering of others — a concern that was shared by both of my colleagues. The influx of so many photographers to the Gulf Coast and New Orleans immediately after Hurricane Katrina seemed callous and opportunistic to me. Photographing one year later, however, avoided such problems by placing our work in a somewhat historical context.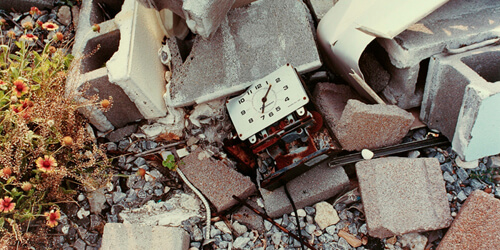 While I was obviously aware of the plethora of media accounts and images of Katrina's devastation, I was still amazed and overwhelmed when I actually saw the Gulf Coast. Collapsed buildings, empty foundations, and personal effects scattered throughout the landscape stood as silent testimony to the destruction. Several of my photographs (Destroyed Aquarium, Collapsed Building between Gulfport and Biloxi, and Destroyed Condominiums) reflect this awestruck appreciation of nature's power. Some of my other images, however, grow out of an attempt to relate to this tragedy on a more personal and intimate level, to show how Katrina touched the lives of specific yet unknown individuals. Photographs such as Church Interior, Interior of Firehouse Saloon, and Last Objects, Left on Porch of Evacuated House address particular issues of loss—the loss of a place to worship and pray; the loss of a place to socialize, drink, and have fun; the loss of personal possessions, including family snapshots.
In his essay, Photographing Evil, noted photographer and theorist Robert Adams argues against the possibility of photography, or any other type of art, addressing the presence of evil in human experience. According to Adams, the artist's concern for beauty and form always subverts the depiction of evil. While I largely agree, my experience of participating in the Katrina, One Year Later project clearly demonstrates to me that the artist's inevitable pursuit of the aesthetic also provides hope for others by maintaining the possibility for future transformation and transcendence.

Photo Essay
Map of Mississippi Coastal Damage after Hurricane Katrina, September 2005
About Bruce West
Bruce West is a Professor in the Department of Art and Design at Missouri State University. He has received a number of awards for his photographic work including fellowships from the National Endowment for the Arts, the Ford Foundation for the Arts, and the Polaroid Corporation. His photographs are included in numerous public and corporate collections such as The Library of Congress, Saint Louis Art Museum, The Houston Museum of Fine Arts, the Victoria and Albert Museum, the Museum Ludwig, and the Paine Webber Corporation. Recent exhibitions include Acts of Faith at The Noorderlicht Photofestival in Groningen, The Netherlands; Contemporary American Photography at the Internationale Fototage in Mannheim, Germany; and Recent Acquisitions in Photography at The Nelson Atkins Museum of Art. West was a featured speaker at the Midwest Conference of the Society for Photographic Education in 1994, the Delta Blues Conference sponsored by Arkansas State University in 2001, and the National Conference of the Society for Photographic Education in 2003. Recent publications include "Delta Blues" in the August 2005 issue of Foto Magazin, The Next Generation: Contemporary Expressions of Faith (William B. Eerdmans Publishing), and Internationale Fototage 7 (Edition Panorama). His series of photographs, Spiritual Advisor to the World, will be exhibited at the Smithsonian's Anacostia Museum in 2008.
Photographer Todd Bertolaet's Statement
For me, even though I live in Florida, hurricanes were something that happened to other communities and to other people. That changed in the summer of 2004 when Charley, Francis, Ivan, and Jeanne came to visit. Although my community was not hit directly by these hurricanes, everyone in Tallahassee was affected by them and the anxiety of not knowing where they would land. Having lived in the area for several years, my family and I had developed a fairly large network of friends in north Florida. In the summer of 2004 our network was in constant touch about who would be evacuating to where and coming to stay with whom. Hurricane Ivan was the storm that affected me the most.
After Ivan hit the Pensacola area friends called me to come over, not to photograph the aftermath but to bring over supplies and help make repairs on homes. Over a period of months I traveled from Tallahassee to Pensacola several times to help repair roofs, clear downed trees, repair hurricane walls, etc. During the down times, in between repair projects, I would go out and photograph. Along the beach and up the lagoons the devastation was severe. One late afternoon I was photographing in the Grand Lagoon subdivision when a woman in a silver car sped up to me, nearly hitting me in her approach. She rolled down her window and abruptly asked what I was doing. Usually I would be put off by such force and forwardness, but almost unthinkingly I responded to her by saying that I had appreciated all that she and her family had gone through, that I was not there as a representative of the media, or an insurance company, but rather I was photographing for historical purposes, and if she wished for me to pack up my cameras and leave I would do so. After I said that she broke into tears, then got out of her car and began to tell me about the storm. She made me promise to photograph her house before I left for the evening. After she left I went to her house. All that remained was the concrete slab and the front door in its frame propped up by two flowerpots in which she had just planted new flowers. Earlier she had told me that she and her neighbors were bound and determined to return and rebuild, that it wasn't so much Ivan that had killed their spirits but the storm of paperwork raining down on them from insurance companies and other bureaucracies. Everywhere I went to photograph in the months that followed I would look out over the devastation and wonder why anyone would come back after experiencing this.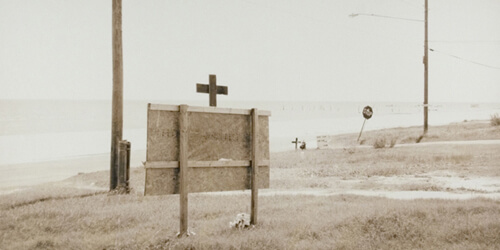 When David Wharton asked if I would be interested in photographing the Mississippi Coast with him and Bruce West on the one year anniversary of Katrina's landfall, I agreed, not telling him that I had already reached Hurricane-anxiety overload months earlier. It had been a few years since I had visited the Mississippi Gulf Coast and this would be a good way to see the significance of Katrina's imprint, especially being that a year had elapsed since landfall. My oldest daughter accompanied me. The days that David, my daughter Emma, and I spent photographing the coastal communities were dreadfully hot and humid with a haze that didn't burn off until mid morning. Even a year after Katrina's landfall there were still areas that had not been cleaned up and others where restoration had begun and then been abandoned. We photographed and spoke with optimistic people who pledged they were going to rebuild. All during this time a familiar question — one that had been with me when I photographed the wake of Ivan — crept back into my thoughts: why would anyone want to come back here to live after having their lives so torn apart?
This question was answered for me on our last afternoon of photographing. David, Emma and I had stopped at an abandoned convenience store off Beach Boulevard in Pass Christian to photograph. While they wandered off to explore I stayed back and looked up and down the beach through the trees and then out on to the gulf. The live oaks that remained were naturally trimmed by the storm and were starting to grow back, the beach was clean, almost snow white, and the gulf was a glowing deep blue. The air was thick and the heat stifling but the place was beautiful. As devastating as Katrina was it was a natural occurrence that people have to accept if they want to live on the Gulf Coast. During this stop I came to understand why they would rebuild and realized, if I were a resident of the Gulf Coast, I too would stay.

Photo Essay
| | | | | |
| --- | --- | --- | --- | --- |
| Larger Versions of Photo Collages: | | | | |
Map of Mississippi Coastal Damage after Hurricane Katrina, September 2005
About Todd Bertolaet
Todd Bertolaet is professor of photography and the photography program coordinator at Florida A&M University, where he has taught since 1986. He is the author of Crescent Rivers: Waterways of Florida's Big Bend (University Press of Florida, 1998). He is the recipient of a Guggenheim Fellowship in photography, three Individual Artist Fellowships from the State of Florida, and numerous Knight Foundation faculty development grants. His photographs have been published in numerous magazines and exhibited throughout the United States. His most recent project, Southern Autographics, incorporates hand-written drawings and text with photographic imagery to create narratives of historical, environmental, and personal significance. Many of his pieces are photographic collages that juxtapose the South's once-natural landscape with images of how human activity has altered that landscape. Bertolaet's drawings and texts, hand-written in white ink on the photographs black margins, are variously wry, poignant, and tongue-in-cheek disingenuous. The result is a body of work that is unfailingly beautiful and often funny and sad at the same time.
Photographer David Wharton's Statement
I didn't go to the Gulf Coast to photograph in the immediate aftermath of Hurricane Katrina. Part of me wanted to — or, more accurately, felt that I should — in order to "document" what was happening there. A larger part, however, was stunned by the enormity of the storm and knew that any such effort on my part would pale beside the actualities of what the region's residents were going through. Before long, of course, it became obvious that my not photographing there didn't matter. In the days and weeks after Katrina countless visual images of New Orleans and the Mississippi Gulf Coast — some of them genuinely heart-rending, others gratuitously spectacular — were circulated worldwide via television broadcasts, newspaper and magazine articles, and the internet. The last thing the Gulf Coast needed in the wake of Katrina was another photographer.
The situation in New Orleans grabbed most of the world's attention. Images of a major American city in the midst of catastrophe — bodies floating in the floodwaters, people huddled on rooftops and highway overpasses, the grisly situation at the Superdome, the ever-increasing levels of chaos, and the unbelievably slow official response — made for exciting television, and the media could not gather enough such images or feed them to the news-consuming public fast enough. At the same time, however, conditions along the entire eighty-mile length of the Mississippi Gulf Coast, where Katrina had come ashore with a twenty-eight-foot storm surge that had destroyed nearly everything in its path, were horrific as well. Hundreds of people were dead or missing. Those who had survived the storm had lost the physical underpinnings of their lives: their homes were gone, there was no electricity, communication and transportation systems were down, and there was very little in the way of food or water. At any other time, the situation on the Mississippi Gulf Coast would have been the focus of national attention. Given what was happening in New Orleans, though, the destruction of such Mississippi communities as Waveland, Bay St. Louis, Pass Christian, Long Beach, Gulfport, and Biloxi was relegated to secondary status in the public consciousness. Over the weeks and months that followed, this developed into something of a sore point for many Mississippians. The damage to their stretch of the Gulf Coast was more fundamental and longer lasting than what had occurred in New Orleans, they believed, yet relatively few people were paying much attention.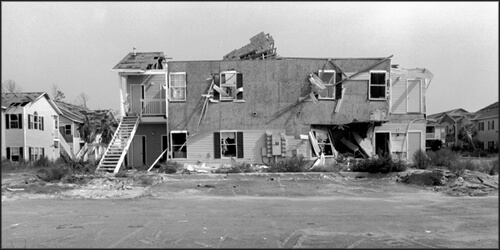 Whether they were right about that is, of course, arguable, and, in the long run, immaterial. More to the point was the fact that everything along the beach and for hundreds of yards inland had been destroyed, meaning that eighty miles of oceanfront would have to be rebuilt from the ground up, a process that would fundamentally redefine life on the Mississippi Gulf Coast. The pressing questions about Hurricane Katrina in regard to Mississippi were not "what happened?" and "why?" Instead, they were "what is going to happen?" and "how long will it take?"
With those questions in mind, I began to think about photographing along the Mississippi Gulf Coast one year after Katrina. Images of the physical environment, showing some of the things that had, or had not, happened during that year, I thought, might suggest some answers. I asked my friends and fellow photographers Todd Bertolaet and Bruce West to join me in the project. None of us was able to be there on the exact anniversary of the storm (August 29), but we managed to get pretty close. Todd and I photographed there August 15-17, 2006, while Bruce and I were there September 1-3, 2006. As the photographs show, each of us took a different approach and had different reactions. I don't want to speak for Todd or Bruce (see their individual statements for their responses), but I think it's safe to say that we were all awed by the power of the storm, even from the distance of a year away. My reaction to seeing the Mississippi Gulf Coast a year after Katrina was surprise at how little rebuilding was under way. Many places, residential and commercial areas alike, still looked like a bomb had gone off just a few days earlier. The only exception to this that I encountered was around the big casinos in Biloxi. Construction crews were feverishly working on the Beau Rivage (no photos allowed), hoping to make a first-anniversary "grand re-opening" deadline, while demolition crews were working just as hard on clearing the debris from two destroyed oceanfront casinos just down the road. This is how redevelopment of the Mississippi Gulf Coast will no doubt go: where there's money to be made, the process will move along. Places without the potential to turn some dollars, however, will probably continue to languish.

Photo Essay
Map of Mississippi Coastal Damage after Hurricane Katrina, September 2005
About David Wharton
David Wharton is Director of Documentary Studies and Assistant Professor of Southern Studies at the University of Mississippi's Center for the Study of Southern Culture. He is the author of The Soul of a Small Texas Town: Photographs Memories, and History from McDade (University of Oklahoma Press, 2000). He has an MFA in photography and a PhD in American Studies, both from the University of Texas at Austin. Since coming to Mississippi in 1999, he has worked on a number of photographic projects, including "Local Legacies: the First Monday Sale and Trade Days in Ripley, Mississippi," "Old Ways: Church and Family," "Into the Twenty-First Century: Oxford's Second Baptist Church," and "Reconstructing Oxford: Development and Change." He is currently working on a book-length project about the evolving cultural and social landscapes of the Deep South. His photographs have been exhibited throughout the United States, in group exhibitions in Latin America and Europe, and are featured on several sites on the World Wide Web.
Recommended Resources
Links
Video
Print Materials
Boyer, Peter J. "Gone With the Surge." The New Yorker (September 26, 2005), 76. check online archive
Brinkley, Douglas. The Great Deluge: Hurricane Katrina, New Orleans, and the Mississippi Gulf Coast. New York: WIlliam Morrow, 2006.
Horne, Jed. Breach of Faith: Hurrican Katrina and the Near Death of a Great American City. New York: Random House, 2006