Overview
In their documentary The Well-Placed Weed: The Bountiful Life of Ryan Gainey, Steve Bransford and Cooper Sanchez delve into the life and work of one of the most celebrated modern US garden designers. This video excerpt revisits several of Gainey's creative influences and chronicles the years of his growing popularity.
Excerpted from The Well-Placed Weed: The Bountiful Life of Ryan Gainey. Copyright © 2018 Terminus Films. All rights reserved.
Video and Essay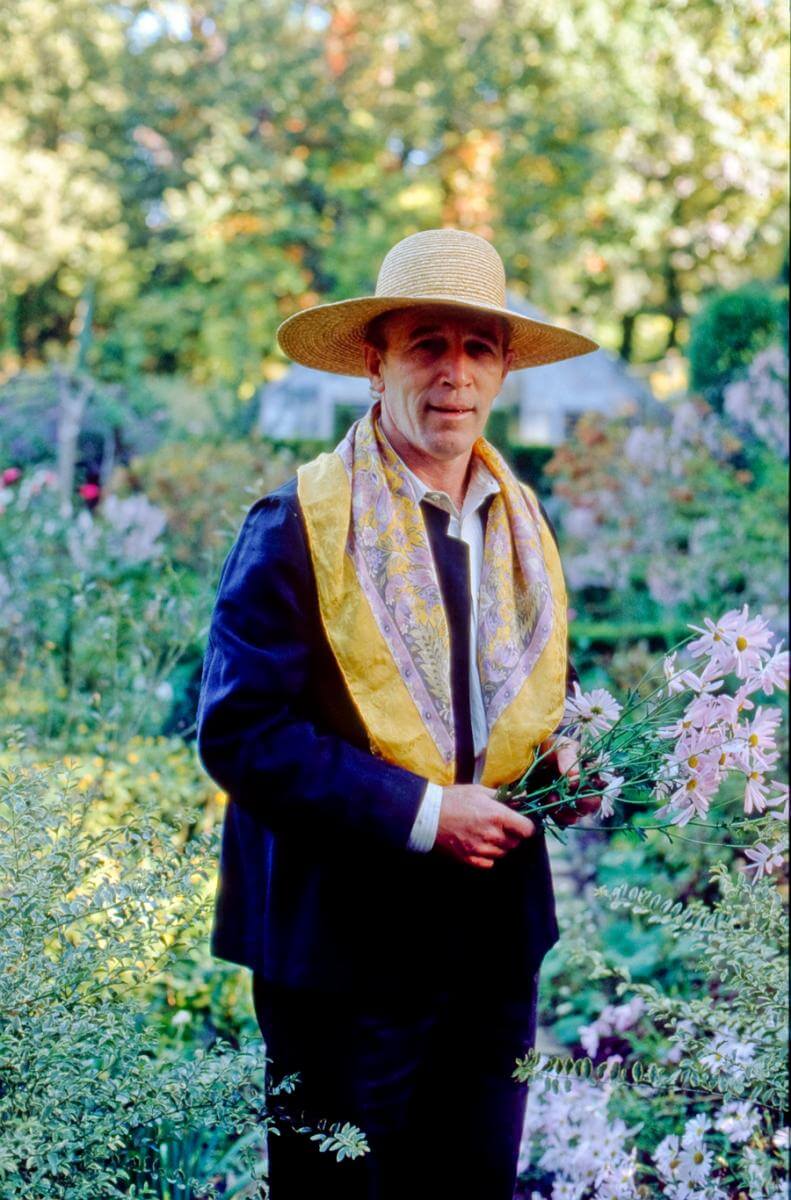 Ryan Gainey (1944–2016) grew up in the Sandhills of South Carolina in the small town of Middendorf, twelve miles north of Hartsville. Born to a working-class family, Gainey picked cotton at an early age with his brothers, sister, and cousins. Through relatives and neighbors, he developed an early love for propagating plants, rooting camellias in Mason jars underneath the eave of a barn (where they could catch the rain), and learning to grow old-fashioned varieties of petunias and roses. In the 1960s, Gainey studied horticulture at Clemson University, served in the Navy, and eventually settled in Atlanta. He opened a series of garden shops in the affluent Buckhead neighborhood that were successful in part because there were few other boutique garden shops in the area at the time. Gainey sourced many of his plants from the Holcombe Nursery in Decatur, five miles east of Atlanta. When he learned that the Holcombe family wanted to sell their property in 1980, he jumped at the chance.
Gainey envisioned a beautiful new garden in the informal cottage style, using the aged brick walls of the old Holcombe greenhouses as the boundaries for a series of "garden rooms." As his creations garnered attention, he received commissions around the city. Although not formally trained in landscape design, Gainey, through self-study and experimentation, developed a distinctive style that combined cottage garden aesthetics and classical English design with a strong reliance on native plants. By the 1990s he'd become internationally renowned, forming friendships with such English gardening notables as Rosemary Verey and Penelope Hobhouse.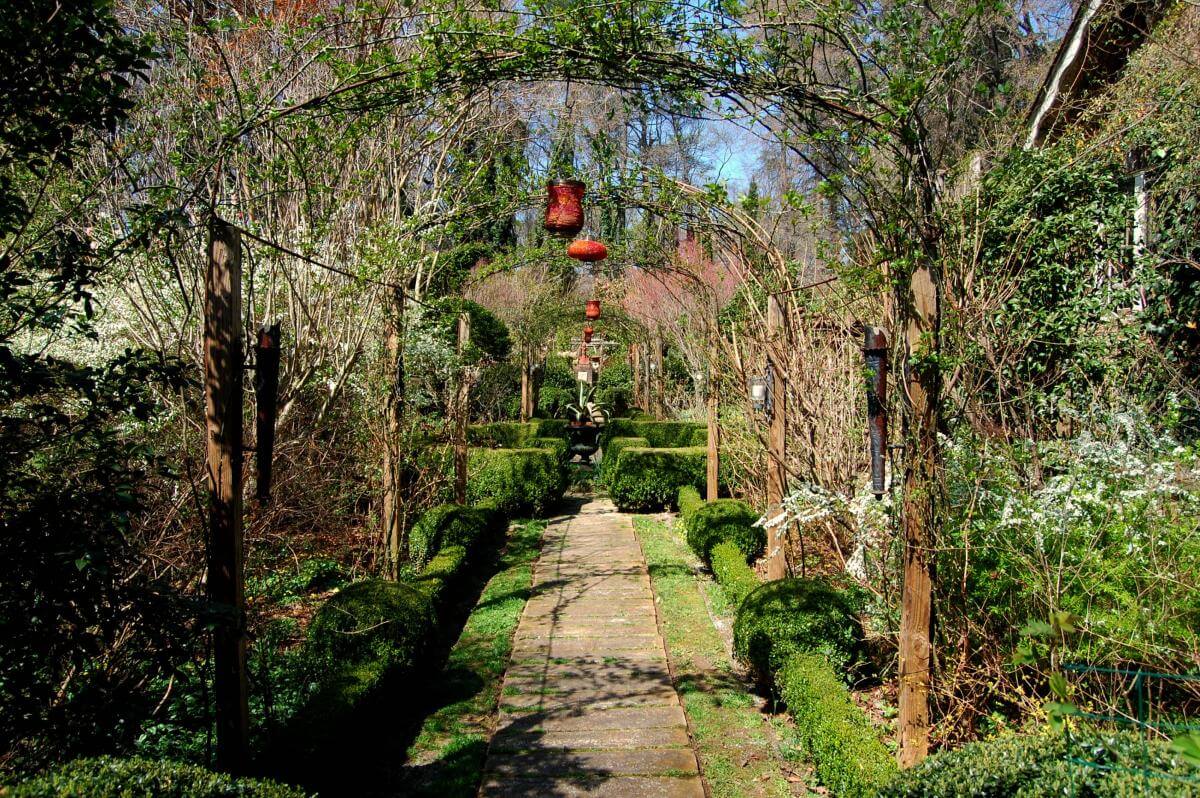 Chad Stogner, founder of the garden accessory company Elegant Earth, worked with Gainey in the 1990s and noted that the designer had a way of "making things look spontaneous. . .that were planned." Most gardeners work to eliminate weeds, but Gainey would allow them to pop up in certain areas. To visitors, these would appear as happy accidents, but they were deliberate, as Gainey explained in his 1993 book The Well-Placed Weed from which our documentary takes its title. Gainey's gardens feature a fascinating give-and-take between the structured and the free-flowing.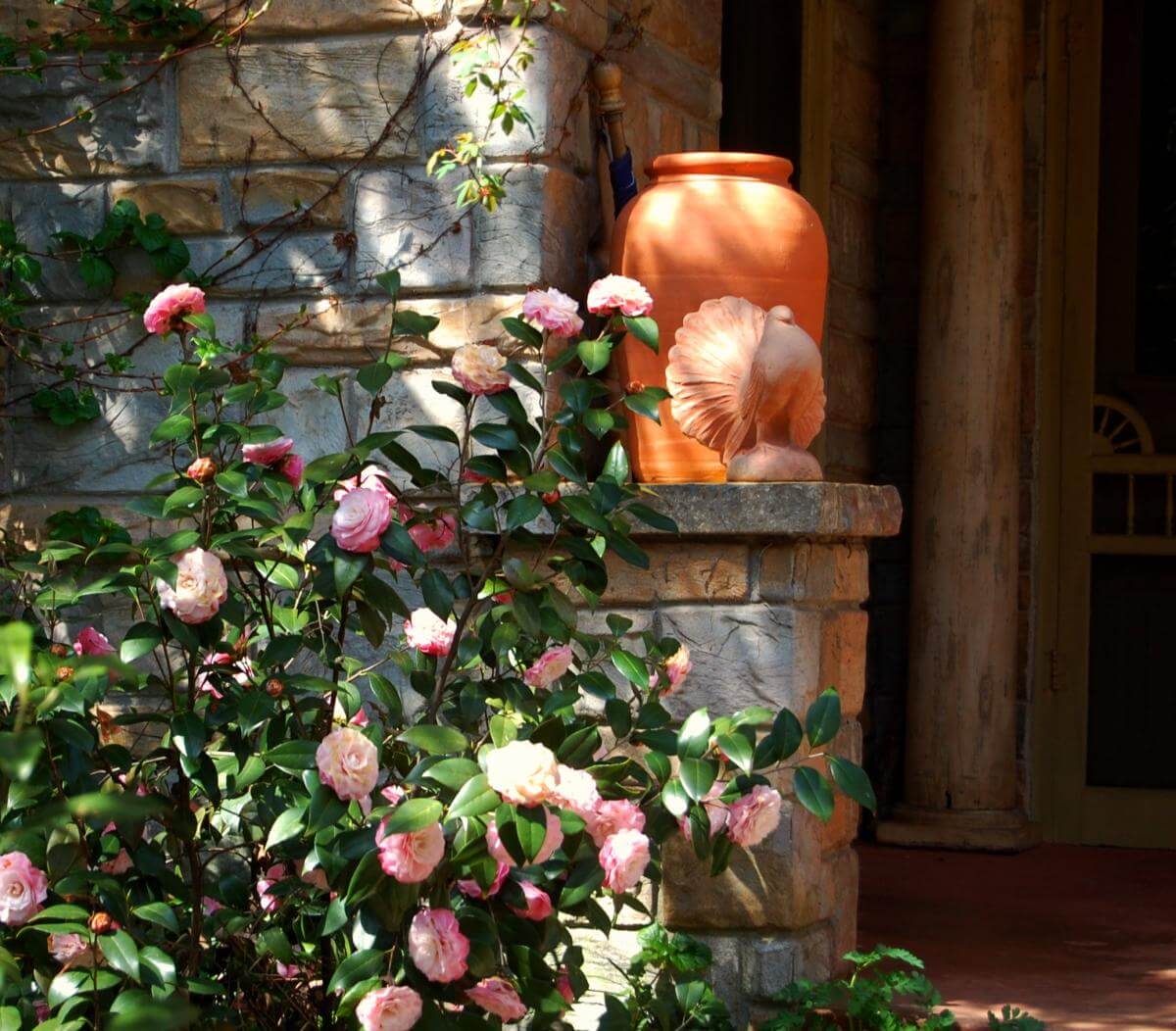 Gainey chose many of the plants in his garden for their personal and historical connections, such as the chinaberry tree (Melia azedarach), which was a prominent feature in his childhood yard and also was, as he liked to point out, one of Thomas Jefferson's favorite plants. He discouraged gardeners from mimicking the plant choices of classical English gardens and instead championed the use of native southeastern US plants along with plants from similar latitudes in China and Japan.
In March 2016, a 140-year-old white oak tree that had served as the shady anchor of Gainey's Decatur garden fell on his house. At home at the time and miraculously uninjured, Gainey was forced to relocate to Lexington, Georgia, seventeen miles east of Athens where, in July, he died in a fire trying to save his beloved Jack Russell terriers.
We did our first video shoot with Gainey in the spring of 2010. At the outset, we didn't know what we were doing and were content to let him unspool lectures on gardening topics of his choosing: the history of tea olives or figs, blending purple and gold plant colors, and how to maintain fragrance year-round. He thought we were producing a gardening masterclass. None of us thought we were making a documentary.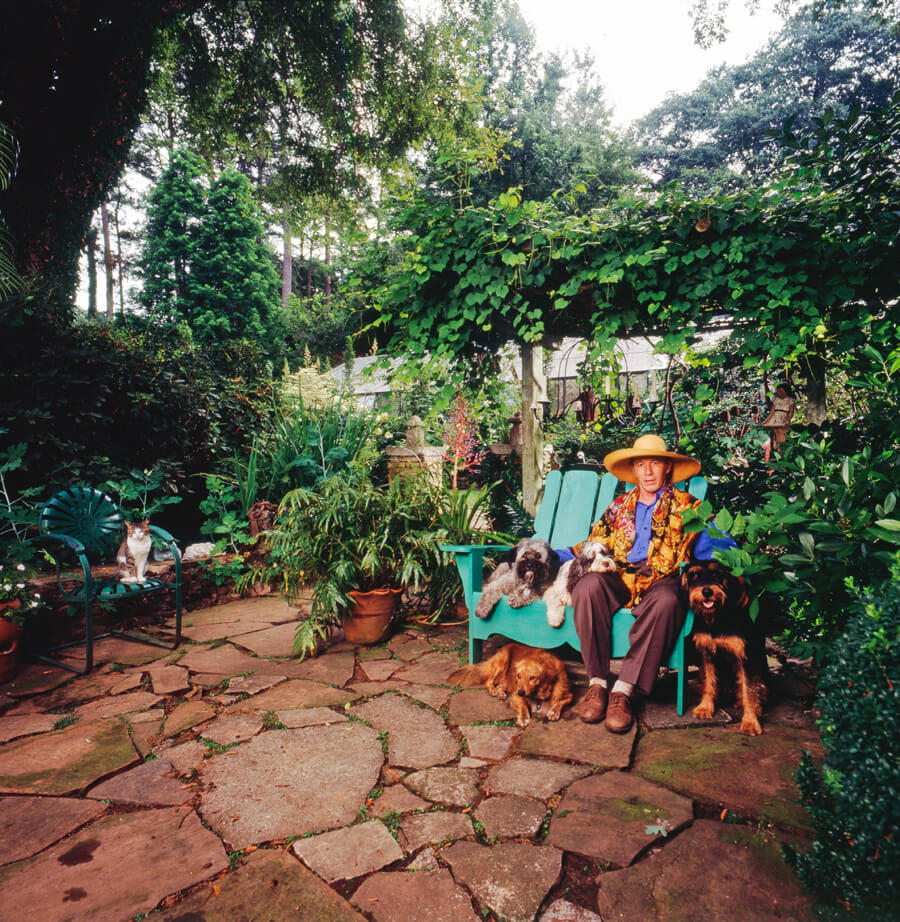 We became fascinated with the funny moments just before or just after he delivered his monologues—such as when he'd yell at his dogs or tell a dirty joke or make some ridiculous boast. We were drawn to the tangents that floated above and below the persona: his humor, narcissism, and personal connections to plants.
We eventually found structure for the project by developing a series of overlapping threads: Gainey's childhood, his rise as an entrepreneur and social figure in Atlanta, and his wider reputation as garden designer. We were also drawn to his idiosyncratic personality. We witnessed him being prickly and self-absorbed, as well as generous and thoughtful.
There remain gaps in our story. Gainey acknowledged a couple of times on camera that he was gay but never discussed any of his longtime partners in any detail. We tried to steer him to fill in the biographical narrative, but became resigned that there was no directing Ryan Gainey. He served up a vast body of knowledge via his commanding and often contradictory persona. In the end, we did our best to wrangle an honest character study.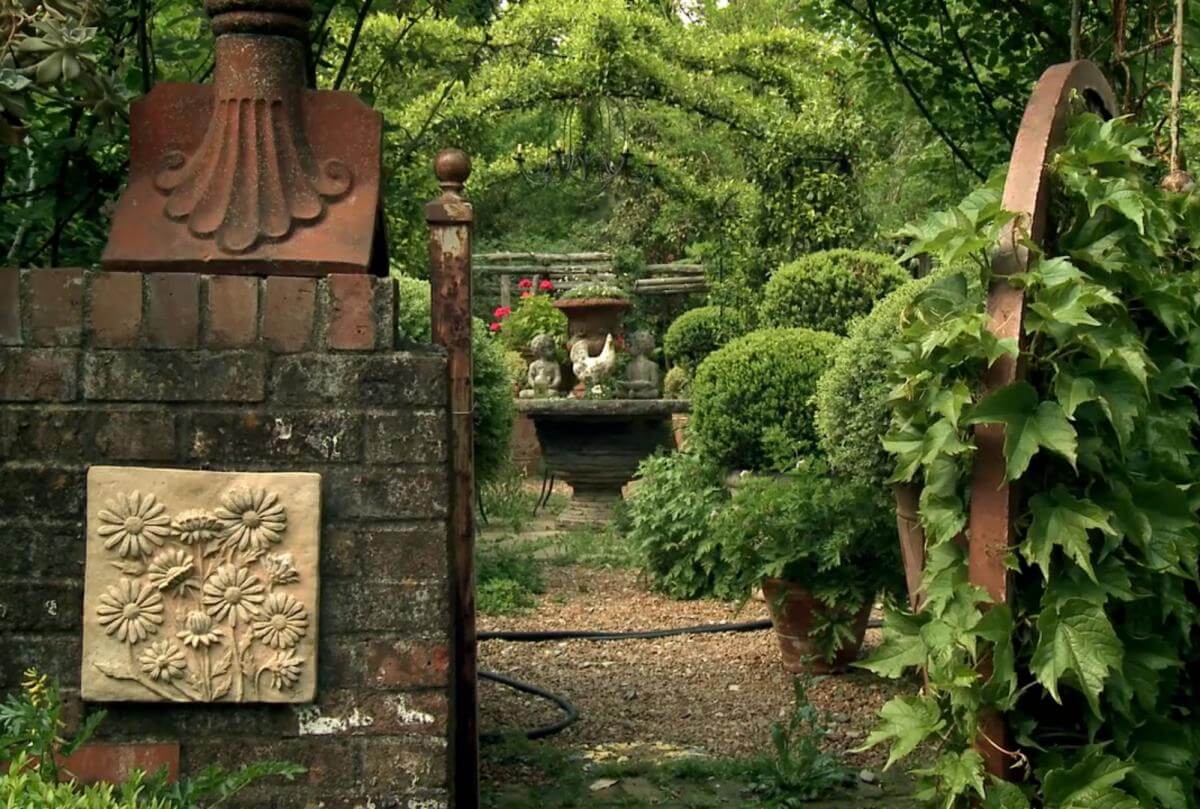 We thought we were winding down the project in early 2016 before the tree fell on his house. That event set in motion a string of calamities that culminated in his tragic death. We worked for another year and a half to tidy up the edit and flow before premiering The Well-Placed Weed: The Bountiful Life of Ryan Gainey at a festival in South Carolina in April 2018.
Ryan Gainey made and collected beautiful things. We are grateful that he shared some of these with us and that, through our documentary, we now share this with others.
Visit The Well-Placed Weed's website for more information and to view the documentary in its full length of seventy-eight minutes.

About the Directors
Steve Bransford is the senior video producer at the Emory Center for Digital Scholarship and the founder of Terminus Films. Cooper Sanchez is an artist and garden designer focused on the restoration of historic southern gardens. For ten years, Cooper has been working to rejuvenate the gardens at Historic Oakland Cemetery as well to build his own garden in Clarkston, Georgia.
Cover Image Attribution:
Ryan Gainey's Georgia Garden, Decatur, Georgia, April 16, 2010. Photograph by Flickr user JR P. Creative commons license CC BY-NC 2.0.
Recommended Resources
Text
Catron, Staci L. and Mary Ann Eaddy. Seeking Eden: A Collection of Georgia's Historic Gardens. Athens: University of Georgia Press: 2018.
Gainey, Ryan. The Well-Placed Weed: The Bountiful Garden of Ryan Gainey. Lanham, MD: Taylor Trade Publishing, 1993.
Nazarea, Virginia. Heirlooms and their Keepers: Marginality and Memory in the Conservation of Biological Diversity. Tucson: University of Arizona Press, 2005.
Robinson, Barbara Paul. Rosemary Verey: The Life and Lessons of a Legendary Gardener. Boston, MA: David R. Godine Publisher, 2012.
Verey, Rosemary. The American Man's Garden. Boston, MA: Little, Brown and Company, 1990.
Web
Bikoff, Mary Logan. "Documentary on Atlanta's famous, eccentric late gardener Ryan Gainey premieres at Plaza Theatre." Atlanta Magazine. May 17, 2018. http://www.atlantamagazine.com/homeandgarden/documentary-atlantas-famous-eccentric-late-gardener-ryan-gainey-premieres-plaza-theatre/.
"Cherokee Garden Library." Atlanta History Center. Accessed May 23, 2018. http://www.atlantahistorycenter.com/research/cherokee-garden-library.
Hansen, Jolene. "An American Timeline: Home Gardening in the U.S." Garden Tech. Accessed May 23, 2018. https://www.gardentech.com/blog/gardening-and-healthy-living/an-american-timeline-home-gardening-in-the-us.
Robinson, Barbara Paul. "Lessons From A Legendary Gardener." Here and Now. December 21, 2012. http://hereandnow.legacy.wbur.org/2012/12/21/garden-advisor-verey.
Southern Garden History Society. Accessed May 23, 2018. http://southerngardenhistory.org/.
Stafford, Jeff. "'The Well-Placed Weed' considers the life and work of gardener Ryan Gainey." ArtsATL. May 15, 2018. http://artsatl.com/documentary-well-placed-weed-considers-bountiful-life-work-gardener-ryan-gainey/.