Overview
Garden designer Ryan Gainey of Decatur, Georgia is well known for synthesizing classical English garden design with vernacular southeastern species and participating in seed preservation. In this short video by Steve Bransford, Gainey talks about the botanical life and offers a cultural history of figs.
Video and Essay
Since early 2010, Steve Bransford has been working on a documentary video portrait of Georgia gardener Ryan Gainey (1944-2016) with Cooper Sanchez and Matthew Chipman. Gainey is an acclaimed garden designer and author of The Well-Placed Weed: The Bountiful Garden of Ryan Gainey (1993). He has served as mentor for a number of leading garden designers throughout the US South, including Sanchez. In the summer, Steve filmed a session with Gainey during which he discussed the botanical and cultural aspects of several fruits. In this segment, he talks about the physical characteristics and historical significance of the fig.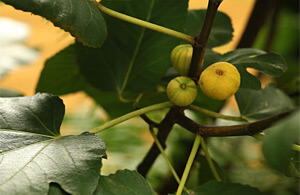 Steve Bransford, Figs from Ryan Gainey's garden, Decatur, Georgia, 2010.
This video short is one of several satellite pieces connected to their comprehensive film about Gainey, which fuses biography and botanical discourse. Born in the 1940s, Gainey grew up poor and gay in rural South Carolina and attended Clemson University, where he studied ornamental horticulture. Using vernacular plants in classical garden design, he became a successful landscaper in the 1980s. He is renowned for pairing English garden aesthetics with native plants of the southeastern United States.
As is evident in the introduction of this short video, Gainey's gardens become fields of memory. He participates in seed saving movements that value heirloom plants, both botanically and culturally. He sees plants as part of larger historical narratives, whether they are species grown by Benjamin Franklin or Gainey's own grandmother. Gainey's musings on figs (using scientific Latinate terms and discussing Western mythology) demonstrate his devotion to gardening as botany and cultural study.
The completed documentary, "The Well-Place Weed: The Bountiful Life of Ryan Gainey," is available for free viewing on Vimeo. 

About the Author
Steve Bransford completed his PhD in American Studies at Emory University in 2008 and now serves as the Educational Analyst for Video within Emory's Academic Technologies division. He has worked as a documentary filmmaker for over ten years and, in 2010, was commissioned to produce a film about the photographer Oraien Catledge for the Mississippi Museum of Art.
Recommended Resources
Print Materials
Gainey, Ryan and David Schilling. The Well-Placed Weed: The Bountiful Garden of Ryan Gainey. Dallas, Texas: Taylor Publishing, 1993.
Jordan, Jennifer A. "The Heirloom Tomato as Cultural Object: Investigating Taste and Space," Sociologia Ruralis 47, no. 2 (2007): 20-41.
Nazarea, Virginia. Heirlooms and their Keepers: Marginality and Memory in the Conservation of Biological Diversity. Tucson: University of Arizona Press, 2005.
Weaver, William Woys. Heirloom Vegetable Gardening: A Master Gardener's Guide to Planting, Seed Saving, and Cultural History. New York: Henry Holt & Company, 1997.
Links
International Seed Saving Institute
http://www.seedsave.org
Ryan Gainey
http://ryangainey.com
Saving Our Seed Project
http://www.savingourseeds.org