Overview
In collaboration with Southern Spaces, MARBL Highlights features collections housed at Emory University's Manuscript, Archives, and Rare Book Library. Including curators' comments, archival photographs, as well as brief collection summaries, this blog series promotes the material culture of MARBL's southern and spatial collections.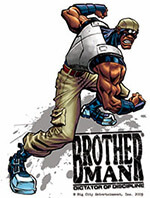 Antonio Valor. Character drawing by Dawud Anybwile. Courtesy of Dawud Anyabwile.
Emory University's Manuscript, Archives, and Rare Book Library recently acquired several independent black comic book series as part of a concerted effort to expand the African American periodicals collection. The three-volume trade paperback Brotherman: Dictator of Discipline is one of the new acquisitions. Philadelphia brothers Dawud Anyabwile (illustrator), Guy A. Sims (writer), and Jason Sims (producer) launched what became an eleven-issue run in 1990. Often hailed as one of the first black-owned comic book series to reach national acclaim, Brotherman sold approximately 750,000 issues worldwide on the independent circuit. Before Dwayne McDuffie's Milestone Comics made a splash by adding numerous black superheroes to the DC universe in 1994, Brotherman paved the way for black-authored superheroes in American popular culture.
Brotherman tells the story of Antonio Valor, a public attorney who works in the imagined metropolis of Big City. In addition to his job, Valor sidelines as Brotherman, a hero with an insatiable desire to see justice served! By day, Valor wears a suit and tie, but by night, he dons knee-high socks, a sweat suit, and facemask to fight crime.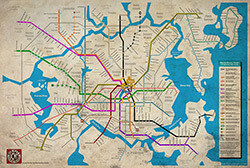 Big City Subway map, Brotherman comics. Artistic rendering by Dawud Anyabwile. Courtesy of Dawud Anyabwile.
One of Brotherman's most interesting characters is Big City itself. Complete with a map of numerous districts, subway system, bus routes, street signs, corporate store chains, and mom-and-pop shops, Brotherman creates an alternate universe that includes the everyday workings of local politics as it intersects with the lived experience of Big City's inhabitants. Much of Brotherman's drama relates directly to the inequalities within this imagined society; inequalities that become apparent as the characters visit different districts. In the following clip, Dawud Anyabwile describes how Big City can be interpreted as a representation of black experience in America.
Brotherman illustrator, Dawud Anyabwile, visited Emory University on June 5, 2015 as a guest lecturer for Clint Fluker's Visual Culture class, Black Comix (IDS 216), offered through the Institute for Liberal Arts. Anyabwile discussed the origins of Brotherman and explored themes and influences that inspired the construction of Big City.
In the following clip, Anyabwile describes the series' narrative arc and illustrates plot points on a map of Big City. Anyabwile also describes his plans to collaborate with GIS specialists to expand the universe in a forthcoming Brotherman comic book to be released later this year.
For more information on Brotherman comics and how to access related MARBL materials, visit the MARBL website.