Atlanta Intersections features Atlantans in conversation with Randy Gue, curator of Modern Political and Historical Collections at Emory University's Manuscript, Archives, and Rare Book Library (MARBL). In collaboration with Southern Spaces, MARBL presents clips of the full interviews to spur conversations and encourage research on the featured topics.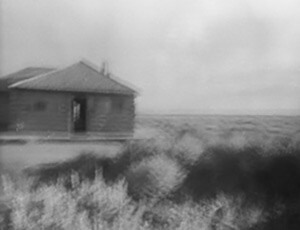 "Sense of Awakening," Topophilia, 2013. Photograph by Stephanie Dowda. Courtesy of Stephanie Dowda.
Atlanta-based photographer Stephanie Dowda is a studio artist with the Atlanta Contemporary Art Center and also maintains a darkroom at the Goat Farm Arts Center. A Georgia State University graduate, Dowda frequently presents throughout the Atlanta metro area. Dowda's work has appeared in Oxford American, Bad at Sports, ArtsATL, BURNAWAY, Atlanta Journal-Constitution, and the Atlanta Magazine. She has exhibited in numerous galleries, including Get This Gallery, M Rich Gallery, Beep Beep Gallery, Hagedorn Foundation Gallery, Kibbee Gallery, and the Atlanta Preservation Center.
In this clip, Dowda discusses her life-altering encounter with The Lightning Field in New Mexico, an installation piece by renowned sculptor, Walter De Maria. Dowda describes the piece as a quarter-mile long desert field installed with nearly 400 steel poles that extend into the sky:
The idea is that you go there and hang out in a cabin for a night and then play around in the lightening field . . . It was completely life changing . . . There is just something about that [experience] that changed me, and it also changed my camera.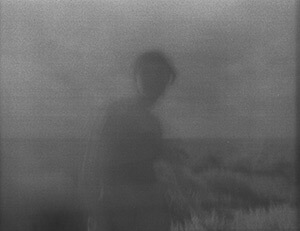 "Sense of Revenant," Topophilia, 2013. Photograph by Stephanie Dowda. Courtesy of Stephanie Dowda.
Dowda recalls that, after spending the night in the lightning field, she discovered that the photos taken there had been altered. Searching for a technical explanation as to why her photos developed in this particular way, Dowda found no easy answers. Moreover, after this experience, Dowda describes that her camera continued to yield images seemingly "possessed" by the energy from the lightning field. Inspired by this experience, Dowda works to develop new and innovative ways of illuminating the energy that differentiate locations from one another. In this clip, she elaborates on her interpretation of topophilia, a concept cultural geographer Yi-Fu Tuan coined to articulate the strong sense of place that can yield a personal attachment to particular landscapes.