Review
Bill Hardwig's Upon Provincialism opens with an arresting photographic image: nineteenth-century local colorist Mary Noailles Murfree, author of In the Tennessee Mountains, a collection of purportedly "authentic" sketches, sits in a fine white dress, surrounded by members of the Boston literati, including Thomas Bailey Aldrich, Edwin Booth, James M. Bugbee, and Elizabeth Harris Houghton. The Appalachian author looks quite comfortable "back east" and in such august company. To Hardwig's mind, this image elegantly captures the "enormous gulf between the communities depicted in Murfree's dialect stories about the Tennessee mountains and the readership of the Atlantic Monthly in which these stories appeared" (2). Hardwig's cogent and concise book helps us to understand the outsize role that gulf played in determining the way "southern literature" would be both marketed and received in the twentieth and twenty-first centuries.
This quietly ambitious study reminds us that we cannot understand the phenomenon of nineteenth-century regional writing outside of the context of its original publication and reception.1"Regional writing" is the received critical vocabulary for the literature Hardwig treats. See, for instance, Stephanie Foote's Regional Fictions: Culture and Identity in Nineteenth-Century American Literature (Madison: University of Wisconsin Press, 2001). This is particularly important with "southern" local color since it was largely written for and consumed by affluent, white, urban easterners. As the opening sentence of Upon Provincialism notes, "Local-color writing concerning the southern United States from 1870 until 1900 reveals as much about national readers and editors as it does about the region itself" (1). And, as Hardwig ably demonstrates, those national readers and editors were interested in the "margins" of southern culture: "ethnic minorities, culturally distinct communities, geographically isolated peoples" (10). Excepting Thomas Nelson Page and Joel Chandler Harris, this is a South largely free of plantation myths, lost causes, and moonlight and magnolias.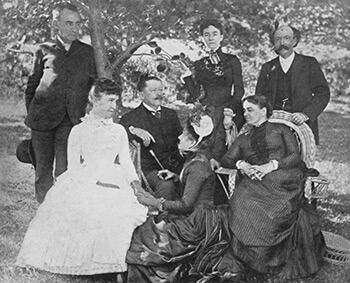 A Garden Party, Boston, 1885. Standing: Edwin Booth, Fanny N. D. Murfee, James M. Bugbee. Sitting: Mary Noailles Murfree, Thomas Bailey Aldrich, Mrs. Aldrich, Elizabeth Harris Houghton. From Edd Winfield Parks, Charles Egbert Craddock (Chapel Hill: University of North Carolina Press, 1941), 127.
What made southern local color writing exceptional wasn't its "mind" or any particular historical "burden," but instead its over-representation of African American communities, creole New Orleans, and Appalachia. This "amalgamation of fringe spaces" contained, in Hardwig's words, "many pockets of life that seemed exceptionally foreign to the national readership of the period" (12). Suffice it to say, the imagined South that emerged from the pages of periodicals like the Atlantic Monthly, the Century, Harper's, and Scribner's was much stranger and more varied than previous critics like Richard Brodhead, Amy Kaplan, Judith Fetterley, and Marjorie Pryse have allowed.
Hardwig attends to short fiction by a diverse group of writers: George Washington Cable, Charles Chesnutt, Alice Dunbar-Nelson, Lafcadio Hearn, Grace King, Mary Noailles Murfree, and Thomas Nelson Page, among others. His consistently incisive readings restore these writers' texts to their original, periodical contexts, and to great effect. Indeed, Hardwig's recovery work yields some stunning insights, not least of which are an alternative literary history of the South—or, better, an alternative literary history of the imagined South—and a much more complex rendering of the cultural work of local color writing.
For instance, Hardwig valiantly pushes back against the purported provincialism of local color fictions. He shows again and again how this literature responded to its own historical moment and helped to imagine the future. In his telling, local color "actually engages pressing national and international issues, rather than presenting a nostalgic alternative to them" (6). This is a bold, even swaggering claim. Yet, Hardwig's forceful interpretations and deft marshaling of textual evidence are utterly convincing. (His elegant, unfussy prose also helps.) In showing the national and global interests of these fictions, Hardwig effectively brings local color writing back into the main currents of American literary history. He also makes local color available to our current critical moment, with its keen interest in transnationalism, global networks, and critical regional studies.
In order to do so, Hardwig, an assistant professor of English at the University of Tennessee, Knoxville, has to recuperate the genre, which is maligned for its formulaic feel and predictable plots. Rather than lament or critique generic conventions, Hardwig touts their explanatory power. He shows how local color reveals a "radical engagement with the cultural anxieties of the era"—in particular, the cultural anxieties of northeastern periodical editors and readers (16). In turn, Hardwig situates local color in relation to other dominant genres from this period. For instance, he catalogs striking similarities between postwar travel writing about the South and southern local color fiction, noting that both genres "generally presented the region as an object for analysis, a confounding book of riddles, requiring an objective outsider's expertise to make sense of the information gleaned therein" (18). Here Hardwig deftly constellates northern writers like Jonathan Baxter Harrison and Edward King, whose influential travel narratives helped to define the imagined South for post-Civil War readers, and popular writers like Mark Twain, Page, and Chesnutt.
Upon Provincialism's most provocative arguments center on the "outing" of Chesnutt and Murfree as a black man and a white woman. (Chesnutt, a light skinned African American, was often assumed to be a white writer. Murfree published her early fiction under the pseudonym "Charles Egbert Craddock.") Hardwig's readings of the identity politics of local color render intelligible late nineteenth-century readers' anxious desire for an authentic and embodied authorship. The idea of passing as a member of another race, class, or gender was anathema to the sort of "realistic" reportage that readers expected from the periodical press. Hardwig notes the irony of those expectations: the writers he studies conceived of their work as part of a relatively insular conversation among fellow local colorists—not among writers of the same race, class, or gender. As Hardwig notes, "Neither Murfree nor Chesnutt felt the need to obey the demands of a gendered and racialized sense of authenticity, but their readership and editors imposed it upon them" (68). In charting the resulting tensions between authorial intention and readerly want, Hardwig is particularly good on the reviews of local color fictions.
"On the Fringes: Local Color's Haunting of the Unified South" offers Hardwig's most sustained literary historical critique; it also finds him shifting somewhat abruptly from specific authors to specific localities. Questioning the centrality of Lost Cause ideology to the formation of southern literature (à la the "Southern Renaissance"), Hardwig reminds readers that much local color literature takes place far away from the plantation, in places like Appalachia and New Orleans. He also rightly calls out critics who have considered Thomas Nelson Page and Joel Chandler Harris the sine qua non of southern local color writing. As he notes, "If we used late-nineteenth-century southern local color as the anchor for southern cultural history, instead of antebellum and twentieth-century literature, we would not hear much about a 'lost cause'" (72). Much more interesting—and much more accurate—narratives are possible once we look a bit farther afield to "the Appalachian mountain communities and the ex-slave sharecroppers. . . . populaces [who] did not experience the end of the Civil War as a loss" (72). After broaching this critique, Hardwig reads local color ghost stories by Cable, Chesnutt, Murfree, and even Page—all of which embody, he argues, "anxieties surrounding cultural difference in the present and the specter of their continuance in the future" (73).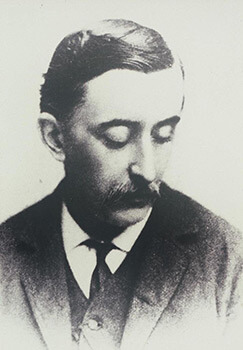 Portrait of Lafcadio Hearn, 1889. Photograph by Fredrick Gutekunst. From The Lafcadio Hearn Library, University of Toyama Central Library.
Hardwig's final chapter returns to New Orleans to focus on the fascinating and still woefully understudied Lafcadio Hearn, a peripatetic journalist who did stints in Cincinnati and New Orleans before moving to Japan in the early 1890s. Born in 1850 on an Ionian island to a Greek mother and an Irish father, Hearn found New Orleans increasingly congenial—especially as someone who came to "worship the Odd, the Queer, the Strange, the Exotic, the Monstrous" (quoted in Hardwig 107). (Perhaps predictably, New Orleans reciprocated his affection: Hearn remains an important figure in New Orleans history and lore.) Hardwig helps us to make sense of some of Hearn's most elusive texts, arguing that Hearn saw New Orleans as the "gate of the tropics," a crucial connection to hemispheric and eventually global flows of money, goods, and people (108). Hardwig then brings Hearn into close conversation with his fellow New Orleans local colorists, Cable, Dunbar-Nelson, and King, around topics such as labor, commerce, sexuality, and racial difference.
Throughout Upon Provincialism, Hardwig's methodology is a bit slippery. He occasionally gets distracted by texts outside the purview of his study, and latter chapters sometimes wander from the book's stated aim. Moreover, I remain a bit dubious about Hardwig's text selection principles. (That Kate Chopin is excluded from consideration here is baffling—especially given Hardwig's small sample size.) Finally, Hardwig struggles at times with his critical vocabulary. Although he is deft at showing how particular geographies (e.g., Appalachia) and subjects (e.g., New Orleans creoles) undermine a totalizing "southern" logic, Hardwig nonetheless uses the terms "South," "region," and "community" loosely throughout. As a result, differences between real regions and imagined Souths are not as clearly demarcated as one might hope.
These concerns notwithstanding, Upon Provincialism is an important book for literary and cultural studies, one that sits comfortably beside recent publications by Leigh Anne Duck, Jennifer Rae Greeson, Scott Romine, and Jon Smith. Hardwig offers a provocative and eminently useful account of the imaginative work that helped a newly reunited nation to narrate its southern states and itself. As Hardwig ably demonstrates, the years 1870–1900 witnessed a national investment in an imagined South that quickly turned into a cultural obsession. In the wake of a catastrophic civil war, this supposedly "real South" became a site of national cathexis—an exotic, largely imaginary geography that elicited both loathing and longing from (mostly white) readers across the United States. By blurring together the diverse regions of the southern United States into an insistently coherent imaginary South, late nineteenth-century periodical culture offered a screen onto which national fears about rapid social change could be projected. Most broadly, then, this book provides another opportunity to reconsider the often vexed relationship between the United States and its ever-present southern other.

About the Author
Coleman Hutchison is associate professor of English at the University of Texas at Austin. He recently published the first literary history of the Civil War South, Apples and Ashes: Literature, Nationalism, and the Confederate States of America (Athens: University of Georgia Press, 2012).
Recommended Resources
Text
Ewell, Barbara, and Pamela Glenn Menke, eds. Southern Local Color: Stories of Region, Race, and Gender. Athens: University of Georgia Press, 2002.
Foote, Stephanie. Regional Fictions: Culture and Identity in Nineteenth-Century American Literature. Madison: University of Wisconsin Press, 2001.
Murfree, Mary Noailles. In the Tennessee Mountains. Edited by Bill Hardwig. Knoxville: University of Tennessee Press, 2008.
Price, Kenneth M., and Susan Belasco Smith, eds. Periodical Literature in Nineteenth-Century America. Charlottesville: University of Virginia Press, 1995.
Web
The Charles Chesnutt Digital Archive. http://www.chesnuttarchive.org.
Craddock, Charles Egbert (pseud. Murfree, Mary Noailles). In the Tennessee Mountains. Boston: Houghton, Mifflin and Co., 1885. http://docsouth.unc.edu/southlit/craddock/menu.html.
Making of America. University of Michigan Libraries. http://quod.lib.umich.edu/m/moagrp/.
Making of America. Cornell University Library. http://ebooks.library.cornell.edu/m/moa/.