Overview
Bryant Simon reviews the Drive-By Truckers' 2011 album, Go-Go Boots.
"'We're Almost There': The Drive-By Truckers' Art of Place" is part of the 2011 Southern Spaces series "Sightings: Architecture, Art, and Artifact," a collection of reviews and essays examining visual representations of the US South in museums, landscapes, and media. Series editors: Lisa Goff and Grace Hale.
Review
"I don't need a map to tell me where I am today." —Mike Cooley
The Drive-By Truckers have always done their best and most arresting work about place. They clearly think that where you come from matters, though this is not for them about a spot on a map or a street address. It is about the songs, tastes, truths, lies, and burdens that we inherit from our parents and where we come from that make us who we are. The rock critic Geoffrey Himes once compared the Truckers to William Faulkner, and not because the songwriters in the band and the author of Absalom, Absalom hailed from Deep South places, but because both of them, in social science parlance, carved their art out of an n of one.1Himes makes this observation in Barr Weissman's terrific documentary about the Truckers, The Secret to a Happy Ending. They both believed that all the stories worth telling—stories of love and betrayal, heartache and triumph, justice and oppression—could be found in one small corner of the world. Getting the stories right meant knowing that place inside and out.
Although they are now based in Athens, Georgia, the crucial corner for the Truckers is North Alabama and the Tennessee Valley, a region brought into the modern era by the cheap electricity and federal intervention of the New Deal's Tennessee Valley Authority. (There are two TVA songs in the Truckers catalogues.)2The two songs are "Uncle Frank" and "TVA." Although Tennessee River bottom land held its share of plantations, the Truckers' cultural geography was one that pitted "sharecroppers against the world." Even after Franklin Roosevelt touched the region with his helping hand, it did not become part of the succession of post-Civil War New Souths of industry, finance, and suburban growth. Except for the "Space City," Huntsville, this was a region without gigantic airports, gleaming bank headquarters, tangled roadways, and spaghetti junctions. By the 1970s, when several band members reached high school, it was a place of empty Main Streets, "Last Picture Shows," and Hardee's restaurants out on the two-lane state highway selling biscuits and gravy.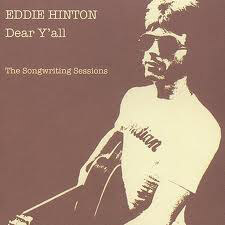 Cover of Eddie Hinton's Dear Y'all: The Songwriting Sessions, 1976.
Although the band's most recent CD, Go-Go Boots—their tenth or eleventh album depending on how you count, and their second on ATO records—has three songs set in Los Angeles, North Alabama remains the focus of their work. Eddie Hinton serves as one connector to this place. The Truckers both cover his songs and use him as an inspiration for new music. As the liner notes explain, Hinton was a good friend of David Hood, the father of DBT front-man and one of the band's three singers and songwriters, Patterson Hood. The elder Hood played bass with the renowned studio band at Muscle Shoals' Fame Studios. Over the course of his career, he backed up Aretha Franklin, Wilson Pickett, the Rolling Stones, Dusty Springfield, and Lynyrd Skynyrd. The sounds of Hinton's moment and Muscle Shoals' moment are invoked in the very first song of Go-Go Boots. Part way through, "I Do Believe," Patterson Hood calls out—maybe to Hinton—"I believe I saw your shadow looking like 1967, Percy Sledge on the radio."
Perhaps because they grew-up in and sang about North Alabama, the Truckers have often been lumped by the music press into the grab-bag of southern rock. Certainly, they build upon Skynyrd and Cash. But even more, their sound borrows from larger rock, soul, blues, and punk canons. On their early records, they sounded more like the Rolling Stones—Sticky Fingers in particular—than the Charlie Daniels Band, more like Bruce Springsteen—they followed his leads from Darkness on the Edge of Town and Nebraska—than the Allman Brothers, and more like Elvis Costello—the upbeat Attractions phase—than the Marshall Trucker Band. Live in theaters and clubs, the band turned up the volume, drawing on the explosive wall of sound of Neil Young and Crazy Horse and the arena rock of AC/DC. But Go-Go Boots represents something of departure for the band. It is, in many ways, their quietest and most "southern" CD yet.
Musically, over the last several years, the Truckers have been coming home more often. They did a down-homey acoustic tour with Alabama keyboard legend, Spooner Oldham, another David Hood associate. They have backed up R&B legends Bettye Lavette and Booker T. Jones (once of the MGs) in the studio and on the road. These influences have rubbed off on the Truckers. On Go-Go Boots, they remake themselves into an alt-country, Alabama blue-eyed soul band. This is the soul of the 1960s, not reworked Hall and Oates. The touchstone of Lavette and Eddie Hinton's music—and the Truckers—rests not only with Stax and Motown, but with southern gospel. Their gorgeous cover of Hinton's "Everybody Needs Love" recreates the elements of church, beginning with the elegant opening, "There are moonbeams we can dream on, when our working day is done." The song acknowledges the burdens of life, "troubles on the run" and "sunsets to cry over." This isn't blues but gospel that ends in moves beyond words as the song's call and response—"everybody needs love, love, love"—turns us into a congregation. Like all gospel songs, this one says that there is no getting to heaven—or even a better place in this world—without a hand. We all need somebody. The sense of congregation embedded in gospel and borrowed from 1960s soul is what the Truckers conjure in Go-Go Boots and on the road.3See the riff on the "gospel impulse," in Craig Werner, A Change is Gonna Come: Music, Race, and Soul of America (Ann Arbor: University of Michigan Press, 2006).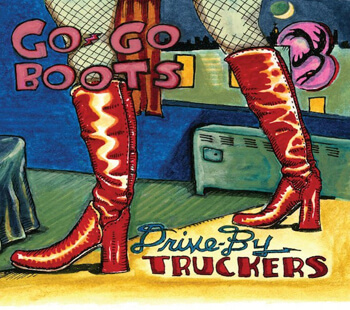 Cover of the Drive-by Truckers' Go-Go Boots, 2011.
Agnostic themselves, the Drive-By Truckers never confuse the faith of gospel with religion. In the title track, Hood tells of "a preacher who packed a big ass church out near Rogersville [Alabama]." For the Truckers, telling stories, about religion or sex or struggle, is about the detail. Like the best songs from Springsteen and Athens songwriter Vic Chesnutt, the Truckers write lyrics that evoke a particular place and specific people.4Go-Go Boots is, in part, dedicated to Vic Chesnutt who died of a drug overdose on December 25, 2009. The band's art of place stands in contrast to folksy universalism of hard work, loss, and uncertainty of early blues and country music and to the timeless banality of small town over-simplification in contemporary mainstream country music.5My friend Grace Hale helped with these lines. Really, she wrote them, so I am paraphrasing an email from her, March 21, 2011. It is the specificity revealed in the best Truckers songs that makes the people and places in these tales feel real. "He drove the Cadillac, she drove the Oldsmobile," Hood tells us about the comfortable lives of the small-town preacher and his wife. "Daddy," the preacher's son says, explaining his father's past and his familiar southern theology, "been preaching the word ever since he was twelve. All about the merciful savior and the fires of hell." The next line conveys detail, nuance, and complication without a hint of moral judgment. "I know he meant it, so what's a little straying." Missy in her go-go boots caught his eye and "made his wife at home seem homely and boring." He couldn't stand to be away from his new love, so, in a rather reckless and impulsive act, he paid a pair of down-on-their-luck guys to kill his wife. Shortly afterwards, Missy started driving around in a brand new Lincoln. Still, few, at first, suspected the preacher. "He was a pillar and his alibi was sturdy." "But," as Hood reminds us, "it's a small town and word gets around."
Mike Cooley's "Pulaski, Tennessee" is another song/story set in another small town in the Tennessee Valley. Rock and roll songs often sing about leaving town, but Cooley has made a living writing coming-back-home songs like "One of These Days" and "Marry Me." Here, a Pulaski woman "fresh out of college," the "first in her family to go," thinks California "just might be heaven." In preparation for her westerly journey, she "worked on losing her southern accent." When her plane landed, the "Pacific breeze" blew through her hair and welcomed her to Los Angeles. Soon, however, she started to miss the straight up "boys from Alabama" and "Friday nights back home." By the end of the song, she is driving slowly, whether or not she is happy we don't know, through the streets of Pulaski—pulled back home by familiar sounds, smells, tastes, and people.
Midway through the haunting, "I Used To Be a Cop," Hood sings,"I used to play football, but I wasn't big enough for college."6This is similar to Steve Earle's "Someday," where he sings, "Now my brother went to college cause he played football I'm still hangin' round cause I'm a little bit small." Hood sings these lines midway through the long and haunting tune, "I Used To Be a Cop." This is the key detail in the life of the song's lead, the moment when the action in the story sets the stage for the fall. He is from a place like Pulaski, where Friday nights lights burn bright. Local boys become heroes because they can break tackles in the open field and slip in front of fleet receivers. Older men discuss their every move over coffee at the diner. We can imagine this place used to have a textile mill or tire factory, was passed by the highway where a watertower with the town name on it looms over rows of shotgun houses too many winters away from their last paint job. For the boys from those houses, only football, and maybe the army, provide a way out. The former football player in the song sits for the police academy exam and passes on the first try. For a moment after that, he has something—a job, a wife, kids, a house, and a badge. But the "thin blue line" can't save him from a past of parental neglect and abuse. He crosses some other line, and in an instant, everything is gone. With a spare and insistent guitar bending around eerie background notes, we feel the weight of the past and the emptiness of the future.
By writing about place through the use of specific, concrete details and well-chiseled characters, the Drive-By Truckers insist that wherever you are from matters. Their characters stand as ambiguous, often flawed, and usually contradictory products of place, their choices and actions formed by history and family, faith, politics, race, and economic circumstances that each of us inherit. There is, in a sense, a detailed place-based determinism in the Truckers' work. Nothing, including individual choice, can separate the people in their songs from the past that is the foundation of place.
About the Author
Bryant Simon is a professor of US history at Temple University. He received his PhD from the University of North Carolina in 1992 and has written extensively on labor, urban spaces, and popular culture. His most recent book, Everything But the Coffee: Learning about America from Starbucks (Berkeley: University of California Press, 2009), examines the making of coffee house and public culture in contemporary America.
Recommended Resources
Links
Drive-By Truckers
http://www.drivebytruckers.com/.
Olson, Peter. "Eddie Hinton," Encyclopedia of Alabama, September 4, 2009.
http://www.encyclopediaofalabama.org/face/Article.jsp?id=h-2444.
Print Resources
Simon, Bryant. Everything But the Coffee: Learning about America from Starbucks. Berkeley: University of California Press, 2009.
———. Boardwalk of Dreams: Atlantic City and the Fate of Urban America. Oxford University Press, 2004.
——— , ed. 'Jumping Jim Crow': Southern Politics from Civil War to Civil Rights, co-edited with Jane Dailey and Glenda Gilmore. Princeton, NJ: Princeton University Press, 2000.
——— . A Fabric of Defeat: The Politics of South Carolina Millhands, 1910–1948. Chapel Hill: University of North Carolina Press, 1998.
References

| | |
| --- | --- |
| 1. | Himes makes this observation in Barr Weissman's terrific documentary about the Truckers, The Secret to a Happy Ending. |
| 2. | The two songs are "Uncle Frank" and "TVA." |
| 3. | See the riff on the "gospel impulse," in Craig Werner, A Change is Gonna Come: Music, Race, and Soul of America (Ann Arbor: University of Michigan Press, 2006). |
| 4. | Go-Go Boots is, in part, dedicated to Vic Chesnutt who died of a drug overdose on December 25, 2009. |
| 5. | My friend Grace Hale helped with these lines. Really, she wrote them, so I am paraphrasing an email from her, March 21, 2011. |
| 6. | This is similar to Steve Earle's "Someday," where he sings, "Now my brother went to college cause he played football I'm still hangin' round cause I'm a little bit small." |