Overview
This multimedia essay augments the 2007 Appalshop film Morristown: in the air and sun, a documentary about the migration of industrial capital and the arrival of immigrant labor in and around Morristown, Tennessee. Fran Ansley and Anne Lewis situate the film within the context of workers' responses to globalization, particularly the effects of NAFTA after 1994. They follow the two-way currents now so evident in many southern towns where industrial plants move south and migrant labor comes north across the international border. As a way to examine the connections between labor rights and immigrant rights, the essay juxtaposes a local labor union campaign with anti-immigrant legislation across the state and the country, through text, still images, and video.
"Going South, Coming North: Migration and Union Organizing in Morristown, Tennessee" was selected for the 2010 Southern Spaces series "Migration, Mobility, Exchange, and the US South," a collection of innovative, interdisciplinary scholarship about how the movements of individuals, populations, goods, and ideas shape dynamic spaces, cultures, and identities within or in circulation with the US South.
Introduction
This multimedia essay complements the 2007 Appalshop film Morristown: in the air and sun. Written by independent filmmaker Anne Lewis, the director of Morristown, and Fran Ansley, a Tennessee law professor who served as principal humanities adviser on the project, this essay presents aspects of the Morristown story that we were unable to include in the one-hour documentary: additional context and perspectives for considering factory flight, international labor migration, and the organized demand for economic justice.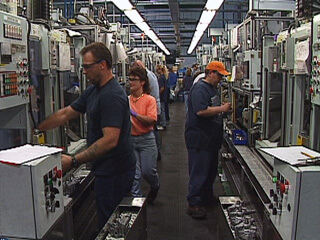 Workers at Toyoda/TRW Plant in Morristown, Tennessee, from Morristown: in the air and sun (2007).
Filmed between 1991 and 2006 and based primarily in the mountains of east Tennessee, Morristown explores the lived experiences of workers from Tennessee and Mexico who speak about their lives, work, disappointments, and hopes. These conversations are combined with scenes in Tennessee factories, fields, union halls, Mexican-owned stores, workers' homes, city parks, and employment agencies. The documentary travels to factories and locations in Ciudad Juárez, Chihauhau, and Los Martínez, Guanajuato, Mexico. Morristown concludes with a stunning union victory in 2005-2006 among immigrant workers at a large poultry processing plant.
Although Morristown puts workers' experiences at its center, it makes space for representatives of business and civic elites in Tennessee and Mexico. In separate interviews, Jack Fishman, the head of the Chamber of Commerce in Morristown, and Roberto Urea, the head of a manufacturers' association in Ciudad Juárez, put forth their opinions about economic development.
Jack Fishman: "

If your wage rates are excessively high, then you won't attract quality industry and quality jobs

."

Roberto Urea: "Whether you'd like to pay people more, or you don't want to pay people more, the driving force is not our heart."
The resulting impression of globalization that Morristown offers is internationalist in its search for class solidarity across borders, but local in its place-based perspectives. The film encourages audiences to question their own assumptions about what they are seeing. It depicts conflict and contradiction among its subjects' opinions about immigration, labor, and the impacts of globalization.
We are proud of Morristown, and pleased with its reception in the United States and Mexico. We are somewhat frustrated, however, by the constraints that accompany filmmaking. Independent documentaries typically have at least a fifty-to-one shooting ratio—that is, for a finished work that is one hour long, acquired footage is usually more than fifty hours.1See Lance Compa, "Think Globally, Film Locally," Cornell International Law Journal 41.1 (Winter 2008): 139-142; and Monica Hernandez, "Film Review," in Ark Magazine, National Organizers Alliance, Issue 24, Fall 2007. Morristown: in the air and sun had an even larger shooting ratio. This raw footage is stored in Appalshop's archives and made accessible to the occasional scholar or interested individual, but the opportunity for public use is limited.2Appalshop is an organization located in Whitesburg, a small town in the coal fields of eastern Kentucky. In the center's own words, it is "a non-profit multi-disciplinary arts and education center in the heart of Appalachia producing original films, video, theater, music and spoken-word recordings, radio, photography, multimedia, and books." The group's substantial multimedia archive is a national treasure.
Footage was not the only thing that had to be left out of the film. Making Morristown took years and involved a long-term process of building trust with workers and worker organizations on both sides of the US–Mexico border. At times these workers created their own records: union factory women in Tennessee made a scrapbook they hoped to share with fellow factory workers across the border; the film project helped exchange experiences and ideas through interviews that we called Morristown Video Letters.
Other materials were not included because they would detract from the need for a simple narrative line. For instance, the great risks taken by workers while crossing the border are covered very briefly and illustrated with an image of a family running. In this essay we are able to add a first-hand account. Similarly, factual information about the industries where immigrants found employment in east Tennessee was left out of the film. Here we include a chart.
This web-based format gives more freedom to readers, viewers, and listeners. They can interact with the story in different ways—choosing their own pace and sequence, making selections, deciding when to pause, go deeper, or move on.
Although the formats of the film and multimedia essay are different, their politics are the same. Largely without narration, Morristown proceeds through the voices of working class people. As active members of the labor movement ourselves, we know the film itself was possible thanks to the efforts of labor and community organizers, cross-border work by grassroots internationalists, engaged scholarship, and the willingness of working class people in the Southeastern United States and Mexico to share their lived experiences with us. Across many years, miles, and differences, we worked to build relationships of trust outside the boundaries of filmmaking.
In our discussion of the making of Morristown, we offer a linked series of sections. "Going South" takes up the mobility of industrial capital, reporting efforts by Tennessee workers in the 1990s to exert counter-pressure on employers who moved production overseas, and describing a series of cross-border exchange trips that took place between factory workers from Mexico and Tennessee. In "Coming North," we examine reasons for the recent mass migration out of Mexico and what the northward journey means, both for unauthorized migrants entering the country and for families and communities left behind. "Arriving in Morristown" focuses on the arrival of Mexican and Central American immigrants in new interior destinations such as Morristown and their reception by native-born residents. In "Organizing a Southern Industry," we recount the story of a successful organizing drive among immigrant workers at a poultry processing plant in Morristown, a victory that suggests how much all workers stand to gain if the right of immigrants to organize on the job and to function as engaged citizens of the global economy is honored and respected. "Looking Back and Ahead" offers our conclusion.
Going South: A Trip to the Maquiladoras
The movement of industrial capital in search of cheaper labor is nothing new for Tennessee or for the US South. East Tennessee has experienced life at both poles of this dynamic. In the 1960s and earlier, labor-intensive industries such as clothing, textiles, auto parts, and consumer electronics moved their plants from northern cities such as Detroit and Chicago to Morristown, Knoxville, and other cities and small towns along the Interstate 40/81 corridors. They moved to escape union contracts, to minimize their duties under state regulation, and to profit from the incentive programs that have always accompanied industrial recruitment in various versions of the "New South."
Beginning in the 1980s, many of those same industries moved further still, across the national boundary line and into the global South. Although the nation's attention was focused predominantly on job loss in northern states like Michigan and Ohio, plant closings brought much of the same personal hopelessness, public neglect, and structural unemployment to the South as they had to the Rust Belt.3On deindustrialization in the United States, see Barry Bluestone and Bennett Harrison, The Deindustrialization of America, (New York: Basic Books, 1984). On deindustrialization in the South, see John Gaventa, Barbara Ellen Smith and Alex Willingham, eds., Communities in Crisis: Appalachia and the South (Philadelphia: Temple University Press, 1990) and Eve Weinbaum, To Move a Mountain: Fighting the Global Economy in Appalachia (New York: New Press, 2004).
Union contracts eroded along with wages and benefits. Social relationships changed. Workers were thrown into competition with other workers, often of different race and national origin. In 1991, Luvernel Clark, then president of Local 1742 of the Amalgamated Clothing and Textile Workers Union, testified before the Office of the United States Trade Representative about the effects of deindustrialization on one enterprise:

A dozen years ago, our factory at Allied was a big, busy place. There were over 3,000 workers employed there. We had contracts with GM, Ford, and other big car manufacturers. But in the early eighties, Allied started shutting down parts of our operation and transferring them to a non-union facility south of here in Alabama. The jobs did not stay in Alabama long. Soon we learned that the work had been moved from there down to a place called Agua Prieta, Mexico. That was the first that a lot of us had heard about all these factories moving to Mexico. We had no idea what really was happening. I am still working now, but I never feel secure.4For Luvernel Clark's full testimony at the hearing see Frances Lee Ansley, "North American Free Trade Agreement: The Public Debate," Georgia Journal of International and Comparative Law 22 (1992): 392-394.
It was no accident that multinational corporations looking for favorable terms and cheap labor identified Mexico as a favored destination. Launched by the Mexican government in 1964, the Border Industrialization Program (BIP) created the legal infrastructure for a bilateral state-promoted export-processing zone of factories known as maquiladoras (maquilas for short). US-based companies were allowed to produce goods or portions of goods in Mexico that were admitted back into the United States without tariffs as long as production took place within one hundred kilometers of the border.
Conceived as a way to provide jobs for agricultural workers who were returning to Mexico at the end of the "bracero" program that for decades had brought Mexican men to work in US fields, the BIP was slow in getting off the ground. By 1986, there were only 865 maquila plants employing some 227,900 workers along the border. As corporate strategies for globalizing production intensified during the eighties and early nineties, the number of factories at the border steadily grew. After passage of the North American Free Trade Agreement (NAFTA) in 1994 and the immediate drop in the value of the peso, maquiladora employment soared, and the bi-national legal arrangements that underpinned the maquilas were no longer restricted to the border. By 1998, 3,051 Mexican maquilas employed 1,035,957 workers. What had begun as a border-specific exception to Mexico's relatively nationalist rules on foreign investment and trade became the new neoliberal norm.5William C. Gruben, "Was NAFTA behind Mexico's high maquiladora growth? - Statistical Data Included," Economic & Financial Review July 2001: 11-21.
As Tennessee felt the impact, groups scrambled to understand what was happening and searched for ways that workers in the increasingly insecure, globalized economy might best respond. In 1989, a coalition of labor unions, religious groups, and community organizations came together to create the Tennessee Industrial Renewal Network (TIRN). Fran Ansley was present at the group's large founding meeting in Chattanooga as were several factory workers and organizers who later contributed important interviews and insight to the Morristown documentary.6The energy and new relationships that were opened up by TIRN's founding meeting encouraged Fran to make plant closings the focus of her legal research in the early nineties. See Standing Rusty and Rolling Empty: Law, Poverty and America's Eroding Industrial Base, 81 Geo. L. J. 1757-1896 (1993).
Particularly disturbed by how easy it was for many Tennessee workers to blame the closings on Mexican workers who were "stealing" their jobs, TIRN leaders began looking for ways to promote a more accurate economic understanding in local communities. Drawing on lessons learned by the Highlander Center about the importance of peer education, TIRN sought direct contact between workers in east Tennessee and workers in Mexico.
TIRN reached out to several border groups that were working to expose and address maquila realities: the Border Committee of Women Workers (in Spanish, the Comité Fronterizo de Obreras, or CFO—a grassroots group of women employed in maquiladoras) ; the Border Project of the American Friends Service Committee, a group that partnered with the CFO; and the Coalition for Justice in the Maquiladoras, a network that brought together labor and community activists from the United States and Mexico.7Joe Bandy, "Paradoxes of Transnational Civil Societies under Neoliberalism: The Coalition for Justice in the Maquiladoras," Social Problems 51:3 (August 2004): 410-431. TIRN proposed a two-way worker-to-worker exchange between Tennessee and Mexico, and the CFO and its supporting groups agreed to collaborate.
In July 1991, after TIRN hosted a visit to Knoxville from two maquila workers active in the CFO, a delegation of nine women from TIRN, including Fran, a staff organizer, and seven east Tennessee factory workers, traveled to Mexico.
Anticipating a television series on the future of US manufacturing, a crew from WGBH-Boston filmed the trip. TIRN had agreed to this accompaniment with the understanding that the organization would receive the raw footage after the PBS broadcast. Many months later, staff members approached Anne at nearby Appalshop in Kentucky to ask if she could take the raw tapes and, with worker input, produce a short video.8At the time, Anne was making a film that explored notions of community justice during the mineworkers strike against Pittston Coal, Justice in the Coalfields (Appalshop, 1995). Anne agreed, and the resulting film, From the Mountains to the Maquiladoras, became a key resource for TIRN and for a number of other groups that were then organizing about the loss of US manufacturing jobs, the process of globalization, and emerging US trade policy.9From the Mountains to the Maquiladoras is available in DVD from the Highlander Research and Education Center
Women from Tennessee saw first-hand the transformed operations of companies well known to them, but now in the maquiladora context unfettered by the rules of home. They witnessed the living conditions of people employed in the maquilas and living in makeshift shacks without electricity or running water. Workers shed tears, revealed anxieties, and expressed shock and disorientation. During a visit to a settlement outside of Reynosa, Shirley Reinhardt, a displaced worker from Morristown, stepped aside for a moment to regain her composure.10Like Luvernel Clark, mentioned above, Shirley Reinhardt later gave testimony at a hearing on NAFTA organized by the Office of the US Trade Representative. For her full written testimony submitted to the hearing panel, see Frances Lee Ansley, "North American Free Trade Agreement: The Public Debate," in Georgia Journal of International and Comparative Law, 22 (1992): 388-392. Parts of their oral testimony are also captured in From the Mountains to the Maquiladoras. She said to Fran, "I feel ashamed. I feel ashamed for our government, for our people. I feel so ashamed."
Returning home, Reinhardt and other TIRN travelers spoke to labor unions, policy-makers, and community groups about why they believed the maquila model and its NAFTA embodiment were a bad deal for workers on both sides of the border.11For more on TIRN's exchange trips and the work that grew out of them see, Kristi Disney, "Building a Movement on Both Sides of the Border," in The Global Activist's Manual: Local Ways to Change the World , ed. Mike Prokosch and Laura Raymond, (New York: Thunder's Mouth Press/Nation Books, 2002), 12-19; Fran Ansley, "Putting the Pieces Together: Tennessee Women Find the Global Economy in Their Own Backyards," in Women Working the NAFTA Food Chain: Women, Food & Globalization, ed. Deborah Barndt (Toronto: Sumach Press, 1999), 141-160; Fran Ansley and Susan Williams, "Southern Women and Southern Borders on the Move: Tennessee Workers Explore the New International Division of Labor," in Neither Separate Nor Equal: Women, Race and Class in the U.S. Southeast, ed. Barbara Ellen Smith (Philadelphia: Temple University Press, 1999), 207-244; Fran Ansley, "The Gulf of Mexico, the Academy, and Me," Soundings 78 (1995): 68-104. They organized a car caravan through downtown Morristown to protest NAFTA. They gathered petitions, called on legislators, went to conferences, wrote letters and op-ed pieces for their local papers, and organized rallies.
Eventually the organization sent a delegation to the Seattle demonstrations of 1999 against the World Trade Organization, protests that joined "Teamsters and turtles" to challenge the ambitions of those promoting a free trade agenda.12TIRN's delegation to Seattle included Barbara Knight, a displaced Philips worker who also became an important contributing voice to Morristown: in the air and sun.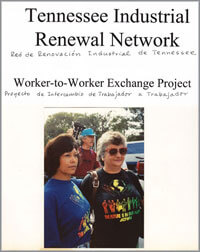 TIRN found that despite its commitment to building cross-border solidarity, it was difficult to maintain active ties with host groups and individuals in Mexico. In 1997, a committee decided to experiment with a scrapbook exchange between women factory workers in east Tennessee and women maquila workers in Juárez. Another worker-to-worker exchange idea resulted in a popular education tool, Morristown Video Letters, an edited selection of interviews with Tennessee and Mexican workers, with voice-over translation into both English and Spanish. TIRN hoped these letters might serve to support on-going dialogue.13Morristown Video Letters is available on DVD, in English and Spanish versions, from the Highlander Research & Education Center.
Coming North: The Long Hard Crossing
TIRN's video From the Mountains to the Maquiladoras examined the movement of capital—plant closings and conditions in maquila locales where those plants had moved. It did not focus on immigration. In 1991, when the earliest footage was shot, most east Tennessee residents were not aware of the growing numbers of Latino immigrants. But some of the women on the trip—the ones from Morristown—did point out that there were "new people" from Mexico showing up back home. Demographic change in Tennessee was soon evident even to casual observers.
The movement of industrial capital from the United States to the maquilas and the movement of low-wage workers from Mexico to the United States were intimately related. The impacts of NAFTA and related neo-liberal policies were felt throughout Mexico. Resulting pressures fed northward streams of migration. An estimated two million Mexican farmers and farm workers lost their livelihoods as cheap US agricultural products, especially corn, flooded Mexican markets.14Monica Campbell and Tyche Hendricks, "Mexico's Corn Farmers See Their Livelihoods Wither Away: Cheap U.S. Produce Pushes Down Prices Under Free-trade Pact," San Francisco Chronicle July 31, 2006. The loss was further exacerbated by the sudden devaluation of the peso in December 1994. In one week, the peso went from 4 pesos to 7.2 pesos to the US dollar.15Gary C. Hufbauer and Jeffrey J. Schott, "NAFTA Revisited: Achievements and Challenges," International Institute of Economics, 2005, at p. 10.
The peso devaluation meant many more US factory jobs moved to Mexico where everything from services to utilities to wages had become much cheaper for international investors. Meanwhile, the wages companies offered were worth even less. It became impossible for many working class Mexican communities to survive. The forces that took jobs away from factory workers in east Tennessee forced Mexican workers across the international border. For several Mexican states, human beings became the major export.
Although these changes increased local opportunities for cross-national coalition building, they also triggered resistance. If feelings had been intense about distant Mexicans taking far away factory jobs, local responses were volatile when new people, marked by differences of race, ethnicity and language, began moving next door in a region which had not experienced significant immigration for generations. Workers returning from later TIRN exchange trips found themselves in arguments with friends and neighbors—not only about corporate responsibility and factory flight, but also about the rights and wrongs of immigration.
To tell the story of the new east Tennessee immigrants, we decided that Morristown should follow the migrant stream out of Mexico, across the border, and into the United States, beginning with scenes and narratives about the journey north. We wanted space for Mexicans to tell about making the journey north from their own perspective. What impels such a costly and risky trip? How does an exodus of this scale affect those who stay behind?

Rudy Marquez was one of our first sources. At the time we interviewed him, he lived on a farm outside Morristown, paid for his board with labor, and studied at a community college. Rudy was born in Mexico City. He described his travels after crossing the border years earlier. He and his father picked strawberries in Santa Ana, California, grapes and tomatoes in Fresno, and green beans in Florida. Searching for lower living costs, wider opportunities, and higher pay, they ended up in east Tennessee where they picked tobacco. Although working tobacco was harder, Rudy could earn $350 a week as compared with $150 working other crops.
Another interviewee, Claro Negrete Almeida, spoke with Anne and a Mexican film crew from his home in the state of Guanajuato. He came across the border illegally for the first time in 1972. He had spent many years working in orchards in North Carolina, and he told stories about poor treatment he had received from employers who took advantage of his fears and uncertainties. Thanks to the amnesty program passed during Ronald Reagan's administration in 1986, Claro adjusted his immigration status.16The Immigration Reform and Control Act of 1986 (IRCA). As a result, he was able to move freely across the border, spending seven to nine months of the year in North Carolina and three to five months at home in Guanajuato with his family.
Since there is presently no pathway to legal status available to workers who enter the country without authorization, Claro's pattern of annual "circular migration" is not an option for an undocumented person today. The costs and dangers of crossing the border continue to mount as federal dollars have poured into its militarization and rates of deportation have soared. Despite the relative freedom of movement Claro's legal status provides, he continues to experience loneliness, dislocation, and bad treatment during his long work stays away from home. "Even if the bars are made of gold," he says, "it's still a prison."
Despite the current burdens of migration, entire villages like Los Martínez, deep in the mountain interior of Mexico, have lost men and boys to the migrant stream. Sixteen-year-old Rosario Duran Camarilla—also from Los Martínez—spoke about how she imagines the United States:
I think it's very big, many people, I think it's pretty. My father has always gone there. My brother, this is the first time he's gone. Neither has papers. They cross the river and you don't know how they are.
Many boys here say, "How I'd like to go north. We'll have a good time." I think it's very pretty there, but - . . . my father once spent almost three years there. I have a little sister. He left when she was months old and returned when she was three. She asked, "Who is this man?" When he comes back, we don't know how to talk with him. It's still very good when he comes. What's hard is that he spends very little time here and goes back there. He's back there again.
While describing some of the economic benefits for families who have sent someone north, Rosario's older neighbor, Isidra Duran De Negrete, talked about what life is like for the women left behind:
It's very hard for the mother or the wife when the child or the husband goes and they don't know what's going to happen. It makes them feel sad. It's very hard for the wife when the children are hungry and no money comes in from over there.
Now there are people who have trucks, tractors, land, cattle, milk cows, and they live much more easily than before. But this is not everyone, only the ones who go north.
As the words of Olga, Claro, Rosario and Isidra suggest, the forces of contemporary mass labor immigration are complex and include "pushes" from countries of origin, "pulls" from countries of destination, past colonial legacies, and present projects of empire. In the United States, immigration reform is hotly contested and badly needed, but as the interviews in Juárez and Los Martínez suggest, immigration reform can do little to control the huge social currents that have put so many people into motion around the world.
Over the course of the 1990s and into the first decade of the new century, despite ever-increasing attempts to fortify the border, migrants from Mexico and Central America continued to come to the United States. Increasing numbers found their way, as Rudy did, to the Southeast. Migrants did not disperse evenly, but settled in clusters and hot spots. The new Latino migration represented a major and unprecedented demographic change.
The Pew Hispanic Center recently reported on results of the 2010 Census, observing that "states with the largest percent growth in their Hispanic populations include nine where the Latino population more than doubled, including a swath in the southeast United States—Alabama, Arkansas, Kentucky, Mississippi, North Carolina, Tennessee and South Carolina." A chart linked to Pew's report shows that Tennessee's Hispanic population increased from 124,000 in 2000 to 290,000 in 2010, and now constitutes 4.6% of the state's total. The chart also ranks Tennessee third in the nation in the rate at which its Hispanic population grew between 2000 and 2010—a rate of 134%, smaller only than South Carolina's 148% and Alabama's 145%.17"Census 2010: 50 Million Latinos, Hispanics Account for More Than Half of Nation's Growth in Past Decade," Pew Hispanic Center Report, March 24, 2011, p. 2. (Rate of change is not the only relevant measure, of course. Although Tennessee is third in the nation in the rate of growth of its Hispanic population, it is 27th in the total number of resident Hispanics, and 37th in the percentage of its overall population that Hispanics now represent.)
Observers have offered various reasons for why many areas of southern states became favored destinations for Latinos.18See, e.g., Fran Ansley and Jon Shefner, eds, Global Connections and Local Receptions: Latino Immigration to the Southeastern United States, (Knoxville: University of Tennessee Press, 2009); Heather Smith and Owen Furuseth, eds., Latinos in the New South: Transformations of Place, (Burlington, VT: Ashgate Publishing Company, 2006); Rakesh Kochhar, Roberto Suro and Sonya Tafoya, The New Latino South: The Context and Consequences of Rapid Population Growth (Washington DC: Pew Hispanic Center, 2005); A.D. Murphy, C. Blanchard, and J. A. Hill, eds., Latino Workers in the Contemporary South (Athens: The University of Georgia Press, 2001). Housing costs lower than those in traditional gateways are one factor, as is the preference of some immigrants for small-town life. For a time, immigration enforcement was patchier in the interior of the country. The availability of paid work is the single strongest determinant. Anita Drever, a University of Tennessee geographer, found that the ten locations in the state with the largest percentage of Latinos in 2000 were all small towns or cities where a particular industry (or a single employer) could easily be identified. Census data are notoriously soft when it comes to measuring Latino populations, so the specific numbers must be viewed with caution, but for comparative purposes the data is quite instructive. Here is a chart showing the results of Drever's research.
Table 1: Ranked list of towns (census places) with the highest percentages of Latinos in Tennessee and the largest employer of Latinos in these areas
| | | | | |
| --- | --- | --- | --- | --- |
| Rank | City | % Latino | Total | Major Employer of Latinos |
| 1 | Bells | 22.8% | 2,171 | Pictsweet Vegetables (packaging plant) |
| 2 | Monterey | 16.3% | 2,717 | Perdue Farms (chicken processing) |
| 3 | Shelbyville | 14.6% | 16,105 | Tyson Foods (chicken processing) |
| 4 | Morristown | 10.4% | 24,965 | Koch Foods (food processing) |
| 5 | Collegedale | 7.7% | 6,514 | McKee Foods (makers of Little Debbie Snacks) |
| 6 | Springfield | 6.9% | 14,329 | Electrolux Appliance (manufacturing) |
| 7 | McMinnville | 6.8% | 12,749 | Wholesale Nursery Industry |
| 8 | Clarksville | 6.0% | 103,455 | Fort Campbell Military Base |
| 9 | Lenoir City | 6.0% | 6,819 | Monterey Mushrooms |
| 10 | Lewisburg | 5.2% | 10,413 | Walker Die Casting |
Source: Calculations from the US Census 2000, Author's interviews with the employees of the Chambers of Commerce in the above cities.
Since labor migration was the flip side of plant closings and another aspect of the neo-liberal development model that NAFTA represented, seeking justice for immigrant workers seemed a natural extension of TIRN's work. Labor rights activists struggled for decades to attack the ways that racial division debilitated the southern labor movement.19The literature on this subject is vast. Some starting points: Michael Honey, "The Labor Movement and Racism in the South: An Historical Overview," in Racism and the Denial of Human Rights: Beyond Ethnicity, M. Berlowitz and R. Edari., eds. (Minneapolis: Marxist Educational Press, 1983), 77-96; Eric Arnesen, Waterfront Workers of New Orleans: Race, Class and Politics, 1863-1923 (Oxford: Oxford University Press, 1991); Robert L. Lewis, Black Coal Miners in America: Race, Class and Community Conflict, 1780-1980 (Lexington: University of Kentucky Press, 1987). The increasing presence of Latinos in the workforce and the extreme vulnerability of undocumented immigrants represented a dramatic new turn in an old story.
Immigration raised the possibility of a new kind of labor organizing that might bring together multi-racial coalitions capable of advancing broad demands for social justice in the workplace and beyond. Whether this prospect would be realized was far from certain. But as immigrant workers continued to settle, their responses to the conditions they found began to attract allies, generate campaigns, and demonstrate powerful potential.
Arriving in Morristown: New Kinds of Borders
The US–Mexico maquiladora zone that TIRN delegations had once traveled for days to reach now appeared in Tennessee. Native Tennesseans could meet their Mexican counterparts by visiting any local restaurant kitchen or construction site. And yet differences of race, language, and nationality often separated people as profoundly as physical distance or a geo-political boundary.
Immigrants arriving in Tennessee were entering locales where racial history was at work and racial hierarchies were in place. During slavery and Jim Crow, race was a structural feature of labor markets backed by the full force of law. Although the civil rights movement succeeded in discrediting old racist ideologies and breaking down some barriers to equal opportunity, gross disparities between whites and blacks in the labor force persisted and black unemployment remained at levels far beyond that of whites. These patterns worked to naturalize racial subordination.
Undocumented Latinos disrupted and complicated the existing black-white framework. New political and social alignments seemed likely, though exactly who would align with or against whom was hard to say.20These developments are still too new to assess in any but the most provisional way. Early reports are beginning to sketch a complex and far from homogeneous picture. See, e.,g., Halimah Abdullah, "Hispanic Population Growth Could Realign South's Politics," Miami Herald, April 25, 2011; Mary Odem & Elaine Lacy, eds., Latino Immigration and the Transformation of the U.S. South, (Athens, GA: University of Georgia Press, 2009); Paula D. McClain, Niambi M. Carter, Victoria M. DeFrancesco Soto, Monique L. Lyle, Jeffrey D. Grynaviski, Shayla C. Nunnally, Thomas J. Scotto, J. Alan Kendrick, Gerald F. Lackey, and Kendra Davenport Cotton, "Racial Distancing in a Southern City: Latino Immigrants' Views of Black Americans," Journal of Politics 68, no. 3 (August 2006): 571-584. See also Jennifer Gordon and R.A. Lenhardt, "Conflict and Solidarity between African American and Latino Immigrant Workers," Working Paper #6 of the Series on Immigration of the Chief Justice Earl Warren Institute on Race, Ethnicity and Diversity, 2007.
It was striking to witness the emergence of "brown collar jobs" and the racial reorganization of work.21See Leticia Saucedo, "The Browning of the American Workplace: Protecting Workers in Increasingly Latino-ized Occupations," Notre Dame Law Review 80 (2004): 303; Lisa Catanzarite, "Dynamics of Segregation and Earnings in Brown-Collar Occupations," Work & Occupations 29 (2002): 300. In east Tennessee, Latino workers were warmly welcomed by many employers. They moved into construction trades previously dominated by white men, but also into occupational categories such as farm work, the laundry industry, hotel housekeeping, and personal service—long coded as labor for blacks or the bottom ranks of working class whites.
Factory job loss and shrinking opportunities in the public sector hit Tennessee's black minority hard. The civil rights movement's victories, as significant as they were, failed to translate into economic well-being for the black population as a whole. Meanwhile, many Latino immigrants who entered the country without authorization found themselves in low-wage, dirty, and dangerous jobs, where too often their "illegality" justified thinking of them as criminals and treating them as people without rights.22On some of the ways Latino workers fit into employer goals of "flexibilizing" work to their advantage, see David H. Ciscel, Barbara Ellen Smith and Marcela Mendoza, "Ghosts in the Global Machine: New Immigrants and the Redefinition of Work," Journal of Economic Issues 32 (2003): 333.
Table 2 (below) suggests the income inequality by race and ethnicity in Tennessee, with whites earning dramatically more than blacks or Latinos. While these disparities are echoed at a national level, Tennessee whites, blacks, and Latinos all earn less in absolute dollars than their racial and ethnic counterparts in the US, with Tennessee whites experiencing the greatest difference from the national average.23Table reprinted from Anita Drever, "Tennessee: A New Destination for Latino Migrants," in Global Connections and Local Receptions: Latino Immigration to the Southeastern United States, Fran Ansley and Jon Shefner, eds. (Knoxville: University of Tennessee Press, 2009). Of course this chart does not allow readers to tease out the working class segments of each racial group, and we suspect the situation of white working class people is more effectively obscured in these statistics, since they are likely a smaller proportion of their racial/ethnic group than are blacks or Latinos. Nevertheless we consider the gross figures worth contemplation.
Table 2: Media Per Capita Earning by Population Group in Tennessee Relative to the United States as a Whole
| | | |
| --- | --- | --- |
| Population Group | Median per capita income | % of national per capita income for this group |
| African Americans | $15,117 | 91% |
| Whites | $23,994 | 83% |
| Latinos | $12,688 | 88% |
Source: 2005 American Community Survey
Whatever the racial disparities, economic restructuring meant that working class people in east Tennessee faced economic insecurity during the years when Latino immigration was increasingly evident. It is not hard to imagine that US-born workers in places like Morristown perceived Latino immigrants to be interlopers and competitors rather than potential allies. After all, white workers in the South have repeatedly missed opportunities to act in solidarity with black workers. When the new immigrants arrived in Morristown, racism and xenophobia surfaced.
In 2002, Berkley Bell, the district attorney for Tennessee's third judicial district, was asked about the impact of Latino workers in the area. He began pleasantly and politely enough, volunteering that the new immigrants were "hardworking Christian people," and noting that his exposure to immigrants had forced him to modify an earlier preconception that Mexican men were lazy and that Mexican women did all the work. Bell went on, however, to make sweeping assertions that cast the entire Hispanic population as a major source of crime, social pathology, and violence.
In light of Bell's remarks about "a lot of homicides" among Latinos, we asked a sociology professor at the University of Tennessee about murder in Hamblen County where Morristown is located. Based on Tennessee Bureau of Investigation information, he found such comments as Bell's unsupported.24Thanks to Dr. Ben Feldmeyer of the University of Tennessee Sociology Department for this helpful piece of local research. A large body of scholarship indicates crime rates among Latino immigrants are no higher, and are often lower, than among the native-born population.25For one example of such scholarship, see Robert J. Sampson, "Rethinking Crime and Immigration," Contexts, Winter 2008, American Sociological Association.
Several elected officials in Morristown showed a similar tendency to blame immigrants for social problems. Hamblen County commissioners told a Knoxville television reporter that undocumented Hispanics were costing Hamblen County "serious money," and that they might "have to raise property taxes by a million dollars to cover increase[d] costs in schools to hire bilingual teachers." Commissioner Larry Baker was quoted as blaming the property tax increase on too many Hispanics in juvenile court.26"Commissioner: 'Taxes May Go Up Due to Hispanics,' " WVLT Volunteer TV, Knoxville, TN, May 6, 2005.
As tensions between residents and Latino immigrants increased, local leadership did nothing to help citizens understand immigration, much less to address the economic problems facing this small industrial town.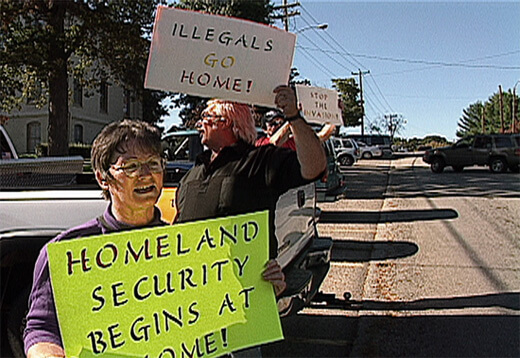 Counter-protesters during a rally for immigrants' rights and against racial profiling in Morristown, 2003, from Morristown: in the air and sun (2007).
In spite of the reception they received, the number of Latino workers continued to grow, along with demand for their labor. Workers and their families were becoming part of the local scene–a visible presence in spaces like public parks and soccer fields. But they also maintained close ties with those at home. At Adriana's Video Mexican Store in Morristown, workers regularly sent dollars back to their families in Mexico where their purchasing power was many times more.
Only someone with a job can send home such remittances, and for Latino immigrants newly arriving in Morristown, work was ordinarily a first priority. In order to secure employment, they turned to various networks and strategies.27For a detailed account of how Latinos came to populate one Tennessee workplace during this period, see Steve Striffler, "Immigration Anxieties: Policing and Regulating Workers and Employers in the Poultry Industry," in Global Connections and Local Receptions: Latino Immigration to the Southeastern United States, Fran Ansley and Jon Shefner, eds., (Knoxville: University of Tennessee Press, 2009). One channel was a set of specialized temp agencies that opened in Morristown. These agencies functioned as the formal employers of immigrant workers who were then contracted out to places where they labored but were not formally employed. The temp agency protected client companies from worries about liability related to the workers' legal status and documentation. The agencies generally charged companies twice as much as they paid out to the workers themselves for hourly wages and benefits.
Maximino Garcia, originally from San Antonio, Texas, owned one of the largest of these hiring enterprises. He also ran a loan company, a car lot, an asbestos removal business, and built an evangelical church that ministered to his Latino workforce. "The number one is that we're always trying to point them to the cross," said Garcia. "We're always trying to tell them about the Lord."
Garcia, who was later convicted of illegal trafficking and money laundering, compared Latino workers with black and white native-born workers:
I don't believe that the Hispanic race is coming in and taking American jobs. I believe that they're taking jobs that the Americans don't want and the ones who are griping and complaining are usually the ones that are lazy and don't want to work. I think that that's what a lot of the companies look at when they see Hispanics is that these are hard workers. They're coming in and they're not going to give us no lip. They're not going to talk back to us. They're not going to do nothing. They're basically going to come in and work, do their jobs.
Garcia's perspective was not the only one voiced by people in Morristown.28On the power—and the inadequacy—of competition as a framework for understanding the relationship between immigrant and native-born workers, see Barbara Smith, "Market Rivals or Class Allies? Relations between African American and Latino Immigrant Workers in Memphis," in Global Connections and Local Receptions: Latino Immigration to the Southeastern United States, Fran Ansley and Jon Shefner, eds., (Knoxville: University of Tennessee Press, 2009). Shirley Reinhardt, a displaced General Electric worker and TIRN member whose experiences in Mexico were mentioned above, shared a different understanding:29For more about Shirley's work in Morristown, including a campaign directed at the temp agencies that had burgeoned there as early as the 1980s to broker the labor of native-born factory hands, see Chapter 5 of Eve Weinbaum, To Move a Mountain: Fighting the Global Economy in Appalachia (New York: The New Press, 2004).

It's a lot like when people in Tennessee went to Michigan to work. The young boys that went north to work, worked for probably a lot less than what the people there would work for.
Farmers say they can't hire anybody to do the job. Well they can't hire a slave. They can't hire a slave and that's what they're after. They're after somebody that'll work twelve to fourteen hours a day, don't take any breaks, and work like your life depends on it. And the Mexicans go out there and they work like slaves.
So the Americans say, "Oh boy we've got us a good worker here." Well you're working them like dogs, and we don't seem to think there's anything wrong with that in this country, we think that's okay.
We want paper towel employees. You just use them as long as it's beneficial to you and then you throw them away. And you get some more and start all over.
It was not only immigrants who were treated as disposable. Delmas Malone who worked at Berkline Furniture, an old-time Morristown factory, had his wages cut from $12.43 an hour to $6.41. He took early retirement and was given a recliner for his twenty-six years with the company. His wife Betty, a TIRN member, earned $8.88 an hour making televisions at Philips. Betty's pension plan had been terminated and her job appeared to be hanging by a thread. Worried about how they were going to make it, Betty and Delmas mortgaged their farm to go into the chicken-growing business. They assumed all the risk of loss and all the responsibility for waste disposal in a vertically integrated contract that bound them exclusively to the poultry processing plant in Morristown.30For more about east Tennessee poultry growing, see Fran Ansley, "Putting the Pieces Together: Tennessee Women Find the Global Economy in Their Own Backyards," in Women Working the NAFTA Food Chain: Women, Food and Globalization, Deborah Barndt, ed. (Toronto: Sumach Press, 1999), 141-160.
Organizing in a Southern Industry: Immigrants Step Up
The Morristown Chamber of Commerce, long proud of its highly successful industrial recruitment program, constructed Morristown's third industrial park with federal and state grants. Soon they began to fill it with companies like Koch Foods, one of the nation's largest poultry producers and processors. Koch had acquired Morristown's older, family-owned poultry business and was now looking to expand.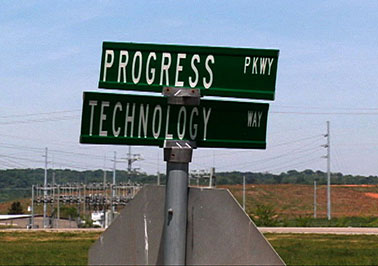 Street signs, new industrial park, Morristown, Tennessee, from Morristown: in the air and sun (2007).
Koch's facility was sparkling and bright on the outside, but there were major problems inside. According to reports of workers at the plant, the speed of the line was brutal, wages were minimal, worker health and safety were regularly put at risk, and the relationship between workers and their supervisors was disrespectful and degrading.31Unfortunately, Koch Foods was not unusual in this respect. For more on the poultry industry, see Steve Striffler, Chicken: The Dangerous Transformation of America's Favorite Food (New Haven: Yale University Press, 2005); William Kandel & Emilio A. Parrado, "Industrial Transformation and Hispanic Migration to the American South: The Case of the Poultry Industry," in Hispanic Spaces, Latino Places: A Geography of Regional and Cultural Diversity, ed. Daniel D. Arreola, (Austin: University of Texas Press, 2004); and Lance A. Compa, Blood, Sweat and Fear: Workers' Rights in U.S. Meat and Poultry Plants (New York: Human Rights Watch, 2004). In the face of these conditions, the work force had become predominantly Latino, many of them undocumented. Workers made several attempts to change their conditions, including a targeted strike where all the workers walked off the line and proceeded to the bathroom as a group in protest over the chronic refusal of line supervisors to allow reasonable bathroom breaks. They won verbal concessions whose results were short-lived.
Eventually, a Koch Foods worker contacted a lawyer from Southern Migrant Legal Services in Nashville about the problem of access to bathroom breaks. Other workers stepped forward to point out problems with health and safety practices. They held meetings, documented grievances, and took their concerns to management. When several leaders were fired in retaliation in front of an assembled group, workers reacted with indignation and reached out for support.
In early 2005, after being contacted by workers at the poultry plant, doing preliminary research, and observing workers' energy and resolve, the United Food and Commercial Workers Union (UFCW) launched an organizing drive. The UFCW local that the workers would join was based primarily in grocery stores, a labor force whose work environment and demographics were dramatically different from those of the poultry workers. At a national level the UFCW had substantial membership in meatpacking and poultry plants, and the organization was aware that inclusion of immigrants was crucial to its survival and strength.
The UCFW sent J.R. Richardson, an African-American from Alabama, to be the lead organizer in Morristown. He was accompanied by David Ceballos, a Spanish-speaking union staffer from Arizona. They set up shop in Morristown and began holding meetings with workers.
A few weeks into the campaign, accompanied by the Morristown film crew, union organizers visited workers in their homes who talked about what they had encountered in the plant and why they needed a union. Some of this video testimony was eventually used by the union to help win an agreement with corporate executives in Chicago that the corporation would not interfere in the union election process.
The union drive attracted allies. An affiliated UFCW local in the area had once represented a workforce of several thousand chemical workers whose plant was closing and shipping its equipment overseas. Randy Alexander, president of that local, opened the doors of his tattered union hall to the organizing drive and welcomed the workers from Koch Foods who held meetings there as well as a large rally that attracted supporters from throughout east Tennessee.32This part of the story moved a Houston reporter who visited Morristown that season. Kim Cobb, "On Common Ground in a Common Struggle," Houston Chronicle, October 24, 2006.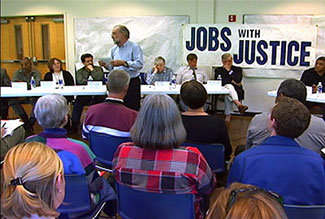 Worker Rights Board Hearing Organized by Jobs with Justice of East Tennessee, from Morristown: in the air and sun (2007).
Jobs with Justice of East Tennessee (JwJET), an all-volunteer group headquartered in Knoxville, generated civic, church, and labor union support. They convened a Worker's Rights Board that heard testimony about the right to organize and about the failure of US labor law to adequately protect that right. Jim Sessions, co-chair of the chapter, introduced the panel of witnesses:
The right to organize is a human right and it's a democratic right and it's the law. But the law's not obeyed very much on this matter in this country. That's what we want to talk about tonight. And we'll hear how difficult, also the aspirations of people who aspire to that democracy in the work place in our area.
One of the workers who testified was Artemio Jimenez, who had been fired while attempting to organize a Monterrey Mushroom plant in east Tennessee. Although Artemio brought a lawsuit over his firing, he was never allowed to present his facts in court. As an "agricultural worker," he was expressly excluded from the National Labor Relations Act (NLRA) and its protections.33The exclusion of both agricultural workers and domestic workers from coverage under the NLRA dates back to the New Deal compromise struck with Dixiecrats in order to get that major piece of labor legislation through Congress. This was a race-linked compromise still only partly remedied today. For more information on the great range of workers who have been excluded in different ways from the protection of our present labor laws, see Excluded Workers Congress, "Unity for Dignity: Expanding the Right to Organize to Win Human Rights at Work," Dec. 2010.
The union campaign at Koch Foods was well organized and highlighted the rights of workers while building understanding among coalition members about immigration, racism, and xenophobia. JwJET involved churches, other unions, and activists throughout east Tennessee including nearby native-born, factory workers who had been part of TIRN.
These support efforts were important, but the workers made the biggest difference in the success of the election drive. Despite threats of firing and deportation, leaders from the factory floor made house calls to recruit fellow workers and gather signed cards. Organizers anticipated employer behavior and explained the election process and US labor law. Morristown workers showed how effectively immigrants could mobilize when their basic trust was earned.
When the NLRB election day finally arrived, organizers were cautiously optimistic, but no one was sure what was going to happen. Fran remembers standing outside the plant with other supporters, waiting for the vote count:
Standing along the highway that morning, together with our JwJET delegation from Knoxville, there were black, white, and Latino organizers and union members from the UFCW, and a couple of guys from the Nashville local union to which the Morristown chicken plant workers would be attached if the election went for the union. There was a faithful young intern from the Highlander Research and Education Center whose highly skilled interpreting and translating services had been integral to the organizers' efforts and workers' comprehension, involvement, and morale. There was a union painter from Morristown who had learned about the election at a recent Labor Day event in Knoxville who showed up at the factory gates to lend his support. There was an Appalshop film crew diligently working the crowd for interviews and impressions. There was the president of a dying union local at a soon-to-close chemical plant in Morristown who throughout the organizing drive had opened the doors of his aging union hall to the workers from the chicken plant, welcoming its use for meetings, rallies, child care, buffet suppers, and workshops, and who had now come to stand with them on this fateful day.
The wait seemed interminable, but at last we made out the sound of cheering. Spilling down the hill toward our waiting group came an elated crew of union-designated election watchers. "Ganamos! We won! Ganamos!"
The workers had scored not a mere victory, but a landslide. The margin was 465 to 18.34Fran Ansley, "Labor Rights and Immigrant Workers in East Tennessee: Talking Union in Two Languages," in Transforming Places: Lessons in Movement Building from Appalachia eds. Steve Fisher and Barbara Ellen Smith (Champaign: University of Illinois Press, forthcoming).
Looking Back and Ahead
The moment of victory was sweet. When Anne was editing the film, it became the apex of Morristown. Winning a union election, however, is no guarantee that workers will build a functioning union with workplace strength. A crucial "first contract" must be achieved. US companies, advised by batteries of management-side lawyers, have refined their ability to stall, delay, and undermine the negotiating process to such a degree that winning a first union contract after a successful organizing campaign has often proven an insurmountable hurdle.
In Morristown, after the pro-union vote, the UFCW and Koch Foods talked for months without reaching agreement. Finally the company declared there was nothing left to discuss and submitted its "last best offer," a poor set of proposals testing union resolve. Unanimously the workers turned down the company's offer. A month later, after further bargaining, they approved a union contract that included eye protection, bathroom breaks, health insurance, and higher wages.
Meanwhile, in the spring of 2006, immigrants all over the country poured into the streets by the hundreds of thousands to protest a virulent bill that had passed the US House of Representatives. They demanded reform that would provide a pathway to citizenship for many undocumented immigrants and make reasonable provision for immigrant entry in the future. The workers' victory in Morristown had been powered by some of the same currents of discontent and determination that had fed the mobilizations for immigration reform.
The Tennessee Immigrant and Refugee Rights Coalition, founded in Nashville in 2001, hired its first organizer for east Tennessee in November, 2005.35For more about the origins of the Tennessee Immigrant and Refugee Rights Coalition, see Fran Ansley, "Constructing Citizenship Without a License: The Struggle of Undocumented Immigrants in the U.S. for Livelihoods and Recognition," in Inclusive Citizenship: Meanings and Expressions ed. Naila Kabeer (London: Zed Books, 2005),199-215. In April 2006, the Coalition organized rallies all over the state for immigration reform, and they put out the word across east Tennessee for immigrants to join the action planned for Knoxville.
As Fran stood with thousands of other demonstrators in front of the federal building in Knoxville, she saw the members of the workers' organizing committee from Koch Foods. Delighted at the size and spirited mood of the crowd, the workers announced they had achieved final agreement on a contract and that the company had shut down the plant for the day to allow workers to attend the Knoxville rally!
Neither the Knoxville march nor the signing of the contract resolved all the problems that led Koch Food workers to mobilize for union recognition and for immigration reform. But both of those achievements—and their remarkable joining in the streets of Knoxville on that day—suggest the potential power of strategies that include and unite.
Today the union at the Morristown chicken plant survives but faces tough challenges. Many poultry processing plants remain unorganized, and standards across the industry are low, even at unionized plants. Congress failed to pass federal labor law reform that would have made victories like the one at Koch Foods less of a rarity.36The particular bill that was proposed was known as the Employee Free Choice Act, and it would have made it substantially easier for workers in unorganized workplaces already covered by the National Labor Relations Act to win union recognition. The bill left many important issues unaddressed and many needy workers uncovered by its protections, but it would have been one important step toward changing the rules that are presently slanted so strongly in favor of employers and against workers who seek collective representation.
The movement for immigration reform faces similar challenges. Despite the mass mobilizations of 2006 and much campaigning since, federal reform is currently stalled. Beginning in December of 2006, immigrant workers at places like Koch Foods endured a long brutal season of workplace raids under the administration of George W. Bush.37For a paper on the 2008 immigration raid on a poultry plant in Chattanooga, see Karla Mari McKanders, "The Unspoken Voices of Indigenous Women in Immigration Raids" (November 22, 2010). University of Tennessee Legal Studies Research, Paper No. 133. Under the Obama administration these high-profile raids on immigrant-heavy workplaces have largely ceased. The end of these raids was a welcome improvement. Unfortunately, ICE raids at workplaces have been replaced with beefed-up audits and record-checking procedures that often result in mass firings of immigrant workers. Meanwhile, through other programs of immigration enforcement, rates of detention and deportation have risen to record levels across the country.
At the state level, jurisdictions such as Arizona have pioneered approaches that target immigrants and their families, charge local authorities with enforcing federal law, and effectively turn the criminal justice system into an immigration dragnet. Given that undocumented people cannot obtain a driver's license, "driving while brown" becomes an activity inviting racial profiling and is punishable by banishment and family separation. Such measures push undocumented people into the shadows, make them even more vulnerable to abuse, and discourage immigrants from turning to local law enforcement when they need help or could offer assistance in the investigation of serious crimes.38See Major Cities Chiefs, "M.C.C. Immigration Committee Recommendations For Enforcement of Immigration Laws By Local Police Agencies" (2006).
At this writing in spring 2011, several states in the Southeast, including Tennessee, Georgia, and Alabama, are actively considering versions of the Arizona anti-immigration legislation.39During the spring 2011 session, Tennessee legislators proposed a bundle of bills modeled on Arizona's. An example was HB 1380 that sought to require every law enforcement officer in the state—every time he or she "makes a lawful stop"—to question the person's immigration status, contact federal agents if there is "reasonable suspicion" an immigration violation has occurred, and transport the person to a federal holding facility. State and local jurisdictions have also entered into arrangements that more tightly integrate local policing and jails with federal immigration enforcement.40See Melissa Keaney and Joan Friedland, 'Overview of the Key ICE ACCESS Programs: 287(g), the Criminal Alien Program and Secure Communities," National Immigration Law Center (2009). Described as targeting "criminal aliens," these enforcement agreements have led to the deportation of large numbers of undocumented people with no record of serious crime.41See Aarti Kohli and Deepa Varma, Borders, Jails and Jobsites: An Overview of Federal Immigration Enforcement Programs in the U.S., Chief Justice Earl Warren Institute Race, Ethnicity and Diversity (Feb. 2011). The impact on immigrant families and communities is severe.42See, e.g., Elena Lacayo, "The Impact of Section 287(g) of the Immigration and Nationality Act on the Latino Community," National Council of La Raza Issue Brief No. 21 (2010) (includes case study of Nashville); Andrea Danit Guttin, "Criminals, Immigrants, or Victims? Rethinking the 'Criminal Alien Program,'" (master's thesis, University of Texas at Austin, 2009). (case study of Houston); Michael J. Wishnie, "State and Local Enforcement of Immigration Laws," Journal of Constitutional Law, Vol. 6, No. 5 (May 2004), 1084-1115.
In the workplace, the threat of deportation injects additional fear for immigrant workers considering whether to press for better treatment on the job, fight back against the epidemic of wage theft that plagues today's immigrant-heavy industries, or join in forming unions. Organizers and advocates report that employers threaten workers with deportation if and when workers complain about conditions or treatment on the job.43See Rebecca Smith, Ana Avendano and Julie Martinez Ortega, ICED Out: How Immigration Enforcement Has Interfered with Workers' Rights, published by the AFL-CIO, the National Employment Law Project, and American Rights at Work (2009).
After years of working on Morristown and walking with the movements that it traces, we remain convinced that labor rights and immigrants' rights are mutually dependent and inextricably intertwined. Campaigns and organizations that integrate both kinds of claims create spaces where workers can learn from each other and identify shared interests.44 For more on the intersection of these two movements, see Frances Ansley, "Doing Policy from Below: Worker Solidarity and the Prospects for Immigration Reform," Cornell International Law Journal, Vol. 41, No. 1 (Winter 2008), 101-114; and Fran Ansley, "Local Contact Points at Global Divides: Labor Rights and Immigrant Rights as Sites for Cosmopolitan Legality," in Law and Globalization from Below: Towards a Cosmopolitan Legality, Boaventura de Sousa Santos and Cesar A. Rodriguez-Garavito eds. (Cambridge: Cambridge University Press, 2005). However, serious obstacles to building class solidarity across divides of race and nation remain. Exclusionary whiteness runs deep, as does an exclusionary kind of Americanism. Anti-immigrant backlash is alive and well around the United States, and that backlash can be found among working class people and union members as among other segments of the population. But as Morristown documents, there are also working class southerners, both black and white, who can and do respond differently to immigration and to the question of immigrants' rights, workers who express solidarity and see a basis for common ground. Shirley Reinhardt suggested something like this when she spoke with us before the Koch Foods election about what a victory would mean:
You're saying to all the others from Mexico, they don't have to treat you worse than anybody else. You can organize. That's exactly what you're saying. Not only are you saying that to the people from Mexico but you're saying that to the people of Hamblen County, too.
While Morristown is on the side of workers like Shirley Reinhardt, it asks open-ended questions, tolerates ambiguity in the answers received, and intends to leave viewers with plenty to think about. Anne asked US-born people what they thought about the idea of "open borders." Certainly our idea of a just global order would require something far more complex than that phrase conveys. In fact a good part of TIRN's work on the question of plant closings and capital flight had urged the need for building and honoring boundaries within which democratic decision-making can take place and within which economic ground rules can be established and enforced. But a just global order is so far from what we have now, would require such profound reorientation of present realities, and is so seldom discussed in the public debates to which most working people in the United States have reasonable access, that simple and unsettling questions seemed the right place to open the kinds of conversations that lead toward global justice.45Fran has argued elsewhere that the problem of "immigration" is really a problem of "development." See Fran Ansley, "Toward a Just and Humane Immigration Policy," in Global Connections and Local Receptions: Latino Immigration to the Southeastern United States, Fran Ansley and Jon Shefner, eds. (Knoxville: University of Tennessee Press, 2009). For a fascinating suggestion that labor mobility across borders should be conditioned on labor solidarity and commitment to minimum standards, see Jennifer Gordon, "Transnational Labor Citizenship," Southern California Law Review, Vol. 880 (2007), 503. When Anne put the question to attorney Mike Whalen, a criminal defense lawyer in Knoxville and local ally of the Latino population, he replied:
Open the borders? (Laughing) That's what they should do! In the European Economic Community, if you're British, you can go to France and work. You don't have to ask anybody's permission. Here we want economic pacts which allow goods and services and profits and money to cross borders freely but not human beings, because we want some of them to be slaves for the rest of us. We should be talking about that. We should be talking about open border. Don't hold your breath.
When asked a similar question, factory workers expressed concerns about the impact of unrestricted migration both on wages and on their ability to unionize, but their concerns were tempered with other insights and emotions. Betty Malone talked about what she thought her employer and other powerful supporters of "free trade" were after:
I think basically they would like for our living standards to come down. And they are. They really are. But we're far from the shape they're in in Mexico.
They're just as good as I am. They're here and I don't blame them. I'd come across the border every chance I got whether I was legal. If I was illegal that's just fine too, I'd still come across.
Or as a union painter put it when he stood in front of the chicken plant on the day of the union election:
They're exploiting too many people around this town. Morristown's famous for that. [I'm here] for human rights, that's all. And they deserve it as well as you or me.
Recommended Resources
Links
Anne Lewis' website
http://www.annelewis.org/.
Appalshop
http://appalshop.org/.
Brother Towns: Pueblos Hermanos
http://www.brothertowns.com/.
Coalition for Justice in the Maquiladoras
http://coalitionforjusticecjm.blogspot.com/.
Comité Fronterizo de Obreras
http://www.cfomaquiladoras.org/english%20site/index_en.html.
Highlander Research and Education Center
http://highlandercenter.org/.
Jobs with Justice of East Tennessee
http://www.jwjet.org.
Morristown: in the air and sun
http://www.annelewis.org/Morristown.html.
Tennessee Immigrant and Refugee Rights Coalition
http://www.tnimmigrant.org/.
UFCW: United Food and Commercial Workers
http://www.ufcw.org/.
Print
Ansley, Fran and Jon Shefner, eds. Global Connections and Local Receptions: New Latino Immigration to the Southeastern United States. Knoxville: University of Tennessee Press, 2009.
Arreola, Daniel D., ed. Hispanic Spaces, Latino Places: Community and Cultural Diversity in Contemporary America. Austin: University of Texas Press, 2004.
Barndt, Deborah, ed. Women Working the NAFTA Food Chain: Women, Food, and Globalization. Toronto: Sumach Press, 1999.
Gaventa, John, Barbara Ellen Smith, and Alex Willingham, eds. Communities in Economic Crisis: Appalachia and the South. Philadelphia: Temple University Press, 1990.
Smith, Heather A. and Owen J. Furuseth. Latinos in the New South: Transformations of Place. Burlington, VT: Ashgate Publishing Company, 2006.
Striffler, Steve. Chicken: The Dangerous Transformation of America's Favorite Food. New Haven: Yale University Press, 2005.
Weinbaum, Eve. To Move a Mountain: Fighting the Global Economy in Appalachia. New York: The New Press, 2004.
References

| | |
| --- | --- |
| 1. | See Lance Compa, "Think Globally, Film Locally," Cornell International Law Journal 41.1 (Winter 2008): 139-142; and Monica Hernandez, "Film Review," in Ark Magazine, National Organizers Alliance, Issue 24, Fall 2007. |
| 2. | Appalshop is an organization located in Whitesburg, a small town in the coal fields of eastern Kentucky. In the center's own words, it is "a non-profit multi-disciplinary arts and education center in the heart of Appalachia producing original films, video, theater, music and spoken-word recordings, radio, photography, multimedia, and books." The group's substantial multimedia archive is a national treasure. |
| 3. | On deindustrialization in the United States, see Barry Bluestone and Bennett Harrison, The Deindustrialization of America, (New York: Basic Books, 1984). On deindustrialization in the South, see John Gaventa, Barbara Ellen Smith and Alex Willingham, eds., Communities in Crisis: Appalachia and the South (Philadelphia: Temple University Press, 1990) and Eve Weinbaum, To Move a Mountain: Fighting the Global Economy in Appalachia (New York: New Press, 2004). |
| 4. | For Luvernel Clark's full testimony at the hearing see Frances Lee Ansley, "North American Free Trade Agreement: The Public Debate," Georgia Journal of International and Comparative Law 22 (1992): 392-394. |
| 5. | William C. Gruben, "Was NAFTA behind Mexico's high maquiladora growth? - Statistical Data Included," Economic & Financial Review July 2001: 11-21. |
| 6. | The energy and new relationships that were opened up by TIRN's founding meeting encouraged Fran to make plant closings the focus of her legal research in the early nineties. See Standing Rusty and Rolling Empty: Law, Poverty and America's Eroding Industrial Base, 81 Geo. L. J. 1757-1896 (1993). |
| 7. | Joe Bandy, "Paradoxes of Transnational Civil Societies under Neoliberalism: The Coalition for Justice in the Maquiladoras," Social Problems 51:3 (August 2004): 410-431. |
| 8. | At the time, Anne was making a film that explored notions of community justice during the mineworkers strike against Pittston Coal, Justice in the Coalfields (Appalshop, 1995). |
| 9. | From the Mountains to the Maquiladoras is available in DVD from the Highlander Research and Education Center |
| 10. | Like Luvernel Clark, mentioned above, Shirley Reinhardt later gave testimony at a hearing on NAFTA organized by the Office of the US Trade Representative. For her full written testimony submitted to the hearing panel, see Frances Lee Ansley, "North American Free Trade Agreement: The Public Debate," in Georgia Journal of International and Comparative Law, 22 (1992): 388-392. Parts of their oral testimony are also captured in From the Mountains to the Maquiladoras. |
| 11. | For more on TIRN's exchange trips and the work that grew out of them see, Kristi Disney, "Building a Movement on Both Sides of the Border," in The Global Activist's Manual: Local Ways to Change the World , ed. Mike Prokosch and Laura Raymond, (New York: Thunder's Mouth Press/Nation Books, 2002), 12-19; Fran Ansley, "Putting the Pieces Together: Tennessee Women Find the Global Economy in Their Own Backyards," in Women Working the NAFTA Food Chain: Women, Food & Globalization, ed. Deborah Barndt (Toronto: Sumach Press, 1999), 141-160; Fran Ansley and Susan Williams, "Southern Women and Southern Borders on the Move: Tennessee Workers Explore the New International Division of Labor," in Neither Separate Nor Equal: Women, Race and Class in the U.S. Southeast, ed. Barbara Ellen Smith (Philadelphia: Temple University Press, 1999), 207-244; Fran Ansley, "The Gulf of Mexico, the Academy, and Me," Soundings 78 (1995): 68-104. |
| 12. | TIRN's delegation to Seattle included Barbara Knight, a displaced Philips worker who also became an important contributing voice to Morristown: in the air and sun. |
| 13. | Morristown Video Letters is available on DVD, in English and Spanish versions, from the Highlander Research & Education Center. |
| 14. | Monica Campbell and Tyche Hendricks, "Mexico's Corn Farmers See Their Livelihoods Wither Away: Cheap U.S. Produce Pushes Down Prices Under Free-trade Pact," San Francisco Chronicle July 31, 2006. |
| 15. | Gary C. Hufbauer and Jeffrey J. Schott, "NAFTA Revisited: Achievements and Challenges," International Institute of Economics, 2005, at p. 10. |
| 16. | The Immigration Reform and Control Act of 1986 (IRCA). |
| 17. | "Census 2010: 50 Million Latinos, Hispanics Account for More Than Half of Nation's Growth in Past Decade," Pew Hispanic Center Report, March 24, 2011, p. 2. (Rate of change is not the only relevant measure, of course. Although Tennessee is third in the nation in the rate of growth of its Hispanic population, it is 27th in the total number of resident Hispanics, and 37th in the percentage of its overall population that Hispanics now represent.) |
| 18. | See, e.g., Fran Ansley and Jon Shefner, eds, Global Connections and Local Receptions: Latino Immigration to the Southeastern United States, (Knoxville: University of Tennessee Press, 2009); Heather Smith and Owen Furuseth, eds., Latinos in the New South: Transformations of Place, (Burlington, VT: Ashgate Publishing Company, 2006); Rakesh Kochhar, Roberto Suro and Sonya Tafoya, The New Latino South: The Context and Consequences of Rapid Population Growth (Washington DC: Pew Hispanic Center, 2005); A.D. Murphy, C. Blanchard, and J. A. Hill, eds., Latino Workers in the Contemporary South (Athens: The University of Georgia Press, 2001). |
| 19. | The literature on this subject is vast. Some starting points: Michael Honey, "The Labor Movement and Racism in the South: An Historical Overview," in Racism and the Denial of Human Rights: Beyond Ethnicity, M. Berlowitz and R. Edari., eds. (Minneapolis: Marxist Educational Press, 1983), 77-96; Eric Arnesen, Waterfront Workers of New Orleans: Race, Class and Politics, 1863-1923 (Oxford: Oxford University Press, 1991); Robert L. Lewis, Black Coal Miners in America: Race, Class and Community Conflict, 1780-1980 (Lexington: University of Kentucky Press, 1987). |
| 20. | These developments are still too new to assess in any but the most provisional way. Early reports are beginning to sketch a complex and far from homogeneous picture. See, e.,g., Halimah Abdullah, "Hispanic Population Growth Could Realign South's Politics," Miami Herald, April 25, 2011; Mary Odem & Elaine Lacy, eds., Latino Immigration and the Transformation of the U.S. South, (Athens, GA: University of Georgia Press, 2009); Paula D. McClain, Niambi M. Carter, Victoria M. DeFrancesco Soto, Monique L. Lyle, Jeffrey D. Grynaviski, Shayla C. Nunnally, Thomas J. Scotto, J. Alan Kendrick, Gerald F. Lackey, and Kendra Davenport Cotton, "Racial Distancing in a Southern City: Latino Immigrants' Views of Black Americans," Journal of Politics 68, no. 3 (August 2006): 571-584. See also Jennifer Gordon and R.A. Lenhardt, "Conflict and Solidarity between African American and Latino Immigrant Workers," Working Paper #6 of the Series on Immigration of the Chief Justice Earl Warren Institute on Race, Ethnicity and Diversity, 2007. |
| 21. | See Leticia Saucedo, "The Browning of the American Workplace: Protecting Workers in Increasingly Latino-ized Occupations," Notre Dame Law Review 80 (2004): 303; Lisa Catanzarite, "Dynamics of Segregation and Earnings in Brown-Collar Occupations," Work & Occupations 29 (2002): 300. |
| 22. | On some of the ways Latino workers fit into employer goals of "flexibilizing" work to their advantage, see David H. Ciscel, Barbara Ellen Smith and Marcela Mendoza, "Ghosts in the Global Machine: New Immigrants and the Redefinition of Work," Journal of Economic Issues 32 (2003): 333. |
| 23. | Table reprinted from Anita Drever, "Tennessee: A New Destination for Latino Migrants," in Global Connections and Local Receptions: Latino Immigration to the Southeastern United States, Fran Ansley and Jon Shefner, eds. (Knoxville: University of Tennessee Press, 2009). Of course this chart does not allow readers to tease out the working class segments of each racial group, and we suspect the situation of white working class people is more effectively obscured in these statistics, since they are likely a smaller proportion of their racial/ethnic group than are blacks or Latinos. Nevertheless we consider the gross figures worth contemplation. |
| 24. | Thanks to Dr. Ben Feldmeyer of the University of Tennessee Sociology Department for this helpful piece of local research. |
| 25. | For one example of such scholarship, see Robert J. Sampson, "Rethinking Crime and Immigration," Contexts, Winter 2008, American Sociological Association. |
| 26. | "Commissioner: 'Taxes May Go Up Due to Hispanics,' " WVLT Volunteer TV, Knoxville, TN, May 6, 2005. |
| 27. | For a detailed account of how Latinos came to populate one Tennessee workplace during this period, see Steve Striffler, "Immigration Anxieties: Policing and Regulating Workers and Employers in the Poultry Industry," in Global Connections and Local Receptions: Latino Immigration to the Southeastern United States, Fran Ansley and Jon Shefner, eds., (Knoxville: University of Tennessee Press, 2009). |
| 28. | On the power—and the inadequacy—of competition as a framework for understanding the relationship between immigrant and native-born workers, see Barbara Smith, "Market Rivals or Class Allies? Relations between African American and Latino Immigrant Workers in Memphis," in Global Connections and Local Receptions: Latino Immigration to the Southeastern United States, Fran Ansley and Jon Shefner, eds., (Knoxville: University of Tennessee Press, 2009). |
| 29. | For more about Shirley's work in Morristown, including a campaign directed at the temp agencies that had burgeoned there as early as the 1980s to broker the labor of native-born factory hands, see Chapter 5 of Eve Weinbaum, To Move a Mountain: Fighting the Global Economy in Appalachia (New York: The New Press, 2004). |
| 30. | For more about east Tennessee poultry growing, see Fran Ansley, "Putting the Pieces Together: Tennessee Women Find the Global Economy in Their Own Backyards," in Women Working the NAFTA Food Chain: Women, Food and Globalization, Deborah Barndt, ed. (Toronto: Sumach Press, 1999), 141-160. |
| 31. | Unfortunately, Koch Foods was not unusual in this respect. For more on the poultry industry, see Steve Striffler, Chicken: The Dangerous Transformation of America's Favorite Food (New Haven: Yale University Press, 2005); William Kandel & Emilio A. Parrado, "Industrial Transformation and Hispanic Migration to the American South: The Case of the Poultry Industry," in Hispanic Spaces, Latino Places: A Geography of Regional and Cultural Diversity, ed. Daniel D. Arreola, (Austin: University of Texas Press, 2004); and Lance A. Compa, Blood, Sweat and Fear: Workers' Rights in U.S. Meat and Poultry Plants (New York: Human Rights Watch, 2004). |
| 32. | This part of the story moved a Houston reporter who visited Morristown that season. Kim Cobb, "On Common Ground in a Common Struggle," Houston Chronicle, October 24, 2006. |
| 33. | The exclusion of both agricultural workers and domestic workers from coverage under the NLRA dates back to the New Deal compromise struck with Dixiecrats in order to get that major piece of labor legislation through Congress. This was a race-linked compromise still only partly remedied today. For more information on the great range of workers who have been excluded in different ways from the protection of our present labor laws, see Excluded Workers Congress, "Unity for Dignity: Expanding the Right to Organize to Win Human Rights at Work," Dec. 2010. |
| 34. | Fran Ansley, "Labor Rights and Immigrant Workers in East Tennessee: Talking Union in Two Languages," in Transforming Places: Lessons in Movement Building from Appalachia eds. Steve Fisher and Barbara Ellen Smith (Champaign: University of Illinois Press, forthcoming). |
| 35. | For more about the origins of the Tennessee Immigrant and Refugee Rights Coalition, see Fran Ansley, "Constructing Citizenship Without a License: The Struggle of Undocumented Immigrants in the U.S. for Livelihoods and Recognition," in Inclusive Citizenship: Meanings and Expressions ed. Naila Kabeer (London: Zed Books, 2005),199-215. |
| 36. | The particular bill that was proposed was known as the Employee Free Choice Act, and it would have made it substantially easier for workers in unorganized workplaces already covered by the National Labor Relations Act to win union recognition. The bill left many important issues unaddressed and many needy workers uncovered by its protections, but it would have been one important step toward changing the rules that are presently slanted so strongly in favor of employers and against workers who seek collective representation. |
| 37. | For a paper on the 2008 immigration raid on a poultry plant in Chattanooga, see Karla Mari McKanders, "The Unspoken Voices of Indigenous Women in Immigration Raids" (November 22, 2010). University of Tennessee Legal Studies Research, Paper No. 133. |
| 38. | See Major Cities Chiefs, "M.C.C. Immigration Committee Recommendations For Enforcement of Immigration Laws By Local Police Agencies" (2006). |
| 39. | During the spring 2011 session, Tennessee legislators proposed a bundle of bills modeled on Arizona's. An example was HB 1380 that sought to require every law enforcement officer in the state—every time he or she "makes a lawful stop"—to question the person's immigration status, contact federal agents if there is "reasonable suspicion" an immigration violation has occurred, and transport the person to a federal holding facility. |
| 40. | See Melissa Keaney and Joan Friedland, 'Overview of the Key ICE ACCESS Programs: 287(g), the Criminal Alien Program and Secure Communities," National Immigration Law Center (2009). |
| 41. | See Aarti Kohli and Deepa Varma, Borders, Jails and Jobsites: An Overview of Federal Immigration Enforcement Programs in the U.S., Chief Justice Earl Warren Institute Race, Ethnicity and Diversity (Feb. 2011). |
| 42. | See, e.g., Elena Lacayo, "The Impact of Section 287(g) of the Immigration and Nationality Act on the Latino Community," National Council of La Raza Issue Brief No. 21 (2010) (includes case study of Nashville); Andrea Danit Guttin, "Criminals, Immigrants, or Victims? Rethinking the 'Criminal Alien Program,'" (master's thesis, University of Texas at Austin, 2009). (case study of Houston); Michael J. Wishnie, "State and Local Enforcement of Immigration Laws," Journal of Constitutional Law, Vol. 6, No. 5 (May 2004), 1084-1115. |
| 43. | See Rebecca Smith, Ana Avendano and Julie Martinez Ortega, ICED Out: How Immigration Enforcement Has Interfered with Workers' Rights, published by the AFL-CIO, the National Employment Law Project, and American Rights at Work (2009). |
| 44. | For more on the intersection of these two movements, see Frances Ansley, "Doing Policy from Below: Worker Solidarity and the Prospects for Immigration Reform," Cornell International Law Journal, Vol. 41, No. 1 (Winter 2008), 101-114; and Fran Ansley, "Local Contact Points at Global Divides: Labor Rights and Immigrant Rights as Sites for Cosmopolitan Legality," in Law and Globalization from Below: Towards a Cosmopolitan Legality, Boaventura de Sousa Santos and Cesar A. Rodriguez-Garavito eds. (Cambridge: Cambridge University Press, 2005). |
| 45. | Fran has argued elsewhere that the problem of "immigration" is really a problem of "development." See Fran Ansley, "Toward a Just and Humane Immigration Policy," in Global Connections and Local Receptions: Latino Immigration to the Southeastern United States, Fran Ansley and Jon Shefner, eds. (Knoxville: University of Tennessee Press, 2009). For a fascinating suggestion that labor mobility across borders should be conditioned on labor solidarity and commitment to minimum standards, see Jennifer Gordon, "Transnational Labor Citizenship," Southern California Law Review, Vol. 880 (2007), 503. |