Clipping: "...The establishment of the Atlanta and Edgewood line was soon followed by the organization of the Fulton County Street Railway Company, which in the same year built a single track line from the corner of Broad and Marietta streets along Broad street to Houston, thence to Hillard and to Highland avenue and to Edgewood. This line was subsequently extended to Ponce de Leon springs and a circuit was built through the country connecting with the Highland Avenue and Edgewood extensions. It was known as the nine-mile circuit and has never lost its original popularity as a pleasure ride. The line was soon increased in extent and branches were built to the Piedmont exposition grounds and other points of interest in rapid succession..." (Charles Daniel. "Street Railways" Atlanta Constitution, (Sept 30, 1894) p. 14)
Clipping:
"In spite of the general depression which has everywhere existed, during the last few months, a number of improvements have taken place in the city.
"Along the sweep of the nine-mile circle several attractive homes have been erected, and those who have not been in that locality since last summer will be surprised to observe the remarkable transformation which has taken place in so short an interval.
"In the neighborhood of Ponce de Leon Springs a number of beautiful suburban homes have been erected...." ("New Houses Erected"
Atlanta Constitution
(March 8, 1894), p. 8 )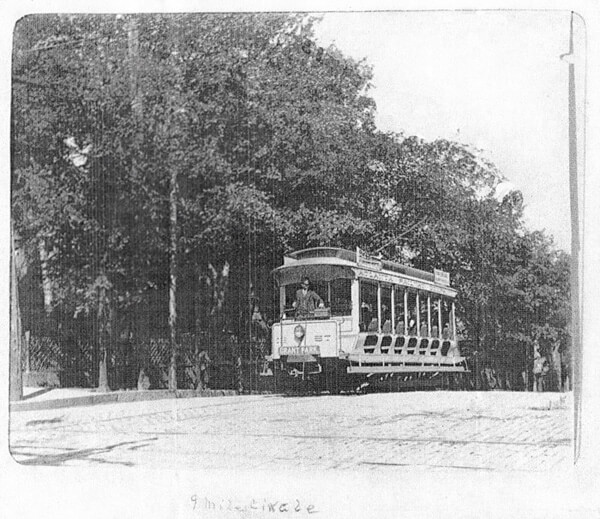 Nine Mile Circle Trolley, circa 1895
Published: 15 January 2008
© 2008 Sarah Toton and Southern Spaces