Appendix I: Background on the Family of Francis Tinney
Charles Teney manumitted Francis's father William Don Otius Teney on November 15, 1827, along with William's siblings Ann and Andrew and their mother Matilda Teney. The 1800 census indicates that the household of Charles Teney in the District of Columbia consisted of fourteen free persons, all of them non-white, and one enslaved. Charles Teney and his son William Donotius Teney were thus clearly free Black men. The enslaved infant William Don Otius (Jr.) was, we may infer, the son of the deceased William Don Otius (Sr.) and the grandson of Charles Teney; since slavery followed the condition of the mother, William Jr. would have been enslaved until he was manumitted at the age of nineteen months.
Starting in 1812, Charles Tinney was listed several times in local District of Columbia newspapers as receiving letters at the city post office. On December 2, 1817, he married Hannah Hopkins in Washington DC. The 1827 and 1830 District of Columbia city directories list him residing at 1st Street West, "near the tanyard." Charles Tiney, Sr. appears in the 1820 census in DC, heading a household with two free non-white women and one free non-white man. He is not visible in the 1830 census.
District of Columbia records list a "Donotius Tincy" (presumably the William Don Otious Teney referenced in the 1827 manumission deed) marrying a "Matilda Bowie" on September 9, 1820. Five months later, on February 13, 1821, William D. Teney purchased from Benjamin Sprigg (a clerk in the US House of Representatives) for $475 the woman named Matilda, age thirty-two, and her female child Ann, age about six. It would appear that William D. Teney was purchasing his wife Matilda and daughter Ann, likely with the intention of manumitting them, but that he died prior to registering any deed of manumission. It fell to his father, Charles Teney, to complete the manumission process in 1827, freeing his daughter-in-law and three grandchildren.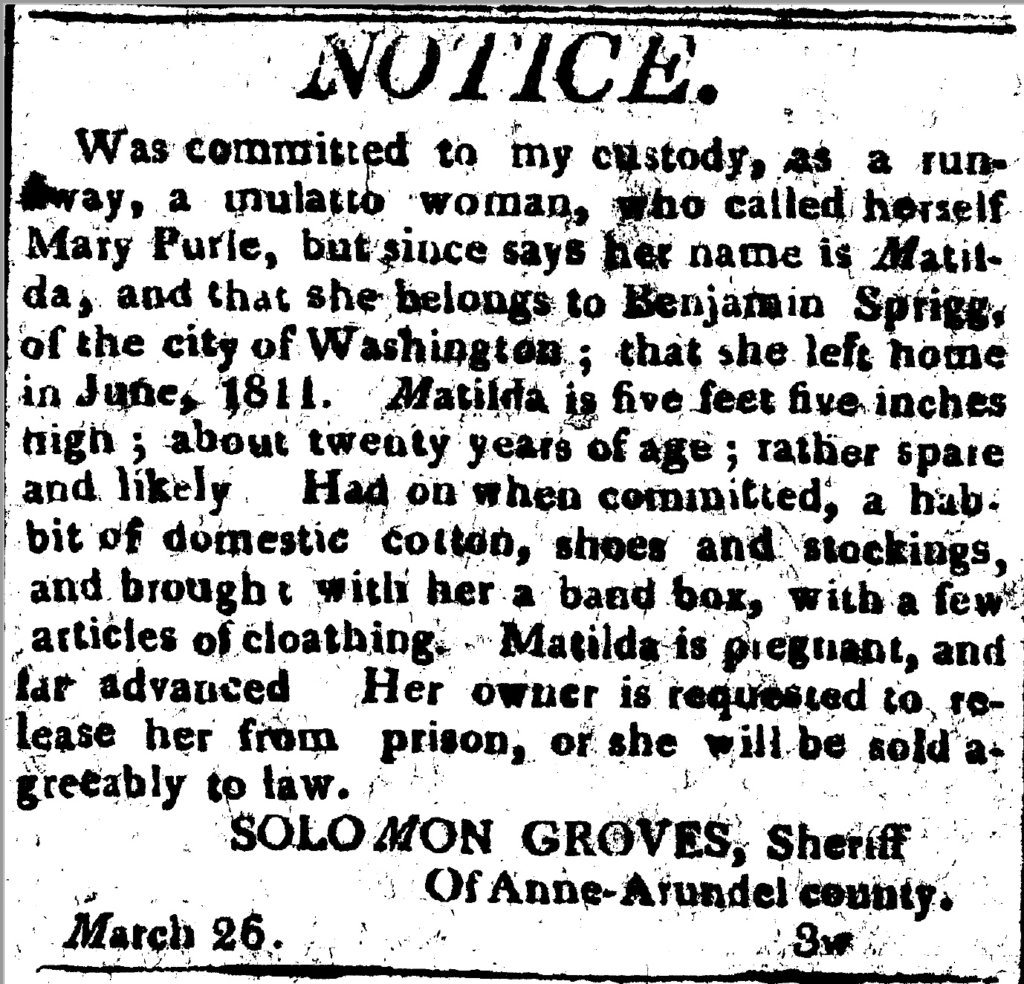 Matilda, the grandmother of Francis, appears thirteen years earlier, in a runaway slave advertisement in March 1814, having escaped from Benjamin Sprigg.
When captured in 1814, Matilda must have been pregnant with her daughter Ann, who was six years old when Matilda and Ann were sold in 1821 by Benjamin Sprigg to William Teney, Sr., the apparent husband of Matilda and father of Ann. Andrew and William were evidently born to Matilda after her recapture and relocation to the District of Columbia.
Four months before her manumission on November 15, 1827, fourteen-year-old Ann Tinney, the daughter of Matilda (and later aunt of Francis), married the free Black man Carter Lucas, on July 21, 1827. Matilda Tinney appears in the 1830 census in DC with two boys of color under ten (presumably her sons Andrew and William, Jr.), one non-white woman between the ages of ten and twenty-three, and non-white woman between twenty-four and thirty-five, who must be Matilda herself. In 1840, she (or someone else named Matilda Tinney) married Rev. Pompey Tinney, discussed below.
Appendix II. The Family of Francis Tinney, After her Death
What became of Francis's family after her death?
The 1860 census lists Francis's father William Tenney (born 1820) living in Washington Ward 4, with Francis's mother Bridget Tenney (born 1822), and two of the children from the 1850 census: Sarah Tinney (born 1840) and Mary Tinney (born 1843), as well as three children born after the 1850 census, Jane Tinney, age eight (born 1852), Dennis Tinney, age six (born 1854), and Harriet Tinney, age two (born 1858). There is no trace of Francis, who appears not to have survived. As noted above, we infer that she is the child of William Teney who died in mid May 1854, buried in the Colored Methodist Episcopal burial grounds, consistent with what is registered on Nannie's headstone.
An 1863 Civil War draft registration record shows a Black man, William Tenney, evidently Francis's father, residing on the Eastern Branch in the District of Columbia, in present day Anacostia, age forty-two, born in Maryland around 1821. The 1870 census shows William and Bridget Tinney living east of Seventh Street in DC, with the following children: Rachel Tinney, age eighteen (born 1852); Dennis Tinney, age sixteen (born 1854); and Cinderilla Tinney, age ten (born 1860), who did not appear in the 1860 census.
The 1880 census records this married couple—William Tinny, age fifty-six (born about 1824) and Bridget Tinny, age fifty (born about 1830)—living on Stanton Road, in what is now Anacostia, with daughter Cinda R. Tinney (who must have been the previous "Cinderilla"), age eighteen (born 1862) and two granddaughters, Sarah C., age nine, and Ida B., age five. Perhaps these are the daughters of William and Bridget's daughter Sarah Tinney, (born around 1843), who might no longer have been alive in 1880.
Francis's father William Tinney died Aug 13, 1886, and is buried in the Washington Asylum Potters Field, in Anacostia. The 1900 census and city directory list his widow (Francis's mother) Bridget Tinney as continuing to live in Stantontown at 706 Stanton Avenue. She appears sporadically in the Washington city directory, residing on Stanton Road, as late as 1909. She does not appear in the 1910 census, and we have not located her death record.
The 1900 census gives Bridget's birth month as March 1828, and indicates she had given birth to fifteen children, of whom only one survived. She lived with her son Dennis Tinney, divorced, age thirty-eight, (born May 1862); two girls listed as nieces of Dennis: Della McPherson (b. October 1886) and Addie McPherson (born November 1889); and two nephews of Dennis: John McPherson (born December 1891) and Andrew Tinney (December 1884–1911). The McPherson children would appear to be offspring of William and Bridget's daughter Julia Tinney and her husband John McPherson, who were perhaps no longer alive in 1900. This Andrew (to be distinguished from other Andrew Tinneys in the District) is presumably the son of one of William and Bridget's deceased sons. Delia or Idllia McPherson later married into the Jenkins family. (We are not sure if this is the same Jenkins line which is extensively represented in Mt Zion cemetery.) Addie McPherson later married Raymond Forrest, April 23, 1908.
Francis's brother Dennis Tinney, born after her death 1862 (not be confused with his apparent cousin Dennis Tinney, mentioned below), is listed in late nineteenth century city directories residing in Hillsdale, the old Barry's Farm neighborhood in the District's Anacostia region. He remarried Minnie Roberts of Hillsdale on October 16, 1901.
William Tinney's (born 1826) older brother Andrew Tenney (also freed in the 1827 manumission by Charles Teney) was born around 1823 or 1824, (the birth is listed variously as Virginia and District of Columbia). Andrew married Marian Butler on October 15, 1844, and later married a woman Susan, born about 1829, who may have later remarried a Charles Brown. Andrew and Susan Tinney's children included Susan (born 1851), who married Charles W. Jeffries, a sergeant in the US Army; James (born 1852); William D. (born 1855); Joseph (b 1857); Ellen (born 1861), whose married name was evidently Stevenson, and whose children were William and Josephine Stevenson; and Josephine (born 1862). There are at least eight people with the surname Jeffries buried in Mount Zion, and it may be that some of these are related to Susan (Tinney) and Charles W. Jeffries.
Francis Tinney's aunt Ann Tinney Lucas (1814–c.1887) and her husband Carter Lucas (c. 1800–c. 1874) had at least six children: John T. Lucas (born 1833); Alice Virginia, (1835–1924); Josephine Lucas (1836–1924); William Lucas (born 1838); Letitia Lucas (born 1843); and Margaret Lucas (born 1847).
The DC city directory lists Ann (Tinney) Lucas, widow of Carter Lucas, residing at 1732 L St NW in 1874, with her son John Lucas, laborer. The 1880 census shows her still residing at 1732 L NW with her daughter Margaret Carter, son in law Spencer Carter, and their young children: Ferdinand, Virginia, and William. Ann remains listed at 1732 L Street until 1886, when she resides there with her daughter Virginia Lucas. After that, Ann Tinney Lucas is not listed in the city directory and may have died.
Ann Tinney Lucas's daughter Josephine Lucas married the free born Joseph Elpert (Elbert) Sr. in 1851. The couple had at least five children: Samuel M Bryant (born 1854); William Bryant, (born 1862); Ellen Bryant (born 1866); Joseph Elbert, Jr. (born 1872), Francis O. Elpert (born 1877). The family is listed in the 1900 census at 1918 New Hampshire Avenue. Joseph Elbert, Jr. a bricklayer, died in 1904 and was buried at Columbia Harmony Cemetery. Josephine Lucas Elbert, housekeeper, died August 24, 1924 and was buried at Columbia Harmony.
Ann Tinney Lucas's daughter Letitia Lucas married John Grimes (Grymes) on December 19, 1859. In the 1860 census, the newly married couple is residing in a household headed by fifty-eight-year-old Helen Lucas, a nurse and free woman of color, perhaps an aunt to Letitia. In 1870, Letitia was residing with her brother John Lucas, without her husband John, who may have died in the interim. As late as 1914, Letitia is listed as boarding at 31 Pierce Street, NW.
Appendix III: Possible Relations of Francis Tinney
Francis Tinney's paternal grandmother, Matilda, the mother of Ann, Andrew, and William Tinney Jr., appears to have remarried after the death of her husband William Don Otius Teney, who died c. 1826. As noted, she may be the same person as the Matilda Tinney, who on October 17, 1840, married a free man of color, Pompey Tinney (born around 1782). Pompey, at times referenced as Reverend Pompey Tinney, is listed as a free man of color in the 1820, 1830, 1840, and 1850 censuses in Georgetown and Washington Ward 3. Pompey, perhaps close kin of the late William Teney, Sr, may have served as a stepfather to Ann, Andrew, and William, William Don Otius Teney Sr.'s offspring. Matilda Tinney herself appears in the 1850 census as married to Pompey; she is listed as born about 1794, consistent with the ages given in the 1814 runaway ad, the 1821 Bill of Sale from Benjamin Sprigg, and the 1827 manumission record from Charles Teney. We do not see subsequent records of her.
In 1832, Pompey Tinney is listed as a manager of the Sunday School of the Meeting House, a forerunner of Mount Zion Methodist Church, which helped establish the Mount Zion Cemetery. He was disciplined by the Montgomery Street Church, a white-dominated institution, for separatist tendencies. In May 1854, Rev. Pompey Tinney was ordained as an Elder in the African Methodist Episcopal Church (Evening Star, 10 May 1854).
Pompey and Matilda were the parents of Pompey Tinney, Jr. (born around 1810). Pompey Jr. and his wife Elizabeth had at least three children: James (born 1857); Harriet (born around 1850); and Daniel, who died in 1859. In 1861, Pompey Jr. was contracted for war work with the War Department. In the 1878 DC city directory, Elizabeth Tinney, listed as widow of Pompey Tinney, resides at 1528 L Street, Northwest, with her son James Tinney. Elizabeth's daughter Harriet Tinney appears in the 1870 DC city directory, employed as a washwoman, residing on 2nd near C street, Southwest.
Other free Tinney's in antebellum Washington may have been related to Francis through her great- grandfather Charles Teney. These include:
A. Charles Tinney, born about 1815, married Susan Johnson on July 29, 1840 in DC. Charles occupied a leading role in the Free Young Men's Benevolent Association, later known as the Colored Union Benevolent Association, which in 1870 established Mt. Pleasant Plains Cemetery (now the site of Walter Pierce Park), it appears, as an earlier burial ground. A Mary Ann Tinney, a Black infant, six months old, died 3 September 1858, and was buried in the Free Young Men's Burial Ground; she was perhaps the daughter of Charles and Susan Tinney.1Mary Belcher: personal communication; Pippenger, District of Columbia Interments, 1999, 359.
Matters are a little confusing since Charles and Susan Tinney also had a daughter named Sarah Tinney, born around 1841, about two years before the Sarah Tinney born to William and Bridget Tinney, the parents of Francis; a daughter named Rachel Ann V. Tinney (born about 1847), about two years after the Rachel Tinney born to William and Bridget; and a son named Dennis Tinney (born 1854), that is to say about eight years before the Dennis son of William and Bridget (born 1862). It seems a reasonable assumption that William Tinney and Charles Tinney were close relatives, probably brothers, who named their children after their shared relations.
B. George Tinney (born 1822) and perhaps also a son of Matilda and Pompey or the older Charles Tinney, married Virginia (nee Freeman) Tinney. Their son John (born 1859) seems to have been the classmate of Dennis Tinney at Howard. Their daughter, Emma Jane Tinney (born about 1861) married Robert Edward Johnson on January 31, 1882. George Tinney, a coachman, died March 19, 1896, and is buried at Mount Zion. At the time, he lived at 1147 Burden Court NW in DC.
C. Dennis Tinney, evidently the son of Charles and Susan Johnson Tinney, appears in the 1871 catalogue of Howard University as a Commercial student, in the same class as John Tinney, who seems to have been his brother. In 1881 Dennis Tinney is listed as a laborer in the Pension Office, Department of Interior. In 1871, John Tinney is listed as laborer in the US Treasury Department. His Freedmen's Bank application of July 29, 1871, listing Charles and Susan Tinney as his parents, lists him as a US Government employee.
On August 21, 1873, Dennis Tinney married Virginia Gwinn or Gwynn. Their children included Suretta Elinore (married Anthony P. Lucas September 23, 1901); Arnetta C (married Wilbur Fagans); William Andrew Tinney; and Charles Prescott Tinney. Dennis and Virginia resided with their family at 1610 10th street NW. Dennis died November 2, 1923. From at least 1903 to as late as 1923, Virginia worked as a charwoman in the Department of Agriculture. The 1910 census in Washington Precinct 8 shows Dennis and Virginia Tinney, residing adjacent to Dennis's daughter Arnetta Tinney Fagans and her husband Wilbur Fagans, as well as his married son William A. Tinney, his wife Norma, and their children.
The son of Dennis and Virginia Tinney, William Andrew Tinney, Sr. (1884-1948) married Norma Lee Barrett (1889-1949) around 1905. Their children included Gladys Elaine Tinney (1907–1997); Dennis Prescott Tinney (1908-1965); William Andrew Tinney, Jr. (1909–1972); Reginald Tinney (1923–1926); Vernon Maurice Tinney (1930–1931); Alvin Tinny (born 1933).
Gladys Elaine Tinney twice married and divorced with Oscar Allen Lucas (1906–1996), and had two children, Roy Allen Lucas Sr. (1931–2019); and Ronald Grant Lucas MD (1931–2006).
D. On June 19, 1862, Sarah Tinney (daughter of Charles and Susan Tinney) married the free man of color George Alfred Chase. Born in Washington DC on September 19, 1841 to freepeople Thomas and Harriet Chase, George appears to have grown up in Washington Ward 2. Their children include Clara L. Chase (born May 1866) who married William Dixon in 1886 (we are unsure if this William Dixon is related to the William Dixon, (1824–1904) or at least five other Dixon's buried in Mt. Zion; Adele Chase born 1870, marries Charles H. Green; Harriet (born 1873) marries William Gray; Bryson Chase, (1876–Dec 1964), worked as a messenger and married Isabel Milton Culp.
E. Charles and Susan Tinney's daughter Rachel Ann V. Tinney, in turn, married Thomas W. Dyson (who previously served in the Civil War in Unit 1, First United States Colored Infantry) on March 11, 1867. The couple had at least four children: Adele (born 1864); Clara L. (born 1866); Harriet V. (born 1872); Bryson B.W. (born 1876).
Several other free persons of color with the surname Tinney may have been related to Francis Tinney, including:
1. Rebecca Tinney, born around 1830, in 1860 is listed as a washerwoman in Washington Ward 4, residing in the household of Sarah Semmes. Perhaps she is a daughter of Pompey and Matilda Tinney. On April 19, 1864, she married John Reed in DC.
2. A free woman Elija Tenney, cook, born around 1800, is listed in the 1860 census, residing in Washington Ward 2 in a boarding house run by the white woman Hannah Ulrich.
3. A free man William Tinney, barber, (born 1822) is listed in the 1850 census. He may be the same William Tinney as listed in the 1870 census, a laborer, living with a Jane Tinney. They may be the couple recorded in the Freedmen's Bureau records for the District of Columbia, William Teney and Jane Wiles, married in 1840. Jane Wiles is perhaps related to the thirty-year-old free woman Mahaley Wiles in the 1850 census, residing in Baltimore Ward 20.
4. A different Jane Tinney is listed in the 1860 census, residing in Georgetown Ward 2. She lives with seventy-six-year-old Henrietta Spriggs, who may be her mother. She appears to be the widow of Edward Tinney. Also in the household are her apparent children: E.J. Tinney (likely to be Eliza Jane) Tinney (born about 1838); M.A. Tinney (likely Mary Ann) (born 1846); Sarah Tinney (born 1848) age twelve; A.M. Tinney (born 1851) age nine; Josephine Tinney (born 1853) age seven; and W.H. Tinney,
This Jane Tinney is listed in the 1880 census as a widow, born in 1820 in Virginia, residing at 50 Dumbarton Street in Georgetown. She lives with her daughters Eliza Tinney and Mary Tinney, and her grandchildren, Eliza's children: Mary Tinney, Edward Tinney, Jennie Tinney, Edith Tinny, and Godfrey Tinney.
Four of these individuals appear on the four faces on a single obelisk in Mount Zion cemetery, which reads:
In memory of our beloved mother Eliza J. Tinney, born August 2, 1840, died Jan 21, 1905
Our grandmother Jane Tinney born April 4, 1816, died July 9, 1897
Our brother Edward Tinney, born Nov 24, 1871, died Feb 14 1892
Our brother Godfrey Tinney born Sept 5, 1878, died Feb 18, 1899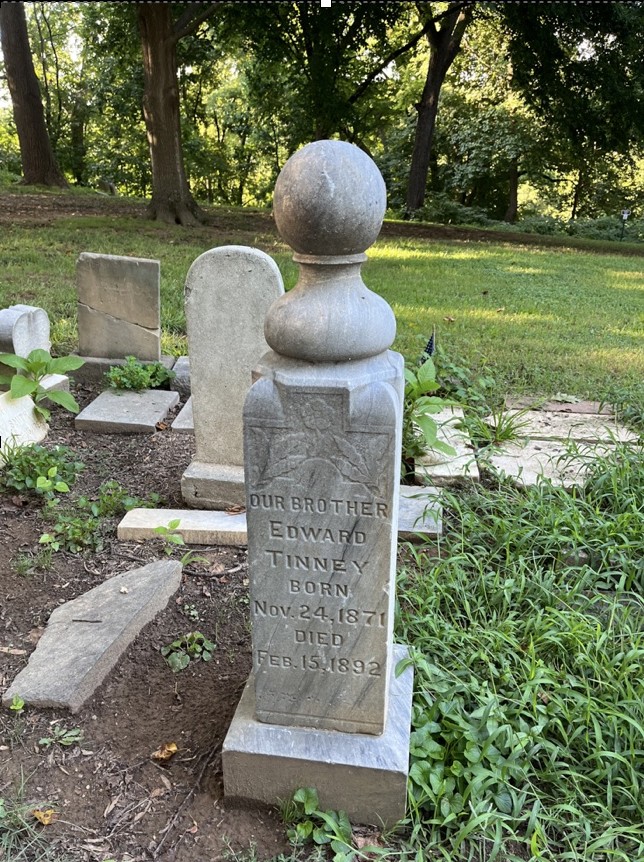 Newspapers account indicate the two brothers died tragically at a young age. On February 19, 1892, Edward Tinney was stabbed to death by an Edward Smallwood. The Evening Star (Washington, DC) reports his funeral was attended by 500 people and a cross was sent by his employer Dr. Sutter.
On the seventh anniversary of this murder, on February 19, 1899, Edward's brother Godfrey, employed as bell boy, took his own life in his parents' home at 1736 New York Avenue. Perhaps he had never fully recovered from his brother's death.
According to the 1975 survey map by Western High School and Washington Technical Institute volunteers, this obelisk was previously located in the far northeastern section of Section 10 of the Female Union Band Society (FUBS) Cemetery, near the meeting point of sections, 8–11. This location is about fifty feet due south of the current location of the "Nannie" headstone, which as noted above was clearly moved at some point. The obelisk to Jane, Eliza, Edward, and Godfrey Tinney was at some point moved, probably in the mid or late 1970s, about fifty yards to the east, and is now within a dense assemblage of headstones.
Jane Tinney's daughter Mary Ann Tinney is listed in the 1900 census as a seamstress, boarding at 1736 New York Avenue, the same residence as her sister Eliza Tinney, discussed above. She appears never to have married. Mary A. Tinney's death at Freedmen's hospital on March 30, 1913 is recorded in Mount Zion church records. She is buried in "Mount Zion West," that is to say the Female Union Band Society cemetery.
5. Note that a different Jane Tinney (born around 1825) is listed in the 1870 census as residing in household 1142, Washington Ward 7, in the same house as a William Tinney (born 1822), who may be the free barber listed in the 1850 or may be the previously enslaved William Taney, who had been owned by Henry Naylor and manumitted in 1862.
In sum, at least six members of the extended Tinney family are interred at Mount-Zion FUBS. There appear to be many other relations through marriage buried in the two cemeteries as well. Speculatively, the size of the Tinney network in the District may help account for the high quality of the Nannie headstone, if kinfolk pooled resources to help commemorate her.
6. Finally, it should be noted that three enslaved people in the District of Columbia, appearing in the 1862 Compensated Emancipation records, had the surname Tinney, Teney, or Taney:
A. George Tinney (born around 1832), who was enslaved in Maryland and the District, until being manumitted by Sarah Tolson. (According to her petition of Apr 30, 1862, at the time, he was her only slave).
B. Harriet Teney (born about 1849), one of four enslaved manumitted by Sarah A. Stone, whose April 30, 1862 petition describes Harriet as "dark colored girl 12 or 14 years of age . . . Harriet Tenny house servant strong & healthy valued at eight hundred dollars." Susan Stone appears to have acquired Harriet though the will of her late husband John M. Brown. She may be the Harriet Tinney who is listed in the city director and census for 1870 as a washwoman at 2nd and C, southwest. We do not know if she inspired the name of Harriet V. Tinney (born 1872) or Harriet Tinney (born 1858), the daughter of William and Bridget Tinney.
C. William "Taney," age thirty-eight (born about 1824) enslaved and then manumitted by Henry Naylor. This William Taney was one of eighteen enslaved people freed that day by Henry Naylor, some from the estate of the late George Naylor. Henry Naylor states he had purchased William Taney from Dennis Sweeney. He writes of William Taney: ". . . a Good Farm hand, Carriage Driver, grain & grass mower and a good plain Cook, very strong, polite and active in his habits—very few Men his Equals."
Appendix IV. Other Candidates for "William Teney's Child"
In addition to the father of Francis Tinney, the 1850 Federal census lists several initially plausible candidates in the District of Columbia and Maryland for "William Teney," some or all of whom were linked to the white slaveowning Taney family with roots in St. Mary's County, in southern Maryland, the most famous member of which was Roger Brooke Taney, Chief Justice of the Supreme Court and author of the 1857 Dred Scott decision. Upon careful considerations, these candidates seem much less likely than the William Teney (c. 1826–1886), discussed above, to have been the father of the child buried in the Methodist Colored Burial Ground in May 1856. These candidates include:
(A) William Hamilton Tenney (1815–1888)—a white grocer, miller, and grain merchant, who served as the city's Commissioner of Police during the Civil War—was born in Georgetown. He died December 5, 1888 and was interred at Oak Hill cemetery, adjacent to Mount Zion. He and his wife Eliza (Cropley)Tenney had several children born in the 1840s, but all died in the year 1850, except for their son William Mitchell Tenney, who is the only child of William Harrison and Eliza Tenney enumerated in the 1850 census. In addition, it should be noted that the citation, "Wm Tenney child," is inscribed in the Colored register of interments. Clearly, Nannie cannot have been his legitimate daughter, and it seems most unlikely that his illegitimate Black child would have been recorded in the city colored interment register.
(B) A Black William Tinney born in Maryland in 1815, resided in Baltimore Ward 17, was employed as a "Hostler," and was possibly married to an Eliza Tinney (a four-year-old child John C. Tinney might be their son). This is almost certainly the same William Tinney who was freed through gradual emancipation under the terms of the 1830 will of William Clarke Somerville, who died in France as an overseas American diplomat.
The 1850 census suggests this William Tinney in Baltimore did not have a daughter born prior to 1850. He thus seems unlikely to be the father of "our Nannie."
(C) William Tinney, noted above, born around 1822 in the District of Columbia, lived in Georgetown, worked as a barber. He resided in a household that seems to be headed by a woman "J. Tinney," age thirty (born about 1820); a woman "A Tinney," age forty (born about 1810), a girl "E. Tinney," age twelve, (born 1838); a girl "D. Tinney," age eight (born 1842).
It is possible that William Tinney is married to the woman "J. Tinney" or "A. Tinney," and that the two girls are his daughters. Alternately, the fact that he is the last Tinney listed in the household record might suggest he is an unmarried brother of the adult women. This William Tinney may appear in the 1870 census in Washington Ward 7 (household 1142) as a laborer, living with a Jane Tinney, to whom he may be married.
In any event, both girls in the 1850 census are much too old to be "our" Nannie, born in 1848.
(D) An enslaved William Teney, manumitted in the District in 1862 by Henry Naylor, from the George Naylor estate. We do not know if he had a child who died in May 1856, but since Mount Zion was in principal reserved for free persons of color it seems unlikely he was the listed William in the DC Colored death register, whose child was interred in the cemetery.
In summary, in our judgement, Francis Tinny remains the strongest candidate for "William's Teney's child and for the historical person remembered as "Nannie.