Atlanta Intersections features Atlantans in conversation with Randy Gue, curator of Modern Political and Historical Collections at Emory University's Manuscript, Archives, and Rare Book Library (MARBL). In collaboration with Southern Spaces, MARBL presents clips of the full interviews to spur conversations and encourage research on the featured topics.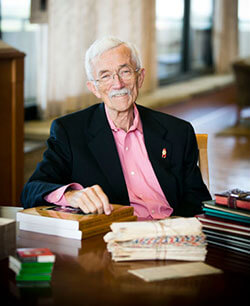 Jesse Peel, MARBL Woodruff Room, Atlanta, Georgia, October 2012. Photograph by Bryan Meltz of Emory University Photo Video.
Dr. Jesse Peel, psychiatrist and longtime AIDS and LGBT community activist, moved to Atlanta in 1976 where he opened a practice that served primarily gay men. In the early 1980s, many of Peel's clients and friends became sick and started dying from a mysterious new disease eventually named the Acquired Immunodeficiency Syndrome, commonly known as AIDS. Shocked and galvanized by the toll of the epidemic, Peel served on the board of directors of AID Atlanta and helped found Positive Impact, an organization dedicated to providing mental health programs for people with HIV and their friends, families, and caregivers.
In this interview, Dr. Peel discusses his life as a gay man in Nashville, Tennessee, his move to Atlanta in the mid 1970s, and the geography of the LGBT community during the early years of the AIDS epidemic. In disarmingly charismatic fashion, Dr. Peel responds to questions about his life and accomplishments, often evoking audience laughter. In response to Rand Gue's query, "Why did you move to Atlanta?" Peel retorts, "When you start running into clients going into a gay bar as you're coming out, it's probably a good idea to shift to a larger venue."
Randy Gue interviews Jesse R. Peel.
This exchange presents Peel's conversational style of answering serious questions with humor. Peel's approach invites the audience to participate in thinking about difficult topics ranging from family disapproval of homosexuality, alienation from one's childhood community, fear of disease, to the loss of friends and loved ones.
Peel also discusses Atlantans' multiple and contradictory responses to the emergent AIDS epidemic, as well as the efforts of health organizations that mobilized in its wake. Peel also talks about several political debates that shaped public discourse and the treatment of AIDS patients during the early years of the disease's history in Atlanta.
In 2012, Peel donated his personal papers to Emory's Manuscript, Archives, and Rare Book Library (MARBL) to preserve and share his own experiences and stories of Atlanta's response to the AIDS epidemic with students, researchers, and the public. For more on Peel's contributions to the Atlanta LGBT community and AIDS advocacy efforts, see the Jesse R. Peel Papers.
Cover Image Attribution:
Randy Gue interviews Jesse R. Peel. Screenshot courtesy of Southern Spaces, 2017.