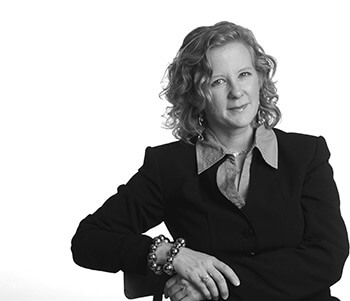 At the end of the Spring 2015 semester, seventeen students at the University of North Carolina at Chapel Hill conducted an in-class contest to choose the most interesting example of interdisciplinary methodology in a recently published southern studies article. Completed as part of the requirements for my senior seminar, "How to Study the South Today," this exercise serves as the final step in a conversation about the scholarly tools needed to conduct intersectional research and produce multi-modal work. Four of the seventeen participants were graduate students; the remaining were advanced undergraduates. Along with their interest in southern studies, they brought specializations in American studies, journalism, English, history, philosophy, folklore, information sciences, public policy, music, food studies, and economics. The seminar voted Simone Delerme's 2014 Southern Spaces article, "'Puerto Ricans Live Free': Race, Language, and Orlando's Contested Soundscape," as its contest winner.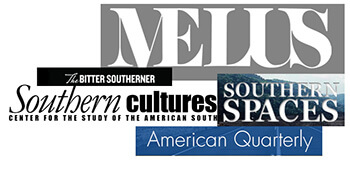 Throughout the semester, the class read one to two books weekly (all published after 2010), working collaboratively to identify and explore various methodological approaches in preparation for this project.To achieve such an intense reading load, the class first brainstormed how to read before discussing what we read. I asked many of the scholars on the syllabus to share their top five "tips" for best reading practices. The students also gathered hints from others who need to read quickly and engage information astutely: lawyers, business people, and other academics. Over the course of the semester, students tracked their progress and actively sought out new strategies for reading and understanding scholarly writing. Students worked with Allison Wright—who sifts through some nine thousand online submissions each year as the managing editor for Virginia Quarterly Review—to develop an early-semester workshop on strategies and skills for critical reading and reflecting. For the rest of the course, to highlight best practices for the study of the South, we considered approach, research design, genealogy of scholarship, and strength of method for each text, intentionally privileging issues of methodology. Students wrote research papers that paired different methods with oral histories gathered by other UNC researchers. Our final project asked the students to seek methodological innovations in the newest southern studies scholarship. Students looked at articles published in peer reviewed print and online journals, as well as long form digital writing projects. All eligible contest articles were published between January 2014 and Spring 2015 and engaged southern studies themes, expansively defined. Our survey included articles from Southern Spaces, Southern Cultures, MELUS, the Bitter Southerner, American Quarterly, and American Literature, among others.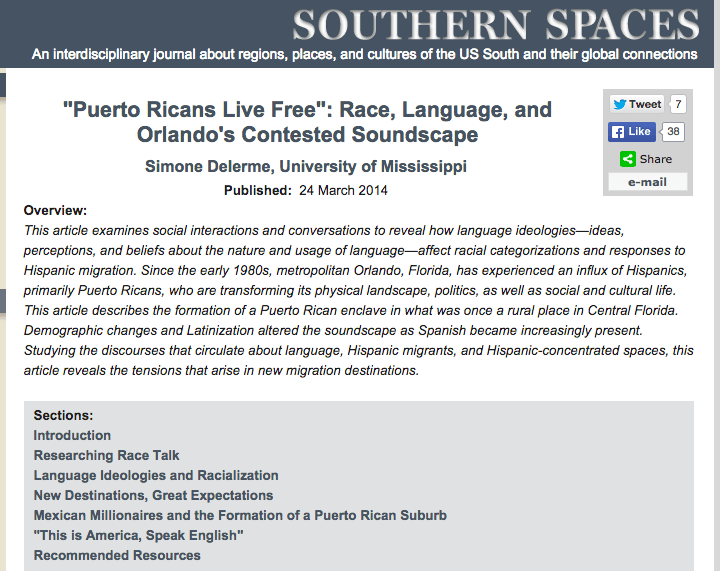 The class divided into teams for a first round with each team choosing their top two articles from a preliminary pool. We then debated the eight top articles as a group, settling on four finalists to be read and evaluated by the entire class. Next we voted for what we thought was the most innovative, intellectually rewarding, and important article in terms of methodology.
Students recognized Simone Delerme's article for its overall strength and particularly appreciated its unorthodox writing and process. They were impressed by the immersive qualities of her research, writing, images, and format of presentation. They appreciated the article's explicit political stance and wished for more of that in their own writing. Students were very happy to see a critical engagement with an understudied geographical location (Florida) and population (Puerto Ricans), noting both Delerme's and their own assertions that such places and peoples should have much broader representation and longer histories in southern studies. Finally, the class noted Delerme's combination of tools from linguistics and sonic studies that opened up her subjects in ways that left them wanting to learn more.
One student later commented, "the course provided me with a kind of scholar's tool kit—for reading, analyzing, and writing." "Prior to taking this course," said another, "I never thought about the process of creating scholarship. I had no idea how to tackle problems and solve them. I always just threw a bunch of secondary sources together and hoped to receive a decent grade. Today, I feel as though I understand (a bit better) where to actually turn and how sources interact." A third student thought beyond campus to the future: "The readings and our focus on method gave me a very helpful set of tools to think about how to ask (and answer) questions about the world." I was fascinated to see the students put into words a longing I share for complexity and academic sophistication in formats that also take full advantage of digital humanities and the tools of hybrid platforms. And while teaching method and methodology in the interdisciplinary humanities remains one of my most difficult pedagogical challenges, the resources provided by interdisciplinary sites such as Southern Spaces help make that conversation possible.
Similar Publications