Big Ten football has received plenty of criticism in recent years, much of it well deserved. The conference clearly isn't what it used to be, and Marc Tracy recently identified some of the reasons why in an excellent piece in the New York Times, concentrating on the Rustbelt's economic and demographic decline, which has left it with fewer resources and top players versus other regions, particularly the Sunbelt.1Marc Tracy, "As Big Ten Declines, Homegrown Talent Flees," New York Times, October 3, 2014, http://www.nytimes.com/2014/10/03/sports/ncaafootball/as-big-ten-declines-homegrown-talent-fades-and-flees.html. Tracy missed one very important point, however, one that is vital to understanding both the Big Ten's former preeminence and its long-term slide: the easing of the "color line" in major southern athletics conferences in the 1970s.
The Big Ten's modern heyday in football was in the 1950s and 1960s. The conference's strength, particularly from the mid-1950s on, was due in large part to the fact that its schools recruited talented African American athletes earlier than a number of other power conferences, most notably, of course, those in the South. Before the early 1970s, a minuscule number of African Americans from the South played football in the Atlantic Coast Conference (ACC), the Southeastern Conference (SEC), and the Southwest Conference (SWC), leaving the best African American high-school players with two options: play at one or another of the region's many historically black colleges and universities (HBCUs) or play outside the region. Thus, the origins of both the terrific teams fielded in the 1950s and 1960s by HBCUs such as Grambling, Florida A&M, Tennessee State, Alcorn State, and Prairie View A&M (and as late as the mid-1970s by South Carolina State) and the flow of African American talent to the Big Ten. Two cases from the mid-1960s illustrate this point: the recruiting practices of the University of Minnesota and Michigan State University.
The case of Bobby Bell, a North Carolina player recruited by the University of Minnesota, sheds light on a state, a region, and a school. Almost every expert in the history of college and professional football would later include Bell among the greatest players ever. A star running back and later quarterback at segregated Cleveland High School in Shelby, North Carolina, in the late 1950s, Bell was essentially unrecruitable by the ACC or the SEC, despite the fact that his off-the chart talent was well known. Six feet-four, about 235 pounds, and exceptionally fast for his size, he played defensive line in college and as outside linebacker during his twelve-year professional career with the Kansas City Chiefs. His coach with the Chiefs, Hank Stram, wasn't kidding when he said that Bell "could play all of the twenty-two positions on the field, and play them well."2Larry Watts, "The Coachable One," Big Ten: Celebrating Black History Month, February 2, 2010, http://www.bigten.org/genrel/020210aab.html. Bell was a two-time All American in college, a winner of the Outland Trophy in 1962—the same year he placed third in the Heisman race—and a perennial All-Pro in the 1960s and early 1970s. He starred on the Chiefs's Super Bowl–winning team in 1969, was voted to the All-Time American Football League (AFL) team and the National Football League (NFL) All-Decade Team for the 1970s, and was inducted into the Pro Football Hall of Fame in 1983.
Bell might have been able to play all twenty-two positions on the football field, but coming out of high school, he wasn't going to play any of them at a school in a major conference in the South. He therefore accepted a scholarship to play under Coach Murray Warmath at the University of Minnesota. Warmath, a native of Tennessee, had played football at the University of Tennessee. He came to Minnesota as head coach in 1954 after two seasons as head coach at Mississippi State. He remained at the University of Minnesota through 1971 and is remembered today as one of the first coaches at any major US university to recruit significant numbers of African Americans in a given signing class. Bell enjoyed an illustrious career at Minnesota, winning a national championship in 1960 and the Rose Bowl in 1962.3Incidentally, that team, which had also gone to the Rose Bowl in 1961, was led on offense by future College Football Hall-of-Famer Sandy Stephens, the school's first African American quarterback who was from Uniontown, Pennsylvania.
Joining Bell on defense was another African American football player from North Carolina: defensive end Carl Eller, who came to Minnesota from Atkins Academic & Technology High School in Winston-Salem. Eller, a year behind Bell in school, was also a two-time All-American at Minnesota and was runner-up for the Outland Trophy in 1963, going on to an outstanding NFL career, making All-Pro numerous times. Like Bell, Eller was named to the NFL's All-Decade Team for the 1970s, to the College Football Hall of Fame, and to the Pro Football Hall of Fame. Another talented African American football player from the South—Aaron Brown from Lincoln High School in Port Arthur, Texas—joined Eller in the Minnesota defensive line in 1963 and enjoyed a fine career at Minnesota. A first-round draft pick with the Kansas City Chiefs in 1966, Brown started on the team when it won the Super Bowl in 1970, playing in the NFL through the 1974 season.
The Michigan State University (MSU) Spartans of the mid-1960s provide a second case study. The Spartan teams of 1965 and 1966 are remembered today for their strong performances. MSU earned a 19-1-1 record over the two seasons, including the 10-10 tie with Notre Dame in the latter year, and had claims to national championships in both years—not least because of the dazzling array of talent on the roster. Some of the most illustrious stars on these teams were African American players from the segregated South, most notably George Webster (Anderson, South Carolina), Charles "Bubba" Smith (Beaumont, Texas), and Gene Washington (La Porte, Texas), all of whom went on to outstanding professional careers. Charles Thornhill (Roanoke, Virginia) was also an outstanding member of the team, but did not go on to the professional leagues. As Adam Rittenberg pointed out in an incisive piece for ESPN.com in 2013, the Spartans's 1965 roster included eighteen African Americans (nine from the South), with seventeen African Americans (ten from the South) on the roster the following year.4Adam Rittenberg, "Spartans Blended Race in 1960s," ESPN.com, February 21, 2013, http://espn.go.com/college-football/story/_/id/8970293/segregation-led-star-players-michigan-state-spartans-1960s-college-football. Few of these players could suit up for major schools in their home region in the mid-1960s. Smith wanted to play for the University of Texas, but Coach Darrell Royal could not offer him a scholarship. MSU coach Duffy Daugherty was tipped off about Webster by legendary Clemson coach Frank Howard, who knew all about Webster (from segregated Westside High School in nearby Anderson, South Carolina), but couldn't recruit him. Perhaps even more surprisingly, Thornhill found his way to MSU as a result of a phone call to Daugherty from another big-time southern coach—none other than the University of Alabama's Paul "Bear" Bryant—who had met Thornhill at the awards dinner of the Roanoke Touchdown Club. (Thornhill had been named the club's player of the year after scoring more than 200 points as a running back his senior year.)
Another great African American football star at MSU from earlier in the 1960s, long-time college and NFL coach Sherman Lewis, captured what was going on in the minds of many elite African American athletes living in the South at the time. Lewis hailed from Louisville, Kentucky, where he had an outstanding record in high school as a running back and track sprinter, but according to a 2007 interview, he knew "blacks couldn't play in the SEC. I had to go somewhere West or North." Claiming he knew about Michigan State long before it knew about him, Lewis elaborated:
When we watched games on TV in the '50s, we were always looking for black athletes. . . . Minnesota had a lot. Iowa was loaded. And Michigan State had a history. It had 'em and played 'em. I remembered that from watching the Rose Bowl.5Sherman Lewis, "Sherman Lewis: All-America Halfback and Longtime Coach," Michigan State Official Athletic Site, February 17, 2007, http://www.msuspartans.com/sports/m-footbl/spec-rel/021707aaa.html. During the 1950s, MSU played in and won Rose Bowls in 1954 and 1956.
In the 1950s, MSU featured outstanding African American running backs such as Clarence Peaks (from Michigan) and Herb Adderley (from Pennsylvania). Other Big Ten schools also played black athletes, including the University of Illinois, where Chicago's Buddy Young played as early as the mid-1940s and J. C. Caroline—from segregated Booker T. Washington High School in Columbia, South Carolina—shined as a sophomore in 1953, leading the nation in rushing. Caroline learned about the Big Ten not from television, but from a white man who operated a grocery store near Booker T. Washington High School. According to Caroline:
From what he [the grocer] had heard, he told me he thought I could play football in the Big Ten. . . . He told me about Buddy Young having a great career at the University of Illinois and how black players were finding a place in the Big Ten. I had always figured I would go play football at a black school in North Carolina, so I let him contact people at Illinois.6Larry Watts, "True to Oneself," Big Ten: Celebrating Black History Month, February 4, 2010, http://www.bigten.org/genrel/020410aaa.html.
In Rittenberg's article, Lewis provides additional context about the Big Ten:
There's always been great players down [South]. . . . They were all going to Grambling, Florida A&M, Tennessee State, Texas Southern. But when the Big Ten started recruiting them, instead of Florida A&M, they were going to Michigan State, or instead of Texas Southern or Grambling, they were going to Minnesota.7

Rittenberg, "Spartans Blended Race."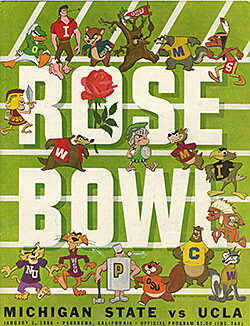 Program for the 1966 Rose Bowl featuring Michigan State vs. UCLA. The Michigan State Spartans won the 1954 and 1956 Rose Bowl games. However, the Spartans lost the 1966 match up with UCLA. Photograph reproduced by permission of the Duffy Daugherty Papers, Michigan State University Archives & Historical Collections, 1966. © Michigan State University.
Instead of going to Kentucky, Lewis attended MSU. There, he became both a sprint champion and a star running back, twice winning All-American honors (1962, 1963). He was named player of the year by the Football News in 1963, when he also finished third in the Heisman balloting. Other talented African Americans followed his lead.
Some journalists and historians of sport have suggested that the "tipping point" for desegregating big-time sports in the South occurred on the night of September 12, 1970 at the University of Alabama's Legion Field, when the USC Trojans—starting an all-African American backfield—destroyed the still all-white Crimson Tide by a score of 42-21.8See, for example, Steven Travers, One Night, Two Teams: Alabama vs. USC and the Game that Changed a Nation (Lanham, MD: Taylor Trade Publishing, 2007); Mark Wangrin, "The Gradual Arrival of Integration Revolutionized the Sport," in ESPN College Football Encyclopedia (New York: ESPN Books, 2005), 48–51. For more judicious insights, see Charles Martin, Benching Jim Crow: The Rise and Fall of the Color Line in Southern College Sports, 1890–1980 (Urbana: University of Illinois Press, 2010), 255–258. The Trojans were led by African American running backs Sam "Bam" Cunningham (135 yards on twelve carries and two touchdowns) and Clarence Davis, a native of Birmingham. This view compresses and, in so doing, almost certainly oversimplifies things. Even before the game, Alabama's Coach Bryant had seen the writing on the wall and already had a highly touted African American running back from Alabama (Wilbur Jackson) playing on the freshman team. Indeed, ever since the passage of the Civil Rights Act of 1964, pressure had been mounting on Alabama and other major southern programs to recruit African American athletes.
Clearly, though, by the early 1970s (around the time of the USC game), there was no turning back either for Bryant or Alabama or for other schools in the ACC, SEC, and SWC. Some colleges had already been making tentative moves to integrate. Even the rudest attempts at cost-benefit analysis—whether explicit or implicit, and whether cast in terms of wins and losses on the playing field, social stability, or potential political problems with the Feds—suggested that the dismantling of the color barrier would not only continue but intensify.
College Football Hall of Fame coach, Jerry Claiborne, an assistant at Alabama in 1970, famously remarked, "Sam Cunningham did more to integrate Alabama in sixty minutes than Martin Luther King, Jr. had accomplished in twenty years." This is a great line, but one that surely overstates football's role and understates civil rights activists' accomplishments. A less famous quote seems more on the mark regarding Bear Bryant's role in breaking the SEC football color line. According to sports journalist Don Yaeger, Bryant, when asked in the mid-1960s if he would start recruiting black athletes to play for the University of Alabama's Crimson Tide, replied "I won't be the first. But I won't be third."9Walter Payton and Don Yaeger, Never Die Easy: The Autobiography of Walter Payton (New York: Random House, 2001), 48.
Once big-time southern football programs began to recruit African Americans aggressively in the 1970s, the Big Ten's pipeline to black talent from the South was punctured. The Big Ten continued to recruit players from the South, but seldom the best. Purdue's great running back, Leroy Keyes, who grew up in the talent-rich Tidewater area of Virginia and was Heisman runner-up to O. J. Simpson in 1968, was one of the last Big Ten All-Americans from the South until Michigan's Anthony Carter, who was from Riviera Beach, Florida, and played for the Wolverines from 1979 to 1982. At the end of the day, there are many reasons for the relative decline of the Big Ten and Marc Tracy has deftly discussed most, but not all of them. The integration of big-team football programs in the South hurt the Big Ten badly, just as it did the former football powerhouses among the South's HBCUs.
About the Author
Peter A. Coclanis is Albert R. Newsome Distinguished Professor of History and Director of the Global Research Institute at the University of North Carolina-Chapel Hill.
This is an open access work distributed under the terms of the Creative Commons Attribution No Derivatives 4.0 License.
References

| | |
| --- | --- |
| 1. | Marc Tracy, "As Big Ten Declines, Homegrown Talent Flees," New York Times, October 3, 2014, http://www.nytimes.com/2014/10/03/sports/ncaafootball/as-big-ten-declines-homegrown-talent-fades-and-flees.html. |
| 2. | Larry Watts, "The Coachable One," Big Ten: Celebrating Black History Month, February 2, 2010, http://www.bigten.org/genrel/020210aab.html. |
| 3. | Incidentally, that team, which had also gone to the Rose Bowl in 1961, was led on offense by future College Football Hall-of-Famer Sandy Stephens, the school's first African American quarterback who was from Uniontown, Pennsylvania. |
| 4. | Adam Rittenberg, "Spartans Blended Race in 1960s," ESPN.com, February 21, 2013, http://espn.go.com/college-football/story/_/id/8970293/segregation-led-star-players-michigan-state-spartans-1960s-college-football. |
| 5. | Sherman Lewis, "Sherman Lewis: All-America Halfback and Longtime Coach," Michigan State Official Athletic Site, February 17, 2007, http://www.msuspartans.com/sports/m-footbl/spec-rel/021707aaa.html. During the 1950s, MSU played in and won Rose Bowls in 1954 and 1956. |
| 6. | Larry Watts, "True to Oneself," Big Ten: Celebrating Black History Month, February 4, 2010, http://www.bigten.org/genrel/020410aaa.html. |
| 7. | Rittenberg, "Spartans Blended Race." |
| 8. | See, for example, Steven Travers, One Night, Two Teams: Alabama vs. USC and the Game that Changed a Nation (Lanham, MD: Taylor Trade Publishing, 2007); Mark Wangrin, "The Gradual Arrival of Integration Revolutionized the Sport," in ESPN College Football Encyclopedia (New York: ESPN Books, 2005), 48–51. For more judicious insights, see Charles Martin, Benching Jim Crow: The Rise and Fall of the Color Line in Southern College Sports, 1890–1980 (Urbana: University of Illinois Press, 2010), 255–258. |
| 9. | Walter Payton and Don Yaeger, Never Die Easy: The Autobiography of Walter Payton (New York: Random House, 2001), 48. |