Emory University's Robert W. Woodruff Library continues to celebrate the launch of the Battle of Atlanta mobile tour website and commemorate the 150th anniversary of the battle with a presentation and exhibit of materials on Thursday, July 17, at 6:30 p.m. in the Joseph W. Jones Room.
Developed by the Emory Center for Digital Scholarship (ECDS), the smartphone-friendly tour provides GPS directions and mapping, historical information about each of its twelve stops, and multimedia content including video and historical images. It is accessible via a web link, BattleATL.org, and requires no download.
The event will include a talk about the context and legacy of the July 22, 1864, battle by Daniel Pollock, project lead and Civil War scholar; a demonstration of the mobile tour by Brian Croxall, project manager and ECDS digital humanities strategist; and a presentation on the Civil War collections at Emory's Manuscript, Archives, and Rare Book Library (MARBL). Randy Gue, MARBL curator of Modern Political and Historical Collections, will discuss stories and perspectives on the Battle that emerge from MARBL's Union, Confederate, and civilian collections.
"MARBL has a range of materials that document the Civil War, and statistically they represent some of our highest-use collections," Gue said. "It is exciting to see the library and ECDS develop tools that transform historical items and data from archives with digital technology. The Battle of Atlanta mobile tour website represents a new, interactive way to learn."
Erica Bruchko, US history and African American studies librarian at the Woodruff library said that the exhibit, "Mobilizing the Battle of Atlanta," chronicles how the tour application was created and the research that went into it. Bruchko, Croxall, Pollock, and ECDS Andrew W. Mellon graduate fellow Chris Sawula curated the exhibit, which will remain on view through October 19, 2014.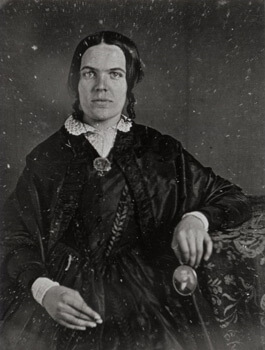 Dolly Lunt Burge, whose diary is in the exhibit, wrote about the Battle sounds she could hear from her home in Covington, Georgia. Courtesy Civil War collections, MARBL, Emory University.
Among the historical materials on display will be photographs, letters, lithographs, newspaper clippings, postcards, maps, and the diary of Dolly Lunt Burge, who described hearing the Battle of Atlanta—one of the biggest in the final months of the Civil War—from as far away as Covington, Georgia. The exhibit will also include some items that do not appear on the digital tour.
Team members compare the stops along the mobile tour to a kind of twenty-first century historical marker—one that can hold an unlimited amount of text, accommodate images and video, and can be updated as new research comes to light.
Project members drew on Pollock's research to pinpoint twelve significant areas—most now unrecognizable due to the city's growth—and created a GPS-guided tour enhanced with information and images gathered from various institutions' archives during months of research. When the ECDS team could not find an application with the precise features they needed, they created their own open-source software.
"While many people in Atlanta know there was a Civil War battle here, very few of them could show you where it happened. Our digital tour takes you to the exact location of twelve significant moments in the Battle of Atlanta," Croxall said. "To learn that the first shots were fired near a local high school or to realize that its most ferocious fighting took place along your commute at what's now the intersection of Interstate 20 and Moreland Avenue, helps you see the city in a new, historical context."
The exhibit will be on display outside ECDS on level three, near the Joseph W. Jones Room where the presentation and demonstration will be held. Light refreshments will be served.
The Robert W. Woodruff Library is located at 540 Asbury Circle in Atlanta, Georgia 30322. Parking is available in the Fishburne parking deck.