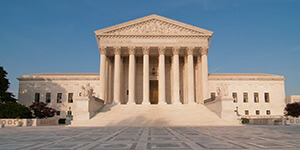 Supreme Court building in Washington, D.C., June 7, 2009. Photograph by Mark Fischer. Courtesy of Mark Fischer.
As our bulletins have previously reported, legislatures in a number of southern states have attempted to implement substantial and often controversial changes to their election rules in the last few years. Some of these legislative actions have been blocked by federal courts under section five of the Voting Rights Act (VRA). For example, The US District Court for the District of Columbia denied preclearance to a redistricting plan and voter ID law passed in Texas in 2011 and 2012 because the state failed to prove that these laws did not "have the purpose or effect of denying or abridging the right to vote on account of race, color, or membership in a language minority group under section five of the Voting Rights Act." However, the Supreme Court's recent ruling in Shelby County, Alabama v. Holder held that section four of the VRA—which defined a formula to identify areas of the country (many of which were in southern states) that required changes to voting laws be precleared by the Department of Justice or federal courts based on historic voting rights violations—was unconstitutional. As a result, the capacity of the federal government to challenge changes to states' voting laws and protect minority voters is substantially diminished.
As Steve Suitts argued in a recent Southern Spaces piece ("Voting Rights, the Supreme Court, and the Persistence of Southern History"), changes to voting laws in southern states have been employed by legislators to deny African Americans and other minorities the franchise across the US South. Suitts's piece describes what was at stake in the Shelby County case and how it fit within both federal and sectional histories of voting rights oversight and restrictions.
In the wake of the decision, southern states moved to enact or resurrect restrictive voter ID laws. A few hours after the court's ruling, Texas Attorney General Greg Abbott declared that the state's previously-blocked voter ID law and redistricting plans would go into effect immediately without approval from the federal government. In a similar move, South Carolina's Attorney General Alan Wilson declared that the state's new voter ID law—which was blocked by the Justice Department in 2011 before being precleared by a federal court in 2012—could now be enacted without asking permission or "being required to jump through the extraordinary hoops demanded by federal bureaucracy." A 2011 voter ID law passed in Alabama, but not yet precleared by the Justice Department, will presumably move forward now that a key barrier to its implementation has been removed. Virginia's pending voter ID law now is also free of preclearance requirements and will likely be implemented as well. Mississippi's voter ID law—put on hold by the Justice department in 2011 because the state failed to prove that its implementation would not hinder minority voting—will also move forward.
The impact of the court's ruling is especially apparent in North Carolina where the state's Republican-led legislature is moving to reshape voting laws, triggering protests and criticism in the media. A new voter ID law which passed the North Carolina House earlier this year but was held up in the Senate to wait for the Supreme Court ruling will now move forward. Another pending bill would likely curb college-age voting by preventing parents from claiming college students as dependents on their state income tax returns if their child registers to vote at their college address. Republican lawmakers in the state also plan to introduce an "omnibus voting bill" in the next few weeks that would decrease the number of early voting days and eliminate Sunday voting and same-day voter registration. Civil and voting rights groups in the state have already filed suit against the state's 2010 redistricting plan, characterizing it as "a cynical strategy to disenfranchise blacks," and vowing to fight any further changes to the state's election laws in the wake of the Shelby County decision. North Carolinians have been protesting outside the General Assembly since April in a series of "Moral Monday" demonstrations over a variety of Republican-led legislative actions, from changes in election rules to drastic cuts in unemployment benefits, education, and other programs. Yesterday, The New York Times editorial board lamented in an editorial entitled "The Decline of North Carolina" that a state "once considered a beacon of farsightedness in the South, an exception in a region of poor education, intolerance and tightfistedness" has had its reputation tarnished by the legislative agenda of its first majority-Republican legislature since 1870.
Opponents of these changes suggest that new voting rules like voter ID laws, redistricting, and limited early voting are designed to increase the influence of southern white conservative voters in a section of the country undergoing dramatic demographic change. According to the US Census Bureau, of eleven states whose Hispanic populations doubled between 2000 and 2011, nine were in the South. Hispanic voters, retirees, and transplants from other sections of the country are transforming the southern electorate, and the latest wave of changes to voting rules has many commentators wondering if the Republican Party can maintain its majorities while continuing to disfranchise southern voters. In the meantime, with federal preclearance effectively gutted, civil and voting rights groups will have to rely on lawsuits from private citizens to challenge changes to election procedures until Congress re-writes the section four rules invalidated by the Supreme Court.