In November of 2011 I wrote for Southern Spaces on the first Ireland Sacred Harp Convention, a key marker and catalyst of the growing presence of Sacred Harp singing in Europe. In September of 2012, I returned to Europe to attend three Sacred Harp events: the seventeenth United Kingdom Sacred Harp Convention, the oldest Sacred Harp convention in Europe; the first session of Camp Fasola Europe, held near Gdansk in northern Poland; and the first Poland Sacred Harp Convention, held in Warsaw. Like the Ireland Convention, these events exceeded organizers' expectations for attendance, brought together an unprecedentedly international group of Sacred Harp singers, and served as revelatory and emotionally overwhelming experiences to attendees. These events also served as sites around which singers negotiated their associations of Sacred Harp singing with place.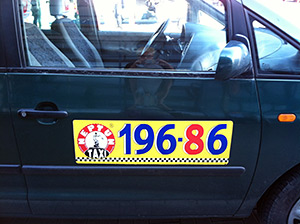 Lauren Bock, 196-86, Gdansk Airport, Poland, 2012. The song on page 196 in The Sacred Harp is titled "Alabama"; the song on page 86, "Poland." This fortuitous image, spotted on the side of a taxi at the Gdansk airport signified for disembarking singers both the physical distance some of them had traveled to attend Camp Fasola Europe and the Poland Sacred Harp Convention, and the metaphorical space Sacred Harp singing itself had traveled to make these events possible.
Ties between Sacred Harp singing and specific places have long been a part of the musical form. These connections are even indexed in The Sacred Harp songbook. Composers of many Sacred Harp songs chose titles referring to the towns, counties, and US states where the composers lived or visited. Still others named tunes for distant countries and continents, perhaps seeking to imbue their music with a sense of mystery or exoticism by associating it with a far-off place. Like these composers, European Sacred Harp singers have related songs to place in cases where their titles have coincided with the names of European cities and countries where Sacred Harp singing now occurs. Singers such as Cath Saunt and Fynn Titford-Mock of Norwich in the United Kingdom frequently lead a song in The Sacred Harp titled "Norwich," a sprightly fuging tune named by its composer D. P. White in 1850 for a community in Taylor County, Georgia. And the song "Poland," named for the European nation in 1783 by Massachusetts composer Timothy Swan, unsurprisingly became something of a theme song for the events this September, sung by visiting singers just after arriving in Gdansk, by Polish singers themselves at numerous occasions, and by David Ivey, director of Camp Fasola, as an expression of thanks at the Poland Convention.1"Poland" was so popular in in the years after its publication that residents of two Maine communities subsequently named their towns after "Poland" and another tune by Swan titled "China"—leading to the incorrect yet common assertion that both songs were named after the Maine towns, not the European and Asian countries.
In November, I remarked that "many new singers," such as those in Europe, associate authentic, traditional Sacred Harp practice "with prominent singing families from Alabama, Georgia, and Texas who have long histories of Sacred Harp participation." While this association has led to a tendency in the United States for new singers to "imagin[e] this locus of tradition . . . as 'southern,'" in Europe, teachers at Camp Fasola, and new European singers alike used a wide range of place names to refer to Sacred Harp singing's source. For many, "southern" sufficed as a term with the capacity to both generalize Sacred Harp singing's historical roots and evoke a "white, rural South" as the imagined home of this style of singing. Yet numerous others referred to "American Sacred Harp singing," relying on this broader term to associate Sacred Harp singing with the authenticity, folkloricity, and exoticism that the term "southern" carries for audiences in the United States.
Other singers explicitly associated the practices of Sacred Harp singing with particular places and time periods. P. Dan Brittain—a teacher at Camp Fasola Europe from Harrison, Arkansas who began singing Sacred Harp in 1970 as a military band director stationed at Fort McPherson, Georgia—explicitly framed his singing school as teaching the style of Sacred Harp singing practiced in West Georgia in the early 1970s. Other singing teachers such as Ivey, originally from Henagar, Alabama, and Judy Caudle, from Eva, Alabama, taught aspects of Sacred Harp singing they described as associated with their families and localities.
A key concern of European singers was how they should negotiate between their interest in emulating these practices associated with regional singing traditions and their desire to adapt Sacred Harp singing to their European locales. Camp instructors encouraged these students to learn about and adopt practices long-associated with Sacred Harp singing, yet also seemed to view "tradition" as something that could change, evolve, and develop around Sacred Harp singing in its new European homes. Singers were also aware of the potential for these conventions and Camp Fasola Europe to shape practices in European Sacred Harp singing places for years to come.
At the end of one of his classes, Brittain—who has four compositions in The Sacred Harp, three of which were already popular among several groups of European singers—described rediscovering a draft of his song "Novakoski," a version different than the one he published in The Sacred Harp. His draft began slowly in 2/2 time before switching to a brisker 4/4 at the start of the song's fuging section. The published version, however, is in 4/4 throughout, which in The Sacred Harp indicates a moderate tempo (itself different from the version Brittain submitted, which was in 2/2 throughout and intended to be sung slowly). The time change in Brittain's draft translates into music notation an oral tradition associated with two other Sacred Harp songs which, though notated in 4/4, are sung with a slow plain section leading to a brisker fuging section.
Brittain noted he had never heard "Novakoski" sung with this change in tempo, and the class of singers immediately asked to sing the song that way. The singers were delighted with the result, and Brittain decided he was happy to have the song sung in either fashion. During the remainder of Camp Fasola, "Novakoski," sung with a time change, was a popular leading choice for campers—and was a frequent topic of discussion among campers in the evening, some of whom half-jokingly spoke of the incident as the beginning of a new "local tradition." This process was cemented the next weekend at the Poland Convention when an Irish singer stood before the class, called out the page number, and asked to sing the song "Poland style." As Sacred Harp singing continues to spread, singers are finding ways to create new local traditions drawing on conceptions of their practices as tied to the histories of broad geographical expanses such as the "South" and "America," and to specific times and places, from West Georgia in the 1970s, to Poland today.
References

| | |
| --- | --- |
| 1. | "Poland" was so popular in in the years after its publication that residents of two Maine communities subsequently named their towns after "Poland" and another tune by Swan titled "China"—leading to the incorrect yet common assertion that both songs were named after the Maine towns, not the European and Asian countries. |