The University of North Carolina at Greensboro (UNCG) and North Carolina Agricultural and Technical State University (NC A&T) have launched the North Carolina Runaway Slave Advertisements project, a database of all known runaway slave ads in North Carolina newspapers between 1751 and 1840. With its comprehensive focus, the project is a useful resource for scholars and students interested in the history of slavery and resistance. In addition to scanned advertisements, the database includes transcripts and rich metadata for easy querying of the approximately 2400 ads. Additonally, project staff have provided some brief historical context for researchers. Samantha Winer, a digitization and transcription assistant, writes that this project offers, "insight not only into conditions and lifestyles experienced by the slaves but also into the plantation economy."1Samantha Winer, "A brief history of slavery in North Carolina," North Carolina Runaway Slave Advertisements, 1751–1840, http://libcdm1.uncg.edu/cdm/history/collection/RAS.
While the structure of most ads is uniform, some offer deeper insight into the global system of slavery. This 1775 ad from Wilmington, for example, details the escape of a slave named Quamino with two indentured servants. In addition to the typical physical description ("about 30 Years of Age, has a Scar above his right Eye . . ."), the slaveholder has noted that Quamino is "marked with his Country Marks," or patterns of facial scarification that served as markers of ethnicity and identification.2Of course, physical markings cannot necessarily be correlated with ethnicity or geographic origin. As Michael Gomez notes in Exhanging Our Country Marks (Chapel Hill: UNC Press, 1998), it is notoriously difficult to track the geographical origins of enslaved peoples, as owners would often ascribe places of birth that are difficult to verify. Clicking through the hyperlinked term "country marks" reveals that the phrase is in circulation in the eighteenth century, but its last appearance is in 1807—a year before the United States prohibited the importation of slaves. This shift in the visuality of slavery might be of interest to scholars who want to study the changing nature of the US slave economy.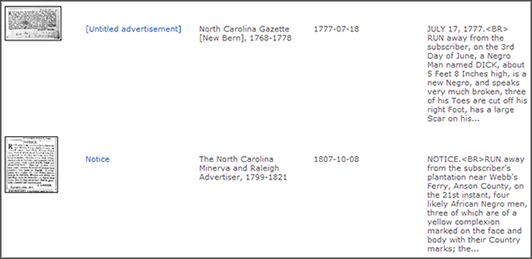 Screenshot from North Carolina Runaway Slave database.
This database is one of the latest additions to digital resources about runaway slaves. While most databases do not yet provide features like transcripts, there are a number of useful tools available for researchers and students. UNCG has created the Digital Library on American Slavery, a database of nearly 3,000 legislative petitions, 14,500 county court petitions, as well as personal documents like wills and bills of sale. Professor Thomas Costa at the University of Virgina has compiled runaway slave advertisements from 18th-century Virginia newspapers. One of the most comprehensive sources of information about runaway slaves and their journeys comes from the Schomberg Center for Research in Black Culture. Their Runaway Journeys project contains maps, images, documents, and lesson plans. This comprehensive resource covers the history of slavery, routes of runaway slaves, the Civil War, and its aftermath. The North Carolina Runaway Slave Advertisements project's comprehensive coverage, rich metadata, and searchable transcripts make the database a highly useful contribution to these existing tools.
References

| | |
| --- | --- |
| 1. | Samantha Winer, "A brief history of slavery in North Carolina," North Carolina Runaway Slave Advertisements, 1751–1840, http://libcdm1.uncg.edu/cdm/history/collection/RAS. |
| 2. | Of course, physical markings cannot necessarily be correlated with ethnicity or geographic origin. As Michael Gomez notes in Exhanging Our Country Marks (Chapel Hill: UNC Press, 1998), it is notoriously difficult to track the geographical origins of enslaved peoples, as owners would often ascribe places of birth that are difficult to verify. |