The New Orleans-based Amistad Research Center is the nation's oldest, largest, and most
comprehensive independent archive specializing in African American history and culture. For the first time in its history, Amistad announced on December 3 that they will be adding New Orleans hip-hop and bounce music to their historic collection. "Recent donations by the NOLA Hiphop Archive and the Where They At project," Amistad's Director of Library and Reference Services, Chris Harter, says, "have placed the Center at the forefront of efforts to document and preserve materials that chronicle the development of these genres in New Orleans."1Christopher Harter, "Help Support Amistad's Expansion of Music-related Holdings with Hiphop Collections," Amistad Research Center, December 3, 2013, http://amistadresearchcenter.blogspot.com/2013/12/help-support-amistads-expansion-of.html. The importance of including hip-hop and bounce in this collection, in a city where these musics are so often segregated as something different––considered unworthy of preservation or protection and support as cultural heritage––cannot be overstated.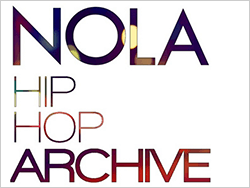 NOLA Hip Hop Archive logo, 2012. Image courtesy of Holly Hobbs.
The NOLA Hiphop Archive, which I founded in 2012, began as an effort to collect, document, and make publicly accessible oral histories of New Orleans' influential rappers, producers, and DJs who helped create and popularize hip-hop and bounce music traditions in the city and beyond. The collection currently consists of more than thirty videotaped interviews with the city's hip-hop and bounce artists and pioneers, including, among others, Mannie Fresh, Mystikal, Partners N Crime, Dee-1, Ricky B, DJ Raj Smoove, Keedy Black, Allie Baby, Nesby Phips, Sinista, DJ Quickie Mart, Nicky da B, DJ Rusty Lazer, and Queen Blackkold Madina, star of the Academy Award-winning Hurricane Katrina documentary, Trouble the Water.
The Amistad collection plans to be publically available and free of charge (either online or in person at Amistad) as a digital archive of oral histories in the spring of 2014. The NOLA Hiphop Archive just launched a Kickstarter campaign to help fund these efforts, and if successful, will allow the NOLA Hiphop Archive team to conduct further interviews, thereby adding a broader range of voices, perspectives, histories, and experiences to the collection. If funded, the archive team plans to add another thirty interviews to the Amistad collection by the end of 2014.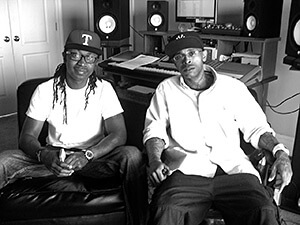 Partners N Crime, Eastover, New Orleans, June 15, 2012. Photograph by Holly Hobbs. Courtesy of Holly Hobbs.
Countless members of New Orleans' creative communities lost their lives or were displaced by Hurricane Katrina, many of whom remain unable to return. Furthermore, while rap music is arguably Louisiana's most lucrative cultural export, in the most widespread images of "New Orleans music," the city's rappers, producers, and DJs that helped build the tradition remain largely invisible. These issues, coupled with the ongoing realities of corruption, marginalization, violence, police harassment, and discrimination, inspired a determination to help provide resources for and further acknowledgment of artists, adding to the growing body of documentation and public support of New Orleans community-based expressive art traditions. I am excited about the ways in which the archive may, in some small way, help to address these issues. There is also a wealth of potential for growth of the archive in the near future, which could include a brick-and-mortar museum space, a "hip-hop/bounce trail" (imagine a Mississippi Blues Trail-type project that begins as an interactive app but moves toward a physical reality), a community performance space, and a youth internship program.
Viewing hip-hop and bounce music in New Orleans as expressive art forms worthy of support should not be a radical orientation. Amistad is taking one big, progressive step in the right direction. The Kickstarter campaign can be found here. Please consider donating to this exciting project.
About the Author
Holly Hobbs is currently completing her PhD at Tulane University and is writing her dissertation on post-Katrina hiphop and recovery in New Orleans. She has also worked as a promoter, artist manager, and musician within the New Orleans hiphop community since 2008. She is a writer for the popular music website, The Smoking Section, and the Knowla Encyclopedia of Louisiana History, Culture, and Community.