Last Spring, Edward A. Hatfield wrote for Southern Spaces on the challenges of transportation planning in the Atlanta metro area, analyzing the complex mobility politics of a southern urban center. A recent New York Times article highlights similar transportation issues plaguing rural communities in Texas. After buying rural routes from the Kerrville Bus Company in 2012, the discount travel company Megabus recently discontinued service to small towns in Texas' Southwest Area Regional Transit District, leaving much of the state without intercity transportation, mirroring challenges in providing adequate public transportation to rural communities across the US South and beyond.
In an update to Dan Carter's recent assessment of the political tumult in North Carolina government, the Justice Department has filed a lawsuit against North Carolina's restrictive voting law, following the precedent it set by challenging a similar voter identification bill in Texas. Both North Carolina and Texas passed voter identification laws following the Supreme Court's ruling to overturn key provisions of the 1965 Voting Rights Act. As Steve Suits argued persuasively in his analysis of the resurgence of state sovereignty arguments, the long-term impact of this historic Supreme Court decision and subsequent voter identification bills remains to be seen.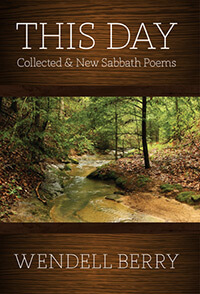 Appalachian activist and poet Wendell Berry published a new poetry collection titled This Day: New and Collected Sabbath Poems, documenting and exploring Berry's habitual Sunday strolls on his farm in Kentucky. Earlier this year, Berry was awarded the Dayton Literary Peace Prize, in recognition of his lifelong dedication to literary explorations of community and conservation. Contributing the forward to Erik Reece and James Krupa's recent publication The Embattled Wilderness, Berry reminds readers of the fragile balance between man, market, and the landscapes they inhabit.