The doctrine of "fair use" is an increasingly important concept for scholars, libraries, and universities as digital technologies continue to change the ways that we research, publish, and teach in higher education. The United States Copyright Office outlines its "fair use" policy in Section 107 of Title 17 of the United States Code, enumerating "various purposes for which the reproduction of a particular work may be considered fair, such as criticism, comment, news reporting, teaching, scholarship, and research." The limits of fair use doctrine continue to spark controversy as academic publishers, university libraries, and scholars debate the issue in federal court.
While Southern Spaces does not have a specific "fair use" policy, we sometimes make fair use claims when justifying our occasional use of copyrighted material. As Sarah Melton discussed in a May 2012 blog post, we often wrestle with questions of fair use when finding media for our blog, our featured images posts, and the works of our authors. In March, we published a talk by Erich Nunn entitled "Hillbilly Records, Zulu Yodels, and the Sounds of a Global South" which uses the copyrighted work of Jimmie Rodgers, Hugh Tracey, and the Columbia Pictures Corporation. When we feel it is necessary to justify our fair use of such material, we record our "fair use" justifications and permissions information in the template associated with the piece.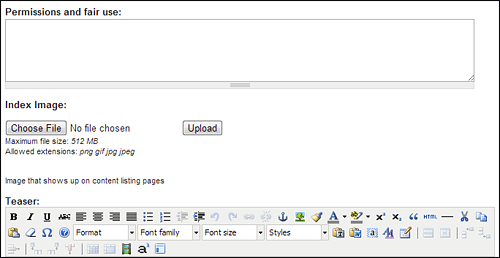 Screenshot of Southern Spaces "Edit" page showing the "Permissions and fair use" field.
These justifications vary with each piece and are not public information. Rather, we include this step in our publication process to be sure that we pay special attention to issues of fair use and have an archive to turn to if copyright holders decide to challenge our use of their work. How do other online scholarly publications justify fair use of copyrighted materials?
Just for fun, I strongly recommend viewing A Fair(y) Use Tale, a brief video essay on fair use by Eric Faden, an Associate Professor of Film and Media Studies at Bucknell University.