Review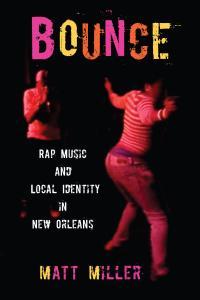 In the aftermath of Hurricane Katrina, clubs in Houston, Dallas, and many other centers of New Orleanian displacement hosted "New Orleans" nights, featuring rap music from the Crescent City. New Orleans artists and personalities like Kenneth "DJ Chicken" Williams Jr. and Wayne "Wild Wayne" Benjamin started internet-based radio and mixtape projects geared toward those trying to find and/or reconnect with the distinctive New Orleans hiphop sound. Back at home, neighborhoods and local social aid and pleasure clubs hosted block parties and second lines featuring the dynamic sounds and dances of New Orleans brass band, rap, and bounce music for those returned and those still missed. In his Bounce: Rap Music and Local Identity in New Orleans, popular music scholar and filmmaker Matt Miller uses the realities of Hurricane Katrina to orient his careful and detailed history of New Orleans rap and the intensely local native New Orleans rap style, bounce, tracing the music's birth, development, and connection to the long trajectory of poor and working-class African American music-making in the city. In doing so, he offers not only a well-researched study of localized expressive art but also provides us with the first true book-length, academically-oriented work on New Orleans rap and bounce to date.
In New Orleans, what is usually called "hiphop" is a complex musical form that is boundary blurring and genre bending, often incorporating elements from or working in conjunction with the dominant New Orleans music genres of jazz, brass band, R&B, and funk (as well as blues and zydeco). What might all be lumped into the single category of "hiphop" in other parts of the United States is here generally broken into a number of subgenres of rap and bounce, though the definitions and boundaries of these categories are fluid and often change according to whom is asked or what individual song, or portion of song, may be playing. While there are indeed many similarities to rap performance as evidenced in other southern black centers like Atlanta and Houston, the sound of rap and bounce here is distinct, as evidenced by a strong emphasis on intensely repetitive rhythmic and lyrical sequences, characteristic dances, localized lyrical themes, detailed geographic shout-outs, and nonsense/syllabic vocal delivery influenced strongly by the native New Orleans bounce music style. While the author's focus deals with the local, Miller is also confronted with the difficult task of situating the trajectory and influence of the city's rap and bounce scene far beyond the reaches of the metropolis, as the two most successful New Orleans rap record labels, Cash Money and No Limit, and their artist mega-stars––Mystikal, Juvenile, Lil Wayne, and others––would ultimately develop their own unique sounds born out of this fascinating soundscape and go on to influence both music and the music industry not only in New Orleans but throughout the globe.
Miller begins his text by situating New Orleans both historically and culturally, tracing the city's trajectory from problematic European colony to Congo Square to today while offering thoughtful considerations of themes in music-making in the city over time. Settling on the 1980s as a point of departure, he traces the growth of rap from its beginnings in New York and roots in the South to its complex musical migration throughout the country and the subsequent development of New Orleans' own distinct sound, importantly asserting that the development of a local and particular rap sensibility began largely with nightclub and block party DJs, "who gauged audience response in order to identify particularly resonant or energizing songs or parts of songs" (45).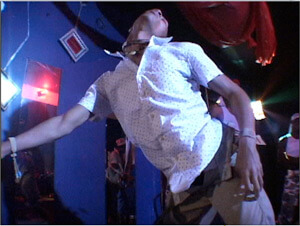 Video still from Ya Heard Me?, Matt Miller and Stephen Thomas, 2008. In the still, a dancer performs at a "sissy shakedown" at Club Vibe, New Orleans, Louisiana, 2004.
From there Miller hits the ground running, providing the reader with thorough accounts of the artists, rappers, DJs, producers, record labels, and community personalities that played central roles in the defining of an early local rap/bounce sensibility––from the little known group, New York Incorporated (which featured, among others, Denny D, DJ Wop, a young Mia X, and future Cash Money mega-producer, Mannie Fresh) to Gregory D and Mannie Fresh's pivotal single, "Buck Jump Time (Project Rapp)" (1989), to T. Tucker and DJ Irv's "Where Dey At" (1991)––to the rise of the major New Orleans record labels and the mechanics of localized cultural and musical production over time. Using oral history interviews, sound recordings, and journalistic articles from both inside and outside the city to supplement extensive secondary source research, Miller thus presents the story of New Orleans rap and bounce, from the curious staying power of the song "Drag Rap" (Triggaman) by the obscure New York-based rap group, the Showboys, to an astute analysis of the dances at the center of the tradition to a historical situating of sissy bounce­­––bounce music as performed by artists from the New Orleans LGBTQ community that has seen a meteoric rise in popularity post-Katrina.
While Bounce: Rap Music and Local Identity in New Orleans is indeed the first book of its kind on the subject, its importance lies not so much in this distinction as it does in the thoughtful perspectives that inform its methodology. Careful not to approach bounce music in either musical or cultural isolation, Miller considers the realities of New Orleans's geographic and socio-spatial history, the city's long tradition of public street performance, the central role of the housing projects, the stark materialities of racialized poverty and violence, and the effects of Hurricane Katrina, displacement, and the right to return, largely without falling into the trap of romanticization and/or morbid glorification that so many others writing on the subject do. And while Bounce: Rap Music and Local Identity in New Orleans would have benefitted from more information framed by artists in their own words, Miller provides readers with a solid resource that can and will be used by writers, journalists, music critics, culture workers, and enthusiasts alike as a point of departure for further exploration and reflection.

Recommended Resources
Print
Berry, Jason, Jonathan Foose, and Tad Jones. Up From the Cradle of Jazz: New Orleans Music since World War II. Athens: University of Georgia Press, 1986.
Cohn, Nik. Triksta: Life and Death and New Orleans Rap. New York: Vintage Books, 2007.
Crawford, Daron and Russell Pernell. Beyond the Bricks. New Orleans: Neighborhood Story Project/University of New Orleans Press, 2009.
Kish, Zenia. "'My FEMA People': Hiphop as Disaster Recovery in the Katrina Diaspora," American Quarterly 61, no. 3 (2009): 671–692.
Sarig, Roni. Third Coast: Outkast, Timbaland, and How Hip-Hop Became a Southern Thing. New York: Da Capo Press, 2007.
Sublette, Ned. The Year Before the Flood: A Story of New Orleans. Chicago: Lawrence Hill, 2009.
Links
Fensterstock, Alison and Aubrey Edwards. "Where They At: New Orleans Hip-Hop and Bounce in Words and Pictures." http://wheretheyatnola.com/.
Miller, Matt. Bounce: Rap Music and Local Identity in New Orleans, web supplement featuring bounce music. http://www.mattmillerbounce.blogspot.com/.