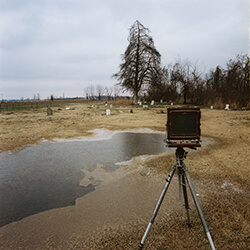 Tom Rankin, Delta Winter, Bolivar County, Mississippi, 2010.
Tom Rankin is stepping down as the director of the Center for Documentary Studies at Duke University after fifteen years of service. During Tom's tenure as director, CDS has become an internationally recognized documentary arts institution, annually offering many undergraduate courses and continuing education classes leading to certificates. Integral to these educational experiences are the center's exhibitions, books, awards, radio programming, multimedia production, fieldwork projects, and the Full Frame Documentary Film Festival. In addition to his work at CDS, Tom Rankin is an editorial board member of Southern Spaces. We are excited that Tom will have time to do more photography and teaching. He will also become director of the MFA in Experimental and Documentary Arts program. Below is the job announcement for the open director position:
The Center for Documentary Studies at Duke University seeks a director with proven leadership skills and a demonstrated passion for the documentary arts. The director will supervise a management team with thirty-two full-time and approximately forty part-time staff and faculty. The Center has an operating budget of $4 million, eighteen percent of which comes from Duke University, with the remainder flowing from its $30 million endowment and additional grants. Managing additional fund-raising is a major responsibility of the director. Founded in 1989, the Center annually oversees numerous undergraduate and continuing education courses as well as workshops in the documentary arts. It also collaborates on an MFA program, while supporting cutting-edge documentary work in photography, film and video, narrative writing, community studies, and documentary radio production. Dedicated to the ideals of social and environmental justice, CDS specializes in work that documents diverse, underrepresented voices and that balances community goals with individual artistic expression. The new director should have significant experience as a practitioner, teacher, and leader in the documentary arts, and ordinarily will hold an academic appointment in the appropriate department in Duke's School of Arts and Sciences. Read more: www.documentarystudies.duke.edu.

DEADLINE: September 1, 2012. To apply, send a cover letter, resume, and references to Professor William Chafe, c/o Joan Shipman, Office of the Dean of Arts and Sciences, Box 90046, 421 Chapel Drive, Allen Building 104, Durham, NC, 27708.