In April 2012, Southern Spaces published an interview with Lance Ledbetter, founder of Dust-to-Digital Records, in which he discussed the operations of his Atlanta-based record label. During the interview, Ledbetter mentioned a new project which would create a digital repository of historical sound recordings—accompanied by discographical information, music notation, lyrics, and biographical information about artists and composers—to make available the tens of thousands of recordings without commercial potential.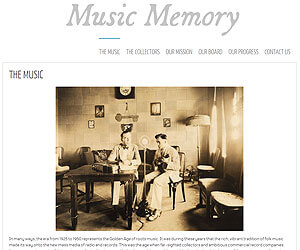 The frontpage of Music Memory, an online music archive launched by Lance Ledbetter.
This month, Ledbetter has launched Music Memory, his audio-centered spin on the concept of scholarly databases. The site will focus upon recordings made during the "Golden Age of roots music" (1925–1950), and the recordings will be digitized primarily from 78 RPM records that have been amassed and preserved by a group of dedicated collectors partnering with Ledbetter. Although the music that eventually will populate Music Memory is not yet accessible to users, the site provides a first glimpse at Music Memory's layout and design.