Overview
Rheta Grimsley Johnson recounts a visit to a trash-covered beach on Pickwick Lake near Fish Trap Hollow in northeastern Mississippi in this short essay.
Essay
The visitors are from Virginia, a state that simply sounds clean. There are two young children and a mom. We go for a boat ride.
As will happen when you have your visitors, fishing gear, swimming rings, blowup tiger, picnic lunch, and dog on the boat, it stalls. We are lucky to get back to the dock.
I chance to remember a Tennessee Valley Authority beach on this beautiful lake called Pickwick. You can get there by land. A Plan B is a wonderful thing at such a moment. We all pile back into the car.
The weather is like October. The lake water is warm. The sky blue. We march down to the public place where even those without lakeside homes and boats can go to get their toes wet. We struggle to the bottom of the bluff with all our paraphernalia. We stop short.
Even the children are horrified by the litter. I have never seen anything like it, not on Pickwick or anywhere else. And, yes, I've been to New Jersey.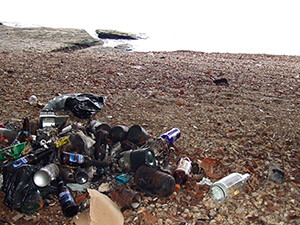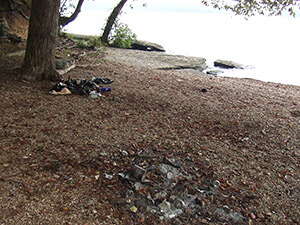 Rheta Grimsley Johnson, Trash on a beach on Pickwick Lake, Fish Trap Hollow, Mississippi, 2012.
"Litter" sounds like a McDonald's coffee cup on the side of the road. This is worse. This is three years' worth of beer cans. This is empty propane tanks, broken fishing rods, dirty diapers, catfish heads, pickup truck bed liners, chairs, boards, nails, swimsuits, life jackets, glass, plastic containers of every size and description. This is a lakeside landfill.
I apologize to the visitors. I apologize for my county, my state, my people. I say I hope this won't be the permanent impression of Mississippi that they take away.
We try to let the children swim, but the joy has gone out of the outing. Nobody wants to wade through a pig pen to the lake.
I have spent much time on this lake for the last quarter-century. Yes, I've seen folks leave bags of garbage, as if TVA sends around a garbage truck or elves to pick up what picnickers leave behind.
I've seen old campfires full of ash-covered beer cans. I've seen trash thrown from boats washed up on the shoreline.
But, I repeat: I've never seen anything like this.
In the summer, there is always some litter. I take away all the trash I can carry in the bag I've brought for my own picnic waste. But to clean this site would require heavy equipment and days of work. You would need gloves, a mask and a backhoe.
This public beach seems emblematic of all that is wrong with American culture. On the one hand, you have government so broke at every level—federal, state, and county—it can't afford to keep its nice places clean. TVA doesn't enforce its no-littering policy. Probably doesn't have the manpower. The county doesn't take the initiative to help maintain its biggest asset: a beautiful lake.
On the other hand are citizens who have so little respect for themselves or one another that they desecrate the place where they recreate. Trashy behavior begets more trashy behavior.
Those with their own bit of private shoreline have no dog in the fight. They can speed by the littered public beaches and avoid the stench and sorry sight.
There are bigger problems in this country of ours than a trashed public beach in Mississippi, yes. But I wonder if any of them say more about us.

About the Author
A native of Georgia, Rheta Grimsley Johnson grew up in Alabama where she attended Auburn University. She now lives near Iuka, Mississippi. This essay is courtesy of Kings Features Syndicate. Johnson is the author of several books, including Enchanted Evening Barbie and the Second Coming (2010).
Similar Publications