Overview
Claudrena N. Harold discusses the complex histories, brutal realities, and fruitful possibilities in the music of Gil Scott-Heron.
"Deep in the Cane: The Southern Soul of Gil Scott-Heron" is part of the 2011 Southern Spaces series "Sightings: Architecture, Art, and Artifact," a collection of reviews and essays examining visual representations of the US South in museums, landscapes, and media. Series editors: Lisa Goff and Grace Hale.
Essay
On the first Monday of October 1974, a belligerent crowd of two hundred whites besieged a local school bus filled with African American students attempting to depart Destrehan High School in St. Charles Parish, Louisiana. Committed to preserving white supremacy at all costs, the angry mob hurled racist insults, glass bottles, and rocks toward the bus. Within a matter of minutes, the chaotic scene turned deadly. Steps away from his mother, a thirteen year-old-white boy lay motionless on the ground, bleeding profusely from the head. A few hours later, the wounded teenager, later identified as Timothy Weber, died in the local hospital. "That single shot," New York Times journalist Bob Herbert reported in 2007, "set in motion a tale of appalling injustice that has lasted to the present day." Securing a conviction rather than justice consumed the local police, which quickly identified young Gary Tyler as their suspect. Within one year, Tyler, one of the school children occupying the besieged bus, would be arrested, tried, and convicted of Weber's death. "The efficiency of the process," Herbert remembers,
was chilling. Evidence began to miraculously appear. Investigators "found" a .45-caliber pistol. Never mind that there were no fingerprints on it and it turned out to have been stolen from a firing range used by the sheriff's deputies. The authorities said they found the gun on the bus, despite the fact that the initial search had turned up nothing. The authorities found witnesses who said that Mr. Tyler had been the gunman. Never mind that the main witness, a former girlfriend of Mr. Tyler's, was a troubled youngster who had been under the care of a psychiatrist and had a history of reporting phony crimes to the police. She and every other witness who fingered Mr. Tyler would later recant, charging that they had been terrorized into testifying falsely by the police.1Bob Herbert, "A Death in Destrehan," New York Times, February 1, 2007.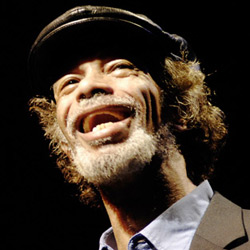 Adam Turner, Gil Scott-Heron at the Regency Ballroom, San Francisco, California, 2009.
None of this mattered to Tyler's all-white jury or the US Supreme Court. In November 1975, Gary Tyler's name was added to the long list of blacks serving life sentences at the Louisiana State Penitentiary in Angola. In the aftermath of Tyler's conviction, outrage emanated throughout the country, from college campuses in Southern California to the street corners of Harlem. Counted among the thousands of African Americans who mobilized in Tyler's defense was Gil Scott-Heron, a noted musician whose political critiques had often centered on the injustices of the US penal system. On his 1978 album, Secrets, Scott-Heron recorded a brilliant tribute to Tyler, aptly titled "Angola." Over syncopated rhythms supplied by his partner and keyboardist, Brian Jackson, Scott-Heron brought attention not only to Tyler's case, but also to the resiliency of racism in the post-civil rights South.
This summer, as fans and critics mourned the death of Gil Scott-Heron, my thoughts frequently turned to "Angola" and the powerful ways in which the song embodied Scott-Heron's longstanding preoccupation with the complex histories, brutal realities, and fruitful possibilities of the US South. Throughout Scott-Heron's expansive body of work, from his 1972 novel, The Nigger Factory, to his 2010 release, I'm New Here, the South looms large in his political imagination. His insistence on detailing social injustices never precluded him from illuminating the South's importance as the incubator of his radical political vision. Scott-Heron's indebtedness to the South and his deep love for its people, its culture, and its political struggles are readily apparent in songs like "95 South: All of the Places We've Been," "Delta Man," "Angola," "Jose Campos Torres," "South Carolina (Barnwell)," and "On Coming from A Broken Home." Scott-Heron's South was neither monolithic nor static, but a geography constantly responding to new political forces and new social realities. To be sure, the "changing same" dynamic of race relations surfaced strongly in the penitentiary blues of "Angola" and the gut-wrenching prose of "Jose Campos Torres." But in powerful numbers like "South Carolina (Barnwell)," a blistering critique of the construction of the Savannah River nuclear plant in 1975, Scott-Heron directed his listeners' attention to new political battlefields and political casualties.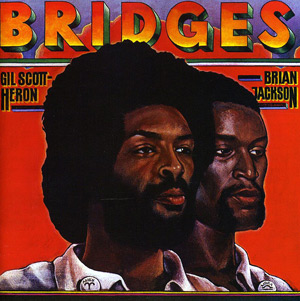 Cover of Gil Scott-Heron and Brian Jackson's Bridges, 1977. This album featured several songs that grappled with questions surrounding black southern identity, most notably, "Hello Sunday! Hello Road!" "Delta Man," and "95 South: All of the Places We've Been."
To understand Scott-Heron's enduring commitment to engaging the political failures and triumphs of the South, one must return, as he did so often, to his southern roots. Following the complex migratory paths traversed by African Americans in the postwar United States, Gil Scott-Heron was born in Chicago, Illinois, in 1949 and then sent by his mother to the small town of Jackson, Tennessee, at age two. Scott-Heron matured under the guidance of his maternal grandmother, Lily Scott. He celebrated her "sense of soul and self, that African sense," describing her as "absolutely not your mail order, room service, typecast black grandmother." To many in Jackson, she also possessed great courage. As the civil rights movement gathered momentum in the late 1950s and early 1960s, she stepped up to the challenge of Jim Crow. One of three children to integrate Jackson's Tigrett Junior High School in 1962, her grandson Gil joined Madeline Walker and Gillard Glover in assisting the community's efforts to democratize the local school system. Looking back on this politically vibrant time, Scott-Heron viewed his activism as the culmination of lessons acquired from local elders: "I was aware of the fact that some changes needed to be made," he recalled. "I learned that on the front porch at night, when my grandmother and other people would talk about what the situations were and what needed to be done, that there were some inequities there…. I learned that at a very early age."2"The Revolutionary Will Not Be Televised: A Film About Gil Scott-Heron," 2009 (unreleased).
Scott-Heron's love and respect for not just his grandmother but also the town of Jackson and his imagined "Black South" can be gauged in a video clip from an upcoming documentary by Jamie Byng of Canongate Publishing. Though he looks and sounds like the hellhounds are on his trail, Scott-Heron transports the viewer into the interior of a black South where women, men, and children cared for, loved, and challenged each other with the hope of making the world a better place. An effortless master of what Houston Baker defines as "the poetry of impulse," Scott-Heron represents "black articulateness and lyricism in the very face of violence, catastrophe, rejection, and exploitation."3Baker, Houston A., I Don't Hate the South: Reflections on Faulkner, Family, and the South. (New York: Oxford University Press, 2007), 76. His storytelling—replete with familiar and unfamiliar images of the civil rights movmement—provides the viewer with a poignant picture of the small town of Scott-Heron's youth.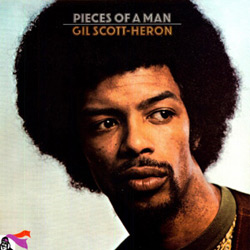 Cover of Gil Scott-Heron's album Pieces of a Man, 1971.
Drawing attention to Scott-Heron's engagement with the South does not deny the importance of Harlem and Lincoln University in shaping his artistic vision. Instead, my aim is to offer a fuller perspective of the many people and traditions that fueled Scott-Heron's creative work.
Gil Scott-Heron was an artist for whom the South's past and present supplied endless and unpredictable material. On studio and live recordings, the self-proclaimed bluesologist can be found resurrecting the spirit of Jean Toomer's Cane ("Cane"), revisiting the activist legacy of Fannie Lou Hamer ("95 South: All of the Places We've Been"), reflecting on the oral traditions of his grandmother ("Hello Sunday! Hello Road!") or signifying on the "southern fried chicken triple talk" of Jimmy Carter ("Bicentennial Blues"). Tempting as it might be for the casual listener to analyze his art solely within a musical context, Scott-Heron's engagements with the South belong to a much richer literary tradition. In many ways, Scott-Heron was part of (and drew inspiration from) a larger movement of southern black writers, who sought to articulate what literary scholar Thadious Davis refers to as the "regionality of the black self."4Thadious Davis, "Reclaiming the South," in Bridging Southern Cultures: An Interdisciplinary Approach, ed. John Lowe. (Baton Rouge: Louisiana State University Press, 2005), 63. His explorations of the complex intersections between race and region developed within the larger context of a social milieu that gave birth to journals like Black Arts South and Callaloo, as well as literary works by Frank Yerby, Ernest Gaines, Samm-Art Williams, and Alice Walker. As Davis explains in her intriguing essay, "Reclaiming the South," "the recognition of place as a major aspect of identity and the reunion of blacks positioned comunally to face a new day" constituted a central theme in the work of many self-identified black southerners, including Scott-Heron.5Davis, 64.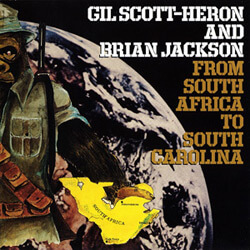 Cover of Gil Scott-Heron and Brian Jackson's From South Africa to South Carolina, 1976.
Much of the southern imaginary that fed Scott-Heron's career was conspicuously absent in the slew of memorials and tributes that emerged following his death on May 27. So too was any real consideration of how the southern roots and routes of his art frequently landed his listeners in a more transnational space. Anything but geographically limited in his conceptualization of the South, Scott-Heron's descriptions of "down home" routinely moved beyond the geographical borders of the former Confederacy and into the transnational terrain commonly referred to as the Global South. On one of the most brilliantly executed, musical examinations of the Global South, From South Africa to South Carolina, Scott-Heron traversed the African diaspora, exploring shared rhythms and politic stretching from Barnwell, South Carolina, to Lagos, Nigeria.
Engaging this aspect of Scott-Heron's work broadens our understanding of his artistic depth, and forces us to approach with a more critical eye previous assumptions about southern black music in the post-soul, post-civil rights era. Increasingly, as the sounds of disco, Philly soul, and funk gained greater popularity among black music listeners during the late 1960s and throughout the 1970s, several white critics complained that African American music had lost its southern grit. In particular, the steady decline of the Memphis-based recording label, Stax, symbolized for some the end of a glorious era in which shared aesthetic tastes and commercial aspirations united white and black musicians across the racial divide, resulting in some of the most impressive recordings of the classic Soul era (1955-1972). It is against this backdrop of cultural criticism that certain questions regarding Gil Scott-Heron and the evolution of African American music emerge to the fore:
How does the work of Scott-Heron challenge declension narratives bemoaning the state of southern soul music during the 1970s? And to what extent has the integrationist arc driving black southern music criticism, particularly Peter Guralnick's Sweet Soul Music, limited our ability to appreciate the artistry of black southern performers like Scott-Heron, Bill Withers, and Al Green, among others, who achieved their greatest success in a post-civil rights milieu? Lastly, what are the connections and disconnections between Scott-Heron and more contemporary musicians like Jason Moran, Erykah Badu, Cassandra Wilson, Lizz Wright, and Robert Glasper whose works explore the complexity of regional identity? These questions open up critical space for rethinking Scott-Heron's relationship to a more expansive artistic tradition, while at the same time helping us better understand the South's unrelenting grip on the black cultural imagination. Even today, as digitized media, the complex processes of globalization, and shifting migratory patterns render it difficult for many African Americans to lay claim to just one regional identity, the South remains a place of great intrigue for a substantial number of black artists. As was frequently the case for Gil Scott-Heron, many contemporary musicians draw on their varied experiences as black southerners to carve out a space of artistic distinctiveness in an increasingly homogenized marketplace. All of which brings me to one of the most enduring and underappreciated aspects of Scott-Heron's legacy: his important example of how a critical engagement with "place" can offer tremendous insight into the politics of race, religion, family, class, and the human condition.
About the Author
Claudrena N. Harold is an associate professor of history and African American studies at the University of Virginia. She specializes in African American history, black cultural politics, and labor history. She is the author of The Rise and Fall of the Garvey Movement in the Urban South, 1918–1942 (2007) as well as No Ordinary Sacrifice: New Negro Politics in the Jim Crow South, 1917–1929 (forthcoming). She is also coediting (with Deborah McDowell) a forthcoming collection entitled, The Problem of Punishment: Race, Inequality, and Justice.
Recommended Resources
Links
Gil Scott-Heron
http://gilscottheron.net/
Stax Museum of American Soul Music
http://www.staxmuseum.com/
Print
Guralnick, Peter. Sweet Soul Music: Rhythm and Blues and the Southern Dream of Freedom. New York: Back Bay Books, 1999.
Harold, Claudrena N. The Rise and Fall of the Garvey Movement in the Urban South, 1918–1942. New York: Routledge, 2007.
Martin, Jr. Waldo E. No Coward Soldiers: Black Cultural Politics and Postwar America. Cambridge: Harvard University Press, 2005.
Ramsey, Guthrie P. Race Music: Black Cultures from Bebop to Hip-Hop. Berkeley: University of California Press, 2003.
Werner, Craig. A Change is Gonna Come: Music, Race, & the Soul of America. Ann Arbor: University of Michigan Press, 2006.
References

| | |
| --- | --- |
| 1. | Bob Herbert, "A Death in Destrehan," New York Times, February 1, 2007. |
| 2. | "The Revolutionary Will Not Be Televised: A Film About Gil Scott-Heron," 2009 (unreleased). |
| 3. | Baker, Houston A., I Don't Hate the South: Reflections on Faulkner, Family, and the South. (New York: Oxford University Press, 2007), 76. |
| 4. | Thadious Davis, "Reclaiming the South," in Bridging Southern Cultures: An Interdisciplinary Approach, ed. John Lowe. (Baton Rouge: Louisiana State University Press, 2005), 63. |
| 5. | Davis, 64. |