Overview
Grace Hale explores the band Oh-OK and the meaning of play in the 1980s music of Athens, Georgia.
"The Complete Oh-OK: Music as Child's Play in Athens, Georgia" is part of the 2011 Southern Spaces series "Sightings: Architecture, Art, and Artifact," a collection of reviews and essays examining visual representations of the US South in museums, landscapes, and media. Series editors: Lisa Goff and Grace Hale.
Essay
Here's for an expanding hope.

—Oh-OK, "Brother," 1982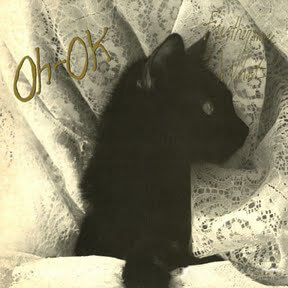 Oh-OK, Furthermore What cover, DB Records, 1984.
If you want to start an argument, just ask any 40- to 50-ish-year-old fan of what was then called "college radio" to name the best early 1980s band from Athens, Georgia. Many folks will insist on the most famous band to emerge from this place and time, R.E.M., especially given the band's recent breakup. Knowing music snobs will name quirky, dance-inducing Pylon. Some people will praise the wig-wearing cut-ups who started it all, the B-52's. A few folks will even suggest groups like Love Tractor or the Method Actors. Few people will say the largely forgotten band Oh-OK. Yet no band explored more deeply one of the issues at the heart of the early 1980s Athens music scene. Just what exactly does it mean to play?
Oh-OK debuted in May 1981, when Lynda Stipe, Linda Hopper, and David Pierce opened for Michael Stipe, lead singer for the then-new and not-very-well-known band R.E.M., at the 40 Watt Club. Michael performed solo that night, accompanied by a film show and a pre-recorded soundtrack. Before Michael took the stage, his sister Lynda Stipe, who wrote the songs, played bass while Michael and Lynda's friend Linda Hopper sang. David Pierce played drums. The members of Pylon, then considered the Athens band most likely to follow the B-52's to international fame, heard the performance and invited Oh-OK to open for them in New York. More local dates followed—a gig opening the new late-night coffee club Night Gallery, and more shows at the 40-Watt and other Athens venues. By early 1982, Oh-OK had released a small seven-inch record, Wow Mini Album, on DB Records, the Atlanta label that recorded Pylon and the B-52's first single. Two years later, with the addition of guitarist Matthew Sweet, Oh-OK released Furthermore What, a twelve-inch record, again on the DB label. The notoriously stingy Village Voice music critic Robert Christgau praised this second effort and awarded it an A minus, the same grade he gave R.E.M.'s second album Reckoning, also released in 1984. In the four years after their 1981 debut, Oh-OK played in Athens, Atlanta, New York, and several other cities on the East Coast, and recorded ten songs: a total of just twenty-two minutes of music, what Christgau called "their tiny life" in liner notes for the release of their complete recordings on compact disc in 2002.
In their coverage of Oh-OK's brief career, music critics and other journalists wore their regional and urban prejudices on their sleeves. According to them, the most singular thing about the music coming out of Athens was the improbability of it all. How could kids in a sleepy college town dominated by college football and beer-drinking Greeks create an avant-garde approach to rock and roll? "They're freaked out, especially in the states, that bands with any measure of sophistication should come from a small Southern town," Michael Lachowski, bassist for Pylon, told the Washington Post in 1984. This sense of surprise worked in favor of early Athens bands, which got bookings and publicity out of the shock value. But as Athens groups like Pylon, Love Tractor, R.E.M., and Oh-OK followed the B'52's in playing important new music clubs in New York, critics began to talk about an "Athens sound." Most local musicians, concentrating on carving out a niche for their bands, denied there was such a thing. But as Lachowski conceded to the Post, "There's an Athens aspect . . . the common element here is getting out on the dance floor and drinking beer. And they all have a sort of raw, naïve sound." In the music magazines, critics often described these aural qualities as the "southern" sound of the music.
For people that lived there, however, the critics' vision of "southernness" had nothing to do with it. The scene emerged not in response to or against some stereotypical regional quality but out of their giddy sense that anything was possible. Geography mattered: the town's distance from the urban centers of punk and new wave music gave people the space to experiment and play. Most University of Georgia students came from suburban Atlanta and had grown up with a dose of post-civil rights movement Sunbelt optimism. Musician Vic Varney, a member of the Tone Tones and the Method Actors, expressed the spirit of the early Athens scene: "There's absolute naïveté here about the possibilities about life on Earth. I don't know why we're so arrogant or stupid to think we can do the things we do, but we do." Curtis Crowe, drummer for Pylon and founder of the first alternative music club the 40 Watt, described Athens in 1984: "You can come up with a band that is so avant-garde nobody will like it, and you'll make money . . . Anything goes." Lynda Stipe described the nurturing atmosphere of the scene as "really powerful. Lots of sharing, lots of encouragement . . . It seemed really easy. You did anything and someone would pay attention to you. It was WAY too easy." A college-age mentality of "reckless enthusiasm" made everything seem possible, Crowe explained. "When you look back, you realize that the odds were against us, and, if we'd known at the time, we may never have done it at all."
Their sense of possibility, innocence, and wonder permeated much of the expressive culture these people created in the late 1970s and 1980s. When I lived in Athens, I felt that many of the musicians and artists I knew somehow hung on to a magical, let's pretend approach to interacting with the world common among children. Revisiting the music, performance styles, and visual art of the period, I found references to children's play everywhere: in songs, paintings, photographs, installations, and films, in a pervasive celebration of amateurism and primitivism, and in the crazy free form dancing that erupted wherever bands played. In Athens, child's play worked as a practice, aesthetic, and a subject, and no early band embodied all the aspects of this quality more clearly than Oh-OK.
As a practice, child's play meant the valuing of passion and self-expression over craft. It also meant playing "just for fun" rather than with any public acknowledgement that music could be a career or way of earning a living. Many people literally learned to play their instruments after they decided to form bands. They approached guitar and bass and drums and their voices as tools they could easily manipulate to express themselves rather than as instruments requiring years of study. Without training or experience, members of many of the early bands believed, they would not know how to follow musical conventions and whatever they produced would by necessity be original. For Stipe and Hopper, learning to be a musician went hand in hand with creating the band. "When I left to go to Europe in April," Varney told a reporter, "nobody who is in Oh-OK even had an instrument or knew how to play. They went with Pylon to New York and played at the Peppermint Lounge on their second gig." Musicians in Athens did not so much follow punk's "do it yourself" principal as their own childlike creed, "just play."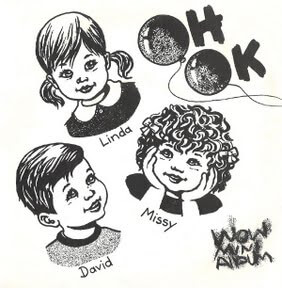 Oh-OK, Wow Mini Album cover, DB Records, 1982.
Child's play as an aesthetic could mean many things: a simple or primal sound, a juvenile visual style, or a mood that oscillated between innocence and knowingness, wonder and terror. On both studio and live recordings, Oh-OK's aesthetic embraced them all. Hopper's girl-pitched, matter-of-fact vocals provide a confident contrapuntal alternative to Stipe's bouncy bass lines, offering up at times a dissonance that mimics a kid singing along to a her favorite pop tune. Stipe's hooky bouncy bass, in turn, makes it impossible to listen to this music without wanting to tap or spin or leap or sway like a toddler getting used to her feet. The visual style also embraced a sense of play. Hopper and Stipe did not have the kind of androgynous, stick-straight bodies and serious pale faces of many new- and post-wave musicians at the time. Their torsos curved, their hair curled, and their lips smiled. They wore forties and fifties dresses and ribbons in their hair, and they bopped and shook when they performed like the dancers in A Charlie Brown Christmas. The artwork for their albums, too, echoed this childish aesthetic. A drawing of band members as children—Lynda Stipe is called Missy here—comprises the cover of Wow Mini Album. The name of the band and the album too are hand-lettered with the "O"s in Oh-OK are drawn as balloons. As for the mood conjured by Oh-OK's music, Christgau described it perfectly in his review of Furthermore What:
The secret of this childlike music isn't just its coy sexuality—lots of girls like to play that game. But how many mask a preoccupation with death, disease, lust, and rebirth without violating either the existential verities or their own sense of fun?
More than any other Athens band in the eighties, Oh-OK made child's play the subject matter of their songs. Their 1982 song "Brother" describes a sibling "too young to go to the discotheque": "My little brother / he's for himself / he's for nobody else / once somebody in a red mini-skirt / tried for it." Then the chorus rings out, "Here's for an expanding hope." The opening of the 1982 song "Person" sounds like the manifesto of a kid on the cusp of becoming a teenager, both narcissistic and vulnerable: "I-I-I-I-I-I-I-I-I am a person. / I speak to you. / I am a person, I am a person and that is enough." "Playtime," also from 1982, includes a round-like chorus: "Playtime / Run until the blood pounds. / Run until the end of, / Playtime." The 1984 song "Straight" opens with Hopper speaking in a sultry and yet girlish voice this twist on a children's game: "Red rover, red rover, / please send her a lover, / she needs someone above her . . ."
Athens bands like Oh-OK stood out in the new music landscape of the late 1970s and 1980s because their members liked to play in all the meanings of the term: to participate, to perform, to move, and to pretend. They brought whimsy, wonder, passion, and pleasure back to the cutting edge of rock and roll after the years of punk anger and new wave cool. They restored the magic and the fun. In the midst of Reagan-era nostalgia for some fantastical American past, they reminded those of us who listened and danced like crazy that we could still make a beautiful future.

Sources
"Christgau's Consumer Guide," Village Voice, May 29, 1984.
Jason Gross, "Lynda Stipe: Oh-OK," Perfect Sound Forever.
http://www.furious.com/perfect/lyndastipe.html.
Art Harris, "O Little Town of Rock 'n' Roll: Welcome to Liverpool South," Washington Post, August 29, 1984.
Bill King, "Athens: A City Attuned to New Wave-length," Atlanta Journal Constitution, June 30, 1981.
"Is Rock Dead?" People, January 17, 1983.
http://www.people.com/people/archive/article/0,,20084074,00.html
Oh-OK. Oh-OK: The Complete Recordings. Collectors' Choice, 2002.
Performances by local bands including Oh-OK that the author attended in Athens in the 1980s.
Recommended Resources
Text
Brown, Rodger Lyle. Party out of Bounds: The B-52's, R.E.M., and the Kids Who Rocked Athens, Georgia. New York: Plume, 1991.
Montgomery, Jeff. "Athens has served as wellspring of musical talent." Online Athens, December 3, 2001. http://www.onlineathens.com/stories/120401/ath_bimusic.shtml
Video/Audio
Gayton, Tony. Inside/Out. Athens, Georgia: Spotlight Productions and Subterranean Films, 1987.
Oh-OK. Wow Mini Album. DB Records, 1982.
Oh-OK. Furthermore What. DB Records, 1983.
Oh-OK. Oh-OK: The Complete Recordings. Collectors' Choice, 2002.
Web
"Flagpole's Athens Music History Walking Tour: Sample a Slice of Our Illustrious Past," Flagpole Magazine, August 8, 2008. Google Map Layer. https://maps.google.com/maps/ms?msid=213642493117844327044.0004992fbb84a1ebaec06&msa=0.
Gross, Jason. "Oh-OK: Interviews," Perfect Sound Forever, July 2001. http://www.furious.com/perfect/ohok.html.