Overview
Debra H. Rodman reviews "The Land We Live in, the Land We Left: Virginia's People," an exhibition at the Library of Virginia.
Review
Amid the current wave of anti-immigrant sentiment, numerous US cities and states are reexamining their own histories. While traditional migrant destinations such as Miami, Los Angeles, or New York loom large in demography and popular consciousness, many locales have significant and diverse foreign-born populations. "The Land We Live in, the Land We Left: Virginia's People," an exhibition at the Library of Virginia in downtown Richmond, curated by Lisa Goff and coordinated by Barbara Batson, draws upon a material culture legacy ranging from Captain John Smith's travels from England to Jamestown to the most recent influx of Mixtec migrants of southern Mexico to address a complicated and conflicted past.
Although simple in its presentation, using mostly large poster board and glass cases with a variety of historical artifacts, the purposes and stories presented in the exhibit defy their austere arrangement. When you enter the Library's atrium, there are ten individual profiles in the lobby niches. As Goff explains, "We chose people with diversity in mind—geographic (both in terms of country of origin and where they settled in the state), class, race, and gender. We chose people who had lived the "American dream" of achieving financial success, but also people who had struggled financially their whole lives. In other words, the gamut of immigrant experience."
"The Land We Live In" begins with Virginian icons John Smith and Pocahontas, creating a presence for Native Americans whose movements into and out of Virginia pre-dated and paralleled the early colonists'. Pocohontas, for example, was preparing to return to Virginia when she died in England. Had she lived longer, her pattern of return migration would have paralleled many travelers' comings and goings between continents. John Smith's story questions the dichotomy between "immigrant" and "colonist," or "settler."
Among the other eight profiles are biographies that also challenge the conventional trajectories of the "migrant." In "Greece to Norfolk," the exhibition tells of Demetrios Karkambasis (renamed James Campas) who comes to the United States in 1912, marries another Greek immigrant, has a family, and and by the 1920s owns a business. Members of the Karkambasis (James) family come and go, live and die, between Greece and Virginia, blurring the categories of "return," "home," and "country." Even if they did not make return trips, migrants' ties to their home countries frequently remained strong and have always featured in the migrant experience. Other profiles of transnational migrants include those of people who are currently living: Pearl Fu from Roanoke, an ethnic minority from China who in the 1950s came to go to college. "You acclimate to this country," says Fu, "contribute to it, but also you keep your heritage alive."
The exhibit reveals migrant heartbreaks as in the story of an enslaved woman named Nancy who in 1815 was freed by her master only to learn that under a 1806 law she had to either leave the state within a year or remain enslaved to be with her three children. Nancy's story finds parallels in today's Latin American migrants, who leave families behind never to see them again, or lack legal documents so that parents are separated from their American-born children. "I looked all around, and I saw I was alone," writes an unknown immigrant in the Shenandoah Valley in 1847.
Drawing upon a deep trove of artifacts from the Virginia Board of Immigration (founded after the Civil War and run by Polish immigrant and former Confederate officer Gaspar Tochman), the main gallery of "The Land We Live in, the Land We Left" includes many objects of daily life from across time periods: red velvet wedding jackets, banjos, hand-carved walking canes, soccer jerseys, foreign-language newspapers, real estate brochures entreating "Come to Virginia!" The exhibit emphasizes the multiplicity of reasons immigrants came to Virginia and includes items belonging to African American slaves and Native Americans, people involuntarily brought to Virginia and those who were decimated and pushed out. "No native Indian in Virginia is unmixed with Negro blood," reads an excerpt from a letter by the head of the Bureau of Statistics explaining that under Virginia's 1924 Racial Integrity Law, Indians would be relabeled "negro." This official action during the Jim Crow era resulted in the flight of many of the state's Native Americans.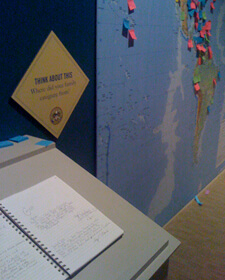 Debra

H.

Rodman, Exhibition guest book, Library of Virginia, Richmond, Virginia, 2010.
In the exhibition's main hall, a large map of the world is colored in bright post-it notes mostly by children who have written their places of origin. A guest book contains testimonies of the latest Virginians: "My family is from the southernmost island of the Caribbean, Trinidad and Tobago," "My family came from the Mayflower from England," "My dad is from Prague and my mom from Puerto Rico," "I am from Jutiapa, El Progresso, Guatemala!" The lists of names and places turn into longer narratives of immigration. "I myself am from Texas," writes a child, "though my mother was from Mexico, and my grandmother from the Yucatán, I am proud to be third generation to travel great distances in search of new hopes, ideas, and personal freedom."
"The Land We Live in, the Land We Left" also engages the current immigration debate through a series of panel discussions. As an anthropologist who studies Central American migration, I sat with other academics and Latin American migrants to explore "Nuestra Tierra, Nuestro Hogar: Latinos in Virginia," and "Becoming a Virginian: Contemporary Immigrants Speak." The parallels between the challenges facing today's migrants and those of earlier generations are clear: tension and ambiguity, sacrifice and loss, hope, and the possibilities of personal freedom.
About the Author
Debra H. Rodman is a cultural anthropologist who has lived and worked among Guatemalan migrants and in their home communities since 1999. Her research explores the impact of transnational migration on gender and ethnic relations among Maya and Ladino people in Eastern Guatemala. She currently resides in Richmond, Virginia and is an assistant professor at Randolph-Macon College.
Recommended Resources
Print Materials
Daniels, Roger. Coming to America: A History of Immigration and Ethnicity in American Life. Harper Perennial, 2002.
Yans-McLaughlin, Virginia. Immigration Reconsidered: History, Sociology and Politics. Oxford, UK: Oxford University Press, 1990.
Links
Library of Virginia
http://www.lva.virginia.gov/.
"The Land We Live in, the Land We Left: Virginia's People," an exhibition at the Library of Virginia
http://www.virginiamemory.com/exhibitions/land_we_live_in/.