Overview
In their photo essay, Nancy Marshall and John McWilliams explore the history, mission, and significance of the "Low Country Travelers," an African American car club in the South Carolina town of McClellanville.
"Low Country Travelers: An African American Car Club of Charleston County, South Carolina" was selected for the 2009 Southern Spaces series "Documentary Expression and the American South," a collection of innovative, interdisciplinary scholarship about documentary work and original documentary projects that engage with regions and places in the US South.
In the early 1970s, John was teaching photography at Georgia State University when we discovered McClellanville through Robert Frank's photograph "Barber shop through screen door - McClellanville, South Carolina" in The Americans. During the discussion of this iconic image, one of John's students from nearby St. Stephens offered to introduce us to his friends. We began travelling to McClellanville often, built a marsh cabin there in 1981, and eventually moved there. The barber shop Frank photographed has been torn down but was located directly across the street from our studio on Pinckney Street.
McClellanville was settled by plantation owners after the Civil War as a summer refuge and remained remote until the construction of bridges across the Santee River to the north and the Cooper River to Charleston in the 1920s. Today, the town's largely white population numbers around 450. Conversely, the surrounding communities of Germantown, Tibwin, Pinelands, Buck Hall, and South Santee have a predominantly African American population of about three thousand. Most of the the families have lived in the area for at least 250 years.
A few years ago, Gussie Humes, the only African American member of the McClellanville town council, and Selden B. Hill, the white director of the Village Museum, proposed a parade to foster interaction between racial communities. We first encountered the Low Country Travelers Car Club as the parade passed our studio. We were struck by the vibrancy of the club and the parade's manifestation of the parallel black and white worlds within McClellanville.
We wanted to photograph the members of the car club alongside their cars. They agreed. In exchange, each member would receive copies of the photographs. We worked in a straight-forward manner to best present the car and its owner. Car club members suggested locations for their significance in the local African American communities: Old Bethel A.M.E. Church, Buck Hall Landing, and Jeremy Creek in McClellanville, the Deer Head Oak, River Road near M&M Garage, Lincoln High School, and Thompson Hill Playground in Awendaw.
A fraternal organization of approximately forty men who reside in McClellanville, Awendaw, Mt. Pleasant and Charleston, the Low Country Travelers began in March 2005 when Frank Ancrum had the idea of getting together men who were interested in owning and restoring "old school" cars. At a small gathering of old school car enthusiasts at James Island County Park, Ancrum had noticed his fourteen year-old son's growing interest and decided to buy a car to restore. His original impulse was "to promote unity of the brothers." Ancrum asked two men from each area of the county to identify others. More than thirty attended that first meeting. Since its inception, the purpose of the club has been to promote interest in street-rodding activities, to create fellowship, and to encourage youth to develop an interest in mechanics and restoration as an alternative to less constructive activities. Ancrum stresses that the club is not a "social club," but has a historical mission through preservation of the cars.
By-laws state that members must have good character. Behavior "should not consist of sagging pants [associated with prisonwear], loud music and profane languages." Displaying club colors of red, black, and silver and wearing red monogrammed sport shirts and hats, members like to look "sharp and pressed." The Low Country Travelers consists entirely of African American men, although the bylaws do not prohibit members of other races or women. Members' ages range from twenty-somethings to the retired. Dues are $36 per year. Women and children wearing club colors are included in activities such as the annual car show, but do not attend the monthly meetings.
Club members must own American-made classic cars ranging in model year from 1900 to 1972. Restoration need not be completely authentic, as owners frequently paint their cars in colors used on a later models of completely different makes, such as "Mustang Yellow" on a much earlier Chevrolet. Younger members are influenced by muscle car styles which can involve pneumatic operations such as "air rides." Not driven daily, the club cars are kept garaged or covered.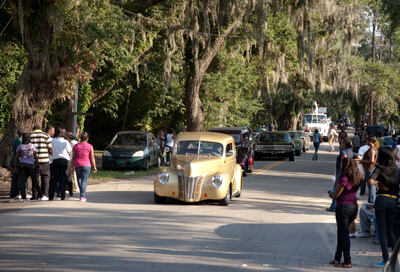 Nancy Marshall and John McWilliams, Homecoming parade, McClellanville, South Carolina, 2010.
Low Country African American social life remains centered around churches and there is a strong spiritual camaraderie between car club members. As prescribed in the bylaws, Travelers members take turns every fourth Sunday visiting each other's churches. These rules also extend to associates of the group: if a club member attends a different church than his wife or girlfriend, then that wife or girlfriend can also invite club members to visit her church. Club members drive their "old school" cars to church and afterwards go as a group to a restaurant for lunch or to a park where the members gather to talk and look over the cars.
In addition to the town parades, club members regularly bring their cars to the annual Lincoln High School Homecoming and have driven in Fourth of July and Christmas events, as well as Charleston's Martin Luther King Day Parade and the Emancipation Proclamation Day Parade. The club hosts events for Black History Month, as well as a car show and judging every year with raffle prizes and trophies given for various categories such as "furthest distance traveled" and "best in show." Money raised by the car show goes to charities such as a children's hospital, and helps purchase school supplies. The club joined with other area clubs such as the Corvette Club to support a benefit for Haiti. Aside from events and charitable activities, the club has a strong sense of pride in its work. Frank Ancrum talks about the joy of driving his beautiful car down the highway and living for "the moment when he passes a little kid who gives him the thumbs up" when he sees the cool car go past.
Recommended Resources
Map
Print Materials
Frank, Robert. The Americans. New York: Aperture, Inc., 1958.
Johnson, Cassandra Y., Angela C. Halfacre, Patrick T. Hurley. "Resistant Place Identities in Rural Charleston County, South Carolina: Cultural, Environmental, and Racial Politics in the Sewee to Santee Area." Human Ecology Review 16, no.1 (2009): 1-16.
Links
South Carolina African American Organizations
http://www.sciway.net/afam/scorganizations.htm
Town of McClellanville
http://www.townofmcclellanville-sc.net/