Overview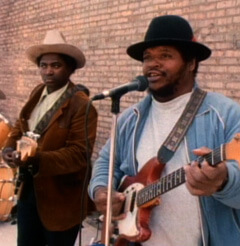 David Lindsey and friends, Goin' to Chicago, 2000.
This multimedia essay presents two excerpts and accompanying commentary from the film Goin' to Chicago, a documentary which takes as its subject the African American migration out of the Jim Crow South during the twentieth century. Director George King describes his approach to the making of this film, offering insights into its editing and construction.
"Goin' to Chicago and African American 'Great Migrations'" was selected for the 2010 Southern Spaces series "Migration, Mobility, Exchange, and the US South," a collection of innovative, interdisciplinary scholarship about how the movements of individuals, populations, goods, and ideas shape dynamic spaces, cultures, and identities within or in circulation with the US South.
Introduction
Filmed during the 1990s and released on PBS in 2000, Goin' to Chicago is a sixty minute film about the largest internal movement of people in United States history—the Great Migration. Between 1916 and 1970, six million African Americans left the cotton fields and segregation of the rural South for northern, midwestern, and western cities, changing the American cultural and political landscape. The film weaves together personal stories with archival footage, photographs, and a soundtrack featuring blues, rhythm and blues, and gospel music—much of it recorded specifically for Goin' to Chicago.
This multimedia essay features two clips exploring the experiences of migrants to Chicago and the subsequent decline of the industrial opportunities that initially attracted them. Director George King provides insights into the experience of filming these clips and his choices for constructing and editing this documentary.
Bronzeville
"Bronzeville," Video excerpt from Goin' to Chicago, a documentary film by George King, originally broadcast on PBS in 2000.
In making Goin' to Chicago, I wanted to recognize the power of expressive culture—language, food, spiritual life, and particularly music. I also wanted to present the Great Migration as contemporary rather than "history," present rather than past. This clip demonstrates how viewers are brought into dynamic environments like Monday nights at Artis's Bar in South Side Chicago—a site that demonstrates where generations of migrants transported and reinvented the blues. By the 1990s, most blues clubs were outside of the black neighborhoods where southern African American migrants initially developed the Chicago blues sound during the first half of the twentieth century. At the time of our filming, the blues scene in Chicago had shifted to the city's North Side, catering mainly to younger white patrons, students and tourists. Resisting these trends, Artis's remained on the South Side, retaining the spirit of the earlier blues in contemporary form: as a chic, urban, juke joint. The musicians featured here, Billy Branch and the SOB (Sons of the Blues) Band, are the sons of former blues musicians. The lead singer describes his rural Mississippi background in connection to musicians such as Muddy Waters and Howlin' Wolf, who as he describes, grew up working "mighty hard, and they didn't get paid very much." The SOB Band demonstrates the power, excitement, sexuality, and humor of classic Chicago blues. They were not just another act recycling familiar material to curious conventioneers. Against the film crew's and his fellow band members' expectations, the lead guitarist broke into an electrifying ten minute solo that "peeled the paint off the walls," and also used up all of our film. It was a spectacular performance, but unfortunately could not be edited into the time constraints of a sixty-minute film.
The next section underscores the consequences of low pay in the rural South by featuring interviews with steelworkers as they recall moving north to find economic opportunity. Blues singer Koko Taylor, who migrated from the Memphis area to Chicago, remembers earning five dollars a day cleaning houses after making three dollars a week in the South. The pay increase did not mean shorter hours. In recognition of how African American migrants fueled Chicago's economy at the time, John Wiley describes working two jobs for twenty-five years.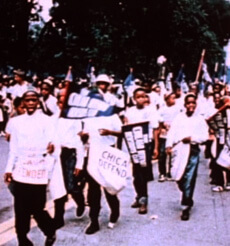 Bud Billiken parade in "simulated newsreel," Goin' to Chicago, 2000.
The clip ends with a simulated newsreel. This particular example celebrates Bronzeville, a name coined to describe the vitality of Chicago's South Side in its heyday during the 1930s and '40s. The "newsreel" was a device we used in the film to provide factual information in an entertaining manner. The four newsreels in the documentary evolved out of a comment from a researcher that I hired to track down historical film and video of black Chicago. One day during a phone call she expressed anger and frustration at failing to find much archival footage. "My history was not recorded," she said. The predominantly white-owned media had never shown much interest in the black population, unless it was to film a disaster such as a fire. There were little or no filmed records of black life from the 1940s to 1960s on the South and West Sides. So we decided to create what had not existed. We edited footage from a variety of historical archives and collections into short newsreels complete with buoyant music and narration characteristic of the 1940s.
The example presented here features Bronzeville's annual Bud Billiken Parade in 1954. This footage was not shot for or used in a contemporary newsreel, but we made it into one by writing appropriate narration, using an upbeat midwestern voice, and adding music. We created our own newsreel company with logo. Complaining that you cannot create artifacts, some historians have criticized these newsreels, but they are intended to be an entertaining, engaging, storytelling device. Giving them the prominent title, "Simulated Newsreel," I hoped they could never be confused with real artifacts. I actually wanted to call them "fake," but PBS objected.
Economic Downturn
The second video excerpt addresses the decline of economic vitality for southern African American migrants in Chicago during the 1960s and '70s. It also features various spaces that were demolished for the purposes of "urban renewal" after we filmed in the early 1990s. In this way, Goin' to Chicago provides a last look at several black Chicago institutions.
"Economic Downturn," Video excerpt from Goin' to Chicago, a documentary film by George King, originally broadcast on PBS in 2000.
This clip opens with David Lindsey and friends performing "Downhome Blues" at Maxwell Street, the famous street market on Chicago's West Side. In the last century, Maxwell Street transformed from a commercial center for Jewish patrons, to African American, to Hispanic patronage. In 1994 the market was relocated—swept up in the expansion of the University of Chicago. From the 1920s when African American migrants made up the majority of residents in the area, the market was a place to hear the blues—shopkeepers and stall-holders would encourage musicians to set up in front of their places to draw a crowd.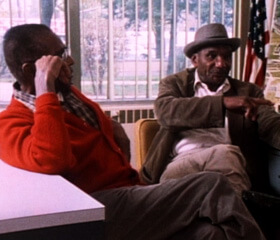 Laid-off steelworkers, Goin' to Chicago, 2000.
The next section revisits the steelworkers seen in the first clip. They describe how they were laid off after decades of steady employment. As one laid-off worker, Alvin Robertson, explains, "At my age [fifty-two], I didn't think I was going to have to look for another job in my whole lifetime." Their story represents the plight of many migrants who had prospered with jobs in the expanding manufacturing and service industries after World War II in the "City of Big Shoulders." Twenty years later, industrial jobs migrated west, to non-union southern states, or outside the United States to developing countries.
Economic decline plays into the transformation of once vital neighborhoods on the South and West Sides, where the housing and infrastructure started to crack and crumble. Southern migrant Geri Oliver, owner of the celebrated Palm Tavern, talks about how the once famous 42nd Street strip has deteriorated. The Palm Tavern functioned as an unofficial clubhouse for generations of African American musicians, including Duke Ellington, James Brown, Count Basie, Quincy Jones, and Muddy Waters.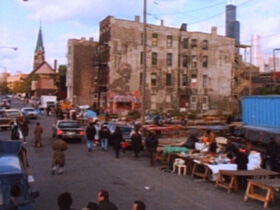 Maxwell Street Market, Goin' to Chicago, 2000.
During the 1980s and '90s, political neglect, economic inequality, and systemic racism contributed to the continuing decline of Chicago public housing facilities, many of which became lawless, drug-infested environments where residents lived in fear of gangs. The clip ends with four young rappers from the projects describing life in Cabrini Green, one of Chicago's most notorious projects on the Near North Side. Even though we had hired security, I recall that a fourteen year-old tried to "shake down" the film crew that afternoon. We elected to call his bluff, which proved to be all it was, but by that time Cabrini was not a place to take threats lightly.
Unintentionally, this clip also documents the last days of the Palm Tavern, Cabrini Green and the Robert Taylor Homes housing projects, and the Maxwell Street Market. By the mid-1990s, the federal government mandated the destruction of thousands of public housing units, with plans to develop a mixed income approach to public housing, particularly in these areas of Chicago, though the development process has been controversial because tenant relocation did not keep pace with tenant displacement.
Conclusion
I made Goin' to Chicago in response to what I perceived as a lack of awareness about the impact of the Great Migration on American politics and culture. When we made the film there was little non-scholarly nonfiction available on the subject, and no documentary films that focused on the migrations. Many white Americans and younger African Americans were unaware that this social movement even occurred—that in roughly sixty years African Americans had transformed from a primarily rural and southern population to a primarily urban and non-southern one.
Certainly now more information is available. However, with the exception of a BBC/Discovery Channel program that quickly fell out of public notice and access, Goin' to Chicago remains the one documentary film that addresses this important phenomenon. It took about five years of research and production to make the film. Sadly, due to recent cut-backs in public funding, I doubt that this film could be made today.
Recommended Resources
Print Materials
Baldwin, Davarian L. Chicago's New Negroes: Modernity, the Great Migration, and Black Urban Life. Chapel Hill: University of North Carolina Press, 2007.
Grossman, James R. Land of Hope: Chicago, Black Southerners, and the Great Migration. Chicago: University of Chicago Press, 1991.
Lemann, Nicholas. The Promised Land: The Great Black Migration and How It Changed America. New York: Vintage Press, 1991.
Wilkerson, Isabel. The Warmth of Other Suns: The Epic Story of America's Great Migration. New York: Random House, 2010.
Links
Goin' to Chicago, California Newsreel.
http://www.newsreel.org/nav/title.asp?tc=CN0041
"Chicago: Destination for the Great Migration," Library of Congress Resource Guide.
http://www.loc.gov/exhibits/african/afam011.html
Goin' to Chicago: The Story of America's Great Migrations, George King & Associates.
http://www.georgeking-assoc.com/gointochicago/
"In Motion: The African American Migration Experience," Schomburg Center for Research in Black Culture.
http://www.inmotionaame.org/migrations/landing.cfm;jsessionid=f8301562271290960388779?migration=8&bhcp=1.