Overview
In this video and accompanying short essay, Neeta Kirpalani and Emily Jackson survey the state of midwifery in Alabama. Through interviews with public health professionals, physicians, parents, and nurse midwives -- and the use of archival images, they detail the effects of recent legislation on midwives, families, and healthcare.
Birth Right: Video and Essay
Birth Right. A short video by Neeta Kirpalani and Emily Jackson, 2008.
Midwifery is controversial in Alabama, both legislatively and in debates about women's health policies. At the heart of this issue is the question of choice. Current laws deny many healthy women a choice in their birth plans. In Alabama, it is legal for a woman to give birth to a child at home; however, it is illegal to have a midwife assisting at this home birth. Some expectant mothers from Alabama travel to nearby states, such as Tennessee, where present laws enable midwives to attend out-of-hospital births. Many of these women are seeking alternative delivery options that enable them to have continuity in care and a more personal birthing experience. As of 2009, the practice of direct entry midwifery was legal and regulated in twenty five states, "alegal" (that is, direct entry midwives were allowed to practice without legal interference) in fifteen states, and explicitly illegal in only eleven states, including Alabama.1For more information, visit: http://mana.org/about-midwives/state-by-state.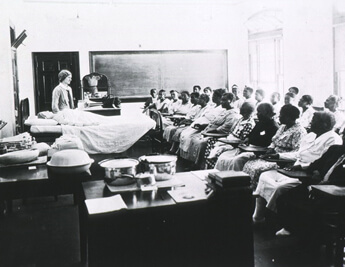 Neeta Kirpalani and Emily Jackson, Still image from Birth Right, 2008.
The more important public health issue that resonates with midwifery issues is the lack of access to care for many women who reside in rural Alabama. Rural areas of the state are medically underserved, frequently impoverished, and suffer from higher infant and maternal mortality rates. According to a report by the American Hospital Association, between 1980 and 1989, Alabama had one of the highest rates of rural hospital closings in the nation.2Health Care Information Resources Group for the American Hospital Association. (March 1994). Hospital Closures 1980-1993: A Statistical Profile. Chicago, IL. A 2009 report by the Health Resources and Services Administration found that "approximately 888,000 people, or 19 percent of Alabama's population, cannot access a primary care provider due to shortages in their communities."3Health Insurance Reform and Alabama: The Case for Change. Healthreform.gov. Citing the Office of Shortage Designation, Bureau of Health Professions, Health Resources and Services Administration (HRSA), Special Data Request, April 2009.
Midwifery advocates insist that legalizing midwifery would be a cost-effective response to the lack of birth plan options for women in rural Alabama. Midwives can provide services in the home at a fraction of the cost of a low-risk hospital birth. A study on the costs of maternity services in 2000 found that the average charge for a home birth with a certified midwife was almost $1,000 compared to over $5,000 when a woman delivered using an obstetrician in the hospital.4Center for Health Statistics. Infant Mortality Slideshow. Montgomery, Alabama: Alabama Department of Public Health, 2008. Advocates assert that midwives could also help lower the state's high infant mortality rate of 9.5 deaths per 1,000 live births compared to the US rate of approximately 6.7 deaths per 1,000 live births in 2008.5Carr, Catherine A. "Charges for maternity services: associations with provider type and payer source in a university teaching hospital". Journal of Midwifery and Maternal Health 45(5), September 2000. See also: http://www.adph.org/healthstats/assets/vs08.pdf.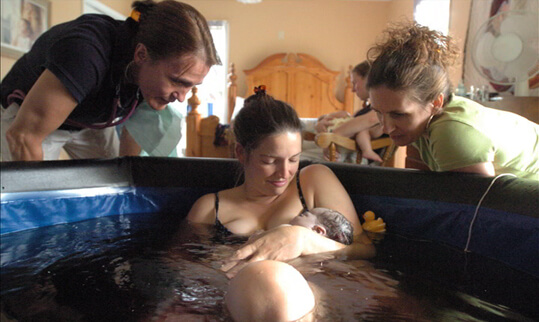 Neeta Kirpalani and Emily Jackson, Still image from Birth Right, 2008.
Midwives are a vital part of maternity care throughout the world. Many developed countries, including several in Western Europe, such as Great Britain, Germany, Ireland, and the Netherlands, use midwives as the primary birthing attendants for normal, low-risk pregnancies. In the United States, views are polarized and there is a sharp division between the medicalized and midwifery models of care. Although medical interventions and healthcare costs are high and escalating, many midwives involved with home births have been denied the ability to serve as lead professionals in healthcare systems.

Changes in the delivery of care in the last few decades have resulted in an overmedicalization of healthcare. Over-reliance on medical technology and innovation with regard to maternal and child health has led to a collective loss of confidence in the female body's ability to give birth naturally, and has, instead, emphasized surgical intervention. Between 60 and 80 percent of US births involve some form of medical procedure, although there is a need for these procedures in no more than 20 percent of all births.6Wagner, Marsden. Born in the USA: How a Broken Maternity System Must Be Fixed to Put Women and Children First. Berkeley: University of California Press, 2006. Midwifery advocates argue that many of these interventions carry high risks and complications that may not be clearly communicated to patients. Women who choose midwife-assisted home or hospital births want to be able to have more control over their deliveries and want to be able to give birth naturally, the way female bodies have been designed to do.
About the Film
Neeta Kirpalani and Emily Jackson became interested in the issue of midwifery in Alabama while pursuing an ethnographic filmmaking course at the University of Alabama at Birmingham. They learned of the historical importance of midwives in providing critical public health services for much of rural Alabama and of the current controversy surrounding the legalization of midwifery practices. The filmmakers were introduced to the rich history of midwives in the US South after viewing a 1950s documentary film by George Stoney, All My Babies, that portrayed a visual and narrative context for the role of Georgia midwives as primary birthing attendants.
A lack of education among the general population and among medical professionals regarding the benefits and services of midwives provided the impetus for the video. In an effort to understand the roles of midwives in maternal and child health, the filmmakers focused on interviews with midwives, physicians, and legislators. Given the illegal status of midwifery in Alabama, they traveled throughout the state and into Tennessee to accurately depict the challenges faced by many women in Alabama who seek midwifery care. Midwifery advocates argue that legalizing the practice would be an important step in addressing larger public health issues in Alabama, which include cost effectiveness as well as a lack of access to care.
Recommended Resources
Print Materials
Block, Jennifer. Pushed: The Painful Truth about Childbirth and Modern Maternity Care. New York: Da Capo Press, 2007.
Cassidy, Tina. Birth: The Surprising History of How We Are Born. New York: Atlantic Monthly Press, 2006.
Logan, Onnie Lee, as told to Katherine Clark. Motherwit: An Alabama Midwife's Story. New York: Dutton, 1989.
Wagner, Marsden. Born in the USA: How a Broken Maternity System Must Be Fixed to Put Women and Children First. Berkeley, CA: University of California Press, 2008.
Links
Alabama Birth Coalition website
http://www.alabamabirthcoalition.org/
References

| | |
| --- | --- |
| 1. | For more information, visit: http://mana.org/about-midwives/state-by-state. |
| 2. | Health Care Information Resources Group for the American Hospital Association. (March 1994). Hospital Closures 1980-1993: A Statistical Profile. Chicago, IL. |
| 3. | Health Insurance Reform and Alabama: The Case for Change. Healthreform.gov. Citing the Office of Shortage Designation, Bureau of Health Professions, Health Resources and Services Administration (HRSA), Special Data Request, April 2009. |
| 4. | Center for Health Statistics. Infant Mortality Slideshow. Montgomery, Alabama: Alabama Department of Public Health, 2008. |
| 5. | Carr, Catherine A. "Charges for maternity services: associations with provider type and payer source in a university teaching hospital". Journal of Midwifery and Maternal Health 45(5), September 2000. See also: http://www.adph.org/healthstats/assets/vs08.pdf. |
| 6. | Wagner, Marsden. Born in the USA: How a Broken Maternity System Must Be Fixed to Put Women and Children First. Berkeley: University of California Press, 2006. |