Overview
Set in locations around his hometown of Milledgeville, Georgia, Sean Hill reads four poems from his debut collection, Blood Ties & Brown Liquor. Drawing upon oral history and close observation, Hill explores biography as well as racial history through several generations of a fictional African American family.
"The Morning with Many Tongues" is part of the Poets in Place series, a Research Collaboration in the Humanities initiative funded through Emory University's Presidential Woodruff Fund, in collaboration with the Office of the Provost. Series producers are Natasha Trethewey and Allen Tullos.
Readings
About Sean Hill
Born and raised in Milledgeville, Georgia, Sean Hill has an M.F.A. from the University of Houston. He has received fellowships and grants from Cave Canem, the Bush Foundation, The MacDowell Colony, the University of Wisconsin, Bread Loaf Writers' Conference, the Jerome Foundation, and Stanford University where he was a Wallace Stegner Fellow in Poetry. Hill's poems have appeared in Callaloo, Ploughshares, Pleiades, Crab Orchard Review, DIAGRAM, The Oxford American, Tin House, and other literary journals, and in the anthologies Blues Poems, Gathering Ground, The Ringing Ear, and Black Nature: Four Centuries of African American Nature Poetry. His first book, Blood Ties & Brown Liquor, was published by the University of Georgia Press in 2008. Hill is an editor at Broadsided Press. He lives in Bemidji, Minnesota. More information, as well as poems, can be found at his website: www.seanhill.org.
Interview with Natasha Trethewey
In these excerpts from a December 17, 2008 conversation, Sean Hill talks about sources and influences of the poems in Blood Ties & Brown Liquor. This interview took place on the porch of Andalusia, the home of Flannery O'Connor near Milledgeville, Georgia.
Part 2: Hill discusses repetition in Blood Ties, his discovery of Milledgeville, "The State House Aflame 1833," Flannery O'Connor
Part 3: Hill discusses imagining Milledgeville while resisting the lure of nostalgia, and writing about the women in his family
Recommended Resources
Map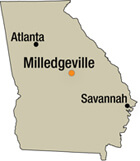 Print
Hill, Sean. Blood Ties & Brown Liquor. Athens: University of Georgia Press, 2008.