Overview
In this interview with Louisiana native Margaret D. Bauer, author Tim Gautreaux discusses a quarter century of his fiction writing. Resisting simplistic labels of "Cajun" and "southern," Gautreaux's storytelling reveals an intimate understanding of southern Louisiana's white, working-class people and culture. Often drawn from his own background, Gautreaux's characters are shaped by a range of experiences, from working on steamboats and fighting in world wars, to struggling in the 1980s oil bust.
Introduction
In his 1983 book, The People Called Cajuns, James Dorman observes that Cajuns "rarely speak for themselves" in the various sources that refer to them—historical, biographical, or literary—but that same year Louisiana's Tim Gautreaux published his first short story, "A Sacrifice of Doves," in the Kansas Quarterly.1James H. Dorman, The People Called Cajuns: An Introduction to an Ethnohistory (Lafayette: Center for Louisiana Studies, 1983), 36. In the more than quarter-century since, he has published two short story collections and three novels, most recently The Missing (Knopf, 2009). Gautreaux's name reveals his ethnicity, and in his fiction readers find his Cajun perspective. He is a descendent of the French Acadians who settled in south Louisiana after the British drove them out of Novia Scotia in the eighteenth century.
In spite of Gautreaux's importance in adding a seldom-heard voice to literature, he resists such labels as southern or Cajun writer. And certainly his fiction is not limited to the perspective of Acadian descendents—or southerners. The two main characters of his second novel, The Clearing, are from Pennsylvania. While the main characters of his other two novels, The Next Step in the Dance and The Missing, are Acadians, the characters in his short stories are more likely to have working class backgrounds than to be identified as Cajun. His protagonists are predominantly white, blue-collar, south Louisiana men, their ages ranging from the twenty-somethings of his novels to the numerous grandfathers in his stories. It is the Louisiana white working man's story that Gautreaux tells—or rather, the various stories of blue-collar workers, a voice fairly new to southern literature, offered by other writers of Gautreaux's generation (such as Mississippi's Larry Brown and South Carolina's Dorothy Allison), countering or deconstructing poor white and "white trash" literary stereotypes.
Born in 1947, in Morgan City, Louisiana, Timothy Martin Gautreaux is the son of a tugboat captain and the grandson of a steamboat chief engineer. Other men in his family worked for the railroad and offshore on oil rigs, and many of them enjoyed storytelling.
After attending parochial elementary and secondary schools, Gautreaux went to Nicholls State University in Thibodeaux, Louisiana, graduating in 1969 as an English major. One of his professors entered poems Gautreaux had written in a Southern Literary Festival contest held in Knoxville. Keynote speaker James Dickey read the winning poems, among them Gautreaux's, and invited him into the PhD program at the University of South Carolina. Gautreaux's PhD dissertation was a volume of poetry called "Night-Wide River" (1972).
Gautreaux returned to Louisiana in 1972 to teach at Southeastern Louisiana University in Hammond, east of Baton Rouge and about sixty miles northwest of New Orleans. He brought with him his new wife, Winborne Howell, a North Carolina native he had met in graduate school. Five years after moving back to Louisiana, he applied for a seat in a fiction writing class taught by Walker Percy at Loyola University in New Orleans. Percy selected Gautreaux, along with other writers who would go on to have successful careers, such as future novelist Valerie Martin and future Time magazine managing editor Walter Isaacson. From this experience on, Gautreaux wrote fiction.
Due to the heavy teaching load of a small state institution, along with raising two sons (Robert and Thomas), and maintaining interests beyond academia, it took Gautreaux into his forties to surface on readers' radars. After a couple of early publications in literary magazines, Gautreaux's stories were accepted by such venues as The Atlantic Monthly, Harper's, and GQ, and selected for the anthologies Best American Short Stories, New Stories from the South: The Year's Best, and The O. Henry Awards' Prize Stories. His stories also attracted the attention of Barry Hannah, who invited Gautreaux to be the 1996 John and Renée Grisham southern writer-in-residence at the University of Mississippi, allowing him to finish his first published novel.
Gautreaux's first book, a collection of twelve stories, was published by St. Martin's Press in 1996, a year before the writer's fiftieth birthday. Same Place, Same Things was blurbed by fellow Louisiana writers James Lee Burke, Robert Olen Butler, Andre Dubus, and Shirley Ann Grau and reviewed by The New York Times. Calling it "[a] terrific debut collection," Kirkus Reviews noted the writer's "sympathetic understanding of working-class sensibilities" and compared Gautreaux to Flannery O'Connor. The Catholic magazine Commonweal praised the collection's stories for providing a "welcome relief from the blandness of McWorld; they bring reassuring evidence of the continuing existence of places away from the big place where, increasingly, we all live." And the reviewer for The North American Review remarked that Gautreaux "knows how to get out of a story's way and just let the characters do what they need to do. . . . These characters move through the world compelled by important motive. The characterizations are swift and precise, rooted in gesture, speech and action."2Suzanne Berne, "Swamped," New York Times Book Review (22 Sept. 1996): 16. Kirkus Reviews 11 (Sept. 1996): 991; Rand Richards Cooper, "Local Color," Commonweal 8 (November 1996): 25; Perry Glasser, "True Dirt," North American Review (March.-April 1997): 45.
Gautreaux's second book, the novel The Next Step in the Dance (Picador, 1998), was also reviewed in the Times, with the reviewer, Andy Solomon, remarking upon the author's "poetic mix of colorful detail and rapid-paced suspense," as well as "his keen ear for Cajun dialect." The Missouri Review also admired Gautreaux's "unmatched ear for the speech of rural Louisiana," as well as the writer's talent for writing about machines: "Here is a writer who can make the refitting of an engine as compelling as another author's love or death scene." This reviewer, however, found that the novel "suffers from a lack of urgency and momentum" and "overstays its welcome." By contrast, the New Orleans Times-Picayune argued for the importance of The Next Step in the Dance: that the 1980s, "a time of great trauma for this state[,] . . . certainly deserved a literary piece to memorialize it."3Andy Solomon, "Books in Brief: Fiction," New York Times Book Review (14 June 1998): 21; John Tait, rev. ofThe Next Step in the Dance by Tim Gautreaux, Missouri Review 21.2 (1998): 212; Susan Larson, "The Writer Next Door," New Orleans Times-Picayune (15 Mar. 1998): E1.
| | |
| --- | --- |
| | |
In 1999, St. Martin's published a second volume of Gautreaux's stories, Welding with Children, which the Times again selected for a lengthy and positive review, praising the author for his "cartograph[y in] mapping with affectionate but unflinching accuracy both the back roads of Louisiana . . . and the distance between parents and children." Reviewing this collection for the Hudson Review, Susan Balée called Gautreaux "[t]he master of the Cajun short story," as well as one of the three "best short story writers in America today"—praise that would please a writer who resists regional labels. Reviewer Alan Heathcock lauded Gautreaux's "invention of clever, out of the ordinary conflicts" and "his ability to render true the voice of his Louisiana working-class characters." Heathcock sums up the collection: "The stories are all about people who want to be good, who want to help others and end up helping themselves in the process. They are about redemption, with a tender sense of humor, as seen through the kind eyes of their author."4Liam Callanan, "La. Stories," New York Times Book Review (3 Oct. 1999): 31; Susan Balée, "Maximalist Fiction,"Hudson Review 53.3 (2000): 520, 519, emphasis added; Alan Heathcock, "Book Reviews," Mid-American Review 20 (2000): 249-50.
Next, Gautreaux tackled an historical novel set in the 1920s, dealing with a World War I veteran suffering Post-traumatic Stress Disorder, perhaps prompting USA Today's comparison of The Clearing (Knopf, 2003) to Charles Frazier's Cold Mountain. The New Yorker responded to The Clearing by calling Gautreaux a "Bayou Conrad," and several reviewers began to compare (and contrast) the author to Cormac McCarthy. Publishers Weekly suggested that The Clearing confirms the opinion that "Gautreaux is perhaps the most talented writer to come out of the South in recent years."5Bob Minzesheimer, "Clearing Is a Cut Above," USA Today (31 July 2003); "The Critics: Briefly Noted," New Yorker (30 June 2003): 101; "PW Forecasts: Fiction," Publishers Weekly (26 May 2003): 49. His growing reputation is reflected in the larger number of reviews of this novel in a broader spectrum of venues, from local papers to the Christian Science Monitor and the UK's Guardian. This happened as well for The Missing, another post World War I novel, promptly reviewed in The New York Times Book Review and The Washington Post, as well as by several UK publications. For both historical novels, the author did his homework—researching details that would allow him to realistically depict life in the 1920s in a Louisiana lumber mill town in The Clearing and on a Mississippi River entertainment steamboat in The Missing.
After drafting a volume on Tim Gautreaux for the "Understanding Contemporary American Writers" series published by the University of South Carolina Press,6Portions of my introduction are adapted from Chapter 1 of Understanding Tim Gautreaux (Columbia: University of South Carolina Press, forthcoming). I drove to the author's new home in western North Carolina to fill in some biographical blanks and test some theories about his work. Having read every interview I could find, my own interview did not cover the usual ground.7See the Recommended Resources, in which I list all of the interviews with Gautreaux that I have found. It was the first interview I'd conducted—though as a journal editor, I've certainly read and helped shape my share of interviews.
Gautreaux is very easy to talk to, a natural raconteur (which will surprise no one who has read his fiction), but some of my questions, while not receiving blank stares, were not responded to with the assurance that I was on track with my readings. Rather, Gautreaux occasionally seemed surprised—an interested, intrigued surprise, but still surprise—by my interpretations. And suddenly, in the middle of it all, I understood that of course he would be. If he had intentionally set out to accomplish what I was asking him about, his work would not be as good as it is. Rather, he is just telling his stories, crafting his stories, polishing his stories. I'm the literary critic who then analyzes what he's done within those stories—while he goes on to the next one.
With this realization occurring as I sat on his living room couch, I wondered why I was wasting the man's time with an interview—why we ever ask writers these questions about their work, questions that suggest that the writer sets out with some agenda besides telling the story, when it is probably the case that the writer with a predetermined agenda is usually not the writer we bother interviewing.
Since he knows I am working on a book about his writing, at least I could reassure him during the interview that I appreciate his writing and know it very well—better, perhaps, than he does, he later admitted. And so we continued to talk, not just about his own work but about literature in general and about our common home, south Louisiana, for the rest of the evening, long into the night, and the next day—though after the "formal" ninety minutes of "interviewing," we stopped recording and just talked. Gautreaux's wife, Winborne, another lover of literature, joining us as we shared our favorite novels and writers and figured out who we know in common, having grown up in small towns just about twenty miles apart. After a stimulating visit, I traveled back home to eastern North Carolina with most of the answers I had been looking for and much more, including a bittersweet homesickness for the music of the voices, the celebration of fine food, and the family and friends I've left behind in Louisiana.
Interview with Tim Gautreaux
This interview took place July 9, 2008. It has been edited for clarity by Tim Gautreaux and me, and to avoid the distraction of brackets and ellipses, such minor changes are not noted in the text below. I thank Tim and Winborne Gautreaux for their hospitality during my visit to their western North Carolina home. Thanks as well to an East Carolina University Faculty Senate Research/Creative Activity Grant funded by the University's Division of Research and Graduate Studies, which provided a summer stipend to complete a draft of my Gautreaux book, travel money to interview the author, and a graduate student stipend to transcribe the interview—for which I also thank Elizabeth Howland for her quick and accurate transcription.
Biography
BAUER: Let's start with some biographical information. I've found the basics in interviews and the DLB article on you, but I noticed the date 1969 for your Nicholls degree and then 1972 for your PhD. So is the 1969 date a bachelor's degree? And you went straight from that to a PhD? No master's degree?
GAUTREAUX: That was because the University of South Carolina offered an accelerated program for the PhD where you bypassed the master's. It was ultimately an academic mistake for an institution to do that because the program wound up generating so many PhDs that it contributed to the PhD glut of three or four years after that. So you don't find many colleges—or any colleges—offering that type of program anymore.
BAUER: I've read the story of James Dickey discovering your poetry and inviting you into the South Carolina graduate program, but would you talk about your decision to go to college, coming from a family of blue-collar, working men? And what was their reaction to your going to college? How did you end up going to college?
GAUTREAUX: Well, no one really said much about it. I did well in high school, and that summer after high school graduation it occurred to me that I had to do something. So, a friend of mine was going to college and he said, 'Why don't you go to college with me?' and I said, 'okay.' College was so incredibly cheap in Louisiana in those days. A summer's semester tuition was twenty-five dollars, and I had received a little scholarship as a senior in high school. I think it was a reduction of fifteen dollars off of that twenty-five dollars, so basically my first semester in college cost ten dollars tuition. So it really wasn't any giant financial decision. I went down the road thirty miles to Nicholls State University and began studying English there.
BAUER: Do you have any brothers or sisters?
GAUTREAUX: I have one sister. She's about fifteen or sixteen years older than I am, and she's a housewife. And then I have a brother who's eleven years older than I am, and he's in the oil business.
BAUER: So you're the first in your family to go to college?
GAUTREAUX: Of the immediate family, yes.
BAUER: And you say your sons both went to college?
GAUTREAUX: Yes. One's an electrical engineer and one's a lawyer.
BAUER: I'm also wondering about the focus of your PhD program on Romantic literature. Why did you choose that period in particular?
GAUTREAUX: Well it's hard to say. I think that the answer would be in undergraduate school I had a really good professor who taught English Romantics. The English Romantics are very accessible. It was a time in literary history that I found more interesting than eighteenth century, more interesting than Victorian.
BAUER: And you were focused on poetry at the time?
GAUTREAUX: At the time, right. I found, in particular, Byron's long narratives to be interesting. They were witty, they were gossipy, and I probably liked them for the same reasons that people who read them in the early nineteenth century liked them.
BAUER: I've noted that several of the stories in your first collection had been published in pretty major venues and selected for the various "Best Stories" anthologies. Prior to that, did you publish in the usual literary magazines before breaking into the big time? You published early on in the Atlantic Monthly, GQ, and Harper's. Are there some other stories, in other words, that I might not have read yet? I did find two stories that are not in the first collection, one called "A Sacrifice of Doves," that appeared in Kansas Quarterly and another story, "Just Turn Like a Gear," in Massachusetts Review. Any others?
GAUTREAUX: No, I never wrote many stories. Every story that I wrote got published. I just write them with the idea that I'm putting them together in the best way that I can. I guess I'm kind of a perfectionist when it comes to short fiction, and also I didn't really see the point of writing dozens of stories for very small venues that really wouldn't do much either for my career or for my finances. So I always aimed high.
BAUER: You didn't start publishing until you were in your forties—do you think this accounts for the absence of the typical autobiographical first novel among your books—or is there such a novel in your attic?
GAUTREAUX: I really don't have much of an interesting life to write a biography about. I got out of undergraduate school very young. I had a PhD by the time I was twenty-three or twenty-four, and then I got married and started teaching full-time at Southeastern Louisiana University. I was teaching writing, and I figured that if I was going to teach it, I should have some credibility. And that's one reason—or maybe the main reason—I always tried to become a good writer and to get published in major venues. After I began publishing I could mention this in class and students' ears would perk up and they would say, 'Oh, well, he's got some success himself.' Because there are a lot creative writing teachers who really don't have any publishing record, and it's kind of rough sledding for them in class because the student always has in the back of his mind, 'Okay, you're teaching me how to write artistically; you're teaching me to write, presumably, a publishable type of literature. What have you done?' So that's one reason why I tried so hard, I guess. But then, I've always liked to write. In other interviews it's come out that as a child I had pen pals all over the place and would write voluminously to these people every week.
BAUER: You have mentioned in other interviews too that there are a couple of novels that you wrote and didn't get published. One you said you drew on for the scene in the boiler in The Next Step in the Dance. Is one of them the autobiographical novel that the beginning writer often writes?
GAUTREAUX: No, no interest whatsoever in ever doing anything autobiographical. There are more interesting stories to tell.
The last book I got as an academic—the last free book that a publisher sent me—was an anthology of American short fiction. It was a huge book, and there was a section in the back of the index called "Most Recent American Writers" or "Young American Writers," something like that. And the youngest writer in that group—and there were twenty of them maybe—was born in 1949. So when you mentioned that I only started publishing in major venues in my forties, well, most people do that. It takes twenty years for you to develop the language skills, the intellectual filters in your brain that tell you what to put on the page and what to leave off the page. It takes an incredibly long time to develop these skills.
BAUER: Yea, but a lot of people in the meantime, send out to small magazines, and with the self-publishing, a lot of people don't wait. They just want to get it published.
GAUTREAUX: But where are these twenty-year-olds being published? Unless you're a truly rare talent, generally you're not going to sell a book to a decent house or in a major publication until you're along the line a ways.
Cajun Identity
BAUER: I found the Marcia Gaudet essay on the depiction of Cajuns in literature that is alluded to in one of your interviews.8Marcia Gaudet, "The Image of the Cajun in Literature," Journal of Popular Culture 23.1 (1989): 77-88. At the time she published that in 1989, she was able to point out that there were no Cajuns written by Cajuns. She talks about Longfellow's Cajuns in Evangeline, noting that Longfellow had never been to Louisiana, then traces other depictions through Ernest Gaines's fiction. Certainly Gaines has firsthand knowledge of Cajuns, but still is not Cajun himself, and the role of Cajuns in his fiction is pretty negative. Now I know that you're "writing what you know" and not consciously answering some call for a previously absent voice, but would you talk about your contribution of this missing voice in light of more stereotypical depictions of Cajuns that preceded in fiction and film?
GAUTREAUX: I don't really think about it. I know that's probably not what you want to hear. I don't think of myself as any particular type of writer. I am what I am. I was born in a certain area of the country, and the people around me happen to speak a certain way and have a certain set of values, and pursue a certain type of lifestyle, and that's all I know. That's where I draw my characters; that's where I draw my dialogue, my sense of timing, my values. If I were raised in some other area, naturally, I would be drawing on some other set of characters and culture. So I don't think that I have to ennoble or expose a particular type of culture. I don't feel a particular duty to region. I just weave narrative out of where I'm from. I think it's bad for a writer to think that way—that 'okay, I'm Polish, I have to do this tribute to my area of Chicago' or wherever my little group is—because that's what forces a writer into using clichés. He figures, ' well, okay, I'm going to write a Polish story, so I've got to have some cabbage rolls in it or some kielbasa or something like that.' While that's part of the fabric of that particular culture—just as étouffée or boiled crawfish is part of the fabric of Louisiana—you don't consciously sprinkle details like that throughout your writing like salt and pepper. If they happen, they happen, but you don't consciously plant them with the idea of "amazing" readers who are not of your culture.
BAUER: Now, I know you resist the label "southern writer," and I agree with all the reasons that you give in the various interviews I've read—especially the fact that everyone is a regional writer, but also the danger then of being self-consciously southern à la Rebecca Wells. That said, your identity as a Cajun writer is so important, since you're filling in a previously unheard voice. How do you feel about this label?
GAUTREAUX: I'm not interested in labels; I'm interested in storytelling. And nobody even knows what a Cajun is. I put a redneck character in one of my stories in Welding with Children, and a lot of people have called him a Cajun, and he's from Alexandria, which is the most un-Cajun place on the face of the earth. And he's not Catholic, and he doesn't have an Acadian surname. Anybody from the region understands who that fellow is, but people out of the region will read other things into it. I just can't worry about that.
BAUER: What about when you see Cajuns in film? I hear a voice that is more authentic coming out of your fiction than in the film The Big Easy.
GAUTREAUX: The Big Easy was a very popular movie. It painted New Orleans as being a Cajun town, which is absurd. It didn't worry me at all because a long time ago I understood that Hollywood never gets anything right as far as culture is concerned. Not for one nanosecond, anywhere, in any way, shape, or form, will Hollywood get it right. And the only thing Hollywood is concerned about is bucks. They're not interested in culture.
BAUER: I notice that you do not resist the label of Catholic writer. You're more inclined to talk about that in various interviews, your Catholicism and how it influences your writing. Why is that label less problematic for you?
GAUTREAUX: Cajuns are in Louisiana; Catholics are all over the planet. None of us knew we were Cajuns until all the hoopla in the mid-1970s when a sort of Cajun Renaissance started and brought out of the closet, as it was, Cajun music and food. I really don't consider myself some kind of dyed-in-the-wool southern cultural phenom.
In south-central Louisiana, I never really ran across many people that considered themselves southerners in the sense that Georgians or Mississippians consider themselves southerners. And I don't consider myself to be any kind of alligator-eating Cajun type. As I said, that's kind of superficial. But I've always been a Roman Catholic, since baptism, since birth.
BAUER: In one interview you talk about the inspiration for The Next Step in the Dance—wanting to capture the oil bust of 1980s Louisiana. First, I want to ask you why that period in particular was so attractive to you.
GAUTREAUX: It's something I lived through. I was born and raised in Morgan City, Louisiana, which is an oilfield town. And the entire oil industry in Louisiana crashed and burned during the eighties. I saw the effects firsthand: the out-migration of white-collar people and skilled workers, the idle boats and oil rigs, and so many people out of jobs, houses that were worth two hundred thousand dollars going down to ninety thousand dollars in value overnight, just about. I could see it happening around me, and nobody else was writing stories about the oil bust. I'm sure people who experienced the Dust Bowl in the thirties had the same feeling: is anyone going to write about this? I felt that if I didn't produce literature out of this, maybe nobody else would. There are lots of events in American history that are ignored and unknown because nobody wrote anything about them. And I had the feeling that this was going to happen. People talk about the oil bust as an economic phenomenon, but The Next Step in the Dance shows it as something that affects people in a very painful and personal way. It's one thing to say that twenty thousand jobs were lost; it's another thing to put a reader inside the house of one of those people who lost his job.
Walking beam
in the Greensburg Oil Field, 2008
St. Helena Parish, Louisiana.
Influence of War
BAUER: Now, would you talk about the inspiration for each of the other two novels? What has drawn you twice now to the period just after World War I? To the lumber mill in The Clearing, the excursion steamboat in The Missing?
GAUTREAUX: Many of the uncles in my family were in World War I, and they all came back with their stories, and I heard a lot of them. The Clearing, of course, is about this damaged veteran who returns shell-shocked. I had an uncle that was in all eight major American engagements and endured some horrible things. And I knew what it was that he endured through family stories and through talking with him because he lived to be quite old. I knew him many, many years. Of course he was very unlike the character in The Clearing, but nevertheless I could draw on the psychological damage that I witnessed in him to develop the Byron character in that novel.
BAUER: Is it significant that you've been writing post-war novels during the two Gulf wars? Do you feel like you're inspired by what's going on now?
GAUTREAUX: No, I don't think about the present conflicts much. It just happens that everybody that gets involved in the business of shooting people with rifles winds up damaged and changed. When someone writes a novel thirty or forty years from now, there's going to be a war going on somewhere and the same question is going to be asked: 'Are you thinking about this present war?' There's always a present war, it seems. The fact that it's going on while I'm writing a novel about psychologically damaged warriors, that's just the way it happens. In a way, all wars are the same war. The other novel, The Missing—really, the novels can be analyzed side by side because in one, we have a protagonist severely damaged by his experiences in World War I, and in the second we have a protagonist who arrives in France on the day the armistice is signed and doesn't get to shoot anybody at all. Even though he is briefly involved in the aftermath, the cleanup of the battlefield, he's not affected by the carnage, and really, even while he's over there, he understands this. Then we follow him through the rest of his experiences in The Missing, and we see that he behaves differently from Byron in The Clearing, has a different life, a different outlook. The novel is negative definition: Sam, the main character in The Missing, is defined by what he does not do. If I had had him show up two months earlier on that troop ship, while the killing was still going on, it would have been a different novel. I think the whole narration is propelled by the fact that he did not have to shoot anybody in France, that he showed up by an incredible stroke of luck on the day the armistice was signed.
BAUER: And I did read that you have another uncle that that happened to?9See Gautreaux's essay "Left-Handed Love," in A Few Thousand Words about Love, ed. Mickey Pearlman (New York: St. Martin's, 1998), 139.
GAUTREAUX: Nobody knew anything about battlefield disposal. There were so many millions of tons of unexploded ordinance left all over Europe buried in the mud that farmers are still plowing it up to this day. One uncle was sent out right after he got there; it was just like in the novel. They gave him a bunch of clips of ammunition and a rifle and said, 'Go here, and shoot at this ordinance; we've got to get rid of it somehow.' He went out for a day or two, but it didn't work; it was an absolute screw-up. Most of that in the novel is imagined, of course, but I could sort of put two and two together from what he'd told me. His squad didn't do that more than a couple days. The officers immediately realized that it wasn't working, that it was dangerous, that it was going to hurt more people than it was going to help.
BAUER: Were you in Vietnam?
GAUTREAUX: I was going to join the Air Force, but they had that draft lottery, and I drew number 361. Number one went, and the further away you were from number one the less likely you were to go. When I drew the number, I had already taken my physical and everything; I was headed to boot camp, but I hadn't signed the enlistment papers yet. So I guess I was lucky.
BAUER: Going back to The Clearing, why did you choose to leave Randolph and Lillian childless at the end? Byron and his wife are expecting a baby, and they have Walter by then. The nice clean, bows-all-tied ending would have been to give Randolph and Lillian a child, too, but I am curious if it was a conscious choice not to do so, if there was something in that?
GAUTREAUX: It was a conscious choice: to show how much Randolph loves his brother. It was a big sacrifice to give up that child. I think the fact that they remain childless through the end of the novel is to demonstrate how big a sacrifice giving up Walter really was.
Outlander Perspectives
BAUER: In various interviews, you have talked about the value of capturing the voices of home, and you have been praised by interviewers and reviewers for the authenticity of your dialogue. So it must have felt like a risk to choose for the central perspective of The Clearing two Yankees. Would you talk about that choice in light of what you have said about writing about Louisiana?
GAUTREAUX: The point of view characters are the two outlanders from Pennsylvania. That was done to open up the novel to all readers so that we wouldn't have so much a hermetically sealed, southern novel with southerners looking at southerners. We have a novel in which these northerners are looking at the culture and the people down here, and the readers in Minnesota or Oregon or Canada look at things through the main characters' eyes. The non-southern point of view makes The Clearing less of a southern novel, and I think improves it, broadens it.
BAUER: Well actually, if you think about the nineteenth-century southern literary tradition of bringing the northerner in to see that the South is not so bad, it actually is an old tradition of an outsider looking in. What Byron and Randolph see is completely out of their experience. Randolph doesn't know what to do with it. Byron says, rather, 'This is what I've seen of the world; this place is no different.'
GAUTREAUX: They come down, and the stereotypical notion is that they're going to condescend or hate the place. But they don't. The anonymity and isolation are what Byron wants. Randolph finds himself empowered by coming south. He's really, for the first time, in charge of things. When he goes back to civilization he finds it to be inconsequential. Swamp life is a tough existence, but then again it's an intense one. It's one that he grows used to.
BAUER: You have also mentioned that you ended up cutting the California section of Next Step in the Dance down significantly in order to bring your characters back to more familiar territory.
GAUTREAUX: For two reasons: one, because I don't know California culture that well; two, readers seem not to be interested in that. They don't want to read about California.
BAUER: The best scene in California is when Paul eats in the Cajun restaurant.10In California to try to mend his relationship with his estranged wife, Louisiana native Paul Thibodeaux orders the only thing he recognizes on the menu, gumbo, and the waiter brings him "a small cauldron of bitter juice so hot with Tabasco that after the third spoonful, Paul broke into a sweat." When asked how it tastes, Paul remarks that was too hot and is told, "It takes time to develop a true Cajun palate," to which Paul responds, "it sure don't take much time to ruin one" (The Next Step in the Dance [New York: Picador, 1998], 81). I have always connected Cajun tourism to the oil bust—'we have to make some money, and we're not going to make it in oil now; let's build a Cajun village tourist site'—but you were saying before that it was earlier, in the 1970s.
GAUTREAUX: I think the people associated with USL (now UL) got the public in touch with Cajun culture, and then Vermilionville and Cajun Village and the promotion of Cajun culture and all that stuff came out of that earlier "renaissance."11The University of Southwestern Louisiana (USL) is now the University of Louisiana at Lafayette. Vermilionville is a "Cajun/Creole heritage and folklife park [that recreates life in the Acadiana area between 1765 and 1890" and Cajun Village is comprised of "[h]istoric Acadian buildings, restored to house unique specialty shops". The oil bust didn't do anything except make everybody poor.
BAUER: What I was thinking was that they started hyping up tourism to try to replace the oil business, but maybe that was just New Orleans.
GAUTREAUX: The hyping of tourism is in western and south-central Louisiana, too, but I don't think it was because people were looking for stuff to do. Really, there was an out-migration of a quarter-million skilled workers in the eighties; geologists, the best welders and machinists, they just left the state. They didn't start up some Cajun enterprise.
Voice, Violence and Steamboats
BAUER: Do you have something in mind for what's next after The Missing?
GAUTREAUX: I'm starting to think about it, but I don't have anything sketched out yet. I don't know what the next one will be. I've got this old cranky guy in my imagination, and I might give him a book. I've never written a book in first person and it might be time to try that. I had good luck with "Welding with Children"; the voice in that story was really good. It's easier to write in first person than third person. It doesn't take the same discipline. So I might start playing around with that.
BAUER: Although in The Missing, right when we are getting worried about the little girl, Lily, you have a chapter in which we find out that the scoundrels who kidnapped her are not abusing her. So third person allows this information, which is kind of a relief to the reader, who can go on with Sam's adventures, knowing that Lily is at least physically okay, especially when we learn about the boy who was adopted and then sexually abused—which brings me to the violence in the new novel. But first, backing up a bit, throughout the novel, Sam keeps meeting himself—in the German girl, in Lily and August—until he finally meets the Cloats and deals with his past. Now there's a scene! Leading up to Sam's own experience with the Cloats we hear Constable Soner's story about them—he alludes to a dog involved but doesn't ever get specific—just says that whatever his wife witnessed, she couldn't get over. Again, then, the violence occurs offstage.
GAUTREAUX: It was hard to rein that one in. You have to know when to stop because you can ruin things for the reader. You can give him a piece of graphic violence that will just overpower the rest of the narrative for him because he can't think of anything else for the rest of the story except some horrible scene that you've detailed for him, which you don't need to do anyway because whatever's in the reader's imagination is worse than anything you could paint for him. Even in the scarier parts of a Cormac McCarthy novel, I can see his restraint where he doesn't want to cross that line into ghoulishness. Then I remember the books that I've read where authors have gone into ghoulishness, and it's just like a trip down the meat counter at Piggly Wiggly—sensory overload. A writer just has to know when to hold back.
BAUER: Thinking about taking Sam up and down the Mississippi in The Missing: it's very Huck Finn; you have this Mark Twainian thing happening. Can you talk about Mark Twain?
GAUTREAUX: Yes and no. I enjoy Mark Twain. I enjoy Adventures of Huckleberry Finn immensely, and of course when I was a kid I read Life on the Mississippi. But where I get my knowledge of the Mississippi River is the fact that my father was a tugboat captain. He ran up and down the Mississippi River, and I used to ride with him sometimes. And my grandfather was the chief engineer on a steamboat. I was born in 1947. I can just barely remember some of the old steam-powered craft in the New Orleans harbor. When I was a kid the Jackson Avenue Ferry and the Esplanade Avenue Ferry were reciprocating, steam, paddle-wheel boats and I used to ride them just to watch the engines work. I liked to listen to the machinery and the whistles and smell the hot boilers. There were still a few old sternwheel boats running in those days—the government inspection steamer, Mississippi, and John Newton, and a couple of others: in New Orleans we'd see the Delta Queen or the Gordon C. Green. My father knew the people who worked on these boats, and we'd go through the engine room and talk to the engineer. And when I was a kid I used to ride on the old, side-wheeled steamer President down in New Orleans, which was steam-powered all the way until 1980. And I'd be down in the engine room listening to how engineers answered the old bell system of communication rung by the pilot upstairs. I'd go up on the roof and watch the pilot in the wheelhouse blow the big whistle. So a lot of what is in The Missing is from firsthand experience, and then of course I've done all my reading, taken passage on the Delta Queen, ridden the Belle of Louisville, and whenever I'm around any kind of old, nautical, reciprocating machinery, I make a point to photograph it, visit it, talk with the docents that take care of it.
BAUER: You talk about the different steamboat whistles in the novel—the pilot knows who is coming by the different whistles. This has not been captured in fiction since Mark Twain, and these things are gone. But in your new novel we get on that steamboat and ride up and down the river during that time.
GAUTREAUX: It's sort of like writing about the oil bust: nobody has really written any fiction that included the world of excursion boats. From say 1910 to 1940 the excursion boats were a big deal all throughout the South and the Midwest. These big steamers would run on the Mississippi from New Orleans all the way up to Minneapolis, on the Ohio all the way up to Pittsburgh. They'd stop at towns along the route and show up with a great jazz band and huge dance floor and entertain a community, clean up, and move on to the next one. There were probably forty or fifty boats that operated in that trade in the thirty-year period we're talking about.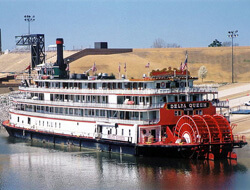 Jeremy Atherton, Delta Queen, Memphis, Tennessee, 2003.
BAUER: It does also echo Huck Finn—as Huck and Jim go up and down the river, they meet all these different people. It reminds us that every community has a different voice. Twain was apparently a linguist who captured all the different dialects. One of the things I like about your Louisiana stories is that you recognize that not every Louisianian sounds the same. Different main characters have different voices. Linguists in Louisiana could probably put them where they're from, whether it's Morgan City or Lake Charles or Alexandria.
I feel like that's in both novels. In The Clearing, you've given the main point of view to the outsiders, but all the different voices are still there—the Cajuns and the Creoles and the African Americans.
GAUTREAUX: It's important for a writer to pay attention to accents and grammar. If you walk around this area of North Carolina, you'll hear retirees from Florida who are originally from New Jersey; you'll hear Mexicans. The priest at the local church is from Vietnam. And then there are mountain people here that I have trouble understanding sometimes. The locals here are very friendly and open people—some of them say thar for there—I mean a deep thar. I might say to someone, 'Well I think I'll go up to West Jefferson,' and he'll respond, 'I wouldn't go thar this afternoon. Up thar they's a-workin' on the highway.' Their speech rhythms are also wonderful. One might assume that a region's accents are homogenous, but that is never true anywhere—especially in the South.
BAUER: There are a lot of Souths, and speaking of the South, you mention in one interview that "Deputy Sid's Gift" is the closest you come to dealing with race, acknowledging the painfulness and thus the difficulty of this topic. That interview was before The Clearing, because you do deal with race in that novel with May and Walter, and you also deal with race with the musicians in The Missing. Would you talk about race and why you don't write about it, even as a writer of southern literature? Your reviewers don't find the subject missing, by the way—I've found no one noting the subject as missing in your work. But you are from Louisiana, as I am, and I know race is still an issue there.
GAUTREAUX: I don't even think about it, not for a nanosecond. I don't write about race. I write about people. I included black characters in The Missing because the best musicians on the dance boats were African American. The new jazz music was money in the bank for a big dance boat. The white bands couldn't play like that, not at first, so the boats hired the African American, New Orleans musicians, not because they were black—it wasn't a racial issue—it was because only they had the sound, the good dance sound, and these were dance boats. The second decks were three hundred-foot-long, waxed dance floors, and the boats were after young people generally, who wanted to hear the latest hot music. The best jazz was African American. To put a white band on a New Orleans-based boat would not have been realism. Let me tell you why nothing big in the way of racial stuff happens: always stick to the narrative. The story of The Missing is driven by Sam's character, and his character involves him in this rescue search, and that's what the whole novel is going to be about. The minute a writer says, 'I'm going to write about race' instead of 'I'm going to write a story about people' he has already failed.
Place, Character and Intervention in Short Stories
BAUER: Do you think you'll write any North Carolina-set stories, now that you're living here part-time?
GAUTREAUX: I won't know until I set pen to paper. But I find myself testing the waters outside of Louisiana. For example the story that I was working on this morning is set in north Mississippi. I've got a feel for north Mississippi because I was up at Oxford for a semester as writer-in-residence, and one of my sons went to Oxford, so we were always up there visiting him. And I have relatives in Memphis; I've got some kind of a feel for the lay of the land, so we'll see how that comes out. It's possible that I could write something set in North Carolina. I'd be among good company.
BAUER: And speaking of North Carolina writers, Jill McCorkle has actually told me she prefers writing short stories—I was so glad to hear that because after devouring each of her collections, I've looked forward to the next one. What about you? Which do you prefer to write, or do you have a preference?
GAUTREAUX: The short story; it's controllable, and it's—how can I put this?—you can work on a short story sentence by sentence almost the way you work on a poem. And you can micromanage it. You can go back over it many times and make everything line up. You can make sure that the logic of the first sentence ties in with the logic of the very last. You can't do that with novels; they're just too large. I guess you could if you were a genius or something, but I don't fall into that category. I think the short story is more of an art form, really, than the novel. I'm sure a lot of people would disagree with me on that.
The short story is a very important genre. Think of the major American writers who are known more for their short stories than their novels. That statement goes back to Hawthorne and Poe and applies to contemporary writers like Joyce Carol Oates. If Joyce Carol Oates had never written two short stories, "Where Are you Going, Where Have you Been?" and the other one with the long funny title, "How I Contemplated the World from the Detroit House of Corrections, and Began My Life Over Again," which are anthologized in everybody's phonebook even, you wonder how many people would know who Joyce Carol Oates is. But those two stories are in every university anthology known to man, and so she's taught all over the world and students go on to her longer works after they read those two, or to her story collections. The college anthologies are like wonderful advertisements for short story writers. Similarly, if a twenty-one-year-old college student knows Faulkner, it's probably through an anthologized short story like "A Rose for Emily," not because he read Absalom, Absalom!. You can go through indexes of American literature texts and look at the important stories and see how much they've done for the reputations of major American fiction writers.
BAUER: Well you mentioned "A Rose for Emily," so I have to ask—in my book on William Faulkner, I included a chapter on your story "The Piano Tuner" and "A Rose for Emily."12See Chapter 7, "Don't Just Sit There; Do Something: Frustration with Faulkner from Glasgow to Gautreaux," in William Faulkner's Legacy: "what shadow, what stain, what mark" (Gainesville: UP of Florida, 2005). I resisted, while I was writing it, asking you, so now that it's already done I have to ask, did you by chance have Faulkner's "A Rose for Emily" in mind when you were writing "The Piano Tuner"?
GAUTREAUX: I had in mind instead the archetype of the spinster lady left with the family house, which happens not only in the South but all over the place. You don't see it so much anymore because families now are composed of two kids. But say in the 1920s, a man would have a large house, and he would have six kids, and four of them would get married, one of them would get killed in a car accident or something, and then it seems like there was always one daughter that was left over; she never married, and she would wind up living in the father's house. And the father's house of course had eight bedrooms in it, and she couldn't afford to heat all of that, so she would close them off one at a time over the years.
She would take in boarders, and then she got too old to manage boarders. Then there was this old woman living in one or two rooms of this house built in 1900. Such spinsters were all over the place. I knew several women like this, a lot of old women, and I even have a couple of them in my family. So that's where the archetype for that story came from. And that's probably the archetype that Faulkner drew on to write "A Rose for Emily."
BAUER: Well, the difference is that Emily's dead when the story starts. She's lived to the old age that you're talking about. The town is mourning her passing—or at least the story's "We" narrator is. But they wait until she's dead to go see her. Even when she bought the poison to kill Homer Baron there's the telling line, "So the next day we all said, 'She will kill herself'; and we said it would be the best thing."13Collected Stories of William Faulkner (New York: Vintage, 1977), 126. But nobody tries to help her. In your story the piano tuner gets involved. And this is what attracts me to your stories: these men who say, 'What can I do? I have nothing to do with this, but I could do something.' Faulkner's prototypical Quentin Compson feels really bad about the oppression he witnesses but Hamlet-like just worries and doesn't do anything. You're sending in these guys who are not sons of the aristocracy but they're doing something about it. I'm curious if this is your reaction to Faulkner—if you're responding to these sons of the aristocracy. Ernest Gaines has said, "Faulkner wrote about Dilsey in his kitchen; I wrote about Miss Jane in her kitchen."14Gaines made this remark when guest-speaking at a class I took at the University of Southwestern Louisiana (now the University of Louisiana at Lafayette) in the spring of 1986. Gaines also refers to a similar, if not the same, episode in an interview with John Lowe: "Someone asked me when I wrote The Autobiography of Miss Jane Pittman, was I thinking about Dilsey in Faulkner's novel The Sound and the Fury. And I said, 'No, I did not have Dilsey in mind.' And by the way, the difference between Dilsey and Miss Jane Pittman is that Faulkner gets Dilsey talking her story from his kitchen; the young schoolteacher in my book gets Miss Jane's story from Miss Jane's kitchen. And it makes a difference" (John Lowe, "An Interview with Ernest Gaines," Conversations with Ernest Gaines, ed. Lowe, Literary Conversations Series [Jackson: UP of Mississippi, 1995], 313). Are you also responding to Faulkner?
GAUTREAUX: There are several of my stories that you could call intervention stories, where somebody's in a bad way, and a character takes that step to help, breaks through the mirror, to go to the other side. There's no story unless somebody does something like that. You see, if the piano tuner had come out and tuned her piano and then went home, never went back, and then she died of old age or something, there wouldn't be much of a story. What propels the story is his decision to help.
It's like what Rust Hills, the old Esquire editor, used to say: there's fixed action and moving action. Fixed action is the stuff that you expect to happen and happens every day—it is kind of a pattern. You go to the mailbox every day to check your mail; you stick your hand way down in the mailbox, if it's one of those old post-mounted ones on your porch, and you look for the stuff, and you pay your bills. This is all fixed action: every day you do the same thing. One day you go out on the front porch, stick your hand in the mailbox, and feel something kind of crawling, and you pull it out and it's a big chicken snake, and you're scared to death, and you holler and you drop it. Then you hear laughter, and across the street your neighbor is just doubling up because he's put that big, harmless chicken snake in your mailbox as a trick. Well that's moving action—that doesn't happen every day. A pattern has been broken, and it's going to generate other action. The reader already sees what's going to happen: he's going to play a trick on the guy across the street.
The same thing when the piano tuner decides to help out the woman by getting her a job. The pattern of fixed action is broken, and we're now in moving action: we're in a type of thing where we don't know what's going to happen; we can't predict what's going to happen; we're in a series of events now that's new for both characters. That's what interventions do. But all of that comes from being raised Catholic where we have been taught to help people who are less fortunate than we are, not just by praying for them but by actually going out and fixing their busted air conditioners and stuff. And it also comes from my blue collar raising. My father never made a lot of money and the people that were his friends never made a lot of money, and when their cars broke down the one of them that was best at fixing cars would go over there and fix it, and when my father's air conditioner broke down the guy in the neighborhood that was best at fixing air conditioners would come over and fix it and it was sort of a quid pro quo relationship among blue-collar workers that way and that's true all over. It's another form of this intervention mentality where you help people for no real reason. Intervention in a purer form occurs in stories like "The Piano Tuner" and in "Resistance" where the old guy helps the little girl with her science project. It's kind of a distilled form of altruism, and there is a point in many of my stories where the character feels put upon by fate because he says, 'I gotta make this decision: I can turn around and I can walk away—or I can help.' And when he makes that decision, then the story is rolling.
BAUER: That's what I like—they make the decision not to turn around and walk away.
GAUTREAUX: Well, if they walked away there would be no story or there would be the usual 'life has no meaning' story.
BAUER: Yes. As I tell my students when they complain about reading what they consider one negative story after another, 'No conflict, no story.'
I do find it interesting that there are so many very specific details that are the same between your story and Faulkner's—there's so much we read that's out there, that's in our heads—for example, the fathers in both stories ran all the suitors away.
GAUTREAUX: That's coincidence—just another part of the archetype; that's why the old lady wound up by herself. It was common for the father of the family, the patriarch, to run the suitors away for several reasons: they weren't good enough, rich enough, but you wonder if he really wanted that daughter to stay around to take care of him, to take care of his wife. He didn't want her to get married and move away. He'd lose a nurse.
BAUER: And the mothers often died after having so many children, so he wanted someone to take care of his house.
Responsibility and Compassion
BAUER: Another pattern I've seen in your stories is the grandfathers. I'm fascinated with my father's enjoyment of his grandchildren. He truly plays with them when he babysits (or when they Poppysit for him, as he puts it). His generation of fathers did not participate in childcare the way my generation of fathers does, and I think they realize now, watching their sons and sons-in-law, how much they missed. You have several stories with grandfathers stepping in to take care of their grandchildren—"Welding with Children" and "The Courtship of Merlin LeBlanc," for example. Would you talk about the men in these stories? What is your inspiration for this particular focus on grandfathers becoming involved in raising their grandchildren?
GAUTREAUX: Grandfathers in the stories come from two sources. One, I never knew either of my grandfathers because they died before I was born. One thing a fiction writer does is he makes things that he doesn't have, so I make grandfathers for myself while I write. Another thing is that in teaching survey courses with thirty-seven students in them, I always had a number of single mothers who had child care problems. And I always got a lot of excuses, like 'Oh my mother or father couldn't take care of my kids so I couldn't come to class.' Or, 'My kids are sick and my mother and father can't take care of them because they're scared they'll catch the flu themselves, so I have to stay home.' Or they show up with the kids. They bring the kids to lecture, so sometimes I've had two, three, five kids in this classroom. So that's kind of where this interest in grandparents comes from—there are a lot of grandparents and great-grandparents out there taking care of little kids. It's because the girl has gotten pregnant once or twice, and she has no husband and no job. Sometimes the student's mother doesn't live close by or she's disappeared or something, or her mother never had a husband maybe. And so the kids' great-grandma and grandpa, who are these 1940s relics, who grew up, did right, got married once, and worked forty years down at the mill and lived the straight life, they're left to deal with the mess.
BAUER: This is tied into your theme of taking responsibility—like the bug man who comes in to spray. It's not his responsibility to help the woman; he could just spray and leave. Or the grandfather—it's not really his responsibility, but it is his grandchild, and he did raise the mother who had this child out of wedlock. You see this theme of responsibility again and again in your fiction. Is this part of the Catholic background, too?
GAUTREAUX: It's not anything I really thought about much; if it's there it's there. I can honestly say I don't think, 'well let me only write about responsible people' or anything like that.
BAUER: It's a worldview that is in your fiction—the choice to take responsibility.
GAUTREAUX: I don't know what to say about that, but let me start talking about something that maybe I do know something about, and that's the notion of hopelessness or despair that I see in a lot of contemporary fiction. I seem to run across two types of stories that worry me. One is the New Yorker type tale where everything is a joke and the reader can't really take anything, including death and disease, seriously. The reader feels he's not supposed to have intense emotions about anything because that's silly and bourgeois. And the other type of story I run across is a truly dark narrative about vicious people who don't learn anything from what they do and are not punished in any way and never get their comeuppance. Sometimes that's realism. And such stories belong in the canon. But the mistake a writer of those types of stories makes, I think, is to write all of his stories like that because then, cumulatively, the author gets away from realism.
Now what do I mean by that? It's unrealistic to ignore compassion and the ability people have to cope and even triumph over their problems. You can write a story about how horrible it is to die from a certain type of cancer. That's realistic. Yet I run across many people who have coped with their cancer and are in fairly good shape the night they die. I've known people like this. Where is their literature? I read this student's story about a woman who was molested, was totally ruined emotionally, and eventually committed suicide. I've known many male and female students who were sexually abused, and most have coped in various ways. Some of them even write about it, which is disturbing to read, but nevertheless—maybe it's therapy—they're able to do it. Somehow people who suffer in this way or that are able to triumph over what they're going through. Where are the short stories about the small successes that people have dealing with their problems? Well, they're not out there because they're hard as hell to write without making them seem simple-minded or clichéd or insipid or sentimental. The most frightening thing in the world to an intelligent writer is sentimentality. He doesn't want a molecule of it in his fiction. But I think if you read enough and you understand how to blend humor and irony and the right tone in with the bad stuff, you can write a story that carries an emotional load yet is not sentimental in the least. If anybody wants to know how to deal with this type of thing, he can read my stories. I'm not exactly sure how I do it myself, but it's a conscious mixing of comedy and tragedy, of irony and straight non-ironic storytelling. A lot of it's like tap dancing or jitterbugging or singing: either you got it or you ain't.

About the Author
Margaret D. Bauer, author of The Fiction of Ellen Gilchrist (University Press of Florida, 1999) and William Faulkner's Legacy: "what shadow, what stain, what mark" (University Press of Florida, 2005), is the Rives Chair of Southern Literature, Editor of the North Carolina Literary Review, and Professor of English at East Carolina University, where she was named one of the ten ECU Women of Distinction in 2007.
Recommended Resources
Other Interviews with Tim Gautreaux
Arnold, Elizabeth. "Best Short Stories 1997." All Things Considered (15 Dec. 1997).
Birnbaum, Robert. "Interview: Tim Gautreaux." Identitytheory.com (1 Oct. 2003): http://www.identitytheory.com/tim-gautreaux/.
Bolick, Katie, and David Watta. "A Conversation with Tim Gautreaux." Atlantic Online (14 Mar. 1997): http://www.theatlantic.com/unbound/factfict/gautreau/tgautr.htm.
Fitten, Marc. "A Conversation with Tim Gautreaux." Chattahoochee Review 24.1 (2003): 103-12.
Hebert-Leiter, Maria. "An Interview with Tim Gautreaux." Carolina Quarterly 57.2 (2005): 66-74.
Joyal, Christopher. "An Interview with Tim Gautreaux." New Delta Review 16.1 (1998): 87-97.
Kane, Julie. "A Postmodern Southern Moralist and Storyteller Tim Gautreaux." Voces de América/American Voices Entrevistas a escritores americanos/Interviews with American Writers. Ed. Laura P. Alonso Gallo. Cádiz, Spain Aduana Vieja,( 2004): 123-45.
Kingsbury, Pam. "'Everything Has a Purpose': An Interview with Tim Gautreaux." Southern Scribe 4.8 (2003): http://www.southernscribe.com/zine/authors/Gautreaux_Tim.htm.
Langley, Greg. "Gautreaux Doesn't Need a Label Other than 'Writer.'" Baton Rouge Advocate (10 Oct. 1999): 11-12.
Larson, Susan "Pelican Briefs." New Orleans Times-Picayune (15 Sept.1996): D1.
Levasseur, Jennifer and Kevin Rabalais. Interview. Mississippi Review 27.3 (1999): 19-40.
Masciere, Christina. "Novel Approach: Tim Gautreaux Takes 'The Next Step.'" New Orleans Magazine (March 1998): 31, 35, 47.
Nisly, L. Lamar. "A Catholic Who Happens to Write: An Interview with Tim Gautreaux." Interdisciplinary Literary Studies 8.2 (2007): 92-99.
Scanlan, Christopher. "Tim Gautreaux." Creative Loafing (June 2004):
http://tampa.creativeloafing.com/gyrobase/Content?oid=oid%3A3956.
Work by Gautreaux and Criticism
Gautreaux, Tim. The Clearing: A Novel. (New York: Vintage, 2004).
———. The Missing. (New York: Knopf, 2009).
———. The Next Step in the Dance: A Novel. (New York: Picador USA, 1998).
———. Same Place, Same Things. (New York: St. Martin's Press, 1996).
———. Welding with Children. (New York: Picador USA, 1999).
Kanes, Julie. "Tim Gautreaux." In Twenty-First Century American Novelists, edited by Lisa Abney and Suzanne Disheroon-Green, (Detroit: Thomson Gale, 2004), 119-125.
Nisly, L. Lamar. "Presbyterian Pennsylvanians at a Louisiana Sawmill, or Just How Catholic Is Gautreaux's The Clearing?" U.S. Catholic Historian 23.3 (Summer 2005): 109-19.
———. "A Sacramental Science Project in Tim Gautreaux's 'Resistance.'" Logos: A Journal of Catholic Thought and Culture 5.4 (Fall 2002): 135-51.
———. "Wingless Chickens or Catholics from the Bayou: Conceptions of Audience in O'Connor and Gautreau" Christianity and Literature 56.1 (Autumn 2006): 63-85.
Piacentino, Ed. "Second Chances: Patterns of Failure and Redemption in Tim Gautreaux's Same Place, Same Things" Southern Literary Journal 38.1 (Fall 2005): 115-33.
Web
Louisiana Authors Index. Louisiana State University.
http://digitalcommons.law.lsu.edu/lalrev/vol67/iss4/14/
Louisiana Center for the Book. State Library of Louisiana.
http://www.state.lib.la.us/literacy-and-reading/louisiana-center-for-the-book
"Louisiana Novelist Tim Gautreaux Honored with Louisiana Writer Award." Louisiana Book Festival, (13 February 2009). http://www.louisianabookfestival.org/LWA_tim_gautreaux.html
References

| | |
| --- | --- |
| 1. | James H. Dorman, The People Called Cajuns: An Introduction to an Ethnohistory (Lafayette: Center for Louisiana Studies, 1983), 36. |
| 2. | Suzanne Berne, "Swamped," New York Times Book Review (22 Sept. 1996): 16. Kirkus Reviews 11 (Sept. 1996): 991; Rand Richards Cooper, "Local Color," Commonweal 8 (November 1996): 25; Perry Glasser, "True Dirt," North American Review (March.-April 1997): 45. |
| 3. | Andy Solomon, "Books in Brief: Fiction," New York Times Book Review (14 June 1998): 21; John Tait, rev. ofThe Next Step in the Dance by Tim Gautreaux, Missouri Review 21.2 (1998): 212; Susan Larson, "The Writer Next Door," New Orleans Times-Picayune (15 Mar. 1998): E1. |
| 4. | Liam Callanan, "La. Stories," New York Times Book Review (3 Oct. 1999): 31; Susan Balée, "Maximalist Fiction,"Hudson Review 53.3 (2000): 520, 519, emphasis added; Alan Heathcock, "Book Reviews," Mid-American Review 20 (2000): 249-50. |
| 5. | Bob Minzesheimer, "Clearing Is a Cut Above," USA Today (31 July 2003); "The Critics: Briefly Noted," New Yorker (30 June 2003): 101; "PW Forecasts: Fiction," Publishers Weekly (26 May 2003): 49. |
| 6. | Portions of my introduction are adapted from Chapter 1 of Understanding Tim Gautreaux (Columbia: University of South Carolina Press, forthcoming). |
| 7. | See the Recommended Resources, in which I list all of the interviews with Gautreaux that I have found. |
| 8. | Marcia Gaudet, "The Image of the Cajun in Literature," Journal of Popular Culture 23.1 (1989): 77-88. |
| 9. | See Gautreaux's essay "Left-Handed Love," in A Few Thousand Words about Love, ed. Mickey Pearlman (New York: St. Martin's, 1998), 139. |
| 10. | In California to try to mend his relationship with his estranged wife, Louisiana native Paul Thibodeaux orders the only thing he recognizes on the menu, gumbo, and the waiter brings him "a small cauldron of bitter juice so hot with Tabasco that after the third spoonful, Paul broke into a sweat." When asked how it tastes, Paul remarks that was too hot and is told, "It takes time to develop a true Cajun palate," to which Paul responds, "it sure don't take much time to ruin one" (The Next Step in the Dance [New York: Picador, 1998], 81). |
| 11. | The University of Southwestern Louisiana (USL) is now the University of Louisiana at Lafayette. Vermilionville is a "Cajun/Creole heritage and folklife park [that recreates life in the Acadiana area between 1765 and 1890" and Cajun Village is comprised of "[h]istoric Acadian buildings, restored to house unique specialty shops". |
| 12. | See Chapter 7, "Don't Just Sit There; Do Something: Frustration with Faulkner from Glasgow to Gautreaux," in William Faulkner's Legacy: "what shadow, what stain, what mark" (Gainesville: UP of Florida, 2005). |
| 13. | Collected Stories of William Faulkner (New York: Vintage, 1977), 126. |
| 14. | Gaines made this remark when guest-speaking at a class I took at the University of Southwestern Louisiana (now the University of Louisiana at Lafayette) in the spring of 1986. Gaines also refers to a similar, if not the same, episode in an interview with John Lowe: "Someone asked me when I wrote The Autobiography of Miss Jane Pittman, was I thinking about Dilsey in Faulkner's novel The Sound and the Fury. And I said, 'No, I did not have Dilsey in mind.' And by the way, the difference between Dilsey and Miss Jane Pittman is that Faulkner gets Dilsey talking her story from his kitchen; the young schoolteacher in my book gets Miss Jane's story from Miss Jane's kitchen. And it makes a difference" (John Lowe, "An Interview with Ernest Gaines," Conversations with Ernest Gaines, ed. Lowe, Literary Conversations Series [Jackson: UP of Mississippi, 1995], 313). |