Overview
Beginning in 2003, Tom Zarrilli has traveled the American Southeast documenting handmade roadside memorials to departed loved ones. He has discovered differences in the memorials and in the attitudes that officials and the general public express toward these shrines that affect their composition and longevity. In a photo essay with accompanying text, Zarrilli offers an overview of this project, his approach to photographing the memorials, and he reflects on their significance to the contemporary southern imaginary.
"Crosses, Flowers, and Asphalt: Roadside Memorials in the US South" was selected for the 2009 Southern Spaces series "Documentary Expression and the American South," a collection of innovative, interdisciplinary scholarship about documentary work and original documentary projects that engage with regions and places in the US South.
Roadside Memorials in the US South
In 2003, I began an odyssey through several states photographing makeshift memorials to departed loved ones found alongside the highways of the Southeast. In my documentation I sought to explore the significance of these roadside memorials to the meaning of the modern American South. In this photo essay, I have culled twenty photographs from my extensive collection. This accompanying text offers some thoughts about the significance of these shrines.
These handmade memorials were erected to honor loved ones who died near or on a highway in an unexpected and sudden manner. Although a few mark locations where individuals died as a result of roadside gunfire or attack, the majority of shrines commemorate loss of life in a motor vehicle crash or accident. One commemorates the loss of a beloved pet.
These memorials remind us of the enormous human cost of our national obsession with cars and car culture, an aspect of American life that has flourished in the US South and in popular culture representations of southern culture. The images include romanticized moonshine runners evading the law, country singers meeting their fate in Cadillacs (the 1952 Cadillac Hank Williams died in attracts visitors in Mongomery, Alabama), dirt track racers defying death in stripped-down vehicles with high performance engines, the glitz and product promotion of modern day NASCAR, and the window-tinted, stretch-limo world of rap culture.
Country music serves as a primary resource for tracking the ascendance of road culture. Songs that once celebrated engineers and steel rails have been replaced by odes to long haul drivers and eighteen-wheelers. The American-made pickup truck is lauded in countless tunes, personified as a best friend or trusty companion. Several country tear-jerkers lament the fate of those who have died in fatal crashes. Poignant and popular examples include "Wreck on the Highway" recorded by Roy Acuff (and subsequently many others), "The Runt" recorded by Hank Snow, and movie theme song "Ballad of Thunder Road" written and recorded by Robert Mitchum.
Audio Samples
Like much of the United States, the South became increasingly car-centered in the second half of the twentieth century. Residents of small towns or far-flung exurbs traverse remote distances for work, shopping, and tourism. The automobile has become a social link and an extension of the self. As life in cars and on roadways has become a staple, so has death. Personally-constructed memorials honoring the dead have become part of the grieving process. Memorials marking the locations of highway deaths are created from a sense of memory to bestow respect on those who have passed. They express the universal uncertainty of our survival each time we turn the ignition and hit the gas pedal.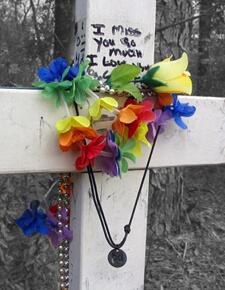 Tom Zarilli, I miss you, Tallahassee, Florida, 2004.
The appearance and structure of roadside memorials varies greatly. They may be simple small crosses constructed on site from pieces of scrap lathe or metal and roughly hand painted with the name of the deceased. Others may be prefabricated in a home workshop, resulting in a more durable and finely crafted display. Adornments range from generic artificial flowers, ribbons, and stuffed animals to more personal items reminiscent of Georgia and South Carolina coastal African American grave site decorative traditions, such as personal photographs, items of clothing, and other relics and items that provide the traveler or mourner with a direct link to the deceased. Because the memorials are located in open, public spaces, the adorning accessories change with time. Items may be added or vanish. Silk flowers fade and discolor. Plush toys become water-soaked and decrepit. Items prone to rapid decomposition may be encased in clear plastic bags to lengthen their longevity.
Research conducted for this essay consisted of querying the DOTs of Georgia, South Carolina, North Carolina, Florida, Mississippi, Tennessee, Louisiana, and Virginia regarding their stated policies towards memorials. Legal and accepted views of memorials by state are much like their regulations of speed limits. The written legal code and the enforcement efforts do not always affect what one encounters on the highway. Despite the legal sanctioning of memorial plantings and state memorials, for the most part, people maintain their personal practices of memorial creation. Roadside memorials have faced a number of legal challenges, as state department of transportation officials and legislative bodies have sought limitations upon them. In a survey of state DOTs, roadside memorials are mostly regarded as a nuisance to highway safety and maintenance that also warrant some measure of respect and sympathy. Highway officials see these tributes as distractions to motorists and dangerous to the individuals who erect and maintain them. Draconian laws might curb the practice, but what state or state official would wish to be responsible for the arrest of a grieving mother placing a cross and flowers by the roadside? Most of the states queried show some sympathy for the practice but choose not to condone it nor promote it. They insist by law that the right of way belongs to the state and the state maintains the right to control it.
In Florida, memorials are routinely removed by the DOT during mowing and maintenance. Also in Florida and in several other states, if a family member or friend desires a more permanent marker, the DOT offers for purchase a generic metal cross customized with the deceased's name and a placard that reads, "Drive Safely." Virginia has a similar policy offering families of the deceased the alternative of having a generic marker placed on the accident site with regulations stressing that there be no deviation from what is proscribed by the DOT. In contrast, Mississippi has no policy in place and only removes the memorials if they are a public hazard. North Carolina sends a politely worded letter to families of accident victims asking them to remove the memorials within thirty days and to participate in an Adopt a Highway program. If the family does not remove the memorial in the allotted time, the state removes and then holds the shrine for up to thirty days for family members of the deceased to claim. Both Tennessee and North Carolina have memorial planting programs for highway beautification as a substitute for death-site memorials.
While no southeastern states encourage or have codified guidelines for the private creation of roadside memorials, the practice flourishes. Internet entrepreneurs offering low-budget stock memorials for roadside use have sprung up to fill the need in states where nothing is officially available for people who may not have the creative aptitude to create their own shrine.
Memorials erected along routes other than Interstate highways have a longer lifespan and are less affected by the decrees of highway officials. Those located on back roads or on private property appear to have even greater longevity and can change as time passes. Memorials to slain teens often grow to enormous size in the first several days following the death, reflecting the highly charged emotions surrounding a young life cut short. The piles of plush animals and other reminders of the lost friend often remain for weeks until they become a tawdry and unsightly scene, removed or reduced in scope only when property owners can no longer tolerate the extensive display.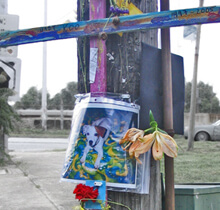 Tom Zarilli, Baby Koo, Atlanta, Georgia, 2007.
The duration of memorials varies on an individual basis, some may remain for a few weeks while others may be maintained for many years. Often the memorial site and the grim and garish offerings left behind become a greater attraction than the deceased's burial location. Variations abound. Urban sites and those closer to the residences of close friends and family are more easily attended to and are likely to be kept up for a longer time. Those on Interstate highways where access is limited and more dangerous may have a more static appearance. Pet memorials, rarer, lean towards the whimsical and tend to be far more ephemeral, lasting only days or weeks.
Roadside memorials demonstrate the cultural need to attach importance to the place of death in addition to the place of interment. Burial practices and sites in the United States have become more restrained and conservative with graveyards being replaced by memorial gardens. Designed to facilitate streamlined landscape maintenance, these large manicured cemeteries have no visible or significantly individualized tombstones, only flat grave markers. Just as gated communities and shopping malls are commercial enterprises that are marketed for their highly controlled use of neutral space and aesthetic, memorial gardens place visitors near the deceased but offer no visual reminders of the unique death. By contrast, hand-crafted roadside memorials present stark reminders that allow both public and personal response to unexpected and jarring death on the highway.
Notes on Technique
My approach to capturing the images seen here is often mitigated by the settings and conditions of the individual scenes. In most cases I photographed the memorials upon my initial discovery of them under whatever the lighting conditions were at the time. The point of view for each image is often limited by distance from the roadway and my own concern for personal safety while photographing, which led me to utilize a wide-angle lens for the majority of the images.
The digital post production enhancements serve both technical and aesthetic purposes. Adjusting contrast and increasing the color saturation of the memorials underscores their centrality, while desaturating, softening, and the adding grain and noise into the background areas mutes the visual impact of the mundane roadside settings. By these methods viewers see the images with clarity unavailable when passing them from a moving vehicle on the highway.

About the Photographer
Tom Zarrilli is a photographer and conceptual artist who has resided in Atlanta since 1965. His work has appeared in galleries in Georgia and Tennessee. He has extensively written about and photographed yard sales and estate sales for the past five years.
Acknowledgements
Claire Butler contributed to the written portion of this essay.