Overview
This essay explores Ponce de Leon Park, a popular turn-of-the-last-century amusement park two miles east of Atlanta, through postcards, photographs, video, and historical analysis. Now long gone, the park once served as a gathering place for weekend picnics, concerts, performances, and rides, and served as a microcosm for an emerging modern southern city with evolving social relations. The electric lights and mechanized rides on display at Ponce de Leon Park (pronounced "pän(t)-s di lE'än") offered Georgians a playful glimpse of new technology, which developed in step with the growing metropolitan area that surrounded it.While Atlanta's first baseball stadium eventually rose on the site of the park, this essay explores transportation, technology, and social interactions at Ponce de Leon Park from 1870–1920—a period of electrification, modernization, and the rise of Jim Crow.
Introduction: Shooting the Chutes at Early American Amusement Parks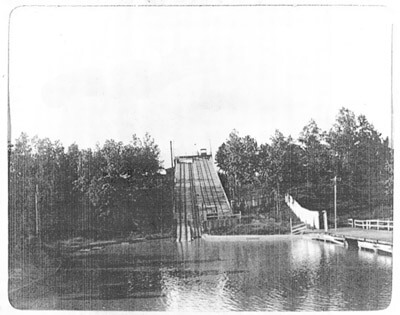 Lakewood Park's Shoot-the-Chutes, Atlanta, Georgia, ca. 1895.

"The

Shoot-the-Chutes

ride at Lakewood Park was originally at the Atlanta International Cotton States Exposition in 1895. The popular attraction was purchased by the Lakewood Park Company and moved to Lakewood Park in southern Fulton County before the start of the 1896 park season." (Source: "Shooting the Chutes,"

Atlanta Constitution

(April 9, 1896), pg. 10.
In the last decades of the nineteenth century, privately-owned amusement parks dotted the American landscape, and by 1920, between fifteen-hundred and two-thousand parks with names like Electric, Riverside, and White City stood outside small towns and major cities. Locals flocked to parks' mechanical rides and novel attractions; historian Lauren Rabinovitz describes the early twentieth-century amusement park as "an Erector-set world of mechanical thrill rides, shows of human and animal oddities, saloons and swimming pools, beer gardens and ballrooms, restaurants and roller skating rinks…characterized by its dynamism — its brash colors, constant noise, and continual movement of people and machinery."1Lauren Rabinovitz, For the Love of Pleasure: Women, Movies and Culture in Turn-of-the Century Chicago (New Brunswick, New Jersey: Rutgers University Press, 1998), 138. Filled with newfangled rides and novel attractions, these parks drew an assortment of patrons searching for new ways to spend their leisure time.
These mechanical wonderlands were generally located on the urban perimeter, and often operated like small, self-contained towns with their own electrical and plumbing systems. Parks boasted outdoor rides, shows, gardens, pavilions, and lakes surrounded by a physical barrier separating their lush grounds from the outside world. Because of this, parks have been seen as separate, protected worlds, quasi-utopian spaces where new forms of play and social interaction could emerge. In his study of Coney Island during the last years of the nineteenth century, John Kasson remarks: "Coney thus offers a case study of the growing cultural revolt against genteel standards of taste and conduct that would swell to a climax in the 1920s."2John Kasson, Amusing the Million: Coney Island at the Turn of the Century (New York: Hill and Wang, 1978), 9. Noting changes in technology and the rise of the "play movement," Kasson suggests Coney Island was "a harbinger of mass culture" that helped bring about new codes of conduct as well as cross-racial relationships.3Kasson, 112. Kasson's history offers a relatively rosey view of amusement parks as mass-cultural melting pots. However, the transition from exclusive leisure spot to all-inclusive wonderland often did not happened as quickly, or as easily, or at all.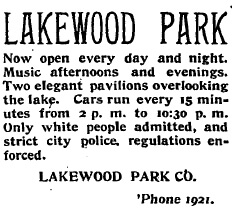 Print advertisement for Lakewood Park, an area park located south of downtown Atlanta. (Clipping from the Atlanta Constitution, April 25, 1896.)
Although these venues offered numerous open-air attractions, privately-owned parks were enclosed by fences and other barriers designed to prevent "undesirables" from entering. In fact, these sites were not the harbingers of mass culture, but carefully regulated spaces that emphasized the social conventions established outside its walls. Park owners, particularly in the American South, upheld the segregationist practices of the larger society, often allowing admission only to white patrons or carefully regulating times and reasons for people of color to enter the park.
The structure of these spaces reflected other cultural ideas of the period as well. While parks advertised an array of rides, shows, and attractions, their physical location also allowed visitors to indulge in popular mid-nineteenth century pastimes associated with "healthful" rejuvenation through communion with nature. Mechanized parks near cities were frequently built on the site of a picnic grove or spring already popular with local city dwellers seeking escape from urban life. Enterprising individuals often bought the property where these natural spots were located and built a panoply of mechanical attractions to draw more patrons.
Local streetcar companies also developed amusement parks to increase revenues. Trolley parks were enclosed amusement parks situated at the end of a trolley line. Although these parks often offered free admission, trolley companies still benefited financially from their existence in several ways. The park's location at the line's end helped ensure that cars traveled at near full capacity during their entire route, rather than departing and arriving at the end station with no passengers. Also, because many of these parks were located on the outskirts of cities, trolley lines could charge an added five or ten cents to their standard fare. Popular amusements also assured that more people would ride the trolley outside of their daily commutes, particularly on weekends. The trolley park taught people to see and use the trolley for their leisure activities in addition to daily transit.
Most early amusement parks offered similar attractions like the Ferris Wheel, Giant Swing, Shoot-the-Chutes, or Scenic Railway. In addition, owners marketed their operations in ways that attempted to exploit the cachet held by famed parks like Luna Park, Dreamland, Steeplechase, and White City. As electric parks like those on Coney Island became more popular and financially lucrative, smaller versions opened outside towns and cities of every size across the nation.
Atlanta's Ponce de Leon Park followed this trend. Established at the end of the nineteenth century, it offered Atlantans not only a venue for amusement, but also an interactive stage for emergent technologies. While bubbling springs and fragrant azaleas initially drew visitors to the park, the Ponce de Leon Springs site evolved over four decades into a complex array of manufactured amusements that kept visitors coming back. Equipped with a theater, electric lights, mechanical rides, man-made lakes, picnic grounds, outdoor gardens, and, eventually, a baseball park, Ponce de Leon Park became a nexus between nineteenth-century naturalism and twentieth-century modernism. However, the city's location in the American South meant that the technological utopianism of the early twentieth century would be articulated within a prevailing ideology of Jim Crow segregation and racist exclusion.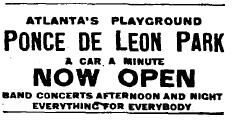 Ponce de Leon Park Advertisement, Atlanta Constitution (May 20, 1907).
The development of Ponce de Leon Springs into Ponce de Leon Park mirrors the transformation of Atlanta from railroad town to modernized metropolis. While the physical distance between downtown and the park was just over two miles, the histories of town and park intertwine as both spaces adoped and adapted to new technologies and social perspectives. This essay situates the development of Ponce de Leon from roughly 1870 to 1920 within larger trends in recreation and transportation as both the park and the city of Atlanta strove for regional and national recognition.
The Springs
US cities began to establish public parks in last half of the nineteenth century as a means to offer "healthy" recreational activities to the growing urban population, and particularly to its working-class elements. City planners and urban reformers hoped municipal green space would morally elevate the poor and immigrant populations, with the enticement of fresh air and cut grass luring people out of taverns, streets, and other "sites of vice." In their history of Central Park, Roy Rosenzweig and Elizabeth Blackmar note that "as early as 1826, New York businessmen used social and moral arguments that the 750-acre park in the center of Manhattan would 'improve' the 'disorderly classes' and foster order among them."4Roy Rosenzweig and Elizabeth Blackmar, The Park and the People: A History of Central Park (Ithaca: Cornell University Press, 1992), 24. While New York elites did not necessarily build the park for the working classes, their arguments based on helping poorer New Yorkers propelled Central Park (and public projects in other large cities) into being.
When Central Park opened in 1858, the City of New York numbered approximately eight-hundred-thousand residents. Atlanta, by comparision, had a population of just above nine-thousand residents, making it the ninety-ninth largest city in America behind Hoboken, New Jersey; Columbus, Georgia; and Schenectady, New York. When Major General William Tecumseh Sherman burned Atlanta in 1864, one estimate numbered the city's population at just thirty-five hundred residents. In the aftermath of the war, Atlantans thought more about survival than establishing municipal parks. When they had time for recreation and amusement, they gathered at impromptu leisure sites, often on private land.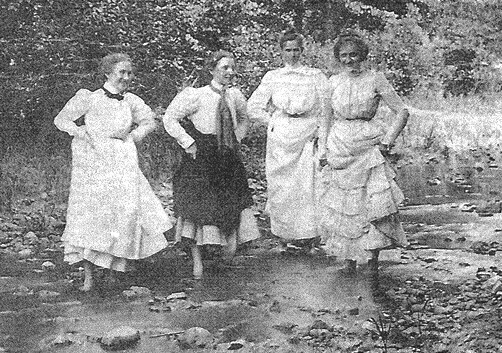 Wading in Creek at Ponce de Leon Park, circa 1890, from the Healey Collection, courtesy of the Atlanta-Fulton County Public Library.
In the late 1860s, Atlanta residents began visiting the springs in John Armistead's beech grove two miles east of town. With the filling-in of Yancey Springs to make way for the Air-Line Railroad in 1868, Atlantans looked to Armistead's springs to supplement their residential water supply. A retired Atlanta physician, Dr. Henry L. Wilson, named the spot "Ponce de Leon Springs" based on his assertion that the water held rejuvenative properties. To meet rising demand, Armistead set up a residential water delivery service in late 1871. By the spring of the following year, an omnibus carried passengers daily from Atlanta to Armistead's springs.
The growing traffic from Atlanta to Ponce de Leon Springs drew the attention of Richard Peters, co-founder of the Atlanta Street Railroad Company. Looking to profit from the city's latest hot spot, the streetcar company extended its Peachtree Street Line east to Armistead's property in 1874, along what is now Ponce de Leon Avenue. The extension required the construction of a two-hundred-fifty-foot-long trestle over Clear Creek. The railroad's investment soon paid off as the popular line took Atlantans by horse-drawn trolley to the Springs for a ten-cent fare.
| | |
| --- | --- |
| "Just at the northern extremity of the boulevard is a pretty little vale, upon which some slight cultivation has been attempted, mineral waters having been discovered bubbling out of the bank a few years ago. The name Ponce de Leon Spring was at once given to it and the spot has become a pleasure resort, always visited in the course of an afternoon's drive...The waters have a sulphurous, nasty taste, and therefore it is quite likely that they possess some at least of the medicinal properties ascribed to them." (Harper's, 1895) | |
The temptation to capitalize on the Springs led Armistead to begin charging five cents a person to drink the water in May, 1886. Enraged, E.C. Peters, son of Richard Peters and Atlanta Street Railroad's general superintendent, launched a campaign against Armistead for control of the Springs. Peters told the Atlanta Constitution that the new fee infringed on an 1874 agreement between the railway company and Armistead. While the railway held no control over the Springs themselves, Peters saw the site as an lucrative investment. If patrons balked at the five-cent fee, Atlanta Street Railroad lost their passengers and the income from the Ponce de Leon Line.
As the Springs became an increasingly popular leisure spot for white Atlantans, blacks were excluded. Sensationalized news stories of supposed black outrages at the Springs published by the Atlanta Constitution fueled white racism and provided justification for Jim Crow segregation. In 1887, the Constitution reported that a "negro boy swindle[d] two children out of money and butter" as they traveled from their home beyond the Springs.5Atlanta Constitution, (March 5, 1887): 7. Just two months later another Constitution story reported that "a young negro" maliciously wounded a black boy with a knife while he played with a group of friends near the Springs.6Atlanta Constitution, (May 13, 1887): 7. A year later, the Atlanta Constitution reported another alleged crime in which a "low, chunky, brown skinned negro" maliciously assaulted a "maiden lady" on her way home from the Springs. These stories helped justify segregation in the park by describing scenarios where unsupervised racial mixing led to the violation of prevailing racial or social norms. Once open to blacks and whites alike, by the 1890s, Ponce de Leon Springs had become one of many white-only leisure spaces in the city and across the South.
Stories of black assaults coincided with the transfer of the park to corporate ownership. In 1887 the property changed hands when the Atlanta Street Railroad Company purchased thirty acres surrounding the Springs (uniting the Ponce de Leon Springs trolley line and its final destination under one owner). Ponce de Leon Park underwent numerous changes in the last decade of the nineteenth century as an assortment of individuals attempted to turn the park into the "pleasentest [sic] resort in Atlanta."7Atlanta Constitution, (Jan 19, 1889): 5.
Established by the Fulton County Railroad in the early 1890s, the Nine Mile Circle line went through growing white suburban areas, including

Inman Park

, the

Highlands

, Ponce de Leon Springs, and

Grant Park

. Riders boarded the open air streetcars to take in a cool breeze and the changing city in what had become a popular pleasure trip. During the

1895 Cotton States Exposition

, the line took visitors to the fair site, a space now known as

Piedmont Park

.
As the private Ponce de Leon Park changed, so did the public streets of Atlanta. Electricity came to the city in 1884 through the Georgia Electric Light Company. Downtown streetlights shifted from gas to electric in the mid-1880s, but streetcars took longer to transition to electric power. Through the 1880s, mules remained the most popular means to move trolleys, just as they did when the first streetcar ran from Whitehall Street to West End in 1872. After his death in 1889, Richard Peters left his son E.C. the Atlanta Street Railroad, which included fifteen miles of line, fifty cars and two hundred mules and horses.8Jean Martin, Mule to MARTA (Atlanta: Atlanta Historical Society, 1975), 10. When the smaller Gate City Street Railroad was sold in 1889, its assets included seven cars and twenty-eight mules.
Atlanta's population grew rapidly in the last decades of the nineteenth century, from almost 22,000 in 1871 to nearly 65,000 in 1888. Local businessmen set out to build additional transportation networks, and between 1872 and 1888, eleven more street railroads were chartered.9Martin, 11. With growing demand and competition, some entrepreneurs looked towards emerging technologies to distinguish their railroads. The Metropolitan Street Railroad Company experimented with dummy steam engines in the mid 1880s, but residential complaints about smoke and the dearth of experienced engineers created more problems than profit.10Martin, 18. While Montgomery, Alabama had electric streetcars in 1886, it took until 1889 for the first electric streetcar to run on Atlanta streets.11Martin, 23.
Touring Ponce de Leon Park
While some businessmen looked to trolley transportation for financial fortune, others experimented in entertaining Atlanta's growing population. Steve Goodson notes, "the vast extension of the railway system and the corresponding development of a national market had sparked an enormous expansion and centralization of the entertainment business."12Steve Goodson, Highbrows, Hillbillies and Hellfire: Public Entertainment in Atlanta, 1880–1930 (Athens: University of Georgia Press, 2002), 5. While the Peters family laid track inside Atlanta, new railroads connected the city to distant areas and entertainment centers. Local theatrical stock companies and traveling celebrities provided new forms of live entertainment. In 1870, Laurent DeGive opened Atlanta's first opera house, DeGive's Opera House, on Marietta Street. Through the 1880s and 1890s, the opera house catered to a growing cosmopolitan audience by featuring international stars like Edwin Booth, Adelina Patti, and Sarah Bernhardt.13Goodson, 31–32.
As traveling opera stars and Shakespearean actors entertained audiences at DeGive's, dime museums, traveling tight-rope walkers, medicine shows, and vaudeville acts all offered cheap amusements to Atlanta's booming population as showpeople set up on streets and in local parks. In the summer of 1886, "Professor Leon" entertained Atlantans with a bird exhibit near DeGive's before moving to Grant Park.14Goodson, 58–59. Medicine salesman and entertainer Yellowstone Kit brought his traveling festival to Atlanta in the fall of 1887, attracting both white and black Atlantans and influencing the repeal of Atlanta's 1885 prohibition law.15Goodson, 59–60.
Atlanta entrepreneurs often blurred the line between entertainment and transportation in their financial endeavors. In 1879, DeGive partnered with cotton merchant Samuel M. Inman to found Gate City Street Railroad with a specific intent to get Gate City patrons to popular entertainment spots. Gate City's charter "contained the unusual proviso that construction of its line from Wall Street to Ponce de Leon Springs begin within two years of the date of charter and continue in 'bona fide' progress."16Martin, 17. The line to the Springs, however, was not actually completed until 1884, ten years after the first line had been established by the Atlanta Street Railroad Company.
While Laurent DeGive worked to build his streetcar business, Richard and E.C. Peters began the process of transforming Ponce de Leon Springs into a premier attraction. In January 1888, the Atlanta Street Railroad leased Ponce de Leon to N.C. Bosche, a prominent Atlanta businessman and partner in the paint firm, Bosche & Donahue. Bosche dreamed of transforming the park into a refined beer garden and made plans to add a ten pin alley, additional outdoor seating, and a larger pavillion near the end of the streetcar line. Two years later, further remodeling plans were pursued by W.A Hemphill, president of the railway company that owned the park. In 1890, Hemphill brought in Julius Hartman, a local landscape designer who had successfully esablished another local park called "Little Switzerland" (adjacent to Grant Park, Little Switzerland's site became White City amusement park in 1907). Hartman envisioned enhancing the "natural beauty of this restful spot" by adding rustic benches and graveled walking paths as well as a lake covering four acres, and improving the pavillion through the addition of a music room (equipped with a piano) and a ladies' reception room.17"A Born Genius," Atlanta Constitution, (August 31, 1890): 8.
In a history of the roller coaster, Dana Anderson refers to the almost symbiotic relationship between transportation moguls and entertainment entrepreneurs, noting that out-of-the-way attractions brought passengers and added weekend income.
[T]he roller coaster owes its privileged status to an earlier, much less thrilling vehicle of leisure: the trolley car. As both Griffin and Mangels note, the proliferation of attractions such as coasters and assorted carnival rides materialized from the commercial exchange between trolley companies and the power syndicates which provided their electricity. The syndicates, which charged a flat fee for power use, profited immensely by the public's infrequent weekend use of trolleys. Traction companies subsequently realized that encouraging weekend family excursions was their best chance at maximizing their power usage. Investors descended upon gardens, parks, and other typical bucolic leisure locales and enlivened them with enough shows and rides to pique the interest of the most sedentary families. As Griffin summarizes, "the appeal of picnicking in a shady grove after working in a dingy factory all week, plus the novelty of music and the thrill of rides, made the Sunday trolley excursion almost irresistible." Thus, the conflation of park space with commodities of spectacle and sensation effectively created and fulfilled a leisure need in the American working public, packed the weekend fare boxes with nickels, and initiated "the development of amusement parks as an American institution."18Dana Anderson, "Sign, Space, and Story: Roller Coasters and the Evolution of a Thrill," Journal of Popular Culture 33, no. 2, (Fall 1999): 2.
For the already electrified trolley companies, setting up smaller versions of the vehicles they already ran on city streets in the form of early rides like the scenic railway or the miniature railway represented another strategy for economic diversification and added income generation. City dwellers did not need to ride the trolley to work on weekends, so trolley companies created desirable destinations to entice users into the streetcar.
In their plan to bring patrons to Ponce, Atlanta entrepreneurs envisioned a number of novel attractions. However, most of their inventive plans never made it to the park. Ponce de Leon Lake, a man-made body of water measuring approximately four acres, and Pairs Pond, a small lake surrounded by shaded walking paths and nearby summer houses, were added in the summer of 1890. However, despite dreams of pavilion-covered springs and bucolic beer gardens, the main attractions added in the late 1880s and 1890s were the picnic grounds, a dance hall, a stock theater company, and a few children's rides.
Ponce de Leon Lake, ca. 1895

This lake was filled in to make way for the

Atlanta Crackers

baseball field in 1907. The portion of the lake featured here is now the parking lot for the Midtown Shopping Plaza.
Looking West from
Ponce de Leon Springs,
ca. 1895

This image looks towards what is now Atlanta's Midtown area.
In January 1903, forty-seven acres surrounding the springs were purchased by what would become the Ponce de Leon Amusement Company. Organized a few weeks after the sale of the Springs by J.G Rossman (President) and William Sharpe (Secretary and General Manager), the Ponce de Leon Amusement Company set out to turn the property into "an outdoor amusement resort such as one finds in New York, Philadelphia, Cincinnati, St. Louis and every big city in the country."19Atlanta Constitution, July 17, 1904. Work began on a small theater near the entrance of the park on February 22, 1903. Construction of several additional buildings and a merry-go-round began shortly thereafter.
During the months between the sale of the property and the grand re-opening, Rossman, Sharpe, and park Superintendent William H. Labb hyped the upcoming amusement venture. On April 2, 1903 the Atlanta Consititution reported that "Five Car Loads of Boats" along with many other purchases had been made for the new park.
Superintendent William H. Labb, under whose direction Ponce de Leon is being transformed into a thoroughly up-to-date summer amusement place, returned yesterday from New York and Philadelphia, where he has been for several days overseeing the packing and loading of the large carousel to be used at Ponce de Leon. Mr. Labb stated that the machine was one of the very finest of construction and nothing similar had ever been erected outside of Coney Island and Atlantic City.
According to Labb, the "five car loads of boats of various designs" were shipped from the Northeast to the Atlanta park and included in this shipment were "electric gondolas and two electric launches of the latest design."20"Five Car Loads of Boats—Many Purchases Made for Ponce de Leon Springs—Opening in May," Atlanta Constitution, (April 3, 1903): 6. The emphasis by Labb on these "latest attractions," which had not been seen outside of nationally renowned parks on Coney Island and Atlantic City, demonstrates the park owners' efforts to use the latest in amusement technology in order to brand the park not only as a cosmopolitan venue, but as a nationally known competitor to the most famous amusement resorts in America. This change in focus from the natural to the mechanical represents a subtle but significant shift from Hartman's vision ten years earlier to transform the park by bringing out the site's natural beauty.
Although owners expected Ponce de Leon Park to open the first week of May, construction delayed the official start of the 1903 season by a month. The Ponce de Leon Casino, leased by Jack Wells, opened in the park on Monday June 1, 1903 with a performance of the comedy "The Lady Slavy" by the forty-five member Giffen Musical Comedy Company. The rest of the park likely opened a few days later on a rainy Sunday, June 6, 1903: "there were thousands of people on the grounds, while the new theater, the Casino, was packed to its full capacity with the Griffin Comedy Company as the attraction."21R.W. Lillard, "How Ponce De Leon Was Made Into An Amusement Resort," Atlanta Constitution, (July 17, 1904): C4. In addition to the Casino, a summer playhouse modeled after the Ocean View Casino, the park also offered "Coliseum" (a sixty-foot oak platform that served as the park entrance from the trolley line) was complete. From here, patrons could visit "the theater, the merry-go-round, the laughing gallery, the cave of the winds, the penny arcade, the Japanese ping pong parlor, the Ferris wheel, the pony track, the miniature railways, the Gypsy village, the shooting gallery, the knife and cane boards, the baby racks, two attractive restaurants, pop corn and candy stands and two elegant soda water pavillions [sic]."22R.W. Lillard, "How Ponce De Leon Was Made Into An Amusement Resort," Atlanta Constitution, (July 17, 1904): C4.
In 1906, the Ponce de Leon Park Association was created to purchase and manage the park. Ponce de Leon Park Casino lessee Jack Wells became President of the Association and, along with association Treasurer Joseph Whitehead and Secretary and Manager Hugh L. Cardoza, invested $50,000 into park grounds, updating and adding new attractions like an ostrich farm. Their renovation marked a high point for the park as the city's premier amusement destination. On May 13, 1906 the Atlanta Journal ran an article praising the Ponce de Leon's new and improved appearance. In contrast to the park's pastoral scenes and diverting amusements, outside the park fences 1906 marked a horrific year in the city's race relations with a riot on September 22–24, during which rampaging whites killed and wounded dozens of black Atlantans.
The Pavilion and Gardens at Ponce de Leon Park

Between 1907 and 1911, at least six versions of this particular image circulated on Ponce de Leon Park postcards.23See Atlanta History Center, Atlanta Postcard Collection.

Souvenir postcards bearing hand-tinted images of park attractions also appeared in 1906. Along with the park's name, some postcards also list the new park slogan: "The Coney Island of Atlanta, Ga." Many Ponce de Leon postcards were used to send messages unrelated to the park experience. For example, on the back of the postcard featured above the author states "Still doing debate and having a jolly time."
Epilogue: After the Park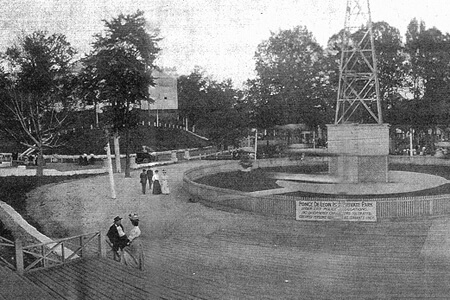 Circle Swing
, ca. 1910. Ponce de Leon Swing circa 1910, from the Healey Collection, courtesy the Atlanta-Fulton County Public Library. The sign below the circle swing reads: "Ponce de Leon is a private park under city police regulations. No disorderly characters tolerated. Colored persons admitted as servants only."
Like most small amusement parks around the nation at the turn-of-the-last-century, Ponce de Leon and its mechanized attractions fell out of fashion in the late 1920s, and its days as a tranquil natural spot and a mechanical wonderland ended by the early part of the decade. New venues and modes of mass entertainment emerged, from the baseball field that would take Ponce's place to movie palaces like the Fox Theatre only two miles away.

Although Ponce de Leon Springs and the amusement park survived only for a few decades, the leisure spot was one of many signifiers of white supremacy as Atlanta led the way into the New South. First a natural site of rest and rejuvenation, Ponce de Leon Park's popularity grew in tandem with the Atlanta streetcar system, just as Atlanta's growth in the latter half of the 1800s relied upon its status as a railway transportation hub. As the site's primary attraction shifted from the springs and its natural surroundings to the theater, casino, and rides, Atlanta itself was developing from a small Victorian town into an electrified metropolis. Even the efforts of Park Superintendent Labb and the other members of the Ponce de Leon Amusement Company to give the park a national sensibility by bringing in rides and attractions from New England foreshadowed the area's own transformation into a southeastern center for industry and distribution.
The transition of Ponce de Leon from from an amusement park began in 1907 with the filling-in of the four- acre lake to make way for Ponce de Leon Ball Park. The baseball field, bordered by wooden bleachers, opened to eight thousand white fans on May 23, 1907 as the home to the minor league Atlanta Crackers. The ballpark also hosted the Black Crackers, Atlanta's Negro Southern League baseball team, from 1919 until 1952. Following a fire in September 1923, the ballpark was rebuilt by wealthy concessionaire Rell Jackson Spiller using concrete and steel. The new Spiller Field and its ninety-eight-hundred-seat segregated grandstand (eventually expanded to hold fifteen thousand) became the home to the Crackers until 1965, when they moved to Atlanta Stadium for their last season. Ponce de Leon Ball Park was demolished in 1966.
"Two years after he had broken baseball's color barrier," writes Gary Pomerantz in Where Peachtree Meets Sweet Auburn, "the Brooklyn Dodgers' Jackie Robinson came to Ponce de Leon Ball Park in April 1949 to break the color line in Atlanta." Georgia native Robinson "had misgivings about the three exhibition games against the all-white Atlanta Crackers," and there were rumors the Klan would be waiting out by the magnolia tree beyond center field.24Gary M. Pomerantz, Where Peachtree Meets Sweet Auburn: A Saga of Race and Family (New York: Penguin, 1997), 182–183. In segregated seating and standing areas, some sixty thousand black and white fans attended "the city's first interracial game." The KKK did not materialize.
Ponce de Leon Springs became a site of industrial development as the city transformed into a major business center. In 1914 the Ford Motor company built its headquarters for southeastern operations just east of the Springs, where, until 1942, the site served as a showroom, office, and factory. Ford sold the building to the US War Department to be used as Air Force storage and offices. In 1924, Sears-Roebuck purchased the area north of Ponce de Leon Avenue that had held the springs and the amusement park and established its southeastern retail and distribution headquarters. Sears sold this two-million-square-foot building to the City of Atlanta in 1990, when it was converted into "City Hall East."

In the mid-twentieth century, Ponce de Leon and the city of Atlanta underwent substantial social change as many white, middle-class families and businesses fled the city center to suburban developments, and eventually to neighborhoods outside Atlanta's I-285 perimeter.25See Kevin Kruse, "White Flight," Southern Spaces, November 28, 2005. Houses which had been family-owned became devalued rental properties. The park site went through several distinct phases as ownership changed. For a time it was owned by Providence Life and Accident Insurance Co. until it was sold to Asian investors and transformed into the Great Mall of China. In 1998, Florida-based Sembler Co. purchased the twenty-acre site, turning it into Midtown Place, an outdoor shopping mall anchored by a Home Depot, Borders, Whole Foods, PetSmart, and Staples.
May at Ponce de Leon. This short video shows the site of Ponce de Leon Springs and amusement park in May 2006, one hundred years after the refurbished 1906 Ponce de Leon Park's opening day. Filmed and edited by Sarah Toton.
The Once and Future Ponce
In 2004, a group of local investors formed Ponce Park LLC, purchasing 6.5 acres south of North Avenue for $6 million dollars and offering to buy City Hall East for thirty-five million dollars. Following the discovery of contaminated soil from a misplaced sewer line, Ponce Park LLC purchased the City Hall East building in 2006 for thirty-three million dollars. Plans call for the one thousand City Hall East employees to move out in late 2008. The building is then to be converted into nearly fourteen hundred residential units with accompanying retail shops and office space.
Beyond the uncovering of sewer contamination and the old springs site, the transition from City Hall to private residential center provides other reminders of nineteenth-century developers' visions of the location's potential. Ponce Park lead developer Emory Morsberger intends to bring the park back to Ponce, creating a 2.4 acre greenspace as well as walking paths, seating areas, and a swimming pool. Following a string of other "live, work, play" construction projects along a proposed Atlanta Beltline, (a light-rail corridor encircling Midtown and Downtown built over Atlanta's historic railroad lines), Ponce Park's aim is to operate as a sustainable community near Atlanta's downtown. This "New Urbanism" approach, ironically, returns Ponce Park into a variation of its former self. Like Atlanta's first Ponce de Leon Park, the new development design supposedly offers a retreat where green space, recreation, and commerce can enrich the lives of urban residents. Its proximity to a potential Beltline stop evokes the relationship between transit, entertainment, and business that flourished over one hundred years earlier.

Recommended Resources
CD- ROM
Rabinovitz, Lauren. Yesteryear's Wonderlands: Introducing Modernism to America. University of Illinois Digital Press, 2008.
Print Materials
Kasson, John. Amusing the Million: Coney Island at the Turn of the Century. New York: Hill and Wang, 1978.
Godshalk, David F. Veiled Visions: The 1906 Atlanta Race Riot and the Reshaping of American Race Relations. Chapel Hill: University of North Carolina Press, 2005.
Goodson, Steve. Highbrows, Hillbillies and Hellfire: Public Entertainment in Atlanta, 1880-1930. Athens, GA: University of Georgia Press, 2002.
Marvin, Carolyn. When Old Technologies Were New: Thinking About Electric Communication in the Late Nineteenth Century. New York: Oxford University Press, 1990.
Martin, Jean. Mule to Marta. Atlanta, GA: Atlanta History Center, 1975.
Peiss, Kathy. Cheap Amusements: Working Women and Leisure in Turn-Of-The-Century New York. Temple University Press, 1987.
Pomerantz, Gary M. Where Peachtree Street Meets Sweet Auburn. New York: Scribner, 1996.
Rabinovitz, Lauren. For the Love of Pleasure: Women, Movies, and Culture Turn-Of-The-Century Chicago. New Brunswick, New Jersey: Rutgers University Press, 1998.
Links
American at Work, America at Leisure
http://memory.loc.gov/ammem/awlhtml/awlhome.html
Mixon, Gregory and Clifford Kuhn. "Atlanta Race Riot of 1906." New Georgia Encyclopedia
http://www.georgiaencylopedia.org/nge/Article.jsp?id=h-3033
References

| | |
| --- | --- |
| 1. | Lauren Rabinovitz, For the Love of Pleasure: Women, Movies and Culture in Turn-of-the Century Chicago (New Brunswick, New Jersey: Rutgers University Press, 1998), 138. |
| 2. | John Kasson, Amusing the Million: Coney Island at the Turn of the Century (New York: Hill and Wang, 1978), 9. |
| 3. | Kasson, 112. |
| 4. | Roy Rosenzweig and Elizabeth Blackmar, The Park and the People: A History of Central Park (Ithaca: Cornell University Press, 1992), 24. While New York elites did not necessarily build the park for the working classes, their arguments based on helping poorer New Yorkers propelled Central Park (and public projects in other large cities) into being. |
| 5. | Atlanta Constitution, (March 5, 1887): 7. |
| 6. | Atlanta Constitution, (May 13, 1887): 7. |
| 7. | Atlanta Constitution, (Jan 19, 1889): 5. |
| 8. | Jean Martin, Mule to MARTA (Atlanta: Atlanta Historical Society, 1975), 10. |
| 9. | Martin, 11. |
| 10. | Martin, 18. |
| 11. | Martin, 23. |
| 12. | Steve Goodson, Highbrows, Hillbillies and Hellfire: Public Entertainment in Atlanta, 1880–1930 (Athens: University of Georgia Press, 2002), 5. |
| 13. | Goodson, 31–32. |
| 14. | Goodson, 58–59. |
| 15. | Goodson, 59–60. |
| 16. | Martin, 17. |
| 17. | "A Born Genius," Atlanta Constitution, (August 31, 1890): 8. |
| 18. | Dana Anderson, "Sign, Space, and Story: Roller Coasters and the Evolution of a Thrill," Journal of Popular Culture 33, no. 2, (Fall 1999): 2. |
| 19. | Atlanta Constitution, July 17, 1904. |
| 20. | "Five Car Loads of Boats—Many Purchases Made for Ponce de Leon Springs—Opening in May," Atlanta Constitution, (April 3, 1903): 6. |
| 21. | R.W. Lillard, "How Ponce De Leon Was Made Into An Amusement Resort," Atlanta Constitution, (July 17, 1904): C4. |
| 22. | R.W. Lillard, "How Ponce De Leon Was Made Into An Amusement Resort," Atlanta Constitution, (July 17, 1904): C4. |
| 23. | See Atlanta History Center, Atlanta Postcard Collection. |
| 24. | Gary M. Pomerantz, Where Peachtree Meets Sweet Auburn: A Saga of Race and Family (New York: Penguin, 1997), 182–183. |
| 25. | See Kevin Kruse, "White Flight," Southern Spaces, November 28, 2005. |