Overview
John Howard revisits a Japanese American concentration camp.
Essay
In early 1943, John Yoshida escaped from the American concentration camp at Jerome, Arkansas.1This essay is adapted from John Howard, Concentration Camps on the Home Front: Japanese Americans in the House of Jim Crow (Chicago: University of Chicago Press, 2008).
It was easy to get out; people did it all the time. With a day pass, you could catch a bus into town and go shopping. Even without a pass, many Japanese Americans sneaked out to go fishing or to take a walk in the woods. But unlike the shoppers and the hikers, John Yoshida had no intention of coming back.
Some time after noon on Sunday, January 17, he slipped past the barbed wire fence encircling the Jerome camp. Though US military police were positioned atop guard towers and at the gates, outfitted with Springfield rifles, they either failed to notice Yoshida or failed to bother. On Monday afternoon, the father and stepmother of the twenty-three-year-old reported him missing to the authorities. A search of Jerome, as well as the neighboring camp at Rohwer, where Yoshida's sister lived, thirty miles away, yielded nothing. Not a clue.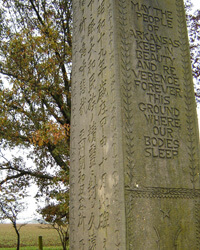 John Howard, Cemetery at Rowher, Arkansas, concentration camp, 2004.
A full day after he'd gone AWOL, John Yoshida had gotten little further than a mile. He eventually made his way to the railroad tracks, focusing on that potent symbol of Japanese American imprisonment. It was by train that Yoshida and his family had been shipped, shades drawn, to this sparsely populated southern flatland—a grueling four-day journey from the Pacific Coast to the banks of the Mississippi River. Shunted into the plywood and tarpaper barracks, they had already encountered a cold winter, a fuel shortage, and the countless indignities of confinement. Worse, the war now seemed protracted, the end far from sight. And in the dead of night, the trains—carrying troops, carrying weapons, carrying perhaps the stuff of a once ordinary life—rolled by, measuring the fitful sleep of the 17,000 at Jerome and Rohwer. The far off chunk-chunk of wheels over tracks grew ever louder and closer, drowning out the crickets, then again faded away, the whistle crying out another hour of captivity.
Of the ten camps built for detaining 120,000 Americans of Japanese descent, these two in Arkansas were set up right alongside the vital supply line. So these trains had become an infuriating reminder of the injustice of incarceration. By day, boys pelted the locomotives and boxcars with rocks. By night, there was no fighting it—except in dreams and in thoughts of release. Now, in the dark morning of 19 January 1943, a train was about to pass. John Yoshida was ready.
Yoshida took off his overcoat and folded it neatly. He took off his hat. He double-checked the folded pieces of paper, then stacked them all next to the tracks. He crouched down as the train approached.
The conductor didn't see him. The big machine passed, as usual, through the dewy Delta cottonfields' pre-dawn haze, continuing on its course without stopping. Meanwhile, the fugitive had laid down on his stomach, perpendicular to the track, and placed his chin just over the first rail. When the train rolled over that stretch, just a mile and a half north of the Jerome, Arkansas, concentration camp, it severed John Yoshida's head from his body.
Resistance to oppression comprises a range of behaviors, from the seemingly smallest acts of everyday dissent and insubordination to the most weighty deed of all—the taking of one's own life. If we make choices, but not in a world of our choosing, then this one option—taken under what for some were unendurable circumstances—can be interpreted as a final act of will. An important concept in social history, agency is generally conceived as the ability to think, to ascertain available courses of action, and to then act in one's best interest. When that interest runs counter to that of one's captors—who here wanted docile acceptance of incarceration—then the human agency of suicide can constitute struggle and can be equated with resistance.
In the continuing, complex relationship between reportage and resistance in the concentration camps of World War II Arkansas, administrators and their most compliant Japanese American journalists utilized silence to minimize the ill effects, as they saw them, of resistance, to downplay the worst conceivable outcomes of incarceration. They often covered up or ignored acts of defiance, downplayed them in the pages of the camp newspaper. These silences, apparent absences in our historical sources, nonetheless must be assessed and deciphered. In looking back at this time, if we allow a gap in the record to stand in as an absence or a historical lack, then we will have lost the powerful stories of lives lived against the grain of official history, against the will of white oppressors.
About the Author
John Howard teaches American Studies at King's College London and studies photography at Central Saint Martins College of Art. See Prof. Howard's Southern Spaces presentation: "The Same Language: A Memoir by Ben Duncan."