Overview
Steve Bransford traces the relationship between roots music and documentary film.
The more that traces of American roots music are turned into prized relics, the more lifeless the music becomes. Only by acknowledging roots music's ephemeral and fragile qualities do its archival traces remain relevant and enlivening.
To commemorate a century of one of the world's most influential musics, filmmaker Martin Scorsese produced The Blues (2003), a seven-part PBS documentary series with a different director for each episode. Like Ken Burns's Jazz (2000), The Blues tied itself to numerous commercial products, including a book and a compact disc series. German director Wim Wenders handled the fourth episode, The Soul of a Man (2003), devoted to his three favorite blues artists: Blind Willie Johnson, Skip James, and J.B. Lenoir. Wenders' film, however, isn't so much about the lives and times of these bluesmen, as it is about their archival traces.
Interviewed for The Soul of a Man, blues aficionados Steve and Ronnog Seaberg talked about befriending and filming J.B. Lenoir in 1964. The Seabergs hoped Lenoir's exposure on Swedish TV would generate more European gigs but the quality of their recorded sound proved too poor to broadcast. The next year, they tried again. In The Soul of a Man, Ronnog Seaberg holds up the 1965 reel. "This is it," she says.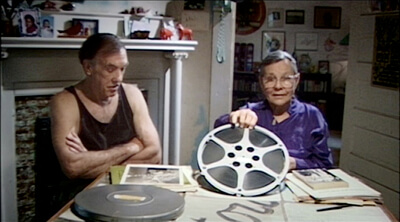 Ronnog Seaberg holds up the reel of J.B. Lenoir footage she and her husband shot in Chicago in 1965. The Soul of a Man, 2003.
In the documentary tradition, archival footage typically provides confirming evidence of spoken commentary, but in The Soul of a Man, the Seaberg footage exists as a rich, autonomous document telling its own story. Wenders interviewed Lenoir's surviving family members, admirers, and old associates but left this material out of his final edit. He "wasn't so much interested in making a film with talking heads and people who remembered J. B. . . . [but instead] wanted to have the music speak for itself."1Wenders, Wim. "The Soul of a Man," in Martin Scorsese Presents the Blues: A Musical Journey (New York: Amistad, 2003), 161. Wenders wanted the old footage to be "the backbone of the second half of [the] film," revealing more than any contemporary interview.2Ibid.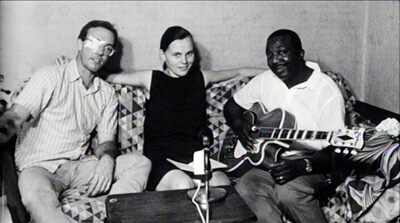 Steve Seaberg, Ronnog Seaberg, and J.B. Lenoir in the 1965 footage. The Soul of a Man, 2003.
Documentary filmmakers have used reenactments since the genre's beginnings. In Nanook of the North (1922), Robert Flaherty had Nanook reenact hunts and domestic routines. 1940s era newsreels such as The March of Time (1935-1951) utilized reenactments, often with the original participants of events. Because film footage of roots music before the advent of television is scarce, many recent documentaries incorporate reenactments. The 2005 PBS documentary The Carter Family, for instance, reenacts early recording sessions.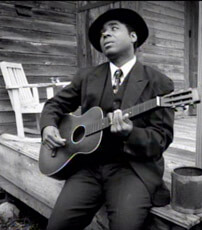 Reenactment of Blind Willie Johnson in The Soul of a Man, 2003.
What's different about Wenders' reenactments for The Soul of a Man is that they look like actual fragments of archival footage. Filmed with a hand-cranked, 1920s Debrie Parvo camera, these scenes, says Wenders, produce "a really beautiful and authentic effect and transports you right back in time—so successfully, in fact, that when we showed a first cut of the film, most of the people who saw it believed we had found all this original archived material and didn't really understand that we had produced it ourselves. [Scenes] . . . look as if they were filmed at the time."3Wenders, 159-160.

For the portion of The Soul of a Man dealing with Blind Willie Johnson and Skip James during the 1920s and 1930s, there existed no archival footage. Wenders decided to reenact key moments in these men's careers. Eschewing interviews with people who knew Johnson and James, Wenders mixes authentic, non-music archival clips alongside the reenactments, further blurring history and simulation.4Despite the technical similarity between the authentic footage and the reenactments, it's obvious that the scenes featuring Johnson and James are staged. The camera setups are seamless, and it makes no sense that the musicians sing and play but are never heard speaking. While the clips are almost perfect technical simulations of archival footage, the narrative action and the editing of the clips reveal that they are obviously staged.
It's not that Wenders is passing off new material as vintage, he's seeking to transport the audience.5Some recent documentaries have caused controversy by passing off fake, manufactured archival footage as authentic material. It was revealed that the filmmakers for the 2004 Oscar-nominated documentary The Children's March had manufactured a large portion of archival footage, which caused the Academy of Motion Picture Arts and Sciences to review the veracity of the film. His approach reveals more than a director's preference for primary sources, more than the creation of authentic-seeming material to get at a subject. The Soul of a Man is as much about the archival traces of Johnson, James, and Lenoir as it is about the creation of music in time and place, amid social pressures and situations of prejudice. Wenders claims that the music and the archival material should "speak for itself," but the film's primary concern is the very substance and availability of archival material, and how this material shapes the cinematic writing of history.
Focusing so intently on archival fragments, actual and simulated, Wenders fetishizes traces that threaten to supersede the people he is trying to represent. Instead of an intricate historical web, the film at times resembles a stockpile of relics.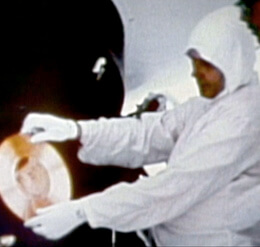 Scientists load the "golden record" onto the spacecraft. The Soul of a Man, 2003.
Pretending to be Blind Willie Johnson (1897-1945) speaking from beyond the grave, the voice of actor Laurence Fishburne begins The Soul of a Man. "Johnson" describes how one of "his" songs, "Dark Was the Night, Cold Was the Ground," was put on a record that went out with the Voyager space probe in 1977 on a mission to explore the outer reaches of the solar system and beyond. If ever intercepted by intelligent alien life, Voyager contains a "golden record" of sights and sounds (such as "Dark Was the Night") meant to show the diversity of culture on Earth. As "Johnson" discusses the Voyager disc, Wenders includes an archival clip of scientists loading the "golden record" onto the spacecraft and an animation of Voyager traveling through deep space. Wenders explains, "The fact that ['Johnson's'] voice was out there in space on Voyager . . . made him the perfect instrument to narrate our film. He had the necessary distance, so to speak; he had a beautiful 'objective' point of view."6Wenders, 162.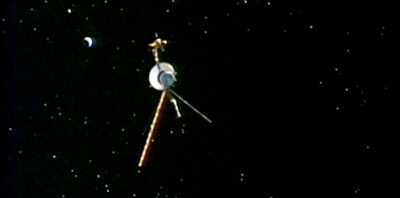 An animation of Voyager traveling through deep space. The Soul of a Man, 2003.
Throughout The Soul of a Man, Wenders' obsession with physical relics of blues history moves beyond what these traces offer when carefully and imaginatively considered: glimpses of the musicians and their complex cultural worlds, as well as ways in which recordings and archival material can reveal situated aspects of personality and social emotion.7The festishization of roots music traces hits its peak in the 2003 documentary Desperate Man Blues. As opposed to The Soul of a Man, which at least purports to be about musicians, Desperate Man Blues is about the adventures and tastes of a collector of roots music records. For a large chunk of the film, we simply watch this collector, Joe Bussard, as he listens to records in his basement. Director Edward Gillan includes one reenactment, not of an event in the life of a classic musician, but a reenactment of the time when Bussard discovered the rarest and most valuable record in his collection (a 78 of "Original Stack O' Lee Blues" by the Down Home Boys). Bussard believes that the real roots music stopped being produced in the early fifties, and so, all we're left with are the magical spinning discs and the nostalgic reminiscences of a collector's career.
Roots music, both the new iterations produced today as well as earlier songs and styles that continue to circulate, is often placed at a "necessary distance" and in a bubble with little or no connection to the social world. Piqued and perplexed over the O Brother, Where Art Thou? (2000) phenomenon, Benjamin Filene argues that fans and writers are marginalizing roots music more than ever, even as they praise it for being quintessentially American. "What I think rankles me about the O Brother phenomenon," writes Filene, "is that even as the artists it features gain a degree of fame and fortune and a passel of awards, the revival in several key respects holds them and the music itself at a remove, depicting both as relics from another world and time. . . . At every turn, the appeal of this music today seems to be its isolation from contemporary reality."8Filene, Benjamin. "O Brother, What Next? Making Sense of the Folk Fad," Southern Cultures 10 (Summer 2004), 56-57.
Wenders portrays Blind Willie Johnson as figure who lived in a realm beyond reach and is now sealed away in an otherworld. What could be more detached and isolated from the lived history of Jim Crow than the golden record aboard the Voyager? In the book accompanying The Blues series, Wenders writes of the blues as "still alive" and "still flourishing," yet in The Soul of a Man he doesn't locate new venues for the blues, or new and original song writing. Instead, he assembles an impressive array of established artists to perform old tunes by Johnson, James, and Lenoir.
◊ ◊ ◊
Could Wenders have learned something from a music video that debuted a few months before The Soul of a Man? Instead of featuring a new musician performing an old song, a venerable, dying musician — Johnny Cash — performed a relatively new song: Trent Reznor's "Hurt."
During the last ten years of his life, Cash teamed with producer Rick Rubin for a series of critically-acclaimed studio albums. Along with new compositions and classic country interpretations, Rubin encouraged Cash to take up songs by contemporary artists such as Beck, Soundgarden, U2, Depeche Mode, and Nine Inch Nails. Cash's final records demonstrate that he was not so much transforming popular songs into folk songs as making other peoples' material his own. Unlike the honorific blues covers in The Soul of a Man, the covers on the Cash/Rubin records are intensely personal reflections on faith, love, and mortality.
Music video director Mark Romanek had long pleaded with his friend Rick Rubin to be allowed to direct a video for one of Cash's new songs, but it was not until "Hurt" (2002) that he finally got his chance. Due to Cash's deteriorating health, Romanek had to film at the musician's home in Hendersonville, Tennessee, and at the nearby House of Cash museum. While more than half of the "Hurt" video features contemporary footage of Cash and wife June Carter, much is also made of archival material.
Early in the song, Cash sings, "The needle tears a hole / The old familiar sting / Try to kill it all away / But I remember everything." Upon the last two words, the first archival clip is shown, an excerpt from the 1974 documentary Ridin' the Rails (in which Cash explored the history of US railroading through song and story). After a few seconds, Romanek cuts back to the contemporary Cash at a piano singing, "What have I become?" This prompts another archival clip: Cash walking along the Dead Sea shore (from his 1973 documentary The Gospel Road). Then back to Cash at the piano as he addresses "What have I become" to his "sweetest friend." Next, Romanek cuts to home movie clips of Cash walking through a field.
Images accompanying "What have I become, my sweetest friend?" Video for "Hurt," 2002.
Through cross-cutting, Romanek makes it seem as if the 2002 Cash is addressing the youthful, archived Cash. "What have I become?" is a painful acknowledgment of his body's deterioration. A sprightly and energetic Cash from the 1950s, 60s, and 70s is juxtaposed with a feeble and weakened Cash in 2002: "Everyone I know goes away in the end." The Cash archival traces become reminders of mortality. "What have I become, my sweetest friend?"
An anomaly on the music video landscape for its absence of frenetic spectacle, sexual tease, and unbounded youthfulness, the "Hurt" video was a critical sensation in 2003. In shocking fashion, an aged artist reflected upon fleeting life and the inevitability of death.
When Cash sings, "You could have it all / My empire of dirt," Romanek initiates a series of shots within the House of Cash. Flood damage had closed the museum several years earlier and the "Hurt" video finds the place in a state of dereliction. When Cash sings "dirt," Romanek cuts to a wide shot of the museum's former gift shop, devoid of people, but bearing visual traces of Cash — in posters, cardboard cutouts, and illustrations. One of his gold records sits on the floor, the glass in its frame shattered, debris strewn nearby. "It's all fleeting," Cash said in one of his last interviews. "As fame is fleeting, so are all the trappings of fame fleeting. The money, the clothes, the furniture."9D'Angelo, Joe. "Johnny Cash Says Unlike Most Videos, 'Hurt' Wasn't Too Painful." MTV.com. 26 August 2003. MTV. 10 January 2008.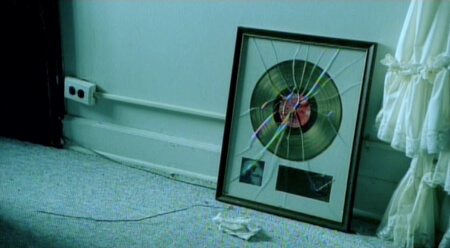 Still inside the House of Cash from "Hurt" video, 2002.
In Wenders' The Soul of a Man, archival traces — old records, reels, and photographs — exude a reliquary quality, immune to time and detached from place. In "Hurt," we learn how fragile and vulnerable are the traces. We are cautioned about becoming absorbed with the trappings. When the archival footage of Johnny Cash flashes by, it pays tribute to the man while reminding us of our own mortality. The endurance of human connections gives way to the unraveling of all ties that bind. Cash's acceptance of decay and death gives life and longevity to his music.
About the Author
Steve Bransford lives in Atlanta with his wife Amy and two-year-old son Miles. He recently completed his PhD in American Studies from Emory University and is currently serving as visiting assistant professor in the Graduate Institute of the Liberal Arts at Emory. Steve also works as a videographer for the forthcoming website "The Mother Nature Network."
References

| | |
| --- | --- |
| 1. | Wenders, Wim. "The Soul of a Man," in Martin Scorsese Presents the Blues: A Musical Journey (New York: Amistad, 2003), 161. |
| 2. | Ibid. |
| 3. | Wenders, 159-160. |
| 4. | Despite the technical similarity between the authentic footage and the reenactments, it's obvious that the scenes featuring Johnson and James are staged. The camera setups are seamless, and it makes no sense that the musicians sing and play but are never heard speaking. While the clips are almost perfect technical simulations of archival footage, the narrative action and the editing of the clips reveal that they are obviously staged. |
| 5. | Some recent documentaries have caused controversy by passing off fake, manufactured archival footage as authentic material. It was revealed that the filmmakers for the 2004 Oscar-nominated documentary The Children's March had manufactured a large portion of archival footage, which caused the Academy of Motion Picture Arts and Sciences to review the veracity of the film. |
| 6. | Wenders, 162. |
| 7. | The festishization of roots music traces hits its peak in the 2003 documentary Desperate Man Blues. As opposed to The Soul of a Man, which at least purports to be about musicians, Desperate Man Blues is about the adventures and tastes of a collector of roots music records. For a large chunk of the film, we simply watch this collector, Joe Bussard, as he listens to records in his basement. Director Edward Gillan includes one reenactment, not of an event in the life of a classic musician, but a reenactment of the time when Bussard discovered the rarest and most valuable record in his collection (a 78 of "Original Stack O' Lee Blues" by the Down Home Boys). Bussard believes that the real roots music stopped being produced in the early fifties, and so, all we're left with are the magical spinning discs and the nostalgic reminiscences of a collector's career. |
| 8. | Filene, Benjamin. "O Brother, What Next? Making Sense of the Folk Fad," Southern Cultures 10 (Summer 2004), 56-57. |
| 9. | D'Angelo, Joe. "Johnny Cash Says Unlike Most Videos, 'Hurt' Wasn't Too Painful." MTV.com. 26 August 2003. MTV. 10 January 2008. |