Overview
This essay introduces an Upcountry South Carolina family's remarkable collection of quilts. At the heart of the story is Mary Louisa Snoddy Black (1860–1927) who acquired sixteen quilts made by women in her family between 1850 and 1917. Presented here are seven of the Black family's quilts with a discussion of their design and construction, the motivations and aesthetic choices of the quiltmakers, and the historical moments in which the quilts were made.
Introduction
About the Author
Laurel Horton is a folklorist and quilt researcher. A native of Kentucky, she earned a B.A. in English and an M.S. in Library Science from the University of Kentucky, and an M.A. degree in Folklore from the University of North Carolina-Chapel Hill. Her 1979 thesis "Economic Influences on German and Scotch-Irish Quilts in Antebellum Rowan County, North Carolina," was one of the earliest studies of regional variations in American quiltmaking traditions.
Between 1983 and 1985, Horton worked with the McKissick Museum at the University of South Carolina to conduct a survey of quilts owned in selected counties. This project resulted in a traveling exhibition and the book, Social Fabric: South Carolina's Traditional Quilts. In 1999, Horton worked with the American Folklife Center at the Library of Congress to select and interpret materials for an internet exhibition of quilt-related collections as part of the National Digital Library. The materials include interviews and photographs of quiltmakers along the Blue Ridge Parkway in 1978, and essays (see "Blue Ridge Quiltmaking in the Late Twentieth Century") and photographs of the winners of national quilt contests sponsored by Lands' End in the 1990s.
Laurel Horton has been an active member of the American Quilt Study Group since 1983, served on that organization's Board of Directors from 1986 to 1996, and edited Uncoverings, the group's annual volume of research papers from 1987 to 1983. She also edited Quiltmaking in America: Beyond the Myths (1994), which contains selected essays from the annual volumes. Through this international network, she has served as a mentor for many individual researchers, both academic and self-trained.
Mary Black's Family Quilts: Memory and Meaning in Everyday Life (2006) represents a new direction for the study of historic quilts as an aspect of a family's "material behavior" (to use the term suggested by folklorist Michael Owen Jones, who contributed the foreword to this book). Laurel Horton weaves the story of the family's lives, using information gleaned from oral interviews with descendants, family papers, historic documents, and the quilts themselves.
Quilts
Click on the quilt details below to access information about each quilt.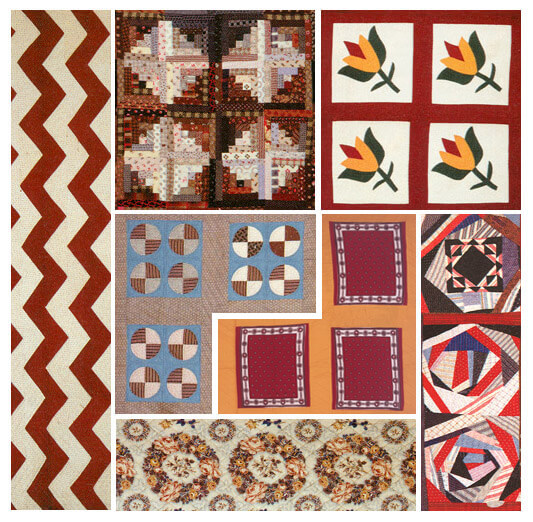 The seven quilts presented in this essay were made in the Carolina Piedmont between the mid-nineteenth and the early twentieth centuries. Part of a collection of sixteen quilts, they once belonged to Mary Louisa Snoddy Black (1860-1927), who lived her entire life in Spartanburg County, South Carolina.
Collections of family quilts are not unusual. What gives these special significance is their age, provenance, and the attention Mary Black devoted to ensuring that the names and relations of the makers would be remembered. The number of quilts and the care with which they were labeled suggests that she thought of them as a collection, the culmination of the work of many hands. Sometime in the mid-1920s, Mary met with her two adult daughters, Rosa and Mary Kate, and passed along information about the quilts and quiltmakers, which were sewn, as small slips of paper, onto each quilt.
As the historical archaeologist James Deetz urged, those "small things forgotten," the ordinary objects that remain from past generations, must be examined in "new and imaginative ways" to achieve "a different appreciation for what life is today, and was in the past." When interpreted thoughtfully and alongside other historical materials, Mary Black's collection can convey the values and experiences of her family, beginning with the arrival of her great-grandparents in the Carolinas in 1773 and continuing through her descendants.
Spaces and Places
Nearly all of the white colonists to enter the Carolina backcountry in the eighteenth century arrived from Pennsylvania through the Shenandoah Valley into Virginia and the Carolinas. In the 1760s, Mary Black's Scotch-Irish maternal ancestors staked out claims, cleared land, and established farms on a few hundred acres in what would become Greenville and Spartanburg counties. Soon they were joined in the Tyger River watershed by what would become the paternal side of her family, the Snoddys, immigrants from County Antrim, Ireland, who came by way of Charleston in the 1770s. By the end of the century, the Cherokee who once inhabited this area of South Carolina had ceded it, succumbing to the effects of smallpox, treaties, and armed conflict.
At first, the self-sufficient farmers in this heavily wooded landscape owned few slaves. Enmeshed in a spreading web of neighbors and kin, they produced food, shelter, and clothing, sometimes trading for goods from Charleston. Communities were centered around water-powered grist and flour mills, general stores, and small churches. Many of the original settlers, including members of the Snoddy family, were Presbyterian, but in the fervor of camp meeting revivalism, the ranks of Baptists and Methodists grew rapidly. Following the invention of the cotton gin in the late eighteenth century, cotton as a cash crop spread from the Carolina Low Country into the Piedmont. Through the growing of cotton for sale, the increasing use of slave labor, and the purchasing of fertile land, Mary Black's grandfather Isaac Snoddy (1770-1842) prospered, owning at the time of his death two-thousand acres and forty slaves. Mary's father, Samuel Snoddy (1815-1898), and mother, Rosa Benson (1826-1908), grew up as members of locally prominent familes.

In 1860, when Mary Louisa Snoddy was born in a large, new farmhouse on Jordan Creek, the US Census valued her parents' holdings at $11, 617, which included real estate of $5,000 and twelve slaves. Samuel and Rosa's farm included two hundred acres of crop land and 650 acres of meadows, woodlands, and fallows. In addition to cotton, the major cash crop, the farm produced corn, wheat, oats, and rye to feed the household and livestock, as well as peas, beans, Irish and sweet potatoes, milk and butter.

Samuel Snoddy survived service in the Confederate Army, coming home at the war's end to Rosa, their three children, and a devastated economy. The Snoddy house intact, Samuel turned his labor to farming again and worked to reestablish the family's security. The youngest of the three children, Mary first attended a local log school. By 1878 she was a student at the recently opened Williamston Female College, some thirty miles from home, but reachable on the newly-laid Richmond-Danville Railroad. In 1889, Mary Louisa Snoddy married Dr. H. R. Black in the parlor of Mary's parent's home and set up housekeeping in nearby Wellford. In 1894, H. R., Mary, and their three young children moved to a large house in the growing railroad, cotton trading, and textile manufacturing town of Spartanburg, eight miles away. Between 1890 and 1900, Spartanburg's population doubled from 5,544 to 11,395. Not just the town was growing; during the 1890s, the development of scattered textile mill villages swelled the population of the entire county. In 1907, Dr. Black joined with other medical practitioners to build Spartanburg's first hospital.

The Black family kept one foot in the city and one in the country. They participated in the social and economic affairs associated with living in town, but they cultivated a backyard garden, managed a farm in Wellford, and maintained close relations with rural family and friends. Mary Black does not seem to have been involved in quiltmaking during this time; during the early twentieth century, using quilts as bedcovers would have been considered quaint and old-fashioned among genteel city dwellers.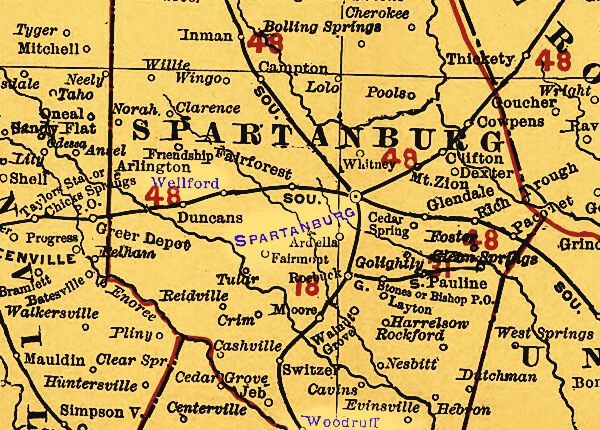 Images
Mary Snoddy's Childhood Home
In 1859 Samuel and Rosa Snoddy moved into a new home on their Jordan Creek farm near Wellford. After Samuel's death in 1898, the house was no longer occupied by the family. It gradually deteriorated and was eventually torn down in the 1970s.


Photograph courtesy the Black family.

Sale Day, Spartanburg, 1881
Held the first Monday of every month, Sale Day in Spartanburg, SC served as the primary market and the trade day for town and county residents. It also provided residents a space to exchange news and gossip.


Photograph courtesy of the Herald-Journal Willis Collection, Spartanburg County (SC) Public Libraries.


Photograph courtesy the Black family.

Mid-nineteenth-century homes included a formal parlor, sometimes described by social historians as a "sacred" space, where weddings, funerals, and other public events were held.

[read more]
Additional Maps
Family
The sixteen quilts in Mary Black's collection were made between about 1850 and 1917. Mary's quilts included both revered relics and ordinary patchwork. Over time however, all the quilts grew in importance as reminders of family identity and the reciprocal obligations of kinship. The language and traffic of quilts circulated in the private sphere among women, who recycled dresses, shared patterns, and paid other women to piece and to quilt. Quilts and household heirlooms served to commemorate and reinforce the private, domestic relationships important to women.
Click on each highlighted name to learn more about each family member.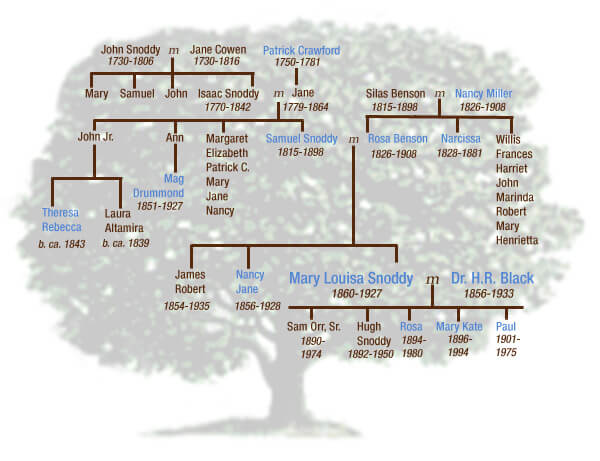 Patrick Crawford
Patrick Crawford (1750-1781) was the great grandfather of Mary Snoddy Black. He and his family immigrated from Ireland to the Tyger River area in northern South Carolina with his wife and children. Crawford fought on the Patriot side of the Revolutionary War until, in 1781, he was mistakenly shot and killed by a friend during a scouting mission.
Nancy Miller
Nancy Miller Benson (1809-1879) was the wife of Silas Benson and the mother of eleven children, including Rosa Miller Benson and Narcissa Benson. Her family were associated with the Baptist church, and Nancy was remembered as "a woman of domestic accomplishments and exemplary piety."

Whole Cloth Chintz Wedding Quilt [ca 1850]
Samuel Snoddy
| | |
| --- | --- |
| | Samuel Miller Snoddy (1815-1898) was the seventh child and third son of Isaac Snoddy and Jane Crawford Snoddy. He operated a farm on Jordan Creek as a single man until his marriage to Rosa Benson in 1853. He served in the local militia, retiring as a colonel in the 1850s. |
| | |
| --- | --- |
| During the Civil War, he served as a captain in a company of state troops. After the War he returned to his farm and family. He died in 1898 at the age of eighty-three. | |
Rosa Benson
Rosa Miller Benson (1826-1908), was the oldest of the eleven children of Silas Benson and Nancy Miller Benson. The details of her education are unknown, but she probably attended one of the private female academies that operated in Greenville County in the early nineteenth century. In 1853, Rosa married Samuel Miller Snoddy, a neighboring farmer. Their children were James Robert (b. 1854), Nancy Jane (b. 1856), a stillborn infant (1858), and Mary Louisa (b. 1860). During the Civil War, Rosa maintained the farm while Samuel served in a company of state troops. Following Samuel's death in 1898, Rosa gave up her own home, and, for the remaining ten years of her life, she lived alternately in the homes of her three children and occasionally visited with other relatives She died on March 25, 1908, her eighty-second birthday.

Whole Cloth Chintz Wedding Quilt [ca 1850]
Rosa's Log Cabin Quilt [ ca. 1880]
Rosa Snoddy's Handkerchief Quilt [ca 1905]
Paul's Crazy Quilt [ca 1875 and ca 1915]
Narcissa Benson
Narcissa Benson (1828-1881) was the second of the eleven children of Silas and Nancy Miller Benson. She remained single throughout her life, and in 1878, following the death of her thirty-five-year-old sister Margaret Benson Nesbitt, Narcissa became the guardian and caretaker of Margaret's three small children. Narcissa died in 1881, at the age of fifty-three. In a will executed before her own death, Narcissa bequeathed to each of these children $100 and "a nice bedquilt and counterpane."

Aunt Narcissa's Quilt [ca. 1880]
Theresa Rebecca Snoddy
Theresa Rebecca Snoddy (dates unknown) was the daughter of John Snoddy (the older brother of Samuel Miller Snoddy) and Thressa Daniel Snoddy. Following the deaths of their mother in 1842, and their father in 1846, Theresa and her older sister Laura lived first with their stepmother and later with their double aunt and uncle, A. J. Daniel and Nancy Snoddy Daniel. Samuel Miller Snoddy served as guardian ad litem for his nieces until they reached adulthood. Theresa helped her cousin Mary Louisa Snoddy quilt the Tulip quilt. Sometime later Theresa married a man named Wingo and had two sons, Benjamin and Asa.
The Tulip Quilt [ca 1880]
Mag Drummond
Margaret Drummond (1851-1927) was known as "Cousin Mag" by members of the Snoddy and Black family. She was the daughter of S. N. Drummond and Ann Snoddy Drummond (the sister of Samuel Miller Snoddy). Mag Drummond remained unmarried throughout her life. At the time of the 1870 Census, she was nineteen years old and living in Greenville with her married sister, Buena Vista Westmoreland, who had a year-old daughter. Later she frequently stayed at the home of her widower cousin James Robert Snoddy, often sewing for his sons or cleaning house. The 1910 Census enumerated Mag Drummond, age fifty-nine, as living with the family of her brother Jasper. Ten years later, she was listed as a sixty-nine-year-old "servant" in the home of Frank Woodruff, in the town of Woodruff. On August 4, 1927, J. R. Snoddy noted in his journal that "Cousin Mag died last night."

Rosa Snoddy's Handkerchief Quilt [ca 1905]
Paul's Crazy Quilt [ca 1875 and ca 1915]
Nancy Jane Snoddy
| | |
| --- | --- |
| Nancy Jane Snoddy Coan (1856-1928) was the second child of Samuel Miller Snoddy and Rosa Benson Snoddy. Named for both of her grandmothers, Nancy Miller Benson and Jane Crawford Snoddy, she was called "Sister" by her family throughout her life. | |
She made a "profession of faith" and joined Nazareth Presbyterian Church, in 1879. In 1897, at age 41, she married Dr. David M. Coan, who was fifty-five. Following the death of her husband in 1903, Nannie Coan moved into Spartanburg, where she lived until her death in 1928.

Paul's Crazy Quilt [ca 1875 and ca 1915]
Dr. H. R. Black
| | |
| --- | --- |
| Hugh Ratchford Black (1856-1933), was the husband of Mary Louisa Snoddy Black. He was born in Cleveland County, North Carolina, the fourth child and second son of Jefferson and Eliza Borders Black. Following early schooling in "old field schools," H. R. Black attended a military academy in nearby Kings Mountain. After a six-month stint as a schoolteacher, he decided to study medicine. He entered the University of Maryland in 1880 and graduated in 1883. In 1884, Dr. Black moved to rural Spartanburg County and set up a medical practice. In 1889, H. R. Black married Mary Louisa Snoddy and they set up housekeeping in Wellford before moving to Spartanburg in 1894. | |
| | |
| --- | --- |
| | Dr. Black was a pioneer in several medical specialties, including surgery and public health. Following his death in 1933, Dr. H. R. Black was described as "a leading figure in the medical field," whose "leadership was recognized throughout the state and South as well as by the many prominent men in the medical world who were his friends." |
Mary Black
| | |
| --- | --- |
| | Mary Louisa Snoddy Black (1860-1927) was the daughter of Samuel Miller Snoddy and Rosa Miller Benson Snoddy. She grew up on her family's farm on Jordan's Creek, near Wellford, in Spartanburg County, South Carolina. She was educated in local "old field" schools and attended Williamston Female College (which later became Lander University). |
| | |
| --- | --- |
| In 1889, Mary married Dr. Hugh Ratchford Black, with whom she bore five children. In 1894, the Black family moved from Wellford into Spartanburg. | |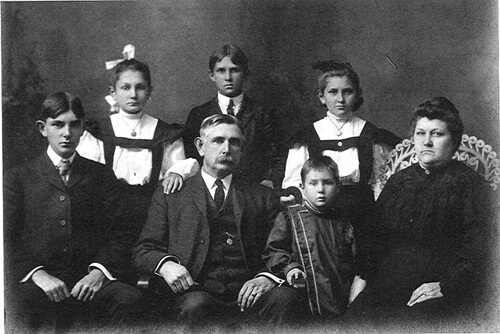 The Black Family [ca. 1906]
From left to right: Sam Orr, Rosa, Dr. H.R., Hugh Snoddy, Paul, Mary Kate, and Mary Black.
Photograph courtesy the Black family.
Rosa Black
Rosa Black (1894-1980) was the third child and oldest daughter of H. R. and Mary Snoddy Black. An excellent student, she enrolled in

Converse College

in January 1908, midway through the eighth grade, which was highly unusual. Following her graduation from Converse in 1914, Rosa spent the summer in a tour of Europe. She taught school in Spartanburg for several years. Rosa remained single and she and her brother Paul continued to live in the family home after the deaths of their parents. She traveled widely, frequently in the company of her sister Mary Kate and two nieces. She died in 1980, at the age of eighty-six.

During the 1950s Rosa Black (lower left) and Mary Kate Phillips (lower right) spent summers traveling with their nieces, Marianna and Paula Black.
Mary Kate Black
Mary Kate Black Phillips (1896-1994) was the fourth child and second daughter of H. R. and Mary Black. She graduated from Converse in 1917, with a Certificate in Art, and served for a number of years she served as the society editor for the Spartanburg Herald. In November 1927, Mary Kate married Dr. Morton Elbridge Hundley, age forty-nine, but during their wedding trip in Switzerland, her new husband contracted pneumonia and died soon after Christmas. In 1933, Mary Kate married John Phillips, the son of oil magnate Frank Phillips. They made their home in the Governor's Suite in the Adolphus Hotel in Dallas, Texas, and traveled frequently. After John's death in 1950, Mary Kate and her sister Rosa continued to travel, accompanied by their nieces.

Whole Cloth Chintz Wedding Quilt [ca 1850]
Paul Black
Paul Black (1901-1975) was the youngest child of H. R. and Mary Black. Paul attended the Hastoc School for Boys, then enrolled at Wofford College in 1920. He contracted a severe case of nephritis and withdrew from school. Unlike his two older brothers, Sam Orr and Hugh Snoddy, Paul did not follow his father's footsteps into the medical profession. Instead, he took responsibility for the supervision of the family's substantial agricultural holdings. During the early 1920s, the invasion of the boll weevil decimated cotton crops, and the Blacks were among the Spartanburg County farmers who planted peaches in place of cotton. Over the following decades peaches became the dominant agricultural product in the area, and Paul Black was active in agricultural associations and fairs at local, state, and regional levels. At the age of thirty-four, Paul Black married Anna Mabry and they had two daughters, Marianna and Paula. Paul Black died in 1975, at the age of seventy-four.
Rosa Snoddy's Handkerchief Quilt [ca 1905]
Paul's Crazy Quilt [ca 1875 and ca 1915]