Overview
Varieties of Southern Appalachian music are explored with sound samples, short commentaries, virtual visits, and weblinks.
"Musical Styles of the Southern Appalachians" is part of the 2008 Southern Spaces series "Space, Place, and Appalachia," a collection of publications exploring Appalachian geographies through multimedia presentations.
Musical Styles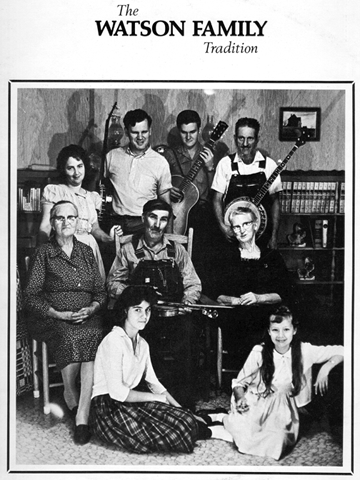 Visit Clyde Davenport, old-time fiddler and banjo player of south-central Kentucky. Davenport (born 1921) discusses his musical tradition, family history, and plays tunes. (Website created by ethnomusicologist Jeff Titon of Brown University includes photographs, audio recordings, and musical transcriptions.)
Read the lyrics to "Pretty Saro." Recorded by Allen Tullos in Madison County, North Carolina, 1976.
East Tennessee native Dolly Parton sings, recalls her early career, discusses genres of Appalachian music, and comments upon musicians Johnny Cash and Bill Monroe.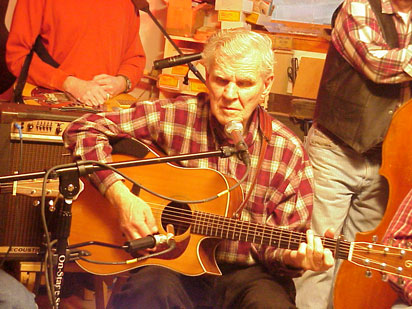 Doc Watson (born Arthel L. Watson in Deep Gap, North Carolina [Watauga County] on March 23, 1923) is a legendary performer with a vast, eclectic repertory who blends traditional old time string band and Anglo-Celtic folk music with blues, country, gospel, bluegrass, and popular favorites. Blind from infancy, Doc has spent his lifetime making music and is internationally respected as a supremely gifted and accomplished guitarist. (Source: ibiblio.org and Southern Folklife Collection, University of North Carolina, Chapel Hill.)
The banjo, an African American instrument with origins in Africa, was introduced into the Southern Appalachians in the early to mid-nineteenth century and became a staple of mountain dance music as well as twentieth century styles such as bluegrass. Snipes is an African-American performer. (Source: Black Banjo Songsters of North Carolina and Virginia Smithsonian Folkways CD 40079, 1998)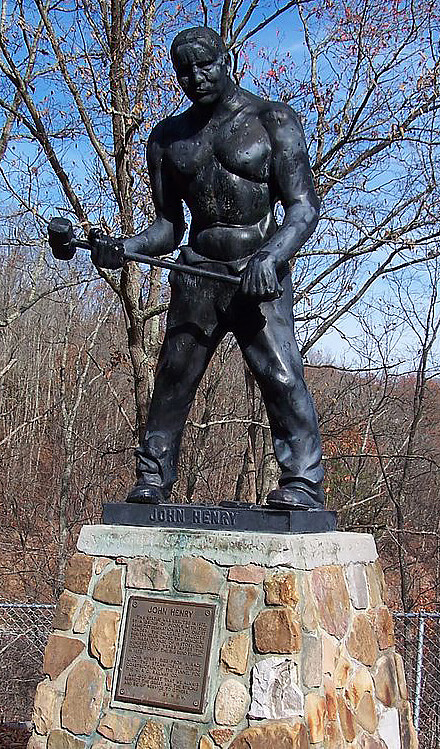 "John Henry" is among the most important and widely-known American and African American ballads. "Tracking John Henry," writes Richard Spotswood, "is analogous to documenting the historical Jesus. In neither case do contemporary written records survive. In both cases, legends arose out of oral tradition later committed to paper. The resulting mythologies required no historical basis to sustain them; indeed, the legends might not have flourished had they been burdened with documentary detail. Christ the martyr became the symbol for universal human redemption, while John Henry's martyrdom symbolized the tension between manual labor and the industrial revolution, from which, at least for many, there was no redemption. His steam drill has come to symbolize worker obsolescence through every new industrial refinement from the cotton gin to computer-driven factories."
Jefferson County Gospel Quartets. The coal, iron, and steel city of Birmingham, Alabama, was a major center of a cappella African American gospel singing beginning in the early 20th Century. This "Sound Portraits" audio documentary was produced by David Isay and features the music of Jefferson County gospel groups set in the context of this Jim Crow-era industrial geography.
Birmingham native Emmylou Harris sings and discusses her career, influences, country identity, and the writing of "Red Dirt Girls."
Blue Ridge Music Trails is a traveler's guide to live traditional music and dance along the Blue Ridge. The music venues selected for the Blue Ridge Music Trails have been identified by folklife fieldworkers. Though listeners may well hear an array of musical styles at a given event, each site includes a substantial amount of traditional Blue Ridge music performed by musicians native to the region. All of the events listed are on-going and are open to the public.
Except where indicated, audio sources on this page are courtesy of American Routes Radio, hosted by Nick Spitzer from New Orleans on American Public Media.
Recommended Resources
Text
Cantwell, Robert. Bluegrass Breakdown. Urbana: University of Illinios, 1984.
Cohen, Norm. Long Steel Rail: The Railroad in American Folksong. Urbana: Univ. of Illinois, 1981.
Conway, Cecelia. Cecelia: African Banjo Echoes in Appalachia. Knoxville: Univ. of Tennessee, 1995.
Green, Archie. Only a Miner. Urbana: Univ. of Illinois, 1972.
Lynn, Loretta with George Vecsey. Coal Miner's Daughter. Chicago: Regnery, 1976.
Peterson, Richard A. Creating Country Music: Fabricating Authenticity. Chicago: University of Chicago, 1997.
Whisnant, David E. All That Is Native and Fine. Chapel Hill: University of North Carolina, 1983.
Wolfe, Charles K. A Good-Natured Riot: The Birth of the Grand Ole Opry. Nashville: Country Music Foundation, 1999.
Southern Appalachian Radio Links
WMMT Live webcast from Mountain Community Radio, Whitesburg, Kentucky.
WETS Pubic Radio for east Tennessee, southwestern Virginia, and western North Carolina. Webcast from Johnson City, Tennessee.
doi:10.18737/M7GP5P