Overview
The Mid-South city built on a Mississippi River bluff, Memphis sits at the confluence of extraordinary musical streams: Anglo-Celtic upcountry song styles, fiddle bands, and gospel harmonies mingled with Delta blues, African American congregational and quartet singing, and jazz up from New Orleans. The offspring include Memphis soul, rockabilly, rock and roll, and country.
Music in Memphis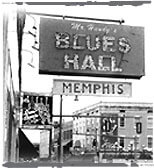 A Century of Blues in Memphis. "Memphis' role in nurturing the blues is undeniable. In the theaters, parks, and clubs of Beale Street; in its temporary recording units and legendary studios; in its airwaves shooting across the Delta; and in the careers of those born there and those who only stopped for a while, Memphis was the half way point where the country blues of the Delta first grew accustomed to the city. And when it moved on, catching a northbound train to Chicago and beyond, the precedent of the encounter would continue to reverberate in Memphis' equally historic contributions to jazz, gospel, rockabilly, and soul." (See: http://www.nytimes.com/2003/03/25/arts/search-blues-its-roots-musing-genre-s-purity-fans-flock-mississippi.html)
Biographer Peter Guralnick discusses Elvis Presley and Memphis on American Routes.
The story of Sun Records as told by founder Sam Phillips to Terry Gross of WHYY and National Public Radio's Fresh Air.
Memphis musician and deejay Rufus Thomas talks about his career on American Routes.
Reverend Al Green recalls his singing career from soul to gospel.
Recommended Resources
Print Resources
Bowman, Rob. Soulsville U.S.A: The Story of Stax Records. New York:Schirmer Books, 2003.
Gordon, Robert. It Came from Memphis. New York: Atria Books, 2001.
Guralnick, Peter. Sweet Soul Music. New York: Harper and Row, 1986.
——— . Last Train to Memphis, Boston: Little Brown, 1994.
———. Careless Love. Boston: Little Brown, 1999.
Hay, Frederick J. Goin' Back to Sweet Memphis: Conversations with the Blues. Athens: University of Georgia Press, 2000.
Lornell, Kip. Happy in the Service of the Lord: Afro-American Gospel Quartets in Memphis. Urbana: University of Illinois, 1988.
Olsson, Bengt. Memphis Blues and Jug Bands. London : Studio Vista, 1970.
Young, Alan. Woke Me Up This Morning: Black Gospel Singers and the Gospel Life. Jackson: Univ. of Mississippi, 1997.
Links
Memphis Rock'N'Soul Museum, http://www.rockabillyhall.com/museum.html
Soulsville USA Stax Museum of American Soul Music. http://www.staxmuseum.com/
Stax Records (http://staxrecords.free.fr/index.htm) is an unofficial site, run by a private fan/collector and dedicated to Stax/Volt Records, their subsidiaries, and every track that was recorded at the 926 E. McLemore studio. An illustrated history of Stax can also be found at history-of-rock.com
doi:10.18737/M7BW2C